NFL Honors Predictions 2012: Jason Pierre-Paul, Terrell Suggs
February 3, 2012

Rich Schultz/Getty Images
Two of the most quarterback menacing sack-masters, Jason Pierre-Paul of the New York Giants and Terrell Suggs of the Baltimore Ravens, are worthy of winning the 2011-12 NFL Defensive Player of the Year Award.
Here's a break down of each player to predict who wins between the two.
Jason Pierre-Paul: DE, New York Giants
The second-year man out of South Florida, Jason Pierre-Paul took The Big Apple and pro football by storm in 2011 with 86 tackles, 16.5 sacks, two forced fumbles and six passes defended. In the postseason, JPP has recorded 16 tackles, 0.5 sacks and two passes defended.
He's quick off the edge, strong enough to bull rush an opposing lineman and is virtually unblockable in any one-on-one situation.
What's even more impressive is that Pierre-Paul remained dominant without much help around him on a consistent basis. Fellow defensive linesmen Osi Umenyiora and Justin Tuck missed a combined 11 games, and stud cornerback Terrell Thomas was gone for the year.
Now include how horrendous the Giants were at defending the pass, and Pierre-Paul was Big Blue's only hope on defense, much like Eli Manning was to the offense.
As the Giants next great dominant pass rusher, Pierre-Paul had five multi-sack games. He simply has a nose for finding the football. In short, he's a complete defensive player.
Terrell Suggs: OLB, Baltimore Ravens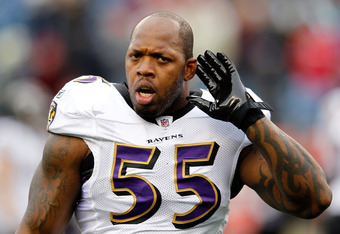 Rob Carr/Getty Images
With 14 sacks, 70 tackles, seven forced fumbles, two interceptions and six passes defended, Baltimore's Terrell Suggs had just as good of a season as Pierre-Paul.
On the year, the Ravens defense ranked No. 2 against the run and No. 4 against the pass while allowing roughly 290 total yards per game—a lot of that is due to Suggs' presence in the backfield.
He is significantly helped by fellow veterans Ray Lewis and Ed Reed, but, if you take Suggs out of that equation, offenses have a lot more time to dissect Baltimore's pass defense. The man simply knows how to cause turnovers, react against the run and contain on the edge.
Scrambling quarterbacks can't get away from him, and those in the pocket need that mental clock ticking, otherwise Suggs will roll as he did.
His versatility also goes overlooked, because Suggs can rush from a two or three-points stance while also dropping into coverage underneath when needed.
Prediction
Mainly because he had so many teammates around him deal with injuries, none of whom are Hall of Fame caliber right now (compared Ray Lewis and Ed Reed), Jason Pierre-Paul is a no-brainer.
For starters, he had more sacks and tackles than Suggs while on a defense that struggled with consistency all season long.
Whether it was against the run or pass, Pierre-Paul was the best and most consistent. If Suggs failed to get QB pressure, his pass defense was reliable. Pierre-Paul didn't have that luxury.
Now, both were selected as first team All-Pro this past season so, regardless of who wins, we're basically splitting hairs. However, JPP gets the nod as he didn't have nearly as much help around him on a week-to-week basis and still performed just as well, if not better, than Suggs.
John Rozum on Twitter.