A Little Brother's Plea: Peyton Manning Should Stay Away from Eli's Super Bowl
February 3, 2012

Astrid Stawiarz/Getty Images
I know how Eli Manning feels this week.
I'm the youngest of three brothers with the oldest—let's call him Cooper—being a bit of a black sheep. The middle brother—Peyton—has always been the most successful of the three and grew up as the family golden boy. Me? I'm doing okay for myself, carving out a decent niche while constantly ducking around the enormous shadows cast by both my more successful brother and father. 
(How about that parallel I didn't realize until just now? This is about to get real.)
At 31 years old, Eli Manning is on his second trip to the Super Bowl, with one ring and a chance this Sunday for another. Eli also has two Pro Bowl selections, more than 27,500 career passing yards—better numbers than every quarterback but Drew Brees and Tom Brady who has come into the NFL since the turn of the century—and, with apologies to Phil Simms and Joe Namath, is a win away from possibly becoming the best New York quarterback since Y.A. Tittle.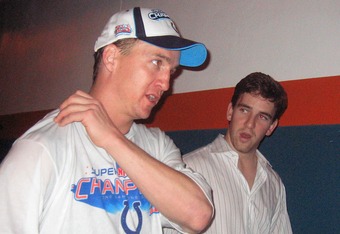 Doug Benc/Getty Images
Still, somewhat understandably, he is stuck in his brother Peyton's shadow. We all knew the week leading up to the Super Bowl in Indianapolis was going to focus on Peyton's future with the Colts (and playing football at all). However, none of us could have possibly imagined Peyton so blatantly upstaging his brother like he has.
First, there was a public fight with Jim Irsay that Peyton completely started by opening up to Bob Kravitz of the Indy Star. The interview was so candid and forthcoming it even surprised Kravitz, setting off a very public exchange that led to Colts' owner Jim Irsay calling Manning "a politician."
The two publicly (I know, shock) made up by saying wonderful things about each other before a report leaked out that the Colts had already decided weeks ago to get rid of Manning. A few days later, both sides publicly (again, I know, shock) played nice while trying to debunk that rumor.
The list goes on and on. Yahoo!'s Jason Cole had a report just hours before Eli's Super Bowl media day that questioned—through anonymous sources and experts in the field who haven't examined Manning—if the Colts quarterback would ever play football again.
Sure, the timing of that report wasn't necessarily Peyton's fault, but it didn't stop everyone from putting even more attention on Peyton during the media session with Eli. Even Deion Sanders, working the field for the NFL Network, told viewers he was going to spare Eli the question about Peyton…before doing exactly what he said he wouldn't do.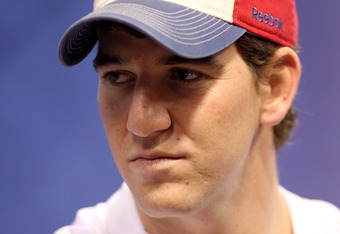 Andy Lyons/Getty Images
Of course he was going to ask about Peyton. Everyone is asking Eli about Peyton. The guy is the quarterback of the New York Giants and finds himself one enormous victory away from hearing the "is Eli Manning a Hall of Famer" conversation, and all people seem to care about this week is his stupid older brother. 
The Super Bowl is being played in a beautiful stadium that never would have been built if it wasn't for Peyton, and the game is between Peyton's little brother and Peyton's biggest on-field rival. Of course the week leading up to the Super Bowl was going to be about Peyton. I'd be shocked if the NFL didn't figure out a way to get Peyton in on the coin toss this Sunday.
Which is why Peyton should skip the game and watch it at home.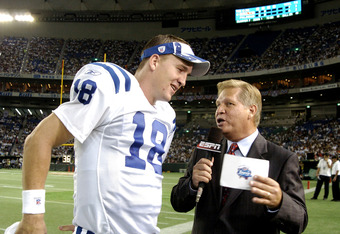 A. Messerschmidt/Getty Images
As I mentioned, the timing of the Yahoo! story suggesting he may never play again wasn't Peyton's fault. That said, the ESPN story on Thursday indicating two doctors have cleared Manning to resume his NFL career had to be orchestrated by Manning or his people.
Yes, potentially Chris Mortensen or Adam Schefter could have spoken with the doctors who cleared Manning without the quarterback knowing, but the likelihood of that happening without the go-ahead from Manning or his agent is incalculable. It's much more likely the report came from Manning, his agent or one of their intermediaries.
Remember, the Super Bowl is in Peyton's town and this week is all about him. That point was never more clear than Thursday.
Of course, Irsay has come out in response to the ESPN report by indicating the Colts' doctors have yet to clear Manning, taking this story into yet another full day in the never-ending Manning news cycle. All the while, little brother Eli is preparing to go win a Super Bowl. It's almost becoming difficult to remember there's an actual game a Manning is playing in this weekend.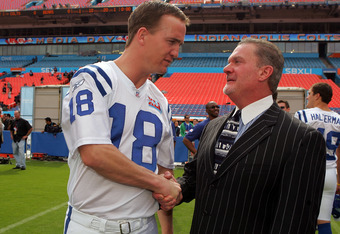 Scott Halleran/Getty Images
That's why Peyton should stay the hell home. Let Eli have his day. The betting line on how many times Peyton will be shown during the game—live pictures from kickoff to final whistle—is set at three-and-a-half with the over at -130 and the under at -110.
Vegas thinks NBC will show Peyton four or more times on Sunday, which is unheard of for a guy not even playing in the game. It's all about Peyton.
For once this week, Peyton should take a back seat and give Eli his day. The only way to do that would be to watch the game from home.
I know, Peyton not being there could be an even bigger storyline than sitting in a box with his family. I get that. Which is why he shouldn't tell anyone he's not coming.
If Peyton just quietly neglected to show up, nobody would ever know until the camera guy in charge of locating him in the crowd couldn't find him. By then, the rest of us will be entrenched in the game and nobody will care where Peyton is—nobody should care, that is.
If the Giants win the Super Bowl, reporters would have to be looking for the story to ask Eli where Peyton was during the game. Eli could easily be kept out of the loop. It's his day, not Peyton's.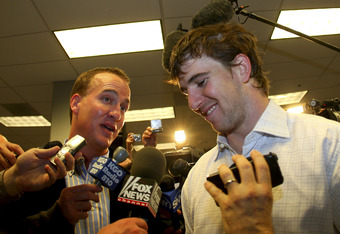 Donald Miralle/Getty Images
If the Giants lose, who will care where Peyton is? Eli would have just lost the biggest game of his life. Do you think he cares where his brother watched him lose? Let them meet up for a late drink at the hotel bar for all anyone cares.
Look, I'm not saying that Peyton is a bad brother and I'm not suggesting if, nay when, he shows up to the Super Bowl and NBC cuts to him three or four times that he's making the game about him and taking away from Eli's moment. (Okay, I am saying the second part of that.) But I don't think Peyton is doing it on purpose.
I think Peyton will show up to the game to support his little brother, whom he loves dearly. He's doing what older brothers do and that, in many ways, is commendable.
I just can't stop looking at it from Eli's perspective; I can't see this any other way than being the little brother who is constantly overshadowed by his older sibling. Sure I'd want my brother there to support me, and I certainly want to be there to support him as his career takes an unsuspecting turn toward the end. He's my brother and I love him.
But this is the Super Bowl, and I'm playing in it, not you. For one day, let this be about me. For once, let it be about me. 
Did I say me? I totally meant Eli. Totally. (Told you it would get real.)