6 Changes the Los Angeles Lakers Should Consider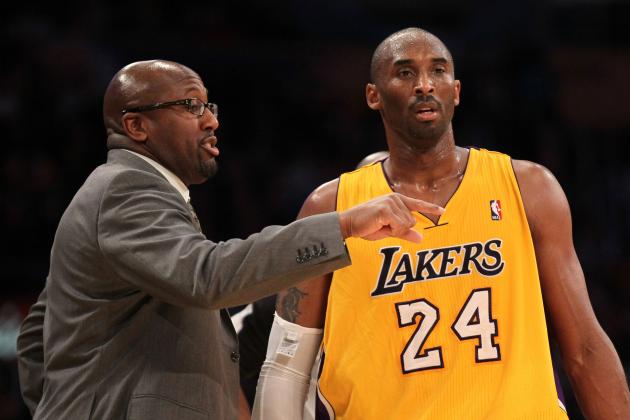 Stephen Dunn/Getty Images

As the Staples Center prepares for the Grammy Awards, the Los Angeles Lakers prepare for a road trip that could define the current roster's season.
The Lakers play six games in 11 days against their stiffest competition yet. Games against Denver, Utah, Boston, Philadelphia, New York and Toronto await them, and they must improve their miserable 2-7 road record or risk significant changes.
We all know that Kobe Bryant is the only untouchable player on the Lakers' roster, so if these next six games go badly, what will Laker management do to satisfy the needs of the future Hall of Fame shooting guard?
Here are six ideas Lakers management could consider.
Begin Slideshow

»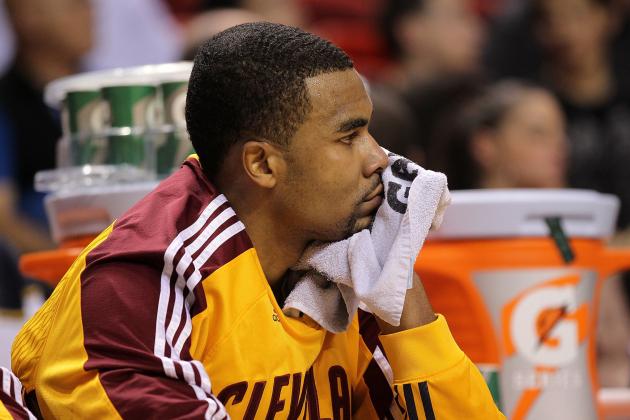 Mike Ehrmann/Getty Images

The Lakers are in desperate need of point guard depth. With Steve Blake out for an unknown period of time, the Lakers have turned to rookies Darius Morris and Andrew Goudelock.
However, Morris has struggled to adjust to the NBA's tempo but has shown flashes of what he could become, and Goudelock looks to be more of a shooting guard rather than a point.
Ramon Sessions, however, is an available point guard thanks to the Cleveland Cavaliers drafting Kyrie Irving.
Since Mike Brown has elected to place Metta World Peace in the starting lineup, that makes Matt Barnes expendable. Though Barnes has been a solid contributor, youth is a more pressing matter for the Lakers, as well as point guard depth.
If the Lakers wanted to make a move for Sessions, they could send Barnes and half of the Lamar Odom trade exception to the Cavaliers in exchange for Sessions.
Having Sessions would give the Lakers a replacement for Blake until he returns, and then they would have the three-point shooting of Blake and the athleticism that Sessions brings to the table.
Though Sessions is not a shooter, he is a facilitator and a very good pick-and-roll point guard. He's also only 25 years old, and he has plenty of experience in the league to provide the Lakers with a solid replacement for the aging Fisher.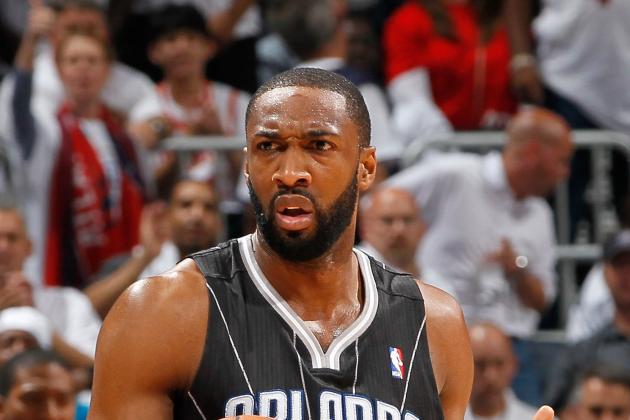 Kevin C. Cox/Getty Images

The Lakers are in desperate need for scoring, especially for their second unit. Arenas is a perfect candidate sitting in free agency.
After the Orlando Magic used the amnesty clause on Arenas, he's been living off the fat checks Otis Smith keeps sending to him. However, he has continued to work out as he waits for a team to call him.
As a Los Angeles native, Arenas has interest in joining the Lakers. And recently the Lakers have expressed interest in Arenas.
Arenas is a three-time NBA All-Star and can provide the Lakers exactly what they need talent-wise. However, historically speaking, Arenas isn't necessarily a good choice for any one's locker room after he single-handedly destroyed the Wizards' locker room and front office.
However, talent-wise, Arenas has everything the Lakers need. He can create shots for others and himself, knock down threes and play defense when motivated.
So should the Lakers take a risk on Arenas, it should be a short-term move so that he doesn't have the time to potentially poison the locker room. However, the upside is much larger because of how talented he is if he has anything left in the tank.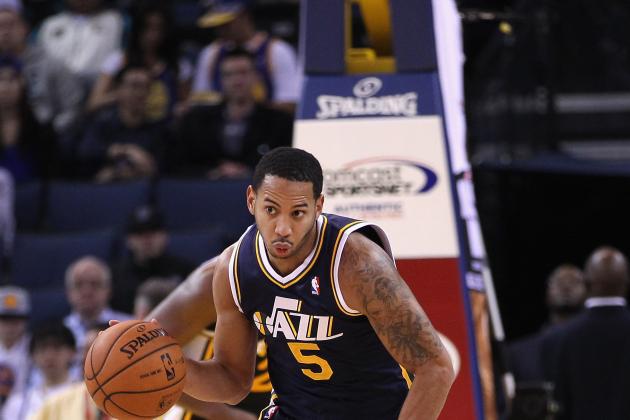 Ezra Shaw/Getty Images

The Utah Jazz's Devin Harris experiment hasn't turned out quite how they wanted. Since being an All-Star with the New Jersey Nets in 2008-2009, Harris has seriously fallen off the deep end.
In 19 games this season, Harris is averaging 9.4 points per game, the lowest since his rookie season. The Jazz have officially let it be known that Harris is available on the open market.
With a young roster, the Jazz are in need from some experience and steady play at the point guard position.
The ideal solution is to send the Jazz an experienced point guard as well as some young talent for the future.
Steve Blake is the ideal candidate for the Lakers to trade once he is healed from his current rib injury. Blake is 30 years old and is an experienced starter in the NBA and would provide the Jazz with steady hands, leaving the aging Earl Watson and Jamal Tinsley to fight for minutes behind him.
Also, the Lakers would send over youthful guard Darius Morris and Luke Walton in exchange for Harris. Walton's two-year deal will equal the value swap for Harris' contract, while Morris gives the Jazz exactly what they want—more youth for the future.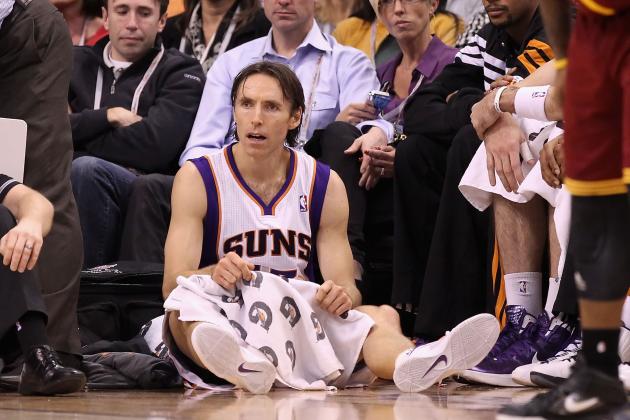 Christian Petersen/Getty Images

Like Kobe Bryant, Phoenix's Steve Nash is also fighting the undefeated Father Time. The Suns, however, aren't talented enough to contend for an NBA title.
Nash is too much of a class act and respects his leadership ability to go to management and demand a trade, but the Suns should still look for trades for their aging former Most Valuable Player.
The Lakers need a point guard that can effectively move the ball, run the pick and roll and knock down outside shots. Nash is all of those combined, though, he is the same age as the Lakers' current starting point guard, Derek Fisher.
Send Nash and Josh Childress' horrific contract to the Lakers in exchange for Fisher, Luke Walton and the young Darius Morris, along with a draft pick and $6 million of the Lamar Odom trade exception.
The Suns still manage to get a point guard to run the show while they wait on Aaron Brooks to return from China. They also get a young guard in Morris, and it opens up playing time for the youth on the Suns' roster.
It also gives the Lakers the prototypical point guard they've been needed as well as a solid bench contributor in Childress.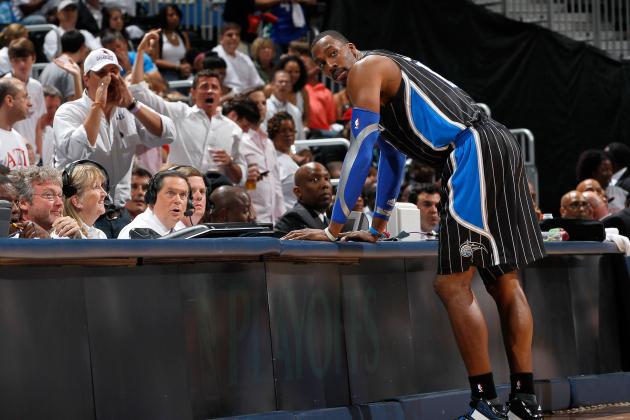 Kevin C. Cox/Getty Images

Since the trade for Chris Paul was nixed by David Stern for "basketball reasons," the Lakers' next primary target has been Dwight Howard.
However, Otis Smith has pulled the plug on any trade conversations as of right now. But that doesn't mean rumors aren't flying around the league. As of right now, Howard and his relationship with the Magic organization is dying.
The Magic have been horrific as of late, as all of Howard's teammates appear to be completely disinterested in competing.
Howard for Bynum have been the primary figureheads of the trade talks, but a straight-up deal can't be done. As of right now, the Magic have no need for Pau Gasol after all the production they're getting from Ryan Anderson.
Jameer Nelson has completely disappeared since his All-Star season. The Magic can get a quality point guard from the Lakers, however.
Bynum can be swapped for Howard, and Steve Blake can be swapped for Nelson; however, to keep it even, the Lakers can send whatever draft picks they have that the Magic want and the Lamar Odom trade exception for Quentin Richardson to add another three-point shooter.
This trade should only be done, though, if Howard will agree to sign an extension. If he doesn't, then the Lakers shouldn't even consider it.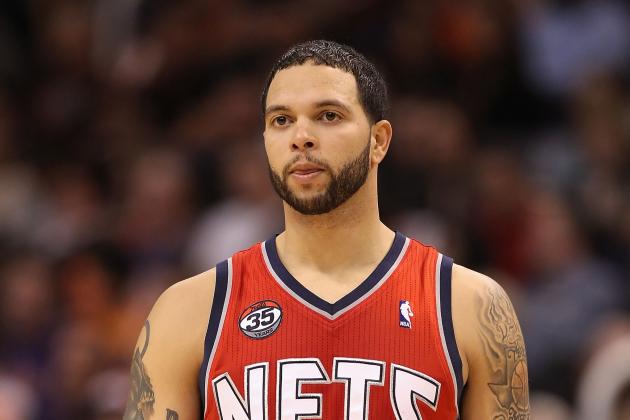 Christian Petersen/Getty Images

Finally, it's the toss-up between first and second, and finding a way to pry Deron Williams away from the New Jersey Nets. That shouldn't be hard, though, if the Nets fail in finding a way to acquire Dwight Howard.
Williams has also expressed interest in suiting up in purple and gold, and Lakers management should do whatever they have to to get him into a uniform.
That includes trading away Pau Gasol in exchange for Williams as well as sending Steve Blake and adding a pure shooter like Anthony Morrow to the mix.
The Nets still get a consistent point guard in Blake and an All-Star forward to play alongside Brook Lopez, giving the Nets one of the most formidable frontcourts in the Eastern Conference.
This also gets the Lakers the player they need most. A point guard has been on the wish list for a few years and Williams wouldn't just be a wish come true, but more like an extremely late Christmas present.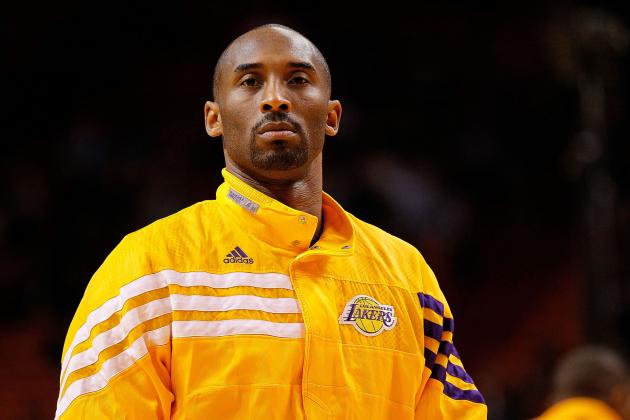 Mike Ehrmann/Getty Images

We all know this will be Kobe Bryant's team until he personally decides to hand the keys of the Lakers to the next guy. But that doesn't mean the Lakers can't drastically change the roster.
Bryant deserves the best chance to win another NBA title and tie Jordan with six. Bryant is already arguably the best player to ever put on a Laker uniform.
This season proves that as he's not only playing at a high level after losing a step, but he's carrying the Lakers with German-repaired knees, a bad ankle and a completely mangled wrist.
The question is, after the upcoming road trip, which of these, if any, will the Lakers consider moving to get their superstar as much help as they can?
We'll find out in 11 days.