Dallas Mavericks: 5 Reasons the NBA Lockout Hurt the Mavs' Title Defense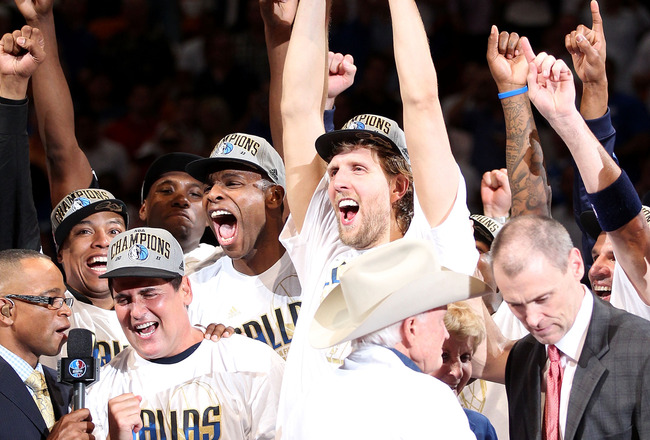 Time for Two
Mike Ehrmann/Getty Images
The NBA lockout, which officially ended on December 8th, 2011, has affected every team, but so far it has been hard on the Dallas Mavericks and may have lingering effects on the Mavs' chance at repeating as champions.
Perhaps it's a tad bit premature to say a team's title defense is in trouble when the team is first place in their division and fourth in their conference.
And you would be right to say that. I want the Mavericks to win another championship almost as much as I want the Texas Rangers to win their first.
Luckily for the Mavs, every team as struggled with post-lockout difficulties. However, there are still three months to go and the lockout will take it's toll.
Here are five issues that are impacted by the lockout.
Defense Wins Championships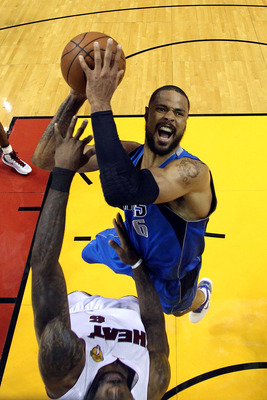 Tyson Chandler anchored the championship "D"
Ronald Martinez/Getty Images
When you think Mavericks, you think Dirk Nowitzki, Jason Kidd and a whole lot of offense.
The secret to Dallas' title run last year was their defense.
The defense was anchored by Tyson Chandler along with defensive stalwarts DeShawn Stevenson and a healthy Caron Butler.
Due to the new collective bargaining agreement (the reason for the lockout) between the owners and the players, Dallas was unable to re-sign key defenders.
To replace them, the Mavericks brought in Lamar Odom, Vince Carter and Delonte West. These players bring the potential of scoring, but none of them are recognized for stellar defense.
And while we are on the subject of players old and new, let's remember this word…
Chemistry 101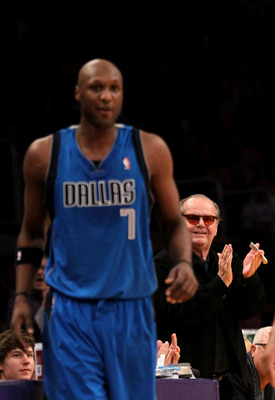 Odom is still trying to fit in
Stephen Dunn/Getty Images
Chemistry.
In addition to the defensive players, the Mavericks also lost backup point guard J.J. Barea and defensive assistant coach Dwane Casey.
Rick Carlisle and his staff are tasked with finding ways to make his new players gel with last year's roster.
Carter and West have done well in their roles thus far, but Odom has been in a funk.
Last year's Sixth Man of the Year has struggled to find his game. He's averaging 7.7 points on 32.9 percent shooting, 4.6 rebounds and 1.5 assists.
It stands to reason that Odom would have started off better if he had…
Practice, Practice, Um...Scratch That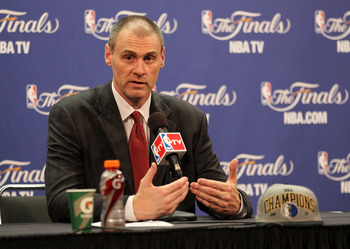 Coach Carlisle wasn't allowed contact to his players
Mike Ehrmann/Getty Images
…Time to practice.
Practice began a day after the lockout ended on December 9th, 2011. The Mavs' first game was December 25, 2011. For those without a calculator handy, that is 16 days or just over two weeks.
It's hard to imagine that athletes who play the same sport for most of their lives need a lot of time to practice, but keep in mind that the players were locked out from all NBA facilities between July 1st and December 9th.
That's over five months with no official hoops within the Mavericks' organization. Yes, players could play in celebrity tournaments or with others at local gyms or those of the colleges they attended.
The problem is that these games did not simulate real-time or NBA-level games. Not to mention, the players didn't have the conditioning coaches or trainers to help them along, because again all NBA staff were barred from contact with players.
If you believe that hitting the gym for pickup games is adequate conditioning for NBA games, then you probably also believe that deep down you have the talent to fill a bench slot on some teams.
Bottom line: Two weeks is not enough for even the most active player to get in game shape.
This lack of practice compounds issue No. 3...
Brutal Schedule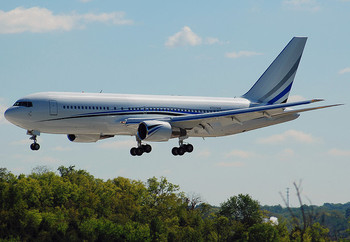 Mavs will be using their charter a lot (Photo by Michael Davis Photography)
...A brutal schedule.
The NBA regular season is 82 games played from October to April—almost six months. The lockout season is 66 games in almost four months.
If that doesn't seem like a big difference, it should. According to Slate.com the 82-game season was created based on a basketball player's ability to play three games a week with four days off.
In order to fit a higher percentage of games in a shorter amount of time, the NBA had to schedule 42 "back-to-back-to-back" games—three games in three days.
Mark Lawrence of Expert Covers puts it in perspective: "The league had only 84 total three games in three days situations played between 1994-2001 (the last year the league abolished back-to-back-to-backs)."
Just so we are on the same page, the league averaged 12 of these three games in three days and "abolished" them because it was too much of a strain.
Now, in a shortened season, there are 42 of them.
That number cannot bode well for any team, but it's especially discouraging for a team that's...
Age Before Beauty Except After Lockout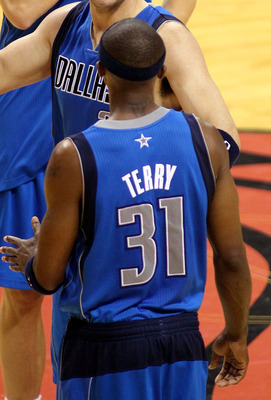 Hey Jet, your jersey is also the team's average age
Marc Serota/Getty Images
…Old!
The Dallas Mavericks are the "oldest team" in the NBA, averaging 30.33.
Adding old age to a brutal schedule, limited practice and conditioning is not a winning formula.
Dirk Nowitzki, the Mavericks' best player, has already missed games just to rest a sore knee. (This is what I suggested he do while resting.)
Jason Kidd, who is 38, has already missed four games in January due to back spasms. Now he has another injury that will shelf the veteran again.
Head coach Rick Carlisle says "the injury was diagnosed as a right calf strain and will keep him sidelined for at least a week, but likely longer."
How long will it be before the 35-year-old Vince Carter goes down or the 34-year-old Jason Terry?
The lockout has already affected Carlisle's team, but I fear the full effects of the lockout have not been completely felt.
Hopefully the Mavericks will be able to endure, keep on winning and be there at the end to hoist the trophy again.
Keep Reading

Dallas Mavericks: Like this team?