2012 NFL Predictions: Who Will Be the Denver Broncos' Next Backup Quarterback?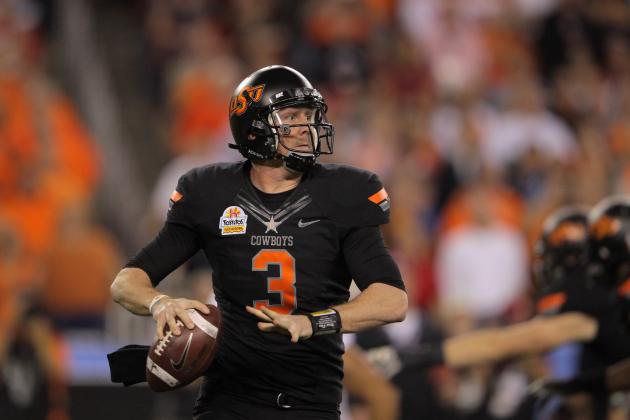 Doug Pensinger/Getty Images

Tim Tebow will be the starting quarterback when training camp starts up for the Denver Broncos this year. Yet a glaring and slightly unexplored question remains when it comes to Denver's quarterback situation.
Who will be the backup?
Brady Quinn's contract is up and isn't likely to return for the 2012 season. Regardless though of Quinn's decision, the Broncos need a quarterback who can at least mimic the Tim Tebow-style of offense in the event that Tebow goes down with an injury and can't play.
If there's anything the 2011 NFL season has taught us, it's that backup quarterbacks are extremely important. Just ask the Houston Texans and Chicago Bears.
Whether Denver deals with this issue via the draft or free agency is yet to be determined. It seems clear though that John Elway and Broncos' management isn't going to go after a full replacement for Tebow, but rather someone who can work closely behind him and learn the same style of offense.
Since Denver's offense will be largely complementary of Tebow's abilities, their backup quarterback will have to follow suit.
Perhaps Denver will deploy a system in which two quarterbacks are used, where Tebow and the now unknown backup will serve as a No. 1 and No. 1A-tag team depending on down and situation.
Regardless, whichever player holds the second-string spot at this position will have a lot of studying to do and a lot of ground to make up coming into training camp.
Despite all of this season's Tebow hype, the Broncos won as a team and will continue to win in that fashion with Tebow under center. The question now becomes: Who would serve as the best "teammate" for Tebow at the quarterback position?
Here are 10 possibilities.
Begin Slideshow

»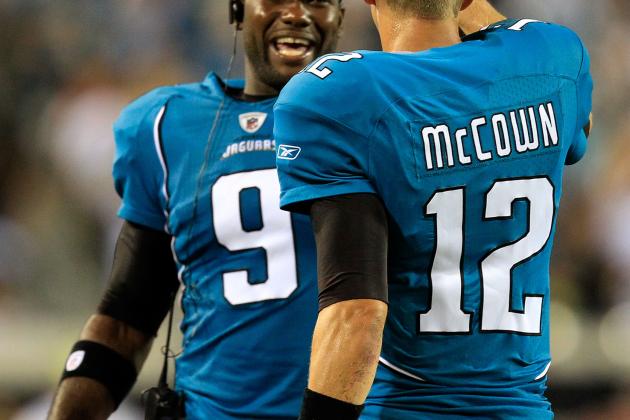 Sam Greenwood/Getty Images

At 33 years old, David Garrard isn't going to be looked upon as anything other than a solid backup if he signs in Denver.
It will all depend on how much the Broncos trust Tebow.
The prospect of having a young quarterback struggling and being forced to resort to an aging veteran isn't a pleasant thought for anyone in Denver's organization.
For John Elway, the act of signing a David Garrard-type backup would be throwing all his chips in with Tebow.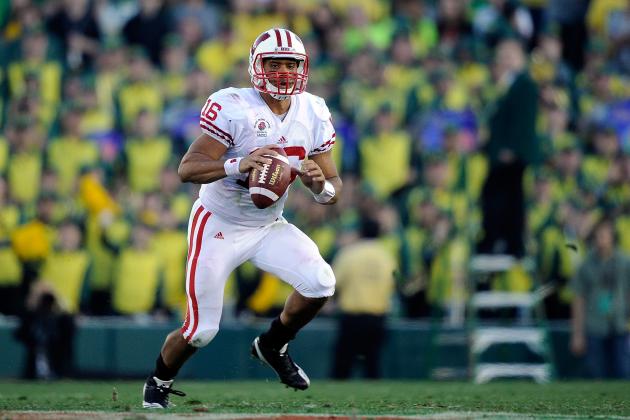 Kevork Djansezian/Getty Images

If Denver drafts Russell Wilson to play in an option offense in the shadow of Tim Tebow, then height won't be an issue here. However, if Wilson is called upon to throw 20 or 30 passes per game, this could become problematic, as he's listed at 5'11" on a good day.
Wilson was good on the ground last year tallying over 300 yards rushing and six rushing touchdowns as the icing on the cake of 33 touchdowns passes and only four interceptions. He could function as a QB-RB-WR combo if Denver gets creative enough with their offense.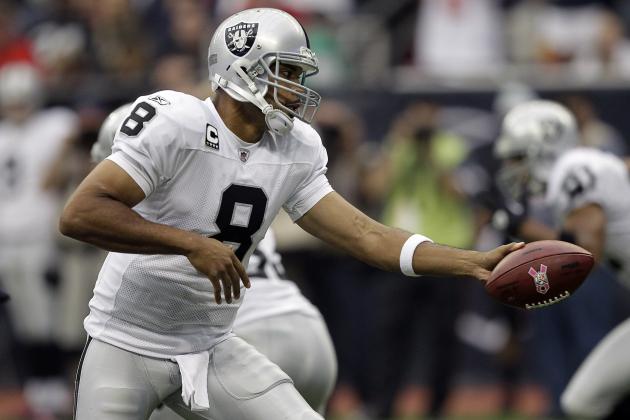 Bob Levey/Getty Images

As far as the Broncos are concerned, Jason Campbell is really just a younger version of David Garrard. Like Garrard, he's mobile and could probably back Tebow up if called upon to run the option.
As with any free-agent quarterback, we need to keep in mind that free agency isn't Denver's best option if they aren't all-in with Tebow at the starting position. Make no mistake, Campbell is a possibility, but he won't be heavily considered barring an exhaustion of Denver's other options.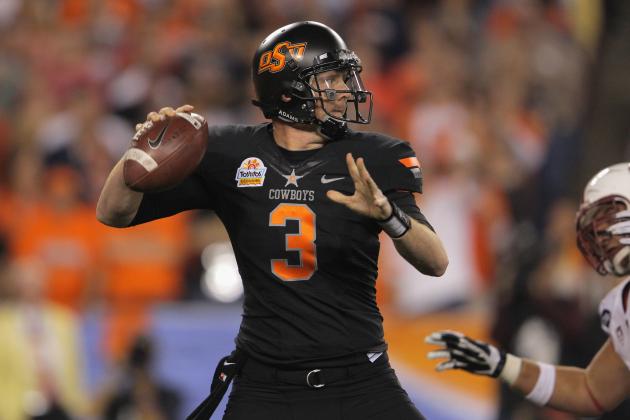 Doug Pensinger/Getty Images

At 28 years old, Brandon Weeden's age is a huge factor for any team looking to spend a high draft pick on him. This probably means that he'll be available late in the third or fourth round.
For a team like Denver with somewhat of an established starting quarterback, taking a gamble on him as a backup isn't quite as risky as if they were to draft him with the intentions of crafting him into a starter.
He's coming out of a spread offense in Oklahoma and could serve as an excellent second-string option behind Tebow if he learns Denver's system.
He's a bit of a cross between John Elway's two options. Draft and groom a prospect, or sign an established free agent. If Elway were to go with Weeden, he may just be getting the best of both worlds.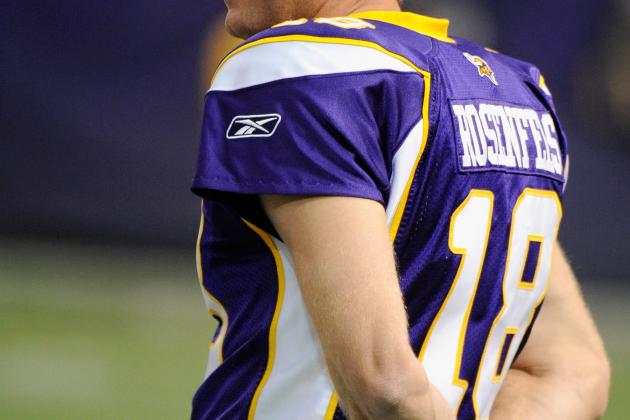 Hannah Foslien/Getty Images

A conventional choice for Denver may be to sign Sage Rosenfels for some veteran leadership and encouragement to Tebow.
Though he's a capable passer, he's not known for his ability to leave the pocket and make plays, which could pose a problem for Denver's option playbook.
The Broncos are far more likely to give the backup quarterback position to someone who they can mold into their system from the ground up. Rosenfels would at this time have to be considered a solid, though unlikely choice.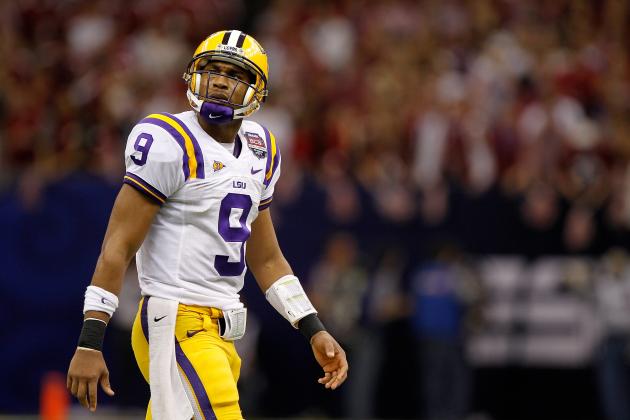 Chris Graythen/Getty Images

Last year with limited playing time, Jordan Jefferson threw for 684 yards and tacked on another 300 on the ground. His arrest limited his playing time and will obviously be a deterrent, especially considering the integrity of the Tebow atmosphere. However, his athletic ability should certainly be taken into consideration.
He could be a good fit in Denver's system at a number of positions.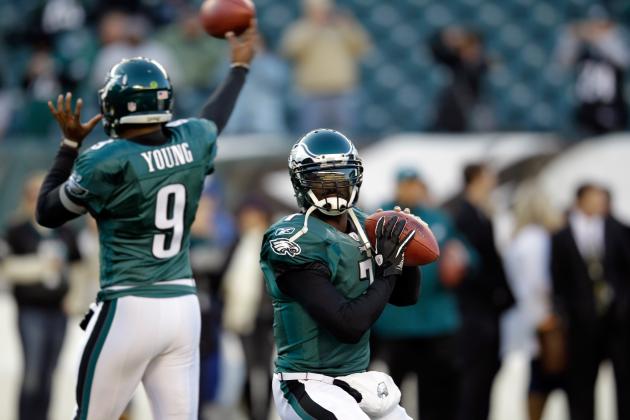 Rob Carr/Getty Images

Vince Young may be old news, but he is still only 28 years of age. As far as mobility at the quarterback position is concerned, there's no question that Young is capable of performing.
He certainly wouldn't offer much in the way of competing with Tebow for the starting job. Nonetheless, in the event of a Tebow absence, Young's mobility and experience would be an easy fill-in.
He may not be the player he used to be, but a big part of his poorly performing stock is the fact that he played for the 2011 Philadelphia Eagles.
That's a stain that will be tough to get out.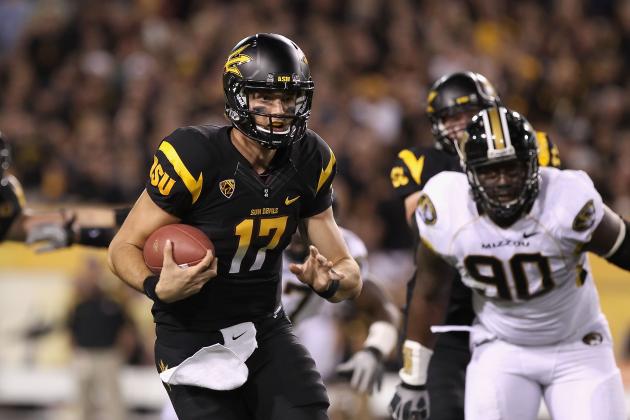 Christian Petersen/Getty Images

As a former basketball player, Brock Osweiler is fairly mobile in the pocket. At 6' 8" with a rocket arm, he's also a very capable passer and threw for over 4000 yards last season.
Despite his upside, he'll likely be available in the third round. If Denver is nervous enough about Tebow, drafting a player like Osweiler who has both a great arm and mobility may be an indication of their desire to slowly transition out of the spread-option attack.
Otherwise, Osweiler could learn the Broncos offense and be a capable backup for Tebow moving forward.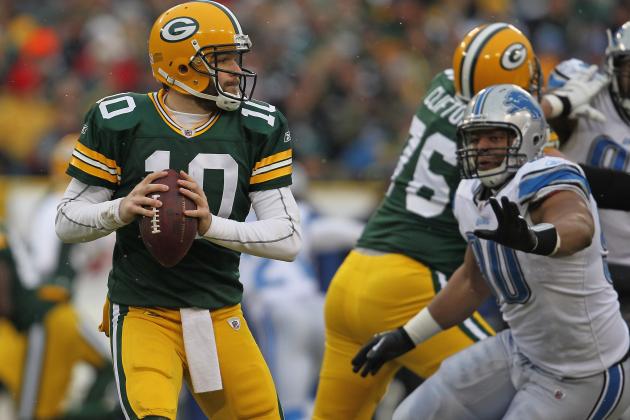 Jonathan Daniel/Getty Images

Matt Flynn has already made a name for himself, even in the shadows of Aaron Rodgers.
The odds of Denver signing him as a backup is unlikely as his price tag will be high. He's expected to take a starting role on whatever team signs him, and with so many teams needing quarterbacks, Denver isn't likely to push past the likes of Washington, Miami and Arizona unless they're intending to start him.
However, if Flynn were to end up in a Broncos uniform come training camp, Denver would boast incredible potential at the quarterback position. Assuming he signs with Denver, it shouldn't surprise anyone to see a scenario where Tebow and Flynn would both be used interchangeably depending on the down and yardage situation.
Jonathan Daniel/Getty Images

Chandler Harnish is perhaps Denver's most intriguing option in this year's draft class. He is remarkably similar to Tim Tebow in style and statistical turnout and could be groomed from the ground up to fit into Denver's option attack.
Harnish rushed for an astonishing 1379 yards last year and threw for an additional 3000 plus yards. His size (220 lbs.) and mobility is Tim Tebow-esque to say the least. If fitting into the Denver Broncos' offensive scheme is the primary concern, Harnish may be the Broncos' best choice coming out of the draft.
Again, this all depends on how much faith the Broncos' organization has in their own quarterback. If Elway goes all in on "Timmy," we should expect to see the conventional signing of one of the more mobile quarterbacks available in free agency. If Elway is deep down still skeptical, look for Denver to use a late-round pick to grab a quarterback suited to Tebow's style in the name of "grooming a capable backup."