Cleveland Browns: Rendition of Proposed 18-Game Schedule to Fix All Their Woes
January 30, 2012

Christian Petersen/Getty Images
If you are a Browns fan, at some point I'm sure you've realistically asked yourself this question: Will this team ever be a contender in the NFL?   
As a Browns fan, I can talk chalk, draft, coaches and front office all I want in order to state my subjective, opinionated case as to how the Browns can dig themselves out of their decade-long rut. But at the end of the day, this (what you are about to read) is the most realistic route to contention and relevancy—and not just for the Browns, but for any team experiencing a bumpy road.
The NFL has been pushing to extend its regular season schedule to 18 games for some time now.  The league's reasoning behind this extended schedule, as we all know, is to make more revenue. 
The players—because they want to live long enough to see their children graduate high school and college—aren't on board.  As for the fans, we're right in the middle—a lot of us want more games because, well, it means more football to watch, but we also do care about the health of the players.
I think we do?  At least I do. 
Not to mention, an extra two games would really water the regular season down, making it that much more painful for teams like the Browns.
So here's the question: Is there a way the league can tinker with the schedule to make every party, including themselves, happy?   Why yes, yes there is.
A 14-game schedule with a five-round, 28-team playoff.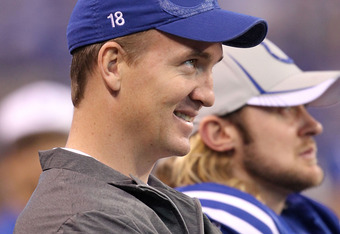 Andy Lyons/Getty Images
How It Works
The top two teams in each conference get a first-round bye.  In order to keep the eight divisions intact, the four division winners that didn't get a first-round bye are guaranteed the No. 3 and 4 seeds in their conference.
OK, I know, I know, the whole 28-team thing sounds amateur, ignorant and downright stupid.  I mean, seriously, you can't allow that many teams to make the playoffs, that's dumb. You know that and I know that.  Right?  Nope.  
After much consideration, I realized it isn't as dumb as it first sounds; in fact, it's not dumb at all, it's just radical.  It's so radical that, if this were 500 years ago, I would be stoned to death for publishing such a proposal, let alone mentioning it.
Everything you are about to read will answer all of the questions, concerns and flaws that NFL fans, players, owners and TV networks might have with this "dumb" idea.
Owners and TV Networks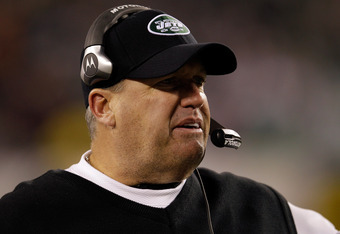 Rob Carr/Getty Images
How does playing fewer games equate to more revenue?
In this instance, less is more.  It's time for you guys to start thinking wayyyy outside the box.  The season would technically be a 15-game season for every team, save the four who don't make the playoffs. 
Sure, that is still one less regular week of football, but you can't convince me that the first two rounds of a 28-team playoff wouldn't make up for the money lost from not having that extra week of football.  Just imagine the TV contract for the playoffs.   
Yes, the final week of the current 16-game season can be good TV, being that teams' playoff berths and positioning are on the line, but what about all those games where a team uses the final week to rest their starters for the playoffs? 
What about those games where one, maybe both teams' players and fanbases have already checked out after nine weeks of the season? 
Playoffs aside, this new proposition I'm making would result in the most incredibly entertaining final three-week stretch of professional football that any of us could ever imagine.  That means more money for you, the sponsors of CBS and Fox.  
The Players
If the owners are in favor of this...surely I can't be in favor of it, right?
Oh yes you can.  The maximum number of games you would ever play would be 19 (14 in regular season and a maximum of five in the playoffs), no more than it is now.  
But what's really important is that more than half of your players will probably play 15 games per season or less, which is exactly what you want, right?  But you won't just get fewer games, you'll have the opportunity to play in a number of more meaningful games.  
Regardless of how much money you make or how "professional" you are, it's gotta be hard to get yourself up to play a game in December when your team is 2-11?   I mean, at that point, the fans have either given up completely or want you to lose so that the team gets a higher draft pick. 
You're left playing in a half empty stadium with a -10 degree windchill carving out your bones.  Unless you're a young player trying to keep your job, at that point, in all realness, you have nothing left to play for. 
Wouldn't you and your teammates like it if you were guaranteed to play a game (even if it was as a No. 14 seed against a No. 3) where you could all come together and leave everything on the field to show you're better than your 4-10 record suggests? 
Wouldn't you like the chance to improve that No. 14 seed into a 13, 12 or 11 just so you could escape playing a team like the Saints in the first round of the playoffs? 
As for you, Dwight Freeney and Reggie Wayne, wouldn't it boost your morale if, this season, you knew that there was a good chance that Peyton Manning would be back under center?  Instead, there was no reason for Manning to return to the field even if he was healthy.  
Another caveat that makes this work is that they could still keep the preseason at four games.  Yes, fans hate the four games, but they're important for the coaches and late-round/un-drafted players trying to make an NFL roster.   
The Fans
A league where that many teams make the playoffs, huh?  What's the point of the regular season?
I've been asking that same question about college basketball for years: "What's the point of the regular season?"  Fortunately, these NFL playoffs would not be played on neutral sites. 
Unlike the NCAA basketball tournament, where teams play in an unfamiliar dome at 10 o'clock at night 400 miles away from their home stomping grounds, this 28-team, one-game elimination playoff format would be more predictable and far more fair.  Home-field advantage goes a long way in the NFL.  
Everyone knows the BCS is dumb and that's why a lot of people prefer the NFL.  Well, if you're the head of the NFL, you already know your league is on top of the world. 
So why not boost your ego even more by putting another NCAA playoff system to shame by showing how dumb the predetermined, regional sites are for the men's basketball tournament?
Speaking of the NCAA tournament...  
We love the NCAA tournament; the first couple of rounds have become like a national holiday.  What makes the NCAA basketball tournament so enthralling are the Cinderella stories and crazy upsets. 
You know what makes a Cinderella story and a crazy upset even better?  How about when you've actually had the opportunity to familiarize yourself with all of the teams over the course of the season.  
Virginia Commonwealth and Butler were a nice story and all, but seriously, ask yourself this: Would Joey Rodriguez leading the Golden Rams to the Final Four even compare to seeing Cam Newton and the Panthers making a run in the playoffs as a No. 12 seed? 
What about a No. 9 seed Butler taking down No. 1 seed Pittsburgh?  Is that better than a rusty, Peyton Manning leading a 3-11 Colts team past Houston and into New England?  Now that would be television at its finest.  Professional sports at its finest.  Hell, America at its finest.
Now you may be asking...
Still, the Regular Season Would Lose So Much Value, You Can't Replace That
Would it?  
Would this new format really take away from our being able to argue Brady or Rodgers alllll season long?  Would it negate our being able to watch Tony Romo de-combust in the fourth quarter and everyone outside of Dallas getting to laugh about it afterwards? 
Would it have taken away our desire to write endless Michael Vick columns, the way we did for the five-month stretch leading into the season?  
With this new format, would we refrain from betting on games or playing fantasy football?  Would it diminish the value of a Ravens/Steelers or Pats/Jets game?  Would we then ignore every word that came out of Rex Ryan's mouth? 
Would we refrain from putting the Dallas Cowboys on a pedestal?  Would we stop constructing weekly Internet power rankings?  Would Skip Bayless forgo going absolutely ballistic each Monday morning?
Nope, all of those cool caveats that make the NFL so great would still be there.  And isn't that what makes up half the intrigue of the NFL? 
All the little arguments the Internet creates, all the subplots, all the our guy/our team is better than yours, all the premature "We finally found our quarterback" proclamations by Browns fans?  All the waiting to see if the guy on the cover of Madden has his leg sawed in half?  
Say I'm a Patriots fan, how can I ever be on board with the idea that a no-good, worthless, lousy, idiotic, embarrassment of a Browns team could knock me out of the playoffs all because of a few bad calls and bad breaks went against the Pats?  Screw that.
If you said that, you're 100 percent correct.  Screw that, and screw bad teams.  They don't deserve a chance.  Unfortunately, you and the rest of your fanbase represents about eight percent of the total NFL population; therefore, if your team is unfairly ousted by, say, the Browns, the other 92 percent of the NFL community will benefit.  
People love when bad things happen to really good teams.  All of us do. 
Plus, if you're a Patriots fan, would getting knocked out in the first couple of rounds by a lousy team really be that much worse than going 14-2 and getting eliminated in the divisional round by an obnoxious, all-talk, good-for-nothing, haven't-proven-anything, "Can't wait" New York Jets team?  Same goes for Packers fans this year.
Playoff Map
For the first round, you have seven games on Saturday, seven games on Sunday.  Pretty simple.  Four games a 1:00, three at 4:00 with a couple staggered 4:15 games being thrown in there and one 8:00 game on Saturday. 
The higher seeds would play on Saturday so that in the next round, they would have an extra day of rest compared to their opponent.  Oh, and they would shut the entire country down for that weekend and make it a national holiday. 
Here's the Point
This particular playoff participation structure is the final destination of the NFL and professional sports in general.  The NFL is already ahead of the game in terms of creating the best product for the fans, that's because they've taken full grasp of the concept of parity.  Because of that, the NFL is the closest thing to a perfect league.  
How would one define a perfect professional sports league?  In my educated opinion, a perfect league (or close to it) is one in which the interests and hopes of the broad population of fans is sustained for as long as possible. 
You know how I know this?   Because no one cared that the NBA was losing games because of the lockout.  Why didn't we care? 
Because (and I quote) "Unless your team has one or two of the dozen or so stars, your team has no choice but to hope to land Harrison Barnes, and the only way to land a guy like Barnes is to be bad, and if your team is bad enough to get Barnes, you probably aren't paying for a ticket, watching their games or even giving a crap in the first place." 
The same goes for baseball, (again, I quote the consensus opinion) "No one has cared about the MLB over the last decade because, unless your team is in a big market with plenty of cash flow, you're pretty much as good as dead from the start."  
Big Picture
I know that whenever one of the three Cleveland teams finds itself either in the playoffs or in contention for them, Cleveland is an overall better place. 
Everyone's happier, local bars and restaurants make more money, everyone walks around with a bit more pep in their step and our racial, social and economical differences are somewhat forgotten because we're all happy to be commonly bound by our local team.  
We're in the 21st century and sports are a big deal.  For better or worse, they do, in fact, play a huge role on society.
Conclusion  
A greater number of invested viewers equals more money for players, owners, TV networks and the list goes on.  A National Football League where 28 teams make the playoffs equals a greater number of invested viewers.  
Teams spend boat loads of money on their marketing departments just so they can come up with team slogans, halftime shows, fireworks, ticket packages, fan appreciation nights, dollar dog nights, etc. when, really, it's not about that.
Sure, everyone can appreciate a good fireworks show, but you know what's better than fireworks? A team that the fans can follow and watch throughout the entire season.  Basically, this whole 14-game season thing that I've devised is about one thing and one thing only: hope.  In sports, hope equals money for franchises.
Will We Ever Actually See the NFL Adopting This 28-Team Playoff Extravaganza?   
Maybe.  Face it, the NFL has its fans hostage.  We're not happy they altered the rules so that players are forbidden to lay a pinky on the QB or hit receivers in the wrong way, but we still watch.
We were furious and completely turned off throughout the lockout, but when it ended, we were back and better than ever. 
My point is that the NFL can afford to adopt this, now it's just a matter of waiting for them to realize that they can't afford not to.  I'll give it to about the year 2028 to happen.