Giants vs. Patriots: Why Rob Gronkowski's Injury Could Break the Patriots
February 4, 2012

Jim Rogash/Getty Images
Here we are, heading toward the end of the NFL season. Even though we've heard a lot of other things about the two teams playing in Super Bowl XLVI, it all seems to come back to the same thing.
How is Rob Gronkowski's high ankle sprain going to affect the New England Patriots in the Super Bowl?
Everyone is tired of this story. I understand that. This story has been beaten into the ground by ESPN, Fox Sports, Deadspin and, of course, Bleacher Report. That being said, Rob Gronkowski's effectiveness in this game is directly tied to the Pats' chances of winning this game.
If you look at the two teams as they are right now, the Giants are the more complete of the two. Their defense is not as good as advertised, in my opinion, but they still have an impressive front four that can get to Tom Brady. Eli Manning has been playing out of his mind. The Giants also have one of the best receiving corps in the league with Victor Cruz, Hakeem Nicks and Mario Manningham.
Even with that going against them, it's still hard to bet against Tom Brady and Bill Belichick. The Patriots went 13-3 in the regular season, but they are somehow viewed as the underdogs in this game (except in Vegas, as of this writing). A lot of their success has been in the passing game. Brady has one of the best targets in the game to throw to: the man they call Gronk. 
It was once said of Cris Carter that "all he does is catch touchdowns." This statement may be more true for Rob Gronkowski. He caught 17 touchdowns this season. Gronk is big, surprisingly fast and has great hands. He is Brady's go-to guy in the red zone, and why shouldn't he be? Being able to throw the ball to a guy that big and that athletic must be a quarterback's dream.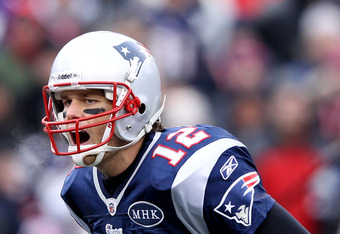 Elsa/Getty Images
The potency of both the Patriots' passing and running games are dependent on both Gronkowski and his counterpart, Aaron Hernandez, being out on the field at the same time. It's not just about catches and yardage. Gronkowski is a good blocker on running plays. Perhaps more importantly, his presence on the field opens up plays for Hernandez and Wes Welker.  
I have no doubt that Gronkowski is going to play in the Super Bowl. What I do have doubts about is how well he is going to be able to play. A high ankle sprain is a much more serious injury than many of the pundits and sports fans make it out to be. This injury occurs when the ligaments that connect the tibia and fibula are torn or twisted beyond their capacity. Most players do not fully recover in two weeks from a high ankle sprain. We saw how the injury affected Ben Roethlisberger late this season.
If the offense cannot move like it normally does, there is no way that the Patriots play this game. Their defense has been playing better, yes, but in the playoffs it has played against the Broncos and Ravens—two teams that are not known to be offensive juggernauts. By contrast, Eli Manning has receivers who can easily make it a long day for the Patriots defense.
If Gronkowski is overly hampered by the sprain, it could make for a difficult day for the Patriots. This team is dependent on its offense. If Gronk can't be even a fraction of his normal self, someone else on the team will need to step up. If this doesn't happen, then the Giants will leave Indianapolis with the Lombardi Trophy in their possession.