Pittsburgh Steelers: What Could Happen When Roethlisberger and Rooney Meet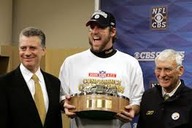 OK, here is what we all know as of now (just in case you have been living under a rock).
Ben Roethlisberger stated that it would be a mistake for the Steelers to fire Bruce Arians because it may hurt the chemistry between the offense.
Bruce Arians retires from the Steelers.
Actually, Arians didn't retire from the Steelers, his contract was up, and the Steelers did not want to renew it.
Arians tells the media that Ben is mad, and that it was not his decision to leave.
Art Rooney II admits that it was his idea that Arians should go, which is why he is gone.
Bruce Arians un-retires, and becomes offensive coordinator of the Indianapolis Colts.
(The issues with Peyton Manning and the Colts owner tower over what is happening in Pittsburgh.)
Ben Roethlisberger states that when he returns from the Pro Bowl, he is going to go to Mr. Rooney's office, and Art can explain to Ben what he expects of the Steelers offense.
The interesting point here is that Ben Roethlisberger, the Steelers franchise QB, and the highest paid player in the history of the Pittsburgh Steelers is set to meet with Art Rooney II, to discuss why Bruce Arians was not brought back to Pittsburgh, and what is expected of the offense in the future.
Now, this meeting could go many different ways.
Here is my opinion as to what could happen in the meeting with Ben and Art next week.
Note: Though all the links are from profootballtalk.com, no, I am not getting paid from PFT, but I may have set the record for most links in a single article.
Begin Slideshow

»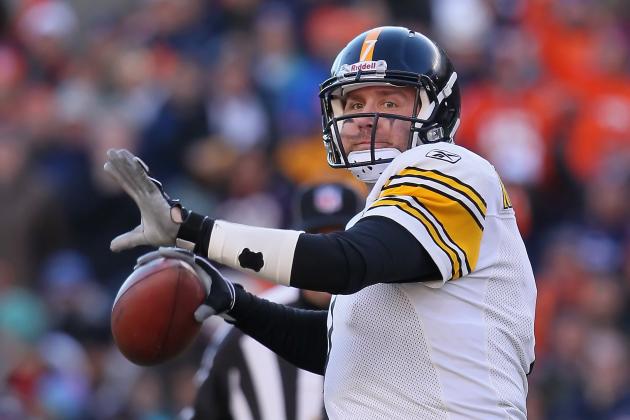 Jeff Gross/Getty Images

Ben Roethlisberger walks into the office of Art Rooney, with Primanti Brothers sandwiches in hand.
Ben asks Mr. Rooney what is his thought process about what he expects from the offense.
Art explains to Ben that he has been telling Arians for the last two years that we MUST get better at running the football; that the play selection Arians has been calling has been nothing short of a joke; and the proof of that is when Ben runs the no-huddle, the Steelers are able to move the ball at will; and unless Ben turns the ball over, normally, Pittsburgh scores.
He explains to Ben that the Steelers, even though they ranked 12th in total offense, only ranked 21st.
He explains to Ben that Arians REFUSED to use a full back, or even have one on the roster, and we were forced to use a back up tight end at the position, which is a reason that we had such a hard time running the ball.
He explains to Ben that he has every intention of hiring QB Coach Randy Fichtner, and the only thing preventing it from happening to this point is that he wanted to interview a minority because of the Rooney Rule (I KNOW that it does not apply to coordinators, but when the rule is named after the owner, you have to do a little more than the letter of the law), and he wanted to discuss it with Ben before he signed the contract.
Ben asks: "What about the passing game?"
Rooney says that he has no problem with the passing game, other than the redzone, and that is our top priority this offseason, AFTER re-signing Mike Wallace.
Rooney then asks Ben if there is anything he sees the Steelers need to become the best offense in the NFL?
Ben explains that he has begged for a receiver that is tall, to become that threat in the redzone, which will open up the under routes, out routes, and the running game, and Rooney says he will do what he can.
Ben then asks for a couple free agent offensive linemen that actually know how to block, and Rooney says, "We'll see what we can do."
Ben and Art hug it out, and everyone goes home happy.
[UPDATE: It has been reported by the Pittsburgh Tribune Review that Mike Tomlin met with Jim Caldwell, former Colts Head Coach, at the Omni William Penn hotel in Pittsburgh. If Tomlin was to interview a minority coach, that has been accomplished]
Jared Wickerham/Getty Images

Ben sits down in Mr. Rooney's office and asks him what is going on.
Rooney tells Ben that he has explained to Bruce many times in the past that he expects the running game to improve, and it has not happened.
Ben tells Rooney that Arians is not the one that needs to be blamed, but the whole offense must shoulder the responsibility as well.
Rooney says NO; when you are as predictable as we have been over the last two years, something HAD to change. Between the repeated WR screens, running on first downs, and no creativity in the play calling, BA had to go.
Rooney then tells Ben that he needs to understand that he is getting older, and has about five great years left. If he would like to survive the next five years, then he is going to have to make faster decisions, and stop taking so many hits. An improved running game would also help in this capacity.
Ben says that Rooney then needs to do something about the offensive line, because other than Pouncey and the tackles, we need two starting caliber guards.
Rooney agrees, they shake hands, and everyone goes home happy.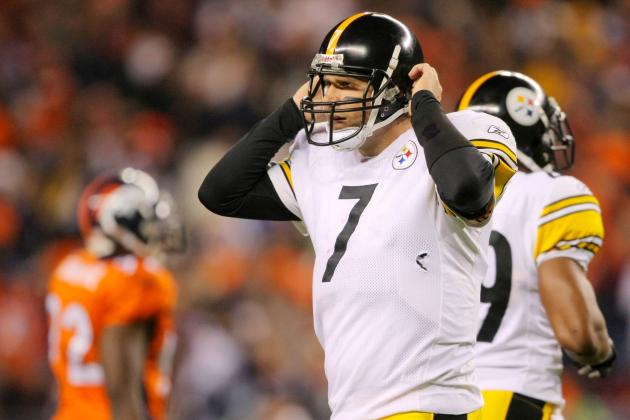 Doug Pensinger/Getty Images

Ben enters Art Rooney's office and says: "We need to talk."
Rooney says: "You're right, we do."
Ben says that Arians is his friend, and that he does not believe that Arians should be fired.
Rooney says that Arians is the reason that the Steelers are not only out of the playoffs, but the reason that we didn't win the Super Bowl last year. His play calling sucks, and he is as creative as a book of matches.
Ben gets defensive and states that the defense is who lost the playoffs for us, not the offense.
Rooney says that if the offense would not turn the ball over as much, and could actually score in the redzone on occasion, that Arians would still have his job.
Ben asks: "What about Fichtner?" And Rooney replies, "Who?"
Ben gets up and leaves the room.
Doug Pensinger/Getty Images

Ben shows up at the office of Art Rooney II, kicks in the door, and demands answers! Unfortunately for Ben, Art is having a meeting with Mike Tomlin and Kevin Colbert. Tomlin and Colbert try to excuse themselves from the room, and Ben does not let them.
He says they are as responsible for this as Art II is, and they need to hear what he has to say.
Tomlin and Colbert look at each other, look at Art Rooney, and sit back down.
Rooney says, "OK, Ben. What do you have to say?"
Ben says that firing BA was BS, and that the only reason the Steelers offense has been successful is because of the play calling of Arians.
Rooney looks at Colbert and tells him that Ben obviously needs to be in the substance abuse program.
Ben gets even more upset, and says he has no interest in playing for the Steelers, especially since they don't respect him enough to discuss with him offensive coaching decisions.
At this point, Rooney asks Ben if he is finished. Ben says yes, and Art goes on a rant similar to Dennis Miller.
Rooney tells Ben that with the weapons the Steelers have, there is no reason that YOU are not putting up numbers like Aaron Rodgers, Drew Brees or Tom Brady. He explains that he gave you more than any other player in the history of this team. WE as a team have stuck by you through bad decision (riding bike without a helmet), after bad decision (Nevada law suite), after bad decision (Georgia).
He then tells Ben that "YOU do not own, operate, or run this company. I DO! You have two choices. Either accept that, know your role, play your part, and start putting up numbers that YOU believe you can put up."
Either that or we can ship you out of here and get someone to replace you. Your buddy Bruce is in Indianapolis now, and rumor has it, they are looking for a QB. Smarten up, or you will be wearing a horse shoe on the side of your head for the rest of your career.
Ben dares Rooney to try it. Rooney looks at Colbert and says, "Make it happen." He looks at Ben, and then tells him to get the hell out of his office.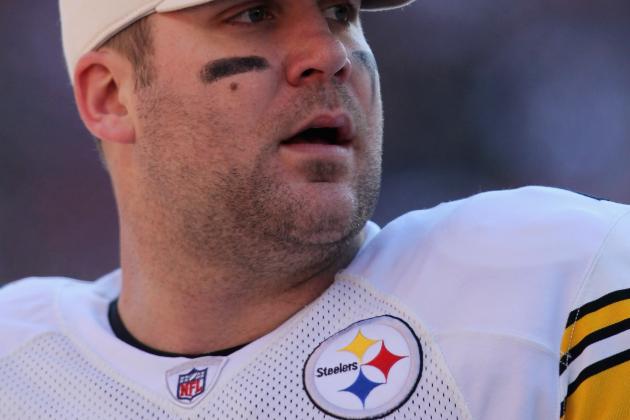 Jeff Gross/Getty Images

Best Case Scenario:
The Steelers hire Fichtner, Ben is happy because he is running a similar system to the one that Arians ran, but Fichtner knows the spread offense, and the Steelers use their offensive weapons the right way.
Good Case Scenario:
Art Rooney realizes that the Steelers are close to being what the Packers and Patriots are, only with better weapons. Rooney instructs Kevin Colbert to bring in two guards that actually know how to pass block.
Bad Case Scenario:
Ben is not happy with the Steelers, but there really isn't anything he can do about it. If he were to quit, he would have to pay back his signing bonus, and he would still be out of a job.
With three years left on his contract, Ben would have the next two years to get over it before Pittsburgh would have to worry about re-signing him.
Worst Case Scenario:
Kevin Colbert puts Ben on the trading block, and there are a LOT of interested teams. It comes down to the Colts (Roethlisberger already knows the system, and they would be favorites to win the AFC South next year again), and the Washington Redskins.
Though Washington would probably offer more, Pittsburgh would send Ben to Indianapolis, and receive the Colts first two picks this year, and their first pick next year.
With those picks, the Steelers could draft Andrew Luck, then have the 24th pick, the 33rd pick, and the 56th pick. They would have almost half of their salary cap issues gone, with Ben off the books, and they could address both offensive line issues, AND the DT position in this draft. THEN, they would have two first-round picks next year, to build depth.
Saying it like that, almost does not make it a Worst Case Scenario at all.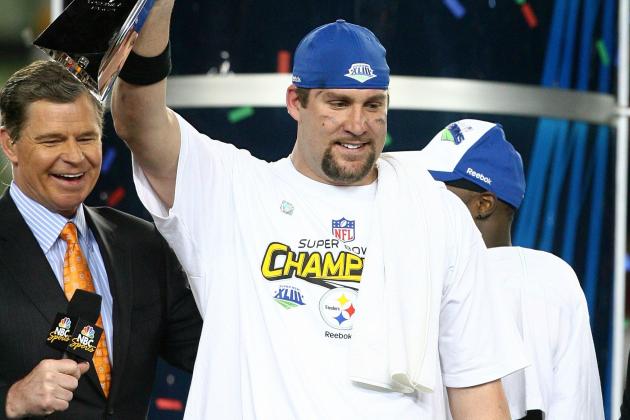 Al Bello/Getty Images

Though those types of things are fun to look at, none of them are going to happen.
What is going to happen, is Ben is going to go to Art and ask what is going on. Art is going to tell Ben that he expects more out of him and the offense. Bruce was not let go because of any reason other than the owners have realized that this offense has gone as far as it can with Arians calling the plays.
Rooney will tell Ben that he IS the Steelers, and they don't want to lose him. They do, however, want to see him shine, and the only way that is going to happen is if they get someone in there that is not going to kiss Ben's rear end, but to push him to the MAX.
It will be better for the Steelers, Ben and the fans if Ben is pushed, and that is what they are going to do.
Rooney will then tell Ben that he is his guy, and they plan on putting a championship team around Ben, but Arians simply does not fit into that picture anymore.
The two men shake hands, wish each other some great time off, and they will see each other in training camp.
OH, and next year, not only will the Steelers have a top-five offense, they WILL be going after Lombardi No. 7!