Response to Plain Dealer Report on Cavs' Interest in New Orleans Chris Kaman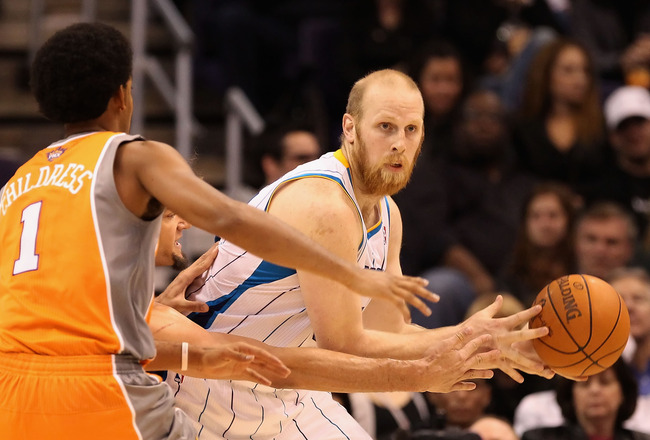 Christian Petersen/Getty Images
The Cleveland Plain Dealer's, Mary Schmitt Boyer, reports that the Cavaliers are interested in trading for New Orleans Center Chris Kaman. Kaman, a 7' true center who was a part of the Chris Paul trade with the Clippers, is being shopped around the league by the Hornets brass because, turning 30 this year, he is not a part of their rebuilding efforts as they look to surround Eric Gordon with young talent.
The Hornets prefer committing their available minutes to the development of younger players currently on their roster and would like to acquire assets in the form of young players and/or draft picks.
While many fans in Cleveland scoff at the idea of trading for an injury prone center with a steep price tag of $14 million for limited production. There are reasons that this trade would make sense in furthering the rebuilding process of the Cavs.
Competing with other teams that are looking to acquire, perhaps that one more piece to make a playoff run will certainly make it difficult for Cleveland to swing a deal. But if they can put together a package for the big man they should certainly try. Let's briefly analyze the situation and discuss why trading for Kaman makes some sense.
Current State of the Cavaliers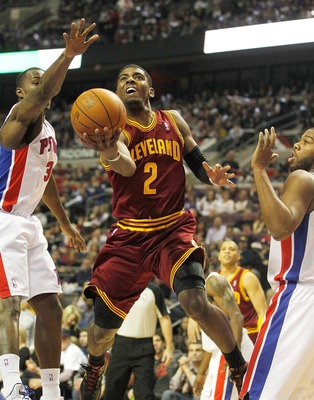 Gregory Shamus/Getty Images
Before even considering the specifics of making a trade for Kaman, we must first take a look at the current situation of the franchise.
After an abysmal season that resulted in two lottery picks within the top five, the Cavs are making strides in the Princeton style offense under the direction of Byron Scott, a head coach known for his demanding style of practice and expertise in developing point guards.
Much improvement can be attributed to the rapid development of No. 1 overall pick Kyrie Irving at the point guard position, as many of the same players remain from last year's roster.
Another factor in the team's competitiveness is the blossoming on court chemistry between Irving and veteran big man Anderson Varejao. Complimentary players such as Alonzo Gee, Omri Casspi, Daniel Gibson and veteran Anthony Parker have filled out the roster nicely and fit in to a fast tempo offense.
Indeed, there is reason to be excited about this Cleveland Cavalier team.
That being said they are still a work in progress. They are in need of a second scoring option, who can create his own shot, as Irving is the only player who can truly command the attention of an opposing defenses.
While the team is more competitive than before, recent losses by wide margins have exposed the talent gap that stands between them and the elite teams in the conference, Chicago and Miami.
This year, it appears the team could have a chance at sneaking in to the playoffs as the No. 8 seed, but realistically they lack the depth to avoid picking in the lottery again, if there is an injury to a key player.
Most likely this team will finish with a much better winning percentage than last season and will have a chance to win close ball games far more often. But they will still find themselves drafting in the top 15 of the draft once again.
Due to the threat of having the entire 2011-12 NBA season locked out, many college players decided to remain in school for another season. This disrupted the growing trend among elite college basketball players of attending school one season in order to become eligible for the NBA (athletes must be one year removed from graduating high school).
The result—an unusually deep draft class for the upcoming 2012 NBA Draft. But this also means there was a particularly weak draft class this past year, leaving the Cavs to draft Tristan Thompson at No. 4. He is a raw athlete, who would not have been a top five pick had players like Harrison Barnes and J.J. Sullinger elected to come out.
Most likely, the Cavs will not find themselves drafting in the top five in this upcoming draft barring a monumental collapse or lucky bounce of a lottery ping pong ball. But even late in to the 1st round there will be talent available to add to the young nucleus.
In addition to adding another talented rookie for next year, the Cavs will need to look to acquire another star caliber player in order to compete for a championship.
Assuming the Cavs select a talented rookie in the draft, it is likely this will be the last year they are a lottery team, making the likelihood of drafting a third superstar caliber talent in 2013 far less. For this reason they will need to look to add this player either through free agency or via trade.
Here are some scenarios to demonstrate why a trade for a player like Chris Kaman could make a great deal of sense...
Cavs Trade Varejao and Sessions (or Gibson) for Kaman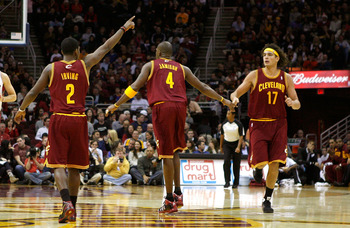 Mike Lawrie/Getty Images
If you're a Cavs fan you're probably ready to either exit out of this article or start posting an angry comment about how truly idiotic I am. I invite you to offer any opinion you wish of me (try to leave my parents out of it) but please consider my explanation before doing so.
While Varejao has long been a fan favorite for his reckless and high effort style of play, he should not be considered absolutely untouchable in possible trade scenarios.
The Cavs have made it clear that prying the Brazilian big man away from them would require a good deal for them (and if you think anyone is untouchable remember they parted with Big Z without an absolute guarantee that he would be bought out).
Giving up Varejao may seem steep, particularly considering his current level of play and the downgrade of talent that bringing in Kaman would create.
It gets worse when I say that because Varejao's contract is $7million/year, and Kaman's is $14million/year, the Cavs would have to give up more. Fortunately, the area they are perhaps deepest at is the point guard position.
Obviously trading Kyrie Irving won't happen, despite the New Orleans interest. That leaves either Daniel Gibson or Ramon Sessions as trade possibilities.
Both have similar contracts at just under $4.5 million, so the Cavs have to be willing to give up whomever the Hornets prefer.
If absolutely necessary, the Cavs can throw in either a 2nd round draft pick or their protected 1st round pick, acquired from the Kings, in the trade that sent J.J. Hickson packing.
With Sacramento looking as a certain lottery team this season, the pick would move to the next year and in all likelihood will end up turning in to a 2nd round pick in a few years.
To put it plainly, the draft pick from the Kings is not an asset the Cavs can count on for much.
The price for an expiring contract is going to be high because New Orleans will want assets that they can either use in rebuilding or possibly trade in the future. In order to get value they must be willing to give up value in exchange.
Why it works:
Age: Varejao, like Kaman, will turn 30 years old within this calendar year. As s player who relies on his hustle and effort, it's realistic to expect his effectiveness will start to drop off with age.
The Cavs are most likely two to three years away from truly contending for a title, making Anderson 31 or 32. While they will try to keep Kyrie Irving in a Cavs uniform for the next seven to 10 years, Varejao will not be a part of the nucleus that far down the road, unless he can drastically improve his offensive skill set extending his effectiveness.
Production: It's true that Varejao has better rebounding numbers than Kaman but it should be noted that their point production is similar.
While Varejao averages 11 rebounds per contest, Kaman is not a huge drop-off at around seven rebounds a game. Kaman's field goal percentage is lower, primarily because he settles for mid range jump shots far more often than Varejao, who scores primarily under the basket.
While Kaman's field goal percentage is lower, he has a better free throw percentage and slightly higher blocks per game. The production is rather close even though Varejao is the better player.
Cap Space: This is the key to this trade and really the only reason you even consider doing it. Whether the Cavs choose to go the route of the Oklahoma City Thunder (drafting talented young players to form a key nucleus) or that of the Miami Heat and New York Knicks (signing established superstars and surrounding them with veterans making the league minimum). One thing is certain. Having cap space is never a bad thing in building for a future elite team.
New Orleans benefits here because the total dollar figure of Varejao and Sessions (or Gibson) is less than Kaman, but they are still adding a relatively young player in Sessions and a talent upgrade in Varejao, who could potentially be traded later to a contending team for young pieces. In addition, the Hornets could ask for draft picks to sweeten the pot.
The Cavs only real benefit is to clear cap space for the future. By trading Varejao and Sessions for Kaman they clear an extra $12 million in cap space to use next year.
With the addition of the one-time amnesty clause this season they were able to release Baron Davis, who still had two years left on his contract, without having his salary for next year (just under $15million) count against the cap. Between using the clause on Davis, Antawn Jamison's expiring contract, and acquiring Kaman's expiring contract. The Cavs would clear roughly $44 million from their books.
Why it doesn't work:
Production: How can production be listed under both the positives and negatives to making this deal?
Well on the positive side we understand that giving up Varejao for Kaman does not cripple the team, but make no mistake, there is a drop off.
Their numbers are similar but in addition to losing some rebounds the Cavs lose out on the intangibles that Varejao brings to the table. In the fast paced Princeton offense Varejao is almost as good as it gets from the center position.
With Kaman you won't see many transition points coming from the center position, he just doesn't get down the floor as quickly. You also have a more, straight up style defender in Kaman, who isn't going to be as disruptive from constantly moving for position.
Kaman will stay between the man he is guarding and the basket and use his length to disrupt the shot. Put simply, you will see a drop off at the position with this trade. While it is not catastrophic, it would be noticeable and eliminate the chemistry Irving has developed with Varejao.
Depth: This is pertaining to the point guard position obviously. If the Cavs deal Gibson they lose outside shooting. If they deal Sessions they lose their backup true point guard who runs the offense when Irving is on the bench.
Can Gibson run the offense? This has been one critique of the veteran out of Texas since he came in to the league. While he is adequate, many believe Gibson to be more of an undersized shooting guard than a true point guard. The team would most likely need to add a backup point guard later on to ease Irving's burden.
Cavs Trade Antawn Jamison for Chris Kaman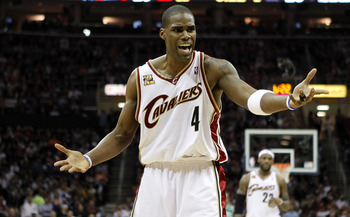 Gregory Shamus/Getty Images
A second scenario involving a trade for Kaman would be trading aging veteran Antawn Jamison.
Fans have been commenting on the Plain Dealer's website suggesting this as the only possibility for bringing in Kaman, which is why I am addressing it. To be quite honest this trade scenario would never happen unless the Cavs were willing to part with multiple 1st round picks or involve a third team. Why doesn't it make sense?
Cavs: The primary benefit to adding Kaman would be to free up additional cap space for the coming year, but trading Jamison (an even higher expiring contract) does nothing beneficial for the long-term.
While bringing in Kaman for Jamison would allow Varejao to move to his more natural power forward position, this is only a quick fix for this year.
New Orleans: Trading for Jamison makes even less sense for New Orleans, who will look to bring in something of value for Kaman's expiring contract.
At this point in their rebuilding process it just doesn't help them to unload a 29 year old with questionable health for a 35 year old with questionable health. Unless the Cavs are willing to give up several draft picks to create some incentive.
The bottom line is that Jamison for Kaman straight up is not a beneficial trade for the development of New Orleans, nor does it benefit Cleveland beyond this season.
If these teams were able to bring in a third team to trade with there could be a benefit for both.
The team they would need to bring in would have to be looking to unload long-term contracts in exchange for Jamison's expiring deal.
Purely as an example the Sacramento Kings, another team in the rebuilding process, could be interested in moving John Salmons' contract along with another player, to free up additional cap space for next year.
Again though, this begs the question of whether the trade would benefit any of the teams, particularly those giving up expiring contracts, enough to merit a move. I believe it would not.
Conclusion: Going Forward for the Cavaliers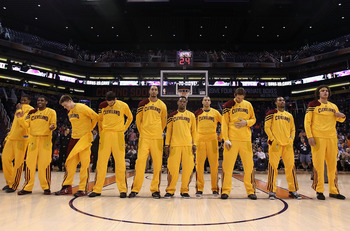 Christian Petersen/Getty Images
The current salary cap is approximately $58 million and teams must spend at least 85 percent of that on their payroll. If the Cavs trade Sessions and Varejao for Kaman and elected to not make any additional moves, while letting Jamison's contract expire at the end of the year, they would be left with just under $13 million on their payroll in guaranteed money for 2012-13 (if they decline Gibson's $4.8million team option).
Adding another rookie in the first round will add between $1.5million and $5million so conservatively they'll be at $18million for 2012-13, with a roster as follows:
PG-Irving
SG-None
SF-Eyenga
PF-Thompson
C---None
Additional 1st round rookie and possibly 2nd round rookie.
This leaves the roster with five players if we include the 1st round pick, possibly six.
Those five players would conservatively make $18 million total, and since a team must spend 85 percent of the total $58 million salary cap ($49.3million) the Cavs would need to spend an additional $31.3million to fill out the additional seven roster spots.
The upcoming free agent class is not particularly attractive for adding pieces to the nucleus of Irving and Thompson, but they can also use this additional cap space to make financially lopsided trades where they take on large contracts in exchange for smaller contracts or draft picks.
The benefit of being able to add a true center for this season while creating additional cap space for next year, makes this trade worth considering. Ultimately, it is my opinion that this trade should not happen, however, because simply by letting Jamison's contract expire at the end of this year the Cavs will still have enough cap space to explore free agency or financially lopsided trades in order to add another star.
Keeping Varejao for the long-term would not seem to make sense given his age and that his value will likely never be higher than it currently is. But the team will likely be more competitive in the next two years with Varejao and Sessions than without.
Given the lack of depth in this upcoming crop of free agents it is my opinion that keeping the current team intact makes the most sense unless they are able to find a trade opportunity to acquire a talented young star to join Irving.
While the 2012 free agency crop is not very deep, the 2013 class is much better.
Going in to the 2013 off-season Varejao is the only current Cavalier with a guaranteed contract (obviously they'll pick up their team option on Kyrie Irving) so there is no reason to believe they couldn't maintain a favorable salary cap situation for an off-season in which they can seek to add more talent around a nucleus of Varejao, Irving, and whoever they select in the 1st round of the 2012 draft.
Keep Reading

Cleveland Cavaliers: Like this team?