Eli Manning and the 5 Biggest Giant Slayers in NFL History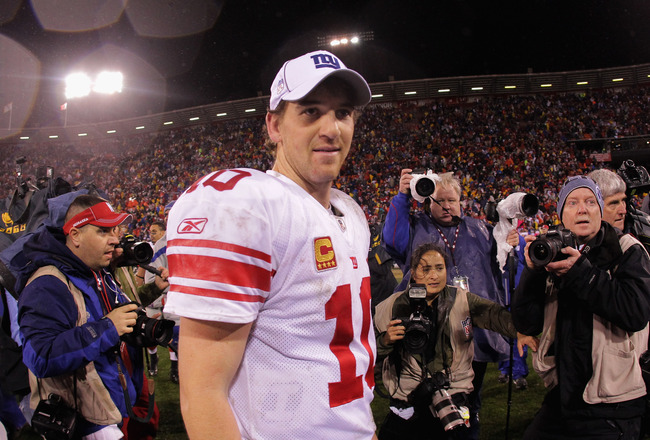 Doug Pensinger/Getty Images
There have been players throughout NFL history who have played perhaps the largest roles of any individual player on their respective teams when it came to upsets over heavily-favored teams.
An example of a player to accomplish this more recently?
When you factor in his model of work thus far at this point in his career, he has recently led the Giants to the Super Bowl with two consecutive road victories over the two best teams in the NFC conference, the Green Bay Packers and the San Francisco 49ers.
The Giants entered Lambeau Field as seven point underdogs and came out of it with a 37-20 victory, in large part, due to Manning outperforming Aaron Rodgers to the tune of 330 yards and three touchdowns.
New York also managed to enter Candlestick Park and defeat the No. 2 seeded San Francisco 49ers 20-17 in overtime. Manning threw a lead-changing touchdown pass to Mario Manningham halfway through the fourth quarter to give the Giants the score that they needed for a chance to win it in overtime.
Along with Manning, there have been several other notable greats in the past who have been giant slayers of their own.
Just who are those players?
Terrell Davis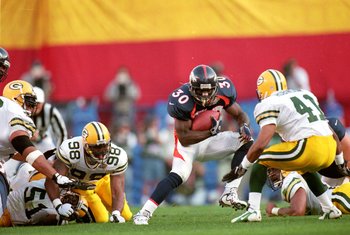 Doug Pensinger/Getty Images
It's amazing to think back to 1998 from where we are right now.
Whatever reason it may be due to, whether it's all of the great running backs that have come after TD, whether it's because the Broncos mini-Super Bowl dynasty is largely forgotten, whether it's just because it's either seen as "Elway's championships" or just because TD's dominant run at the top was so short, Davis is somewhat forgotten in NFL history just 13 years after running for 2,000 yards in a single season.
Other than Barry Sanders, during the latter half of the 90's, it was hard to find a better, or a more popular back than Terrell Davis.
Other than all of the records he broke during his first four years in the NFL, Davis led one of the largest upsets in NFL history when he essentially carried the Denver Broncos to a Super Bowl XXXII victory over the Green Bay Packers.
Why was this such a pivotal victory?
First of all, the Broncos were known as chokers on the big stage. In four appearances in the Super Bowl, the Broncos had yet to win a single Super Bowl.
Secondly, this was widely believed to be Elway's last game, and most likely, his last chance at winning the big one.
Thirdly, the NFC was by far the dominant conference in the NFL. The last AFC team to win in a Super Bowl had been the Los Angeles Raiders in 1984.
Lastly? The Packers were the defending Super Bowl champions, led by the reigning three-time consecutive MVP award-winning Brett Favre.
Oh, by the way, the Packers were 11 point favorites entering the game.
Despite the fact that Denver's passing game was non-existant, and Davis had a painful migraine for much of the game, he managed to rush for 157 yards and three touchdowns, becoming the only player in Super Bowl history to rush for three touchdowns in a single game.
Because of TD's performance, the Broncos were able to become just the first team since the New York Jets in Super Bowl III, to win a Super Bowl despite entering the game as double-digit underdogs.
Joe Namath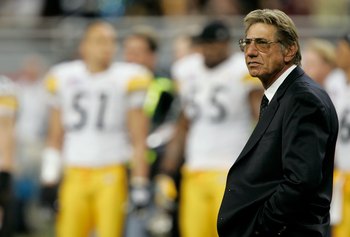 Brian Bahr/Getty Images
Speaking of the Jets in Super Bowl III, that brings us to Joe Namath.
As ridiculed as he may be for his public appearances in recent years, this is largely considered the greatest upset in NFL history.
When Namath led the Jets to Super Bowl glory over the heavily favored Baltimore Colts, it was a completely different league in 1968-69.
The Jets played in the AFL and the Colts played in the NFL.
Let's put this simply, the NFL was seen as the dominant league and the AFL was a clear tier below the NFL. There was simply no comparison.
The Colts were considered the best team of all time to that point. They had the best defense in the NFL.
Namath would of course proclaim before the game, "We're gonna win the game. I guarantee it."
However, more importantly, Namath would be named Super Bowl MVP after leading the Jets to victory by throwing for 208 yards.
This victory is essential, because it provided legitimacy to the AFL-NFL merger, which shapes the current landscape of the NFL.
Tom Brady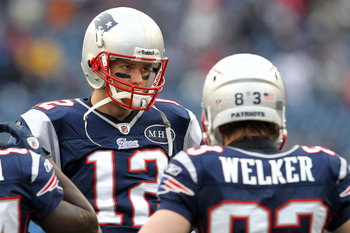 Jim Rogash/Getty Images
It's hard for some people to think back to a time where Tom Brady was considered the underdog.
Brady will be playing in his fifth Super Bowl next Sunday, with a chance for a fourth Super Bowl ring.
He has never had a losing season since taking over the starting job for the Patriots in 2001. He has led the Pats to a division title every year he has started except for the 2002 season. He holds numerous passing records. He's a two-time Super Bowl MVP.
Because of all of these years of Patriots dominance, it's forgotten just how much of a blip they were on the NFL radar before becoming a dynasty in the early half of the 2000's.
Let's flash back to 2001.
Brady was a no-name quarterback who was a late-round draft pick of the Patriots in 2000. He stepped in as the starter only because Drew Bledsoe was absolutely demolished in an early season game in 2001 by Jets LB Mo Lewis.
Bill Belichick had done very little as a head coach in the NFL. After a forgettable five year stint as Cleveland Browns head coach, which saw them have just one winning season during his time there, Belichick became Patriots head coach in 2000.
The Patriots were 5-11 in 2000. They had a magical season that saw them go 11-5 and win their division. They would somehow go on to make it to the Super Bowl where they would face the Kurt Warner-led St. Louis Rams.
May I remind you that the Rams had perhaps the greatest offense of all time? Marshall Faulk, Torry Holt, Isaac Bruce and Warner?
They were the 1999 Super Bowl champions. They had a deep run in the playoffs in 2000, before once again becoming the dominant team in the NFL in 2001.
The Patriots entered this game as 14-point underdogs.
They ended up winning this game, because Brady led them on a last minute drive to put Adam Vinatieri in position to win the game with a 48-yard field goal.
Brady would win Super Bowl MVP.
The rest is history.
Marcus Allen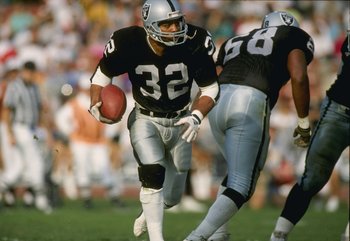 Mike Powell/Getty Images
Quite simply put, the 1983-84 postseason was absolutely beastly for Marcus Allen.
He ran for 466 yards and four touchdowns in three postseason games. To cap it all off, in the Super Bowl, he ran for 191 yards and two touchdowns to lead the underdog Raiders to a 38-9 thrashing of the Washington Redskins.
Before Willie Parker of the Steelers broke this record in Super Bowl XL, Allen's 74-yard touchdown run in Super Bowl XVIII was the longest run in SB history.
This game is notable because the Redskins were a dominant team. They were the defending Super Bowl champions, having defeated the Miami Dolphins the previous year. They went 14-2, and in both of their losses, they lost by just one point.
Up to that point in time, the Redskins had established new NFL records with 541 points, a giveaway/takeaway ratio of plus 43 and had the top-rated rush defense in all of the NFL.
Needless to say, Allen made people forget about the Redskins' dominance in 1983 after his Super Bowl XVIII performance.
Eli Manning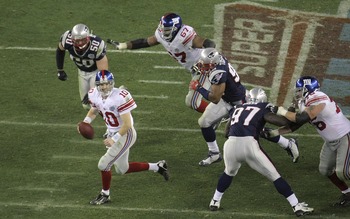 Doug Pensinger/Getty Images
Who else did you expect on this list?
In today's NFL, there may be no better player than Eli Manning when it pertains to defeating heavily-favored teams.
Having already listed his accomplishments this postseason, may I remind you of Super Bowl XLII?
The Patriots were favored by 12. Tom Brady was NFL MVP after breaking the single season record for touchdowns with 50. Randy Moss broke the single season record for TD receptions with 23. New England set team records for points scored in a single season with 589 points, 75 total touchdowns, a net differential of plus 315 points.
Oh, by the way, they were also the first team to go 16-0 in a regular season since the NFL moved to a 16-game schedule in 1978.
The Patriots were also chasing just the second undefeated record in a single season in NFL history.
The Giants were a wild card playoff team, who amazingly pulled off three road victories in the playoffs just to get to Super Bowl XLII.
What ended up happening?
Remember David Tyree's catch?
Manning's ability to prolong several plays on that game-winning drive in order to make those throws?
Plaxico Burress' game-winning touchdown catch with just 35 seconds remaining?
You want to know the definition of a giant slayer?
Just watch Manning's game-winning touchdown drive over the Patriots in Super Bowl XLII and you'll get a feel for what I'm talking about.
Keep Reading