Von Miller Exclusive Interview: Denver LB Checks in from 2012 Pro Bowl
January 26, 2012

Justin Edmonds/Getty Images
Von Miller just finished his first season with the Denver Broncos and earned a Pro-Bowl trip after just his rookie year after netting 11.5 sacks, 64 tackles and two forced fumbles.
He was a force to be reckoned with, that much is certain.
And thanks to the good people at Adidas who are working with Miller, I was able to catch up with him in Honolulu in preparation for the Pro Bowl.
In this interview Miller talks Pro Bowl, Defensive Rookie of the Year, Dennis Allen, Tim Tebow and more.
ODEKIRK: What does it mean to be voted to the Pro Bowl and represent the Denver Broncos as a rookie?
VON MILLER: It's an honor but I don't really look at myself as a rookie you know? I just look at it as this is what I gotta go out and do for my team and as long as I take care of that then I take things one day at a time
ODEKIRK: It was the 11.5 sacks, 64 tackles and two forced fumbles, along with the undeniable value to your team that you earned you a trip to the Pro Bowl. But do you think those credentials will keep you in the running for Defensive Rookie of the Year?
VON MILLER: I hope so. All the superstars that we got on our team have helped to keep me positive and that's a lot of the reason that I got to where I am and so I just gotta hope that it's enough and give them credit for that.
ODEKIRK: The run that the team went on in the middle of the season was electric for the fans, but did it have the same effect on the team and could you all feel that excitement? Or was it just business as usual for you all going out and expecting to win every game?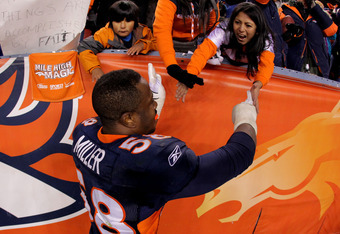 Doug Pensinger/Getty Images
VON MILLER: It was great. As a defense we just wanted to go out there and play good football and just get that football into Tim's hands; he's gonna make a play with it. So that was our philosophy, just give him the ball and let him work
ODEKIRK: A lot of people in the media and the fans want to attribute the change in the middle of the season to the change at quarterback. Do you think installing Tim Tebow as the quarterback had a lot to do with the turnaround or were there other things at play?
VON MILLER: I think that there were other things at play but I think that Tim played a huge part in that run and the success that we had. He closed out a lot of games for us and he's a winner and I love him to death. You know it really doesn't bother me to see someone else on the Broncos get a lot of media pub[licity] and all that stuff because he deserved it more than anybody else.
ODEKIRK: Going into next season there are going to be a lot of elevated expectations for the Broncos in general, but what about for yourself—do you have expectations for more sacks, more tackles, maybe an interception or two? What do you see for yourself?
VON MILLER: I just wanna be consistent. I wanna be the leader that my teammates want me to be. I want to start making that transition into "the guy" and not just "the guy who makes minimal errors or mistakes" you know. I want to be the "THE GUY" for the organization.
ODEKIRK: Obviously some big news for the Broncos is that Dennis Allen is making his way to Oakland to be their head coach. What kind of coach are they getting for the Raiders in Dennis Allen?
VON MILLER: First and foremost they are going to get a guy who is going to come in and do everything in his power to be successful. Me and Coach Allen we got deeper ties that go all the way back to college, so it really doesn't hurt me to see him go, because whenever an Aggie can get a great job it's always a good thing and he has got a great coaching job over there with the Oakland Raiders.
ODEKIRK: The Denver Broncos are going to be moving onto a seventh defensive coordinator in seven years. But if you were in the room with John Elway and John Fox what would you be looking for in a new coordinator and what would you tell them to keep their eyes out for?
VON MILLER: I mean, whatever defense you line up in out there it's all about shedding blocks and making tackles and hustling to the play and having good pursuit. I am pretty positive that Coach Fox and Mr. Elway are going to put a great guy in there and all I can do is just ride with them and I agree with them 100 percent.
ODEKIRK: You paying attention to any of the rumors out there—any of the big names being thrown around? Jack Del RIo and Raheem Morris, any of them sound better to you than others?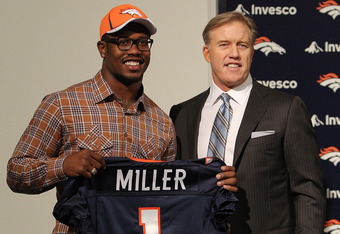 Justin Edmonds/Getty Images
VON MILLER: You know, I haven't. Since it just happened yesterday I haven't even really thought about it.
ODEKIRK: So, you were one of the first NFL players to wear the adizero Five-Stars in the playoffs along with Frank Gore of the 49ers and Titus Young of the Lions. What did you think of them? Are there any specific tackles or sacks that you could attribute to wearing them?
VON MILLER: Well...I could but it would be unfair to pinpoint just one. But, you know, I love the Five-Stars and I just think of every down as a play for myself to make and that's the way I look at it.
ODEKIRK: Thanks for taking the time to talk to us today Von and best of luck with the Pro Bowl. We'll all be watching you back here in Denver.
VON MILLER: Alright, Thank you.
Here is a little bit more information about the adizero Five-Star Mid-Cleats:
Adidas officially unveiled the new adizero Five-Star Mid at the U.S. Army All-American Bowl in San Antonio.  At 7.9 ounces, the adizero Five-Star Mid is the lightest mid cut cleat in football and is more than two ounces lighter than the nearest competitor.  The U.S. Army All-Americans were the first players at any level to wear our new lightweight cleat and here are their reactions to receiving the adizero Five-Star Mid before the game.
Be sure to tune into the Pro Bowl January 29th on NBC and watch Von Miller and his Broncos teammates, Champ Bailey, Elvis Dumervil, Ryan Clady, Willis McGahee and Brian Dawkins.