Super Bowl Preview 2012: Ranking the Running Backs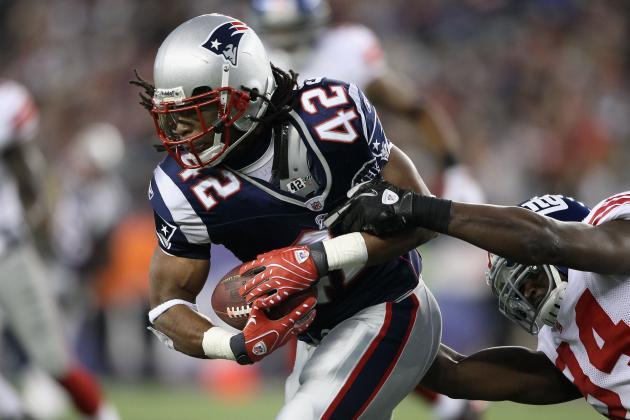 Elsa/Getty Images

Super Bowl XLVI is shaping up to be one of if not the most anticipated Super Bowl ever. It definitely is right up there. The Patriots and Giants are two evenly matched teams who have faced scrutiny at some point during the season.
For the Patriots, it has long been believed that the Bill Belichick and Tom Brady combination has lost its luster. With a porous defense and ineffective running game, the Patriots representing the AFC was unheard of. The competition was too wide open with the Ravens and Steelers playing well, limiting New England's margin for error.
The Giants were 7-7 after a horrible loss to the Redskins and basically an afterthought. It was a win versus the Jets that jump-started the Giants' roll. While no one had ever doubted the rise of Eli Manning, it's their running game that leaves more to be desired. Couple that with injuries to the secondary, and you can sum up the similarities between both teams.
While both running games were not as prominent, running the football will be an important factor in Super Bowl XLVI.
I will take the time to rank the top-five running backs and feature video of one of their best plays.
Begin Slideshow

»
Danny Woodhead came to the Patriots with a little bit of hype and promise. Not to mention, a ton of speed.
Woodhead was called upon several times and is responsible for 26 first downs this season. He's more of a third-down back because of his speed, but his impact wasn't as great as it could be considering he only rushed for 351 yards.
His lack of rushing for big gains hurts his positioning here. No runs over 20 yards, and his longest run of the year was 12. Those are paltry numbers in comparison to others on the list.
Stevan Ridley was second in rushing for the Patriots with an average of 5.1 yards per carry. But, he's not really an end-zone rusher, as Tom Brady relies heavily on tight ends Aaron Hernandez and Rob Gronkowski in the red zone.
Ridley gets the nod over Woodhead due to his five rushes over 20 yards.
Brandon Jacobs is a bowling ball of a running back. Listed at 6'4" and 260 lbs., Jacobs is a handful to bring down. The problem with him is consistency. Jacobs ran for 571 yards on 152 carries, but it is his three fumbles that make you take a pause. That said, the talent is there and it's time to see more from him.
A tough runner inside the numbers, Ahmad Bradshaw is big and strong and rushed for 659 yards. His greatest attribute is his rushes for first downs this season, where he was responsible for 52.
Considered a dual-threat with 38 catches during the regular season, Bradshaw brings a lot to the Giants.
His drawback is his health, as he missed four games due to injury. He also has the tendency to disappear in stretches.
BenJarvus Green-Ellis' impact goes beyond numbers. His rushing totals (667 yards on 181 carries) are only slightly different from Brandon Jacobs, but it's his blocking that sets him apart. His recognition keeps Tom Brady upright.
Also once you consider that the Patriots have used three running backs regularly, you realize that Green-Ellis' statistics would be greater on most other teams.
If there is a knock on him, it would be that he is a one-dimensional player. In an offense with Brady as the QB, you would assume that he would have more pass-catches to his credit. Either way, he is a talented rusher who should be looked upon to do more.
Ronald Martinez/Getty Images

In the next article, I will rank the wide receivers. Stay tuned.