Eli Manning and the 10 Most Clutch Playoff Quarterbacks in NFL History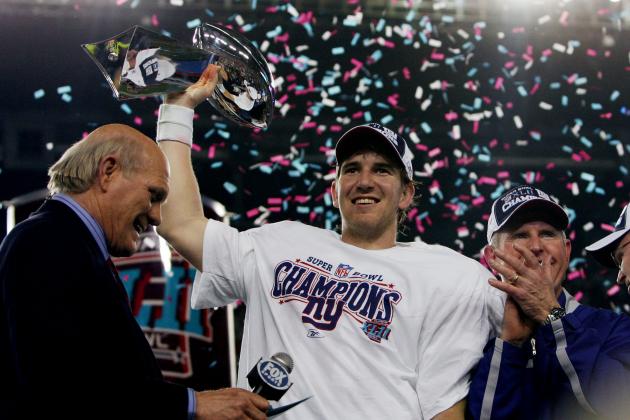 Harry How/Getty Images

Eli Manning is no longer the butt of a joke. He is now one of the most clutch quarterbacks in NFL history.
Regular season success is great, but careers are made in the playoffs.
In two weeks, Manning will have a chance to win his second Super Bowl, but he has already made his place among the all-time greats.
There have been plenty of outstanding quarterbacks with good playoff performances—some with multiple Super Bowl wins—that did not make this list. Those snubs were not as vital to the team's success as the ones mentioned.
These 10 individuals brought their teams to the highest potential when it mattered most.
Begin Slideshow

»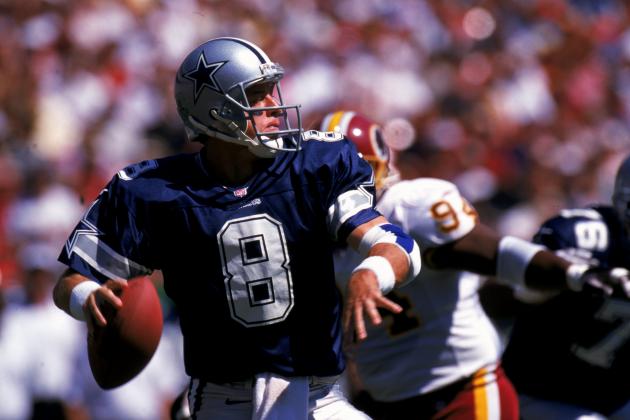 Doug Pensinger/Getty Images

These men barely missed the cut:
Troy Aikman, Dallas Cowboys
He won three Super Bowls, but his team was so good that he had no need to become clutch.
Brett Favre, Green Bay Packers
Won a lot of games, but lost a lot as well. Often did more harm than good with the football.
Fran Tarkenton, Minnesota Vikings
Could not lead his team to a win when it mattered.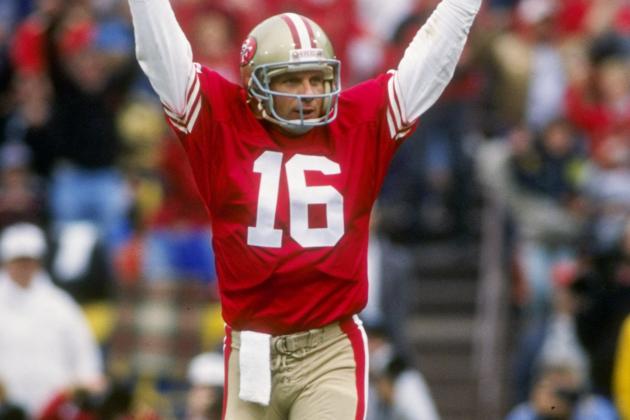 Otto Greule Jr/Getty Images

When discussing playoff success in the NFL, the conversation has to start with Joe Montana.
Until this weekend when Tom Brady tied the mark, he was alone for the record of playoff victories with 16 in his career.
The San Francisco 49ers quarterback also had 45 passing touchdowns in the playoffs, another NFL record.
Still, the most important mark is that he won four Super Bowls and is the only person to be named the MVP of the game three times.
Other quarterbacks might have had better regular season numbers, but no one has been better in the postseason than Joe Montana.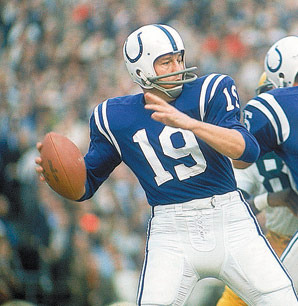 Walter Iooss Jr./SI
Johnny Unitas did most of his damage before the Super Bowl was even invented.
He led the Baltimore Colts to an NFL Championship in 1958 and 1959. In 1970, he finally broke through with a Super Bowl win at the age of 37.
Amazingly, he only had two career losses in the postseason.
It is important not to forget some of the great quarterbacks from the past.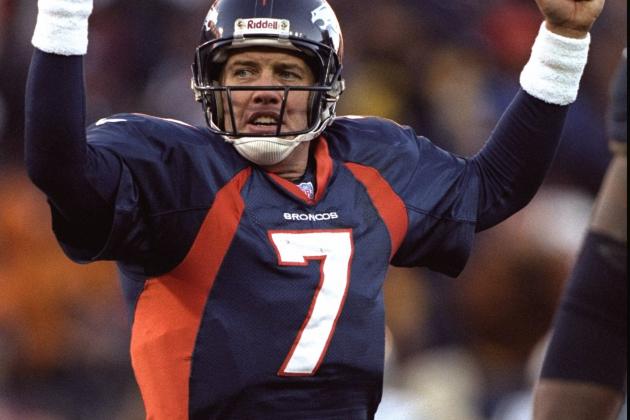 Brian Bahr/Getty Images

There was a time when many believed that John Elway was simply not capable of winning the big game.
As of 1996, Elway was 36-years-old with no rings and three losses in the Super Bowl. That all changed when he raised the Lombardi Trophy in back-to-back seasons in 1997 and 1998.
Until Tom Brady steps foot on the field against the New York Giants, Elway is the only player to start in five Super Bowls. The quarterback has a 14-7 career record in the playoffs with six career game-winning drives.
He ended his career by turning himself from Dan Marino, who could not win, into Joe Montana.
Ezra Shaw/Getty Images

It is fun to make fun of Eli Manning, but since taking over for the New York Giants full-time in 2005, the quarterback has not missed a start and has not had a losing season.
In the playoffs, he is starting to shine for a second time.
The magical 2007 run that saw the Giants win three road games before taking down the undefeated New England Patriots was Manning at his best. He had three game-winning drives, including a touchdown to Plaxico Burress with only 35 seconds remaining in Super Bowl XLII.
Manning took home the MVP award after that performance.
This year he has taken on more responsibility and responded by throwing eight touchdown passes and only one interception in the playoffs.
If the Giants can find a way to beat the Patriots one more time, Manning will be starting to move towards a Hall of Fame career.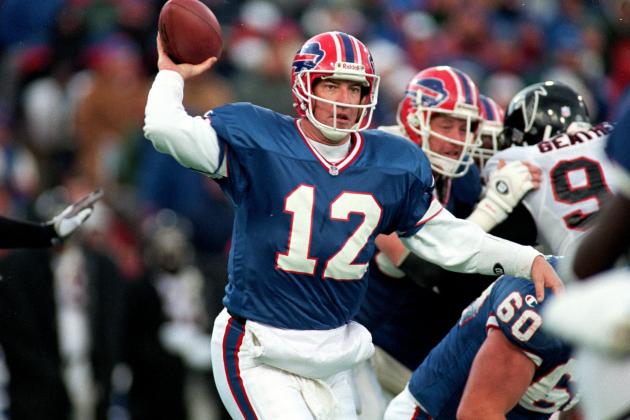 Rick Stewart/Getty Images

Everyone knows that Jim Kelly never won a championship, but he still had a very successful playoff career.
He led the Buffalo Bills to four consecutive Super Bowls, the only team ever to accomplish that feat. While losing all four times was devastating, it still means they were better than every team in the league but one.
Kelly finished with nine career playoff wins and dominated the AFC, but he just could not get past the NFC East. The Bills lost in the Super Bowl to the Washington Redskins, New York Giants and twice to the Dallas Cowboys.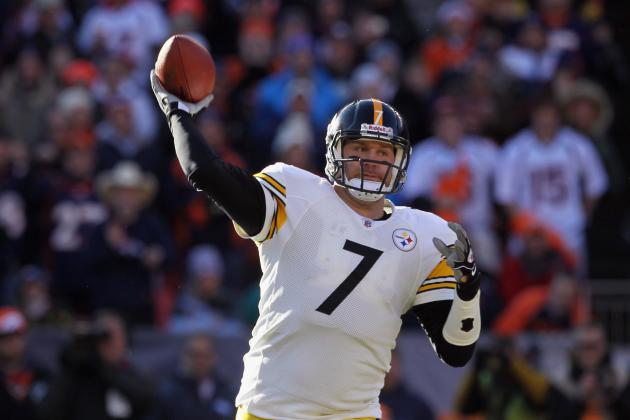 Jeff Gross/Getty Images

He seems to have more enemies than friends at this point in his career, but there is no denying the fact that Ben Roethlisberger is a clutch quarterback.
It helps to have a great defense, but Big Ben is a large reason for the success that the Pittsburgh Steelers have had over the past decade.
The team has been to three Super Bowls and won two of them. The most recent win followed the 2008 season in a game against the Arizona Cardinals. Roethlisberger threw a touchdown pass to Santonio Holmes with 35 seconds remaining to take the lead for good.
With a few years still ahead of him and a great coach and defense at his back, it would not be surprising to see Roethlisberger pick up another championship or two.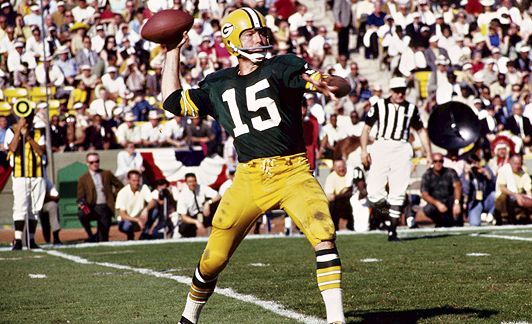 Malcolm Emmons/US Presswire
A list of the best playoff performers cannot be complete without a man who won his last nine playoff games.
Bart Starr was the quarterback of the Green Bay Packers from 1956-1971. In that time, he won three NFL Championships plus the first two Super Bowls ever played. He was also named MVP of each of those games.
Starr set the gold standard for future NFL quarterbacks, and his 9-1 postseason record is the best winning percentage of any quarterback with more than two starts.
That mark will be tough for any player to top.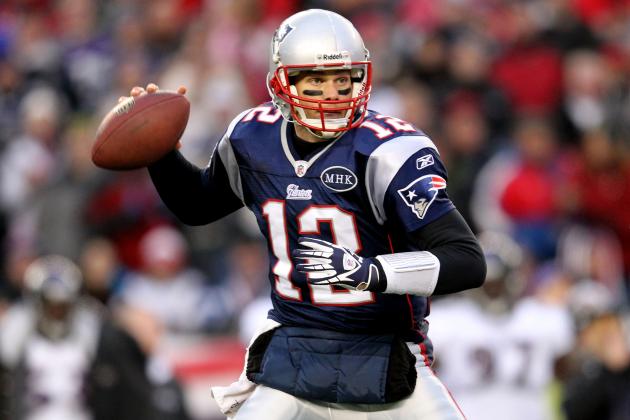 Jim Rogash/Getty Images

Bart Starr won his last nine playoff games, but Tom Brady won his first 10.
In total, Brady has now tied Joe Montana for the most wins in playoff history with 16. He will become the second quarterback ever to start in five different Super Bowls, and he has a chance to become the second player to win three Super Bowl MVP awards.
While he had average numbers during the first couple of his championship runs, the quarterback led game-winning drives in the final games of 2001 and 2003.
In his postseason career, Brady has four fourth-quarter comebacks and seven game-winning drives.
If there is anyone who can top Joe Montana as the best playoff quarterback in the NFL, it is Tom Brady.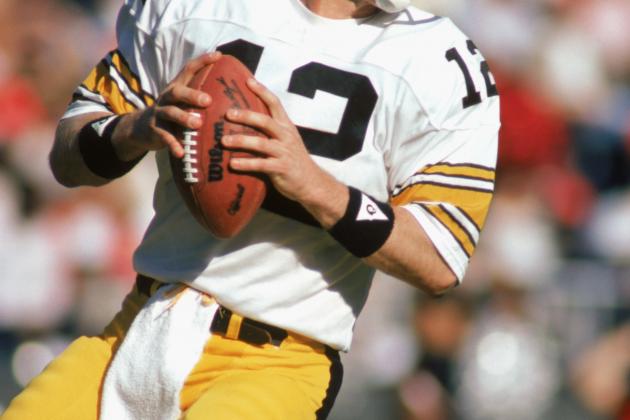 Scott Cunningham/Getty Images

Terry Bradshaw never had the best statistics.
He had only two more touchdowns than interceptions in his career, completed only 51.9 percent of his passes and his quarterback rating was a low 70.9.
However, the one thing he did well was win in the playoffs. The quarterback of the Pittsburgh Steelers won four Super Bowls, and he is currently fourth all time in career playoff wins with 14 of them.
There might have been more talented players on the team, but Bradshaw still won two Super Bowl MVP awards and is one of only four players to win the award more than once.
Unfortunately, none of this helps him as an analyst where he yells gibberish at viewers every week.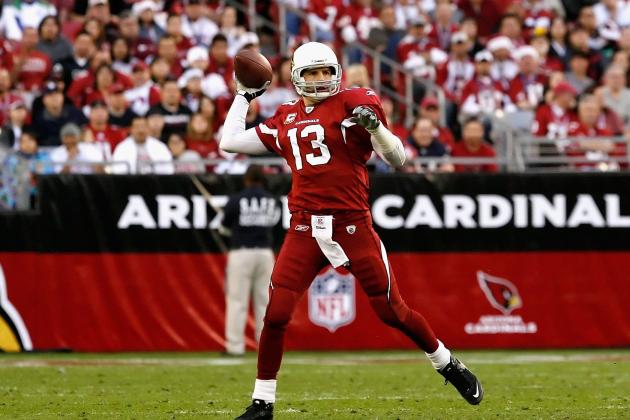 Christian Petersen/Getty Images

Kurt Warner might go down as one of the most underrated quarterbacks of all-time.
Statistically, he has the third-highest quarterback rating and the second-best completion percentage of anyone in playoff history with more than 150 pass attempts.
If it is winning you want, then it is important to know that he is one of only two quarterbacks to bring two different teams to the Super Bowl.
He finished with one championship and was a combined seven points away from two more.
Warner got a late start to his career, but there is no question he belongs in the Hall of Fame.