Report: St. Louis Rams Owner Stan Kroenke Has Explored Bidding on L.A. Dodgers
January 24, 2012

If one thought the drama would ever end for St. Louis fans, now comes word that St. Louis Rams owner Stan Kroenke has explored the possibility of bidding on the Los Angeles Dodgers (like Magic Johnson, Mark Cuban and Peter O' Malley), according to this report from The Los Angeles Times.  
A separate piece from FOX Sports says there have already been several bids placed that surpassed a billion dollars each.  Dodgers owner Frank McCourt is hoping to attain up to $2 billion in a franchise sale.  
It should be noted, however, that this report has not been verified (nor denied) by Kroenke or the Rams. Perhaps Kroenke just wants his name in the news as much as those who will be involved in all of the presidential debates in the upcoming months.   
Regardless of the motive, if the report proves accurate (particularly if it is found that Kroenke placed a bid), St. Louis fans may need to go under surveillance.  
St. Louis fans are already nervous about upcoming negotiations between the Rams and the St. Louis Convention and Visitors Commission on Feb. 1.  If a deal is not reached by the end of the year, the Rams could be free to leave St. Louis following the 2014 season.  
Not only that, the recent revelation that the Rams will play one "home" game in London, England each year between 2012 and 2014 sent initial shock waves through the city and state and further worried a jittery fanbase.   
Most fanbases would think it was more than enough putting up with the Rams' 15-65 five-year stretch.  At this point, that is just a minor issue in St. Louis when compared to the anxiety surrounding the possibility, however remote, of the organization moving to another city, such as L.A. or London.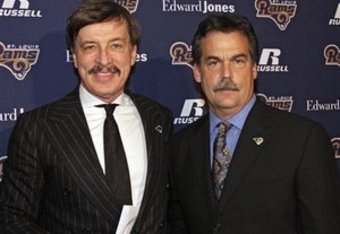 As for London and the franchise's future, the Rams' chief operating officer and vice president of football operations, Kevin Demoff, tackled a wide array of tough questions in the last few days, as covered here.
New Rams head coach Jeff Fisher recently went on record stating his belief that Kroenke wants to be in St. Louis and that St. Louis is where this organization needs to be, in spite of Kroenke sharing little in the way of public commitment towards staying in the Gateway City during Fisher's introductory press conference. 
Although indications point to an eventual resolution and the Rams remaining in St. Louis long term, the continual chain of controversial happenings combined with the lease concerns lend itself to rampant speculation.
Is Kroenke looking at moving his team from medium-market St. Louis, the nation's 18th-largest metropolitan area, to a larger one?  
Are the London games just a way to increase revenue, spread the brand, make the Rams a bigger name and expose some of St. Louis' many Fortune 500 and Fortune 1000 companies to a broader demographic? Or is it a trial run at a permanent home across the pond?
Or, is much of this all a leverage game and a grand negotiations strategy played by the ever-shrewd, "silent" Stan Kroenke?  
Time will tell, but one thing is certain: It will be interesting—very interesting—to watch this play out.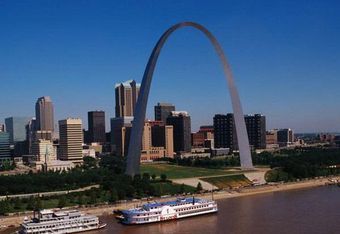 Stay tuned to the St. Louis Rams for guaranteed suspense, drama and consistent surprises. While they have not been exciting on the field for some time, the action is always interesting away from it.
Again, I believe Kroenke and the city of St. Louis will work it out.
I do not believe Kroenke, who was the lead investor for a St. Louis expansion bid in the early 1990s, will abandon a favorable lease and his home state of 60-plus years.
I do not believe that when Kroenke bought the Rams only on the predetermined condition that the franchise move to St. Louis, that a big-picture plan and vision was not in place.   
I do, however, believe Kroenke will accept some improvements to the Edward Jones Dome for now in a compromise with the CVC that would see Kroenke receiving prime land in the city/region of St. Louis that could be used as a future stadium site and developmental area.  I believe master developer Kroenke would later construct a terrific complex around a Walmart Field or Sam's Club Stadium there.  
Rams COO and VP of Football Operations Kevin Demoff has repeatedly and emphatically stated that the organization is committed to "building a winner in and for St. Louis."
Whatever happens, the process will obviously be anything but boring.  
Shane Gray covers the St. Louis Rams year-round.  You are encouraged to check out the rest of his work here and to follow him on Twitter.