St. Louis Rams Owner Kroenke Does Not Commit to St. Louis as L.A. Rumors Abound
January 19, 2012

St. Louis Rams owner Stan Kroenke refused to commit or show his hand whatsoever when asked directly about the franchise's future in St. Louis during the Jeff Fisher press conference. 
All of Kroenke's remarks regarding the organization's future (as well as the entire press conference introducing Fisher as head coach) can be read here.  
Kroenke, who was the lead investor for a group working towards landing an expansion team in 1993 that ultimately went to Jacksonville, purchased 30 percent of the Rams in 1995 (before eventually owning 40 percent of the franchise) only on the predetermined condition that the Rams relocate to his home state of Missouri in St. Louis.  
While in the process of becoming majority owner early in 2010, Kroenke told Bernie Miklasz of the St. Louis Post-Dispatch that: 
There's a track record... I've always stepped up for pro football in St. Louis. And I'm stepping up one more time.  I'm born and raised in Missouri. I've been a Missourian for 60 years. People in our state know me. People know I can be trusted. People know I am an honorable guy.

I'm going to attempt to do everything that I can to keep the Rams in St. Louis, just as I did everything that I could to bring the team to St. Louis in 1995. I believe my actions speak for themselves.
Since attaining 95 percent of franchise ownership, however, he has remained mum on the subject until pressed during the Jeff Fisher press conference.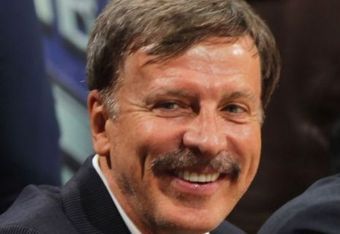 When asked yesterday about the organization's long-term future in St. Louis, Kroenke answered saying:
I think this is all out there. The chronology of what occurs with the lease is public knowledge. I don't think that for me to comment on that process is particularly timely. The city or the authority has within their power, they're dealing with their side of it and they present a proposal to us by February 1. There's a team in place that deals with all that, so we'll see how that process sorts itself out. It's a thing that takes place over time. As I said earlier, I started in St. Louis, in one year from now, that will be 20 years, so I've been around here a long time. Contrary to a lot of reports, I haven't taken a lot of 'jack' out of the market. I think that's what's reported. I have put a lot of 'jack' into the market.
Immediately following that answer, Jim Thomas of the St. Louis Post-Dispatch asked if the Rams would be in St. Louis another 20 years.  To that, Stan simply said:
We'll see how that process works out.
For St. Louis fans wanting any reassurances of the franchise's future in the Gateway City, they were certainly left disappointed. 
One should remember, though, that the Rams and the St. Louis Commission and Visitors Commission (better known as the CVC) are set to begin lease negotiations in earnest on February 1.
At that time, the CVC will present a plan to upgrade the dome and/or items related to the dome that will likely include ideas that would help increase revenue for the Rams and an enhanced game day experience for the fans, among other things, in an effort to secure an extended stay of the organization.  
The Rams will have until March 1 to accept or reject the initial proposal from the CVC.  It would be very surprising if the Rams agree to the first offer, regardless of how solid the proposal may be.  As is the case with these types of negotiations, initial proposals are almost always the starting point for discussions, rather than the end game. 
If the Rams do indeed reject the initial proposal by March 1, the franchise will have until May 1 to present a counteroffer to the CVC.  At that time, the CVC would have until June 1 to show how they would implement the requests (or demands) from the Rams front office. 
If an agreement was not reached by June 1, the Rams and CVC would begin meeting in arbitration on June 15.  The results of arbitration would then be expected by the end of 2012.  
If the arbitration hearings were to ultimately fail, the Rams would be in position to end their lease following the 2014 season (if desired) and theoretically leave for another city.  Another option would be to remain in St. Louis on a year to year basis, a la the San Diego Chargers.
Options being discussed by the CVC have included the purchase of parking garages around the CVC, (with money earned there from home games going to the Rams), larger dome concourses, humongous new flat screens, new digital technology to enhance the fan stadium and, potentially, the utilization of the NFL fund that offers low interest loans up to $200 million for teams seeking to upgrade their home stadium situations, among other possibilities.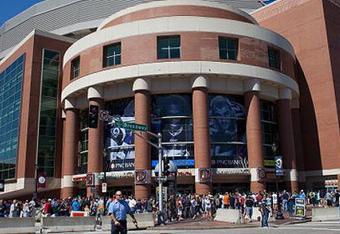 Fisher, the Rams new head coach, was reportedly concerned about the Rams future in St. Louis after dealing with a franchise moving from Houston, Texas to Memphis temporarily before ultimately landing permanently in Nashville.
Fisher knows the difficulties and complications that come with a franchise move and, as would be expected, wants no part of a second organizational relocation.  
When asked about the future of the Rams in St. Louis, Fisher himself was also vague:
We talked about a lot of different things beginning with our visit up and until just recently so I have a great understanding of the future and the future of this franchise right now at this moment is here in St. Louis.
It is not surprising that Fisher would be non-committal.  He is only the coach.  
Fans, however, wanted to hear more from owner Kroenke.  However, shouldn't fans want to hear from the CVC just as badly?  This is a two-way negotiation, after all, so there comments should be in just as much demand as Kroenke's.  
Not surprisingly, though, and perhaps wisely, the CVC and "silent" Stan are keeping discussions under wraps, at least for now. 
It is also not surprising that Kroenke is not going to make a promise guaranteeing that the Rams will permanently stay in St. Louis.  With the lease negotiations set to commence that would be suicidal, from a business and leverage perspective.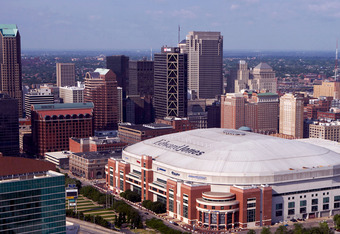 So, St. Louis fans have no other choice but to sweat it out for now.  It will be immensely interesting to see what is presented by the CVC on February 1 and the corresponding response from the Rams.  
It will likely be at least mid May before the situation is finally resolved.  Although I could be wrong, I believe the Rams and the CVC will strike a deal by the June 1 deadline, the date that, ironically, season ticket renewals are due. 
Jeff Gordon of the St. Louis Post-Dispatch believes that the Rams and city will agree to certain improvements to the dome in the interim while Kroenke researches options for a new stadium in the city or region.  
Some speculate that part of a Rams/CVC agreement could include Kroenke settling for the aforementioned dome enhancements in exchange for prime chunks of real estate where he could later construct Wal Mart Field or Sam's Club Stadium while simultaneously developing the land around the stadium commercially.  
For the record, Rams Chief Executive Officer Kevin Demoff has spoken at great lengths regarding the organization's commitment to this market and has explained that the Rams are not concerned about the vaunted top 25 percent lease clause, per se.  
In contrast, he explained that the Rams desire a global solution that will aid the city, the citizens of the region and the Rams going forward.
Demoff expressed a desire for the Edward Jones Dome be enhanced to a degree that it would help St. Louis become a greater international and global destination while enticing Final Fours, Frozen Fours, exhibition soccer, major political conventions, bowl games and more.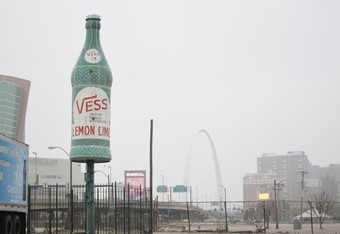 In this way, the dome could act as a stimulant to tourism, downtown revitalization and overall city and regional growth. 
The upcoming process will be nerve-wracking for many.  The loyal fans of St. Louis deserve to not only keep the team here but to also witness a relatively quick lease resolution, at least by the June 1 deadline.
If a deal were not reached by June 1, the lease goes to arbitration and it will almost certainly be tougher to sell tickets for the upcoming season.
I for one do not believe that Missourian Stan Kroenke will sell-out his home state for a few potential pieces of silver if a reasonable deal presents itself.
If the CVC has to think outside of the box to get it done by working creatively or uniquely, the commissioner's should do just that in an effort to find a legitimate solution.
Keep in mind, the CVC agreed to to this lease by signing on the dotted line in 1995.  It is their duty to work towards fulfilling the commitments that they made. 
Kroenke has stated unequivocally that he can be trusted and is said to have the support of powerful political and business allies in the state, including governor Jay Nixon and Senator Claire McCaskill, among others.
Kroenke has a sweetheart lease in St. Louis that sees the Rams chip in just $250,000 per year.  The Russell Training Center has an even more team-friendly setup.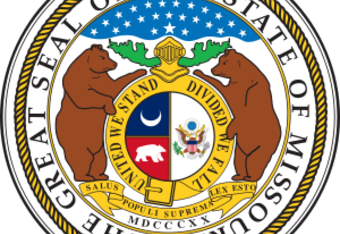 Kroenke and the CVC will ultimately end up as historic heroes or fantastic failures in St. Louis depending upon what transpires over the next several months.
I do not believe for a second that Kroenke plans to sell out and abandon his home state of sixty years for a Los Angeles market that previously lost two teams (for a myriad of reasons).
By being "silent" regarding the Rams future in the Show-Me State, Kroenke has helped put the Rams in position to attain the best deal possible in St. Louis for the long-term viability of the franchise.
Will Kroenke show us, once again, that he is committed to St. Louis, as he, more than anyone in the history of pro football here, has done for nearly 20 years?
He says people in Missouri know him.  He says he can be trusted.  He said he has always stepped up for NFL football in St. Louis (and he has) and will do it again.
Here in the show-me state, the moment of truth is just over the horizon, and Kroenke will have the chance to prove his own words when he stated he was "stepping up one more time".
But what is over the horizon?  
The building of "a winning tradition in and for St. Louis." as Demoff stated, or a move to another city far, far way?
I strongly believe that, in the end, Enos Stanley Kroenke will "step up" for St. Louis and do the right thing by keeping the Rams in Missouri for the long haul.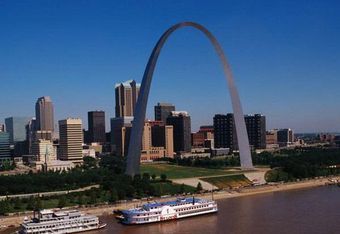 For Stan to do so, the CVC must (and rightfully should) do its' very best to honor the lease commitments it chose to agree to in 1995.
I do not believe for a second that a businessman as shrewd and thoughtful as Kroenke has not had a big picture plan in place for some time regarding a long-term future in St. Louis.  
Kroenke surprised many with his last minute move to become the lead investor for the St. Louis Stallions.
He then swooped in and bought 30 percent of the Rams and was vital in bringing them to Missouri.
Over a decade later after the passing of majority owner Georgia Frontiere, Kroenke played his cards close to his vest throughout the entire process before jumping in at the last second to acquire majority ownership of the St. Louis Rams.
Kroenke remained quiet all year as fans showed doubts that he would make a move to end the Steve Spagnuolo era.  In the end, he took action and got it done.
During the Jeff Fisher negotiations, fans were again speculating and several began to wonder if Kroenke would land the highly coveted veteran coach.  However, as we know, he came through then, too. 
I believe this pattern will ultimately continue and, in typical Kroenke fashion, however, there will likely be a surprise or two along the way.  
In the end, I believe we will see another positive outcome and the Rams will cement their future in the Gateway City.
The upcoming process will be fascinating, and I believe, will lead to a very satisfying conclusion for both the Rams and the region.  
Shane Gray covers the St. Louis Rams year round. To check out the rest of his work, go here.  You are also encouraged to follow him on Twitter.