Can the Oakland Raiders' Receiving Corps Become Elite?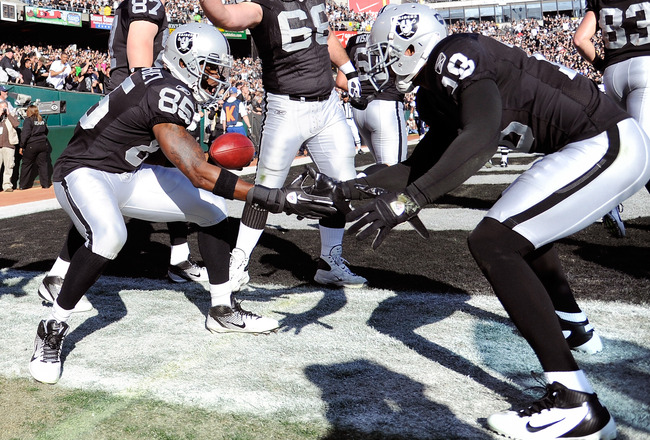 Thearon W. Henderson/Getty Images
It was no doubt a heartbreaker as Oakland Raiders fans saw their team go 8-8 once again in 2011.
To be so close, yet so far from a playoff berth two years in a row is the most disappointing feeling for such a loyal fanbase.
One of the many discussions among fans is: Which season was stronger—2010 or 2011?
In my opinion, 2011 was a much stronger season because we saw the maturation process of a young receiving corps who finally showed their talent and potential.
Say what you want about the firing of coach Hue Jackson (a decision by new general manager Reggie McKenzie that I am 50/50 on), but if there is one thing McKenzie can do, it's get production from his skill positions.
In 2011, we saw this underdog receiving corps prove that they can produce at a respectable level in the NFL. Now the question is: Can this corps ever be considered elite?
That may be a question that only the starting quarterback can answer, but these receivers definitely have the talent.
Let's take a look at each one of these receivers and analyze what they bring to the table as a unit.
What Stats Cannot Record: Unselfishness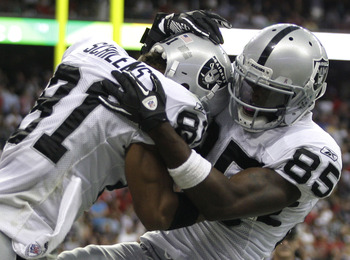 Thomas B. Shea/Getty Images
The Green Bay Packers, New Orleans Saints, New York Giants and New England Patriots all have very strong receiving corps, and they all share one thing—unselfishness.
The Raiders' receivers share that same trait. This is a unit that's not too flashy. No particular receiver flamboyantly demands passes go his way.
They're all motivated by winning football games more than just boosting their personal statistics, which is much easier said than done in a media era that places a huge amount of emphasis and praise on high numbers.
This group of receivers is not concerned with that aspect of the NFL. In fact, this is a group of receivers who have been considered reaches, or unwanted.
Darrius Heyward-Bey was and still is considered a reach by Al Davis in 2009.
Davis made the choice of Heyward-Bey over Michael Crabtree, and before he even touched a football field, DHB was an instant bust in many people's eyes.
Louis Murphy was a 2009 fourth round pick in the shadow of his former college teammate and first round pick Percy Harvin.
Jacoby Ford was another receiver many felt Davis reached on in 2010 in the fourth round. Ford's a speedster with questionable hands and route running skills. We see his value in Oakland, don't we?
2011 draft steal Denarius Moore was picked in the fifth round when he was told he would be a second or third round pick. Moore clearly plays with a chip on his shoulder when flying past defenders.
This young group have the fire to prove people wrong.
The No.1 Receiver: Darrius Heyward-Bey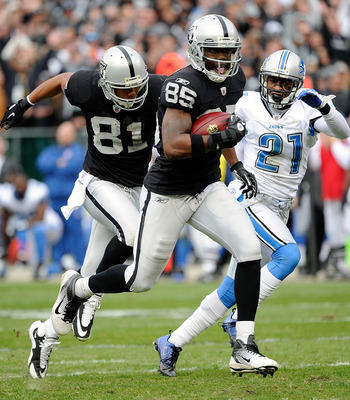 Thearon W. Henderson/Getty Images
Yes, I'm calling Darrius Heyward-Bey this team's No. 1 receiver. But no, I'm not just jumping on his bandwagon.
This season, DHB recorded 64 receptions, 975 yards, an average of 15.2 yards per reception and four touchdowns.
Those are the kinds of stats we all wished he had during his rookie season. We would've taken those numbers in year two as well. But for Heyward-Bey, his third year proved to be the magic season.
But his one breakout season is not the only reason why I'm calling him the No. 1 receiver.
Heyward-Bey had a number of big games in 2011, but even more impressive was that he still was a consistent contributor when he didn't have a huge game.
He never had a big game one week, and then completely disappeared the next.
There was a drop in his production when Carson Palmer came in midseason, but you could see that defenses respected Heyward-Bey's talents.
DHB was drafted to be a deep threat on this team. But the Raiders realized that he was much more productive on intermediate routes. Those are the routes you want your No. 1 receiver to thrive in anyway.
As the season progressed, he gained the confidence to be more of a deep threat and scorched defenses down field.
DHB still can polish his game, but I think it's clear that his teammates have faith in him.
Heyward-Bey's locker room presence has skyrocketed in 2011; I wouldn't be shocked if he became a captain in 2012.
The Deep Threat: Denarius Moore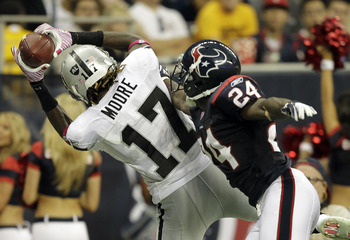 Bob Levey/Getty Images
Darrius Heyward-Bey is not exactly the deep threat we expected him to be, but that is OK. The Raiders found their insurance policy in Denarius Moore.
Moore hit the ground running. On a football team where all the receivers can run, Moore proved he was much more than just speed. There wasn't a day during training camp where No. 17 wasn't making a play.
Moore proved that he could make those special plays not just in practice, but in games as well. We all remember his week three performance against the Buffalo Bills.
He single-handedly gave the Raiders a chance to win that game.
Against the division rival San Diego Chargers, Moore was the best receiver on the field that day.
Moore still has a lot to work on. I would like to see him continue to have big games and consistent production.
I know he battled a brief injury, but even before his injury you could see he was a bit inconsistent.
That said, Moore is arguably this team's most natural wide receiver, earning a starting spot headed into 2012.
It will be fun to see him progress.
The Compliment: Louis Murphy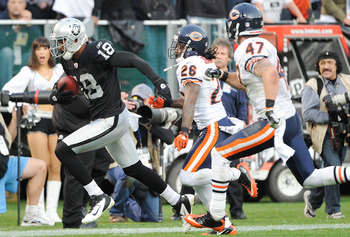 Thearon W. Henderson/Getty Images
I've heard some fans absurdly suggest that Murphy is now expendable due to the emergence of Heyward-Bey and Moore.
That's far from the truth.
If for no other reason, Murphy still has a place on this team because of what he did in the past.
Due to a nagging injury, Murphy didn't have a great 2011 season like many imagined, but he still contributed in some clutch situations in big games.
Every receiving corps has a guy who allows the No. 1 and No. 2 receivers to do what they do best—take Donald Driver, for example.
Would Greg Jennings and Jordy Nelson have the same opportunities if Driver did not burn a defense every now and then? Probably not.
It's the same with the New Orleans Saints. As great as Marques Colston is, and as productive as Robert Meachem is, we still see Devery Henderson in the highlight reels.
Murphy is that kind of weapon. Every now and then, you'll see Murphy break out in a huge game, but his true value will be picking up the slack.
We saw how special Murphy can be in his career with the Raiders. There's no reason to give up on that at all.
The X Factor: Jacoby Ford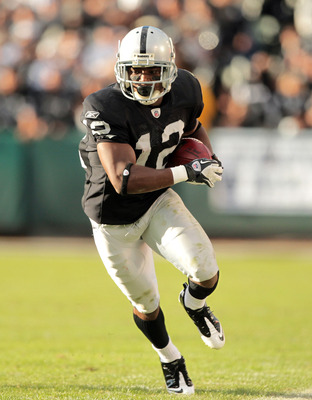 Ezra Shaw/Getty Images
After Jacoby Ford's in week nine of the 2010 season against the Kansas City Chiefs, everyone was ready to call him No. 1. I'm sorry, but he isn't.
That is not a jab at Ford; I never want to see him go. The guy makes plays.
When a defense double-teams Heyward-Bey and Moore, and Murphy can't pick up the slack, Oakland needs a receiver who can do things that none of them can. Ford is that special kind of athlete.
All of these receivers are fast. So the end around is an option for all of them. But who can execute that play the best? Who can make the first guy miss, outrun the rest and look like he's just jogging?
Ford.
He's a good receiver. I just think we jumped the gun in calling him the next great. We were tired of waiting on DHB's light bulb to go off, and Murphy was productive, but not yet dominant.
So it makes sense to put those aspirations on a guy like Ford.
But going forward, in my opinion, Ford is best used when he's the forgotten cog in this clock.
Besides, you don't want to give him too many responsibilities on offense because you lose another special aspect of his game in special teams. Look at Devin Hester.
The Forgotten Group: Tight Ends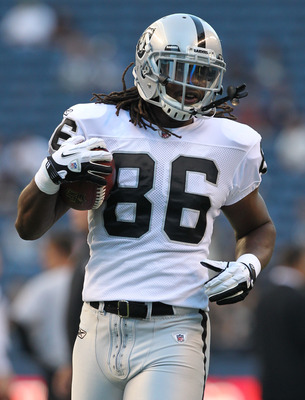 Otto Greule Jr/Getty Images
Now let's focus on the tight ends. You may be wondering: Why is there a picture of David Ausberry rather than starting tight end Kevin Boss?
One of the reasons is because I think the Raiders are going to trade Boss at some point in the NFL Draft. Think about it. The Raiders need a lot of help, but don't have all the picks to do it.
If you have a team willing to give a fourth or fifth round pick for Boss, how do you not take advantage of that?
I find it hard to believe that teams like the Cleveland Browns, Arizona Cardinals or Buffalo Bills would not be willing to at least listen.
Boss is a talent, but Palmer has never been partial to using tight ends. A more athletic and versatile tight end such as Ausberry is a much better fit.
Ausberry did not have much of a rookie season at all other than special teams. In fact, he only had two receptions on the season. But at 6-foot-4, 245 pounds, and running the 40-yard dash in a quick 4.5 seconds.
You can't help but consider the possibilities. Ausberry had quite the preseason, so why couldn't he be used more during the season?
All I know is, he is going to have a great opportunity for a starting job that's wide open.
Another guy to look at is Richard Gordon. A questionable sixth round pick, Gordon was supposedly quite the athlete according to college and current teammate DeMarcus Van Dyke.
Gordon showed flashes in the Raiders' last preseason game against the Seattle Seahawks, but I think it's clear he's much more of a blocking tight end.
Brandon Myers is the biggest question mark at this position. Just when you think he's a waste of a roster spot, he makes a clutch play that makes you want to give him another shot.
I wouldn't hate it if we kept Myers, but I'm not in favor of it either.
Don't be shocked if the Raiders draft a tight end in this draft, especially if I'm right about trading Boss.
If a guy like Temple's Evan Rodriguez falls to the sixth round, I wouldn't be shocked if the Raiders can't pass him. He's a poor man's Aaron Hernandez.
The Question Mark: Red-Zone Threat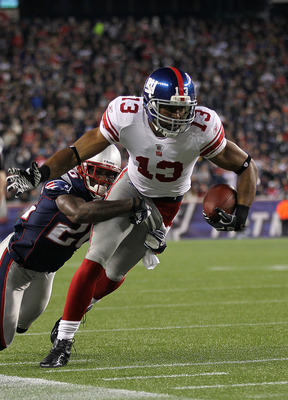 Jim Rogash/Getty Images
The one glaring need for this receiving corps is a legitimate red-zone threat.
It brings sadness to my heart, but I think the Chaz Schilens experiment is officially over. He never turned into the weapon the Raiders needed him to become.
The Raiders need his kind of size at the wide receiver position—that guy who is at least 6-foot-4, 225 pounds, and has strong hands. Which brings me to free agency.
The only true red-zone threats out there now in free agency are New Orleans Saints Colston and Meachem. It's hard to believe the Saints would let Colston go, but Meachem could be had.
The problem with Meachem is that I think he could become a bit of a diva once he is out of the shadow of Colston and Drew Brees.
The guy I want to bring up is Ramses Barden of the New York Giants. He's not officially a free agent, but I have a strong feeling head coach Tom Coughlin's patience is wearing thin.
You see, Barden may be considered the Schilens of the East Coast. His injury concerns may rub some fans the wrong way, but he will come dirt cheap.
The draft is not flooded with red-zone threats this year, but I think fans are tired of drafting rookie receivers every year anyway.
Keep an ear out for a guy named Damarlo Belcher out of Indiana. He's had some off-the-field issues that got him kicked out of their football program, but no one has the exact details of that situation.
At 6-foot-five with 4.4 speed, Belcher is worth the risk in undrafted free agency.
Keep Reading

Oakland Raiders: Like this team?