Super Bowl XLVI: Why This Isn't His Last Hurrah in New England, Part 2
January 23, 2012

Elsa/Getty Images
Bleacher Report NFL regulars will no doubt remember the controversial article that Featured Columnist Kwame Fisher-Jones wrote entitled "Tom Brady's Last Hurrah in New England."

This article prompted a massive response due to the blasphemy of the article's title alone.  We were discussing a quarterback who literally just won the MVP— the first ever to be selected unanimously.  I still to this day believe Kwame only wrote the article to get a reaction.  To say I bit hard, though, would be an understatement.
I was originally going to make a comment on his article but realised my comment was becoming so long that it merited it's own article.  Alas, my official response article was written: "Tom Brady: Why This Isn't His Last Hurrah in New England."
Fisher-Jones starts off his article with a quote from ESPN's Rob Parker that states, "There is No Tom Brady Super Bowl highlight that does not include Adam Vinatieri."  While it's true that Vinatieri kicked two game-winning field goal kicks, it's absurd to credit him with the victories.  Sure, everyone will remember those kicks, but in Super Bowl XXXVIII, Vinatieri missed a field goal and had another field goal blocked.  He was one for three on the day. 
Fisher-Jones also stated, "His greatness is not defined by bringing his team back from a fourth-quarter Super Bowl deficit and leading them to a title-clinching touchdown".  I imagine Fisher-Jones just missed this particular drive.  I understand it didn't result in a touchdown, but my point still stands. 
Brady, basically a rookie quarterback on the largest stage in sports, up against one of the greatest teams in NFL history, led his team downfield in the final minutes to set them up for a game-winning field goal.  Vinatieri wouldn't get that highlight if not for Tom Brady.  Rob Parker had it backwards the whole time.  There is no Adam Vinatieri Super Bowl highlight that does not include Tom Brady.
He then continued on to talk about the loss to the Giants in the 2007 Super Bowl.  Never mind the fact that Brady connected with Moss with 2:42 left on the clock to take a 14-10 lead.  In Fisher-Jones' mind, apparently Brady also plays defensive back and it's his fault the Giants scored in the final seconds.  We're also pretending that the Giants didn't have the most improbable drive in Super Bowl history.  That was apparently Brady's fault too.
Also in Fisher-Jones' world, good quarterbacks aren't allowed to lose in the postseason.  When they do, they are labeled as "washed up," even though they just won the MVP.  Fisher-Jones stated that "Brady is 0-2 in playoff games since 2007, and it has become evident that he can no longer carry the Patriots offense to a Championship."
Fisher-Jones would also ignore the fact that when it was brought up to him that Joe Montana won two Super Bowls, went one and done for the next few years, and then won two more.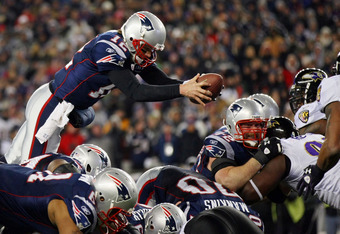 Elsa/Getty Images
It really speaks to Tom Brady's greatness and to the perfection that is expected of him when a guy like Fisher-Jones expects him to win the Super Bowl every year.  I apologize on behalf of Brady for him being so successful that anytime he goes one and done in the playoffs like Montana, Marino, Manning, Favre, etc. it's perceived as the apocalyptic end to his career. 
It's also convenient that Fisher-Jones ignores the constant offensive coordinator changes that occur in New England as well as player personnel, yet still finds a way to make it to the playoffs every year.
One of the final lines from Fisher-Jones' original article is, "The truth is, the NFL is about the now, not about the then."  I completely agree, Kwame, and I hope you enjoy watching the Super Bowl on February 5th when Tom Brady makes his fifth Super Bowl start.
Follow-ups with Kwame in regards to his article have gone unanswered.  When Brady threw for a career-best 517 yards in the opening week, there was nothing.  When Brady guided Rob Gronkowski to the single best season a tight end has ever had in NFL history, there was nothing.  When Brady led New England to a 13-3 record despite having one of the league's worst defenses, there was nothing.
Let me leave you with one final statistic.  Brady has been in the league for 12 seasons.  He didn't play in the '00-01 season and missed the '08-09 season.  He's had 10 seasons of actual game play and he's making his fifth Super Bowl start.  He literally goes every other year. 
We're watching the greatest of all time, folks.