Why Bringing Back Santonio Holmes in 2012 Dooms New York Jets
January 23, 2012

Patrick McDermott/Getty Images
Unfortunately for the New York Jets, the "Santonio Holmes Experiment" did not work as planned after two seasons.  The Jets acquired Holmes for practically nothing, leading up to the 2010 NFL draft through a trade with the Pittsburgh Steelers.
After a successful 2010 regular season and 2011 postseason, the Jets decided to make Holmes their marquee acquisition by signing him to a $45 million contract for five years.  After 16 weeks of the 2011 season it seemed like Holmes would be returning to New York without problems, regardless if the Jets won their final game against the Dolphins, thus keeping their chances alive for making the playoffs.
Then, Holmes began to argue in the huddle with Jets right tackle Wayne Hunter as the Jets were down by nine, forcing offensive coordinator to take him out and send Patrick Turner into the game.
Following the game it was obvious there was a poor attitude in the locker room, not only because the Jets were eliminated from playoff contention because of a Tennessee win, but because they could not beat their rivals, the Miami Dolphins. 
Holmes was upset toward the end of the game and afterward because he went the entire game without a single catch and only one target from Mark Sanchez.  According to rookie quarterback Greg McElroy, in the week following the loss, Holmes was not the only player in the locker room with a selfish mentality.
The biggest problem with what happened in this final game is that no one took control and it is embarrassing for the so-called leaders of the Jets, especially Santonio Holmes and Rex Ryan.  After the Jets signed Holmes, he was appointed as a captain, mainly because of his experience in the league and his skill.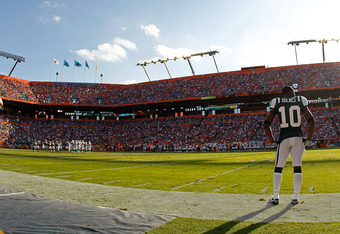 Mike Ehrmann/Getty Images
For a captain to act the way Holmes did in Miami is atrocious and goes back to what McElroy said.  Holmes was more focused on not having any catches that Sunday rather than helping his team win the game.
Next, no one really took control of the situation following the game.  This is where having a head coach like Rex Ryan is supposed to be a good thing.  Your team has just lost any chance of going to the playoffs, you finish a season that you were supposed to go to the Super Bowl in a very poor fashion, and now you own up to what happened or address your team on how to act in a situation like this.
Instead, the Jets and their various leaders, like captains, coaches and front office people, stayed quiet and now the Jets have plenty of damage control to deal with. 
If Holmes were to return, it is questionable as to how much he could help the team.  Because of how poorly the situation between him and the Jets was handled, I highly doubt there will not be bitter feelings between the two. 
Also, keep in mind the message it would send to other players—especially the younger ones—about being in the NFL and how you can act on and off the field.  We all understand Ryan is a players' coach and allows his players to be who they are so he can get the best out of them, but there comes a time when you need to take control and say, "Enough is enough."
If Holmes were to return, even with a small fine—which would probably just make the situation worse—it would be telling younger guys, "Hey, once you're a superstar on the New York Jets, you can do whatever you want and if you have a bad game; we don't mind if you throw a tantrum on the field."
It would be very hard to see Santonio Holmes returning as a New York Jet in 2012, playing with the same intensity he played with prior to Week 17.  
For the Jets, it may be time to go back to the drawing board when it comes to their receiver corps.  Right now, they have rookie Jeremy Kerley, who made a huge impact this season, but they still need a playmaker or two in order to have an efficient passing game.
It will be interesting to see how the rest of this situation unfolds, but as of right now, it is time for these two to part ways or else the New York Jets locker room will be very divided and unproductive in 2012.