Boston Red Sox: With Marco Scutaro Gone, Sox Might Make 3 Additions
January 22, 2012

Rob Carr/Getty Images
Let's get the speculation underway, shall we?
Every fan in Boston is just salivating at the thought of Ben Cherington signing Roy Oswalt, and now having dealt Marco Scutaro to the Colorado Rockies, the team has cleared up some much-needed cap space.
What we won't know for sure is how much room exactly the team has financially to play with.
While I recently wrote a piece examining how close the Red Sox are to the luxury tax, of course I cannot be 100-percent certain.  While at the end of my piece it appeared that the Red Sox would have a little over $8 million in cash available, I did neglect to factor in the medical staff expenses, which, by my estimation would put the team right up against the cap.
Now, I could be wrong in my configuring of contract offers yet to be made via arbitration, but if my guess on Daniel Bard is any indication (he signed for $1.6125 million, I said he would sign for $1.625 million) then I think my figures are going to be fairly close to accurate.
Having said that, I have a feeling that the next shoe to drop will come in the form of three potential moves to fill three glaring holes in the lineup.
Shortstop
I don't think Aviles would be bad as a starter until Iglesias is ready. He has a career .973 fielding percentage at short with a 10.8 UZR and 4.5 TZL. He'd be suitable if it is a means to beef up the lineup elsewhere. But while I am not afraid to approach the season with Mike Aviles as our starting shortstop, there are others who feel differently.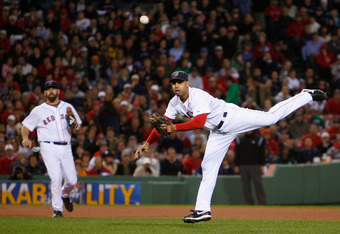 Jim Rogash/Getty Images
With that being the case, there are still three "names" available on the shortstop market that could be had for the right price.  The first is Omar Vizquel, whom I will literally just eliminate right now because the man is 44 years old.
The second and sexiest name available is Ryan Theriot.  Theriot is a career .282 batter with an impressive .344 OBP to match.  He isn't a power hitter, but he has the capability to get on base.  He played 91 games at short in 2011 for the Cardinals.  He would be an adequate fielder (not Alex Gonzalez worthy, by any means) while providing a decent bat.
The down side is the fact that he'd be more expensive than the Red Sox would want to pay for him.  Having made $3.3 million in 2011, I doubt the Sox would be able to sign him for less than that.
The option that I like the most would be to bring back Alex Cora.
No, he would not be an everyday shortstop, but between him, Nick Punto and Mike Aviles, I think the position would be held down adequately.  Also, personally, I would like him to spend some quality time tutoring a young Jose Iglesias, perhaps helping him along his way into the majors.  Best of all, Cora could likely be had for less than the $900,000 he played for in 2011.
Right Field
I have been on the Cody Ross train for the past several weeks, and I've yet to jump off of it.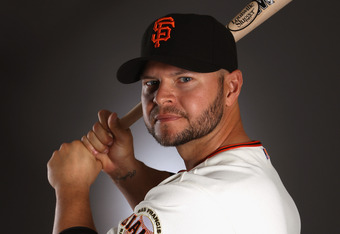 Ezra Shaw/Getty Images
A platoon with Ryan Sweeney would be perfect. Ross could face lefties (career .282/.349/.563/.912) and Sweeney against righties (career .296/.352/.402/.754). Neither Ross nor Sweeney is going to bat higher than sixth or seventh in the order, right? 
As a fan, don't you just want a solid fielder who can get on base at this point?
Starting Pitching
Once again, I've been for the Red Sox signing Roy Oswalt since Prince was on Apollonia.
Okay, maybe not quite that long, but you get my point.
Oswalt, at an estimated $8 million for one year, would be a perfect fourth starter in Boston.  If he has back problems late in the  year, Daisuke Matsuzaka is expected to be back in the lineup by June or July and could spell him a rest occasionally.
Don't think that this is going to be a winter of discontent in Boston.  Another shoe is going to drop in this Scutaro deal.  The chess match is not over yet.