Red Sox Free Agent Rumors: Why Roy Oswalt Is the Right Fit in Beantown
January 8, 2012
Nick Laham/Getty Images
There are 108 double stitches on every baseball that is made. The beautiful double-stitch design is mesmerizing to me while I watch a ball float through the air while finding its target. The 5.25-ounce ball being hurled at speeds reaching 100 mph has made many men legends, while leaving others painfully in its dust.
In the business of baseball today, teams compensate a man greatly if he possesses the ability to throw a ball effectively, rendering opposing batters defenseless in its wake.
The Boston Red Sox are one of those teams that has the ability to pay men to play the game, and also, have the financial stability to make mistakes paying men who cannot perform to the level in which the teams expects.
This year may prove no different than past years.
The Red Sox are looking for another starting pitcher. While the other day General Manager Ben Cherington was on record stating that the Red Sox are looking for more than one "low-cost" starting pitcher who will enter a competition for the final two starter spots in spring training, I'm not buying it.
Sure, they Sox front office has made it clear that they would like to stay away from paying any luxury tax in 2012. However, they're up against the wall, and unfortunately for them it seems they'll be receiving that bill in due time.  
The problem I have is this: they have not defined "low-cost" by any means.  
While I have previously written a piece on pitchers that I feel the Red Sox could obtain for a reasonable cost, citing players like Joe Saunders, Paul Maholm and Jeff Francis, I think that one player I mentioned is exactly what the Red Sox need right now: Roy Oswalt.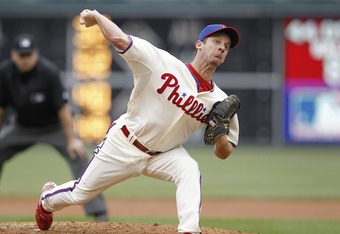 Joe Robbins/Getty Images
I want to do a little exercise here and take three pitchers numbers to compare. I am going to examine the players' past two seasons (2010 and 2011) with both production and what they made over the course of that time. Other than the win total and earnings, all of the other statistics will be averages. Let's begin:

Player One:
26-23, 5.41 ERA, 31 games, 188 innings pitched, 1.519 WHIP, 6.3 K/9 ratio and earned $34.65 million.  
Player Two:
22-23, 3.23 ERA, 28 games, 175.1 innings pitched, 1.182 WHIP, 7.1 K/9 ratio and earned $31 million.

Player Three:
19-13, 4.34 ERA, 26 games, 160.1 innings pitched, 1.281 WHIP, 8.2 K/9 ratio and earned $29.1  million.
Of the three players above, one is Roy Oswalt, one is an ace on a staff in a major market and the other is being paid like an ace on a staff. Player One is John Lackey, who is set to make $15.2 million in 2012. Player Three is Josh Beckett, who will make $15.75 million in 2012. That means Player Two is Roy Oswalt.
Oswalt has been consistent throughout his entire career and has put up better numbers than the Red Sox's current ace and guy that should be an ace. He is a veteran that can come into this clubhouse and help to keep the order among the others.  
According to The Sporting News, Oswalt has also said that he would accept a one-year deal. As if the Red Sox needed any more incentive to sign him, he's willing to come to a team for just one season, and that team should be Boston.   
The Sox are not in need of a front-of-the-rotation starter, but what they'll be getting in Oswalt is essentially just that. Sure, he may not win 20 games here, but is there any reason to believe he won't win at least double digits in Boston? More so, the clock keeps ticking without him having signed anywhere, so I suggest he will be more affordable than most may believe.  
If the Red Sox don't chase after Oswalt now and offer him a respectable one-year deal, shame on them. If by the All-Star break he's exceeding expectations, lock him up for a couple of more years, but for now, with Lackey on the shelf and Matsuzaka's contributions unknown for the second half of the season, having a guy like Oswalt on the bench would be a nice insurance policy.