WWE Undercard Overhaul: Power Trip Edition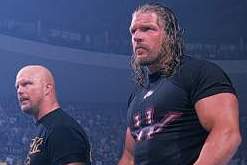 Undercard Overhaul is a fantasy booking series which operates on one golden rule: being memorable is everything.
Wrestling is an industry that thrives on spectacle and people have millions (if not billions) of entertainment alternatives if WWE fails to deliver a compelling product.
With that in mind, let's take a look at five more angles that can turn WWE's struggling undercard from mundane to mind-blowing.
Begin Slideshow

»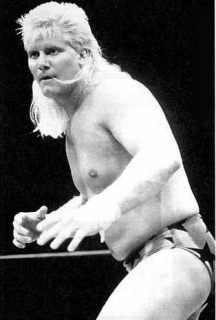 photo from tvrage.com
John Laurinaitis is cruising through a surprisingly enjoyable run as interim general manager of Raw.
I thought Road Warrior Animal owned most of the family's talent, but John's rendition of a stiff company man is the perfect foil for CM Punk's authority-bucking individualism.
At the end of the day, though, John has a very serious business role within WWE that doesn't involve being an on-air personality. He's splitting his attention and he'll have to focus on the more important job eventually.
It's how we get to that point that matters and Punk's slow-boiling quest to get his hands on Laurinaitis (thankfully) hearkens back to an era of wrestling where Bobby Heenan sat safe behind his clients. Top babyfaces around the country would scrape tooth and nail to give "the Weasel" a bit of his own medicine, and fans clamored for his head in anticipation.
I predict Ace will meet Punk in the ring at Elimination Chamber, his job on the line against Punk's WWE Championship, which would be John's ultimate motive for accepting the match. He's never had that kind of opportunity before and Johnny's personal ambitions are getting the better of him, foreshadowed by the attack on Mick Foley.
Having seen tapes of Laurinaitis in All Japan, I'm not worried about the quality of the match. John will have lost a step (or six), but Punk is the kind of guy who can pull a four- or five-star match out of a broomstick.
We'll get our money's worth and Punk goes over clean. John loses his job as interim general manager and the fans chant "Hey! Hey! Hey! Goodbye!" but wonder, "Who's going to take his place?"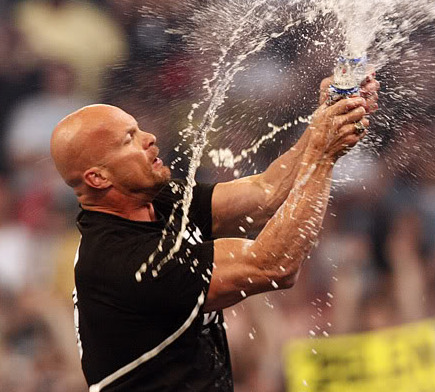 "Stone Cold! Stone Cold!"
There is no one alive better suited to create excitement headed into WrestleMania than the Texas Rattlesnake, and a light travel schedule might coax Austin back into the mainstream. (It sure wouldn't hurt his bottom line—that is, t-shirt sales.)
It goes like this: John Laurinaitis has been forced to resign after losing to Punk. It's the night after Elimination Chamber, just a few short weeks before WrestleMania.
Triple H marches to the ring in his COO suit, microphone in hand, and says, "It seems there's a job opening here on Raw and I'm behooved by my position as WWE's chief operating officer to fill it on a permanent basis. The Board of Directors are obviously not interested in my return as general manager, so I've had to look elsewhere. I was interested in finding someone who is a proven commodity here in WWE, who can take as good as he gets, and..."
Cue Mick Foley's music.
Before Triple H can speak, Foley interjects: "You and I haven't always seen eye-to-eye, Hunter, but I always knew you were good for business. And what's better for business, right here...in Miami, Florida...than giving these people what they want: Mick Foley, commissioner of Raw!"
Triple H replies, "Mick, I love your enthusiasm, buddy, I really do...But as qualified as you are, I feel like there's one guy who's maybe just a little more qualified than you."
Glass shatters.
Austin enters to a ridiculous ovation, riding to the ring on the four-wheeler from his tenure as Raw sheriff, and proceeds to hit every turnbuckle with beer in hand and arms upraised.
When he's done working the crowd, Austin takes a microphone and says, "Triple H, I accept the position as Raw general manager on one condition: we shake on it like grown men."
Austin holds out his hand while Michael Cole screams, "Don't do it, Hunter! Stone Cold never wants to shake anyone's hand!"
Triple H mugs for the crowd, asking them what he should do, before going in for a shake and taking a kick to the gut and a Stunner for his troubles. Austin drops and talks some smack in HHH's face before catching and sharing some beer with Mick Foley—who then receives a Stunner, as well.
The Austin Era has officially begun.
Two side notes: This is the best way to offset any ratings loss acquired by moving John Cena to Smackdown and lay the groundwork for a Stone Cold/CM Punk match at WrestleMania 29.
CM Punk: "Hey, Steve...After all these years of fighting Vince McMahon, how does it feel to finally become him? You stick your beer-drinking nose in my business one more time and I'll put you to sleep!"
Austin, coming nose-to-nose with Punk: "Is that so?"
CM Punk: "Yeah, it is, and I'm the only one here with the stones to do it."
NXT alumnus Aksana has been pursuing Teddy Long for months. The angle doesn't seem to go anywhere, though, and fans are to the point where something's got to give.
The Smackdown after Elimination Chamber, taped the day after Stone Cold assumes control as general manager of Raw, Teddy Long comes to the ring and calls out Aksana.
"Aksana," he says, "I've been in the business long enough to know when it's time to start winding things down. Seeing Steve on Raw has made me realize that maybe it's my time to step away, let someone else carry the Smackdown brand into the future. The only future I can imagine for myself, though...is with you. Aksana, will you marry me?"
She says "yes," of course, and they celebrate in the ring, a successful culmination of a storyline everyone thought was an open-ended waste of time (and probably would have been otherwise).
Later in the evening, Triple H confronts Teddy about his decision to retire, questioning his timing as there aren't a whole lot of good applicants left after just replacing John Laurinaitis on Raw. "Peanut head" tells HHH that he knows he's put him in a tough spot and promises to help interview potential successors.
Weeks (and dozens of "interview" segments) later, Long and Aksana (uneventfully) tie the knot on Superstars or NXT (though, NXT's already had a wedding this year). Highlights will be shown on Smackdown to avoid spending half the show pushing an angle that has nothing to do with WrestleMania's buy rate, after which Long and his new wife will walk to the ring and announce the next general manager of Smackdown.
Cue Mick Foley's music.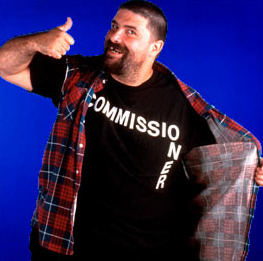 "Mick," Teddy Long says, "congratulations on your new role as general manager of Smackdown. It's been a wild ride, playah, but I have faith in you to carry Smackdown's torch in my absence."
"Thank you, Teddy," Foley begins. "I want to congratulate you on your new marriage, and the years of dedication and service to Smackdown. With God as my witness, I'll wear a 'What Would Teddy Do' bracelet every day I come to work!"
It might seem counter-intuitive to employ two babyfaces in authority positions on both Smackdown and Raw, but fans are growing weary of angles purporting to be "the next Austin/McMahon." A paradigm shift like this gives up-and-comers like Wade Barrett and Cody Rhodes the chance to get megastar heat by opposing two beloved Legends (which might be enough to propel them to the next level).
Foley gets the nod here over candidates like Kevin Nash and Road Dogg due to sheer likability. In times of distress, Mick is an incredibly sympathetic character, his comedic timing would breathe new life into otherwise humdrum segments and that Dudley Do-Right attitude would serve as a nice contrast to Austin. Good cop/anti-hero cop.
To be clear, Teddy Long's not getting the ax because he's awful. I love the man dearly. Teddy's contributed a lot to the business over the years, and he'd remain a backstage asset, but the fact remains that Mrs. Foley's baby boy is a bigger draw.
In the process of imbuing WWE's programming with a sense of newness (which should have happened the second Triple H took over), T-Lo's got to go.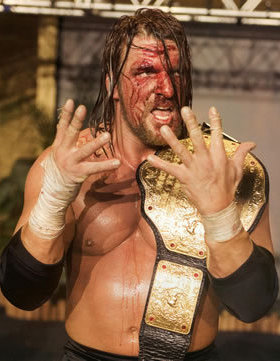 To put an exclamation point on all these changes in management (and make WWE feel like a whole new sandbox), suit-wearing Triple H would appear again the night after WrestleMania, carrying a felt bag.
"Steve and I have been talking and we both feel like there's more we can do to ignite the spirit of competition here on Raw," he'd say, pulling a familiar belt from the bag. "It's been a long time coming but, by the power invested in me by the WWE Board of Directors, I hereby reinstate the Television Championship!"
The TV title, a workhorse NWA/WCW belt that was retired by Vince Russo before the WWF buyout, would carry a 10-minute time limit and see its champion defend against all comers on every televised Raw event and pay-per-view, no exceptions.
Not to be outdone, Foley would reinstate the Hardcore Championship (sans 24/7 stipulation).
These belts would be introduced solely for the benefit of the undercard which, for years, has had nothing to fight over because all the gold in WWE belonged to mid-card and main event-level talent. The introduction of two more show-specific championships is just enough to motivate guys at the bottom of the totem pole and create a buzz with fans, especially if they have their own unique quirks.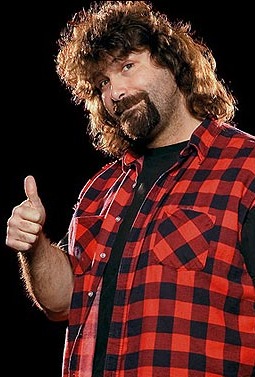 If you enjoyed this installment of Undercard Overhaul, you might also enjoy previous entries in the series.
Volume One featuring the Celtic Connection; the Funky Fossils; Heath Slater No More; the Savage Samoans; and the Cole-Guerrero Coalition.
Volume Two featuring Marked for Death; Kofi Kingston, Problem Solver; Christian's Curse; Attention-Seeking Hypochondriac; and Atten-Hut!
Volume Three featuring S.O.B. Inc.; Jack Swagger, American Ambassador; Resurrect the Hardcore Championship; Diversify the Divas; and "I'm Tyler Black and I'm Here to Wrestle."
Volume Four featuring Cena to Smackdown; the African Embassy; Stereotypical Struggle; Johnny Curtis, Ultimate Hero; and Perry Saturn Enters the Royal Rumble.