Why Vlad Guerrero, Not Manny Ramirez, Should Be Target for Oakland A's
January 22, 2012

Hannah Foslien/Getty Images
It has been reported by ESPNDeportesLosAngeles.com that the Oakland Athletics are "very interested" in signing beleaguered free-agent outfielder Manny Ramirez.
A source goes on to say that while a handful of teams have inquired about the services of Ramirez, Oakland has shown the most interest in him.
Ramirez is coming off of a 2011 season that saw him retire back in April as a Tampa Bay Ray, after failing a drug test for the second time. Instead of serving what would have been a 100-game suspension as a result of the positive test, Ramirez decided to quit the game of baseball.
However, it appears that fishing and vacationing didn't suit Ramirez, who has expressed interest this winter in a possible return to MLB. Earlier this month, ESPN's Buster Olney reported that Ramirez wanted another chance to show that he has changed.
The speculation surrounding the Athletics' interest in Ramirez is a bit baffling at first glance. By and large, Oakland has been committed to their plan of getting rid of nearly everyone on their roster from 2011.
So it's a bit surprising that the A's would actually feign curiosity in signing a slugger who is very much in decline at 39 years of age and, obviously, hasn't played baseball in nearly a year. Because signing free agents hasn't been in Oakland's repertoire this offseason, it's seems odd that Ramirez would be on the Athletics' radar.
But the way things have been going within the A's front office, nothing is all that surprising.
After all, Oakland has made it a tradition to sign aging, slowing former All-Star sluggers to serve as the team's designated hitter.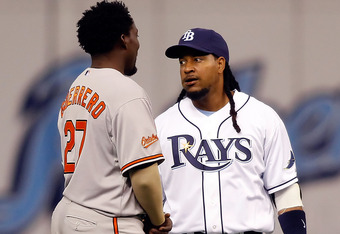 J. Meric/Getty Images
In 1999, it was John Jaha. In 2001, it was Ron Gant. In 2003, it was Erubiel Durazo. In 2006, Frank Thomas. In 2007, Mike Piazza. In 2008, Mike Sweeney. In 2009, Jason Giambi returned.
And last season, the A's signed Hideki Matsui. All were on the downside of their respective careers, but each came to Oakland simply to boost the traditionally anemic power numbers in the pitchers' park that is the Oakland Coliseum.
Following tradition, the A's are looking at the long-ball hitting of Ramirez. But one player who would also fit the bill is Vladimir Guerrero, who played last season with the Baltimore Orioles.
Like Ramirez, the 36-year-old Guerrero also is a former All-Star and has had a long illustrious career offensively. The potential Hall of Famer has hit 449 home runs in his career, driven in nearly 1,500 runs and hit .318.
Last season, Guerrero's numbers fell rather sharply, as he smacked only 13 home runs and posted a mediocre .733 OPS in 145 games as the Orioles' DH. Still, he managed a solid .290 batting average, and his 44 extra-base hits would have ranked second on the Athletics last season.
Obviously, with the loss of outfielder Josh Willingham to free agency last month, Oakland is missing a powerful right-handed bat in its lineup. Guerrero certainly would be able to fill that role for the A's, who also are unlikely to retain last season's designated hitter, Matsui.
With Coco Crisp providing the only veteran presence in the lineup, Guerrero would be a nice addition to a very green group of player
Despite an obvious drop in his performance and overall skill, Guerrero somehow managed to garner a $7.6 million salary with Baltimore. Given Oakland's considerable financial constraints this winter, it's not likely Guerrero would be able to command that price range from the A's.
However, there is one asset that Guerrero brings that is hard to put a price on: no media drama.
Ramirez absolutely would draw a tremendous amount of attention wherever he goes. Considering he basically disappeared off the face of baseball after his failed drug test, Ramirez would—will—be hounded by press who are looking for answers to what happened last April.
That's a media circus that the A's should not be comfortable with.
They are already muddling in the quagmire that is their possible relocation to San Jose. There has been enough negative press regarding the sputtering process to leave Oakland as well as the resulting exodus of players.
Adding Ramirez to the mix would only make things more difficult for the team, who will be bombarded continually with questions about the progress of their move to Silicon Valley.
Guerrero is about three years younger than Ramirez; he also played a complete season last year. Furthermore, Guerrero is not nearly as much trouble as Ramirez is.
Ramirez is already aloof—a full season with the antics and unpredictable personality of Ramirez is not what a team in rebuilding mode needs. If anything, it'd put the organization under an awkward microscope, placing emphasis on things other than the growth of their young players.
If the A's need a designated hitter in decline, they should sign Guerrero instead of Ramirez.
Follow me on Twitter: @nathanieljue