Oakland A's Trade Moscoso and Outman: Team Will Be Unrecognizable This Season
January 18, 2012

Jim Rogash/Getty Images
The Oakland Athletics have had an incredible winter, shipping off key veterans like they were a bunch of old iPhone 3s from last Christmas—outdated. The Oakland A's have probably broken the record for most trades in one offseason. And amazingly, they're surely not done yet.
It has been reported by CSN BayArea that on Monday, Oakland acquired outfielder Seth Smith from the Colorado Rockies for two starting pitchers—right-hander Guillermo Moscoso and lefty Josh Outman. This is somewhat of a surprise, considering the A's had already traded two of its starting pitchers earlier this offseason—but then again, nothing should be startling coming from Oakland.
With Moscoso and Outman, this makes four starting pitchers (including Trevor Cahill and Gio Gonzalez), an All-Star closer (Andrew Bailey), a three-position outfielder (Ryan Sweeney) and a left-handed middle reliever (Craig Breslow) who have been traded away this winter.
Add the free-agent signings of outfielders Josh Willingham (by the Minnesota Twins) and David DeJesus (to the Chicago Cubs) as well as Jai Miller claimed off waivers by the Baltimore Orioles, and the A's have lost 10 players who were on last year's season-ending squad.
The A's must have deemed their starting pitcher surplus as superfluous, letting go of two more in exchange for a platoon outfielder who has played less than 500 games in his MLB career and will turn 30 years old later this season.
A's general manager, Billy Beane, predicts Smith to compete for the team's starting left field spot. He set career highs last season in Colorado with 135 hits, 32 doubles and 59 runs batted in 476 at-bats. He is a career .275 hitter, with a .833 OPS.
Smith's numbers are a stark improvement than those of the departed Sweeney. So it appears that the Athletics are making somewhat of an attempt—albeit a feeble one—at bringing in offense with some major league experience, but very little of it, however. In the previous three major trades this offseason, Oakland acquired two position players who have played in the big leagues: Collin Cowgill and Josh Reddick. Combined, they have played in 180 games.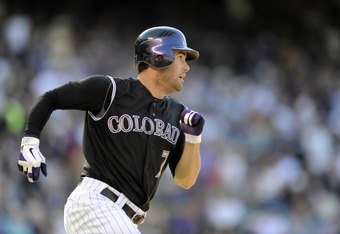 Jack Dempsey/Getty Images
That's why it's somewhat surprising that the A's, in bringing in Smith, actually has someone who will be on the Opening Day roster. All of the other players acquired through trades this offseason are minor league prospects and are not shoo-ins to make the team during spring training. This means that Smith is Beane's attempt to show fans that the A's will be (not at all) competitive this year.
Yes, Seth Smith.
While Smith will probably have an OK season and does bolster Oakland's current anemic offensive roster, fans can't help but shake their heads at the actions of a team that is stripping its cupboards bare. It's not surprising anymore to see the A's involved in a trade, but it's unfortunate nonetheless.
Odds are that Beane is not done, though. In an effort to show how serious they are about leaving Oakland, management is offloading nearly the entire clubhouse.
If there isn't a record for most players to be removed from the previous season's lineup, the Athletics are surely looking to establish the inaugural mark. At the very least, Oakland's attempting to make it extremely difficult for fans to recognize who remains from last year's squad. Just how many players from 2011 will no longer be on the A's this season?
With Beane, nothing is impossible: He can gut the entire roster and nobody would be shocked. Heck, he could even trade himself by Opening Day. Who knows?
Follow me on Twitter: @nathanieljue