Oakland A's Outfield Empty After Josh Willingham Signs with Minnesota Twins
December 19, 2011
Thearon W. Henderson/Getty Images
In the lastest procedure of the Oakland Athletics' offseason makeover, free-agent right fielder Josh Willingham was not re-signed, instead being plucked by the Minnesota Twins this past week.

Coming off a 2010 campaign in which he mashed a career-high 29 home runs and 98 runs batted in, Willingham left the A's at a considerably low price—$21 million for three years. In return, Oakland will receive a supplemental pick after the first round of next year's draft.
Following the lead of David DeJesus, who signed with the Chicago Cubs earlier this month, Willingham's departure leaves a considerable void in the Athletics' outfield. Should center fielder Coco Crisp not return, which is an extreme likelihood, the A's will have seen each of their 2011 Opening Day starting outfielders leave via free agency this offseason. Which begs one of the more serious questions regarding next year's roster: Who will start in the A's outfield?
One thing is for certain—Ryan Sweeney will get first dibs on which position he'll get to play. Sweeney, 26, the left-handed hitting utility outfielder for the majority of his four seasons with the Athletics, is the most seasoned player of the potential outfield candidates. That is incredibly scary for A's fans. For an already young team, the Athletics will get even more inexperienced should they be unable to acquire any veteran presence through free agency.

It's already assumed that Oakland will seek in-house production in 2012 from their litany of unsatisfactory minor league prospects. Needless to say, it does not look promising for an outfield that was defensively strong but lacked any consistent offensive output in 2011.
Assuming that Crisp does not return, the A's will lose a huge chunk of their offensive production from last year. Crisp, DeJesus and Willingham accounted for nearly 31 percent of their runs scored and 32 percent of their runs batted in.

Worse, their lone returning veteran, Sweeney, is one of the most abysmal hitters in the American League. Last season, he hit .265 with one measly home run and an emaciated .341 slugging percentage.

True, he is not reknown for his power hitting, but his career extra-base-hit percentage is a sad 25 percent (107 of his 428 hits for extra bases.) Yes, three out of every four of his base hits leave find him standing on first base. Not a great stat, especially considering he's not a dominant threat to steal a base (17 for his career; two in the past two seasons combined).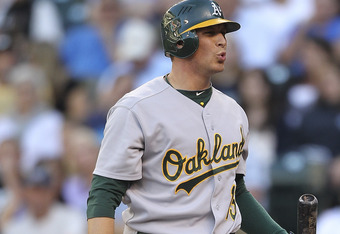 Otto Greule Jr/Getty Images
So where—or who—will the Athletics turn to next season to play in the outfield?
The obvious candidates are obviously not the right answers, as perennial minor leaguers Michael Taylor, Michael Choice and Jai Miller have not shown any progress in their development. The right-handed hitting Taylor has slogged through the minors for nearly five seasons, compiling a .296 batting average in several different stops. He has hit for decent power—including 16 home runs at Triple-A Sacramento last season—but his fielding is something more reserved for a designated hitter: 27 errors, .970 fielding percentage.

Taylor needs to sew up his all-around game, otherwise, at 26 years old, he'll never amount to anything of significance at the major league level. Though Taylor will likely be on Oakland's roster next spring, he'll probably come loose at the seams: He won't be a solid contributor, offering more of a platoon skill set.
Miller has had an equally long-winded path to the big leagues. He has played nine seasons in the minors, underneath three different major-league organizations—including last year with Triple-A Sacramento. There he batted .276 and mashed 32 home runs. Those power numbers bode well for Miller, as the A's will need to fill the right-handed void that Willingham left behind.

However, Miller's makeup is that of a home-run-or-miss power hitter, as his 179 strikeouts attest to. Whenever he does make an out, half of the time it's via strikeout. That lack of ability to put the ball in play is not a quality the A's have been sympathetic with, especially considering their burgeoning offensive ball club.

Miller will also likely see considerable opportunity in spring training, but patience should be thin with him. If he doesn't put up the power-hitting numbers at the major-league level, then he will have little value to Oakland's roster.
Choice is the obvious selection to step into the Athletics' young outfield. Another right-handed hitter, Choice tore up the Class-A Advanced level, mashing 30 home runs to go with a .285 batting average and 82 RBI for the Stockton Ports. Moreover, he played consistently during his stint in this season's Fall League action with the Phoenix Desert Dogs.

But it's his age (22) that will have him on the outside looking in during spring. He has only two years of experience in the minors. So Choice will require a bit more seasoning before he becomes a real option for the Athletics. He likely will not make be called up into action midseason next year.
Ultimately, whomever patrols the outfield alongside the soft-hitting Sweeney will need to pack some punch in their bats in order to compensate for his lack of power. Unfortunately for the A's, they will have an extremely young group of outfielders who will most likely not provide an above-average offense to go along with an underwhelming defense.
It's going to be a long season in the Coliseum's outfield. And even though the departing veteran free agent trio may not have lived up to high expectations—particularly from a health standpoint, Athletics fans will surely miss Willingham, DeJesus and (potentially) Crisp.
Follow me on Twitter: @nathanieljue