Manhattan Jaspers Open Up Western New York Road Trip Against Last Place Canisius
January 27, 2012

Simply put: Manhattan (14-7, 7-2) is the hottest team in the MAAC. The Jaspers have won 11 of their last 14 games, including wins over preseason favorites Iona and Fairfield. 
They will look to continue their streak up in Buffalo, NY against Canisius (4-15, 1-8). No road game is easy in conference play, but a sixth straight victory for Manhattan is likely.
The Golden Griffins are the lowest ranking team in the MAAC at No. 329 in RPI and are led by Cecil College transfer Harold Washington, who is No. 3 in the MAAC with 17.3 ppg.
Tonight will potentially be a scoring battle. Washington will go up against Manhattan leading scorer George Beamon, who ranks No. 2 in the MAAC with 17.2 ppg. Beamon is backed up by Michael Alvarado, who averaged 12.5 ppg and four apg in his last two outings, and senior Kidani Brutus, the No. 6 three-point shooter in the MAAC.
Here is what each team will have to do tonight in order to be successful 
Keys for Manhattan
Contain the three-point shot
Canisius likes to shoot, although the Griffs are not all that good at it. They shoot 19 treys per game and hit 32.1 percent of them.
The two guys Manhattan needs to focus on are Washington and Alshwan Hymes. Washington does not shoot from beyond the arc too often, but he converts 37 percent of his long range shots. Hymes only shoots 31.9 percent, but he has the potential to catch fire. He has hit four or more three-pointers in four games this year.
Manhattan is No. 1 in the MAAC in three-point defense, but opponents have occasionally caught fire from long range against the Jaspers' 2-3 zone. As long as the Jaspers keep Washington and Hymes in check, Canisius will struggle to knock down its threes. 
Limit turnovers
Manhattan's weakest point this year is its 16.9 turnovers per game. The Jaspers have lost a number of games they should have won because of turning over the ball too much.
If Manhattan turns the ball over more than 15 times tonight, it could be in trouble.
Keys for Canisius 
Contain Beamon
Beamon is the one player that Manhattan needs a solid contribution from in order to have a good outing. Two of Manhattan's four double-digit losses have come with Beamon either out of the game or in foul trouble.
It is almost impossible to completely stop Beamon, but the Griffs need to limit his output as much as possible.
Attack Rhamel Brown Early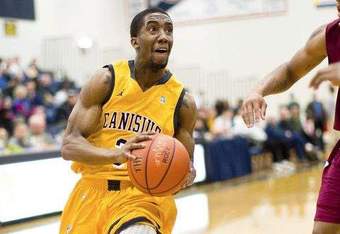 Brown is arguably the best defender in the MAAC. He leads the conference in blocks with 2.6 per game, and he makes all shots around the rim tough.
But he is foul-prone.
If Canisius attacks Brown early and gets him into some foul trouble, things can open up for the Griffs on the inside. 
Stats you should know
Manhattan leads the all-time series, 46-32, but Canisius has managed to win the last three meetings. 
Brown is six blocks away from taking the No. 3 spot on the Jaspers' all-time blocks list. He currently has 123, and Jamal Marshall ('95) had 129 during his four-year career.
The countdown to 1,000 career points has begun for Beamon. The junior has 929 points for his career, and he is on pace to hit quadruple digits within the next few weeks. 
My pick
Manhattan 74, Canisius 60