Minnesota Vikings: The 25 Most Underrated Minnesota Vikings of All-Time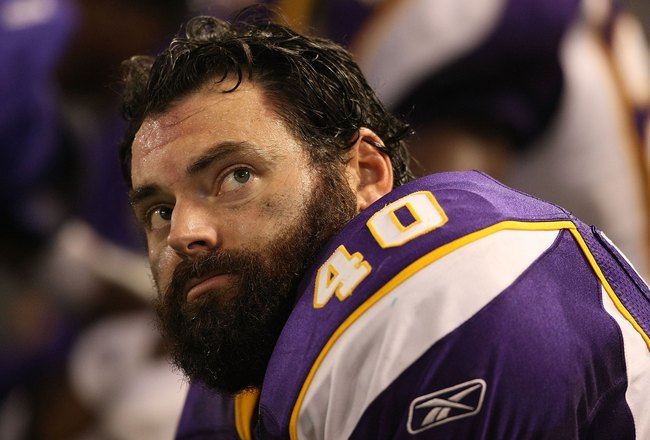 Nick Laham/Getty Images
For NFL fans who won't be afforded the opportunity to enjoy watching their favorite teams play in Super Bowl XLVI, they tend to choose other ways to talk up their respective teams and brighten their spirits as they look towards the 2012 NFL season.
Some like to look ahead to free agency and the upcoming NFL Draft. Others prefer to take a stroll down memory lane and re-live old glories of seasons past, when guys like Scott Studwell and Chris Doleman roamed the field.
Still, others like to give tribute to the not-so-recognized players of their favorite teams, which is what I did in breaking down the most underrated players in Minnesota Vikings history—a tougher task than stomaching their 2011 season.
The toughest part about it was not to get caught up with players names that are fresh in your head from the most recent seasons—names such as Brian Robison and John Sullivan, both of whom I believe are very underrated—however, going back and looking at the teams of the 60s, 70s and 80s to find players that deserve being on this list.
Another difficult part to get over is not putting a certain player on the list because they carry sentimental value to the author. However, being objective is of the utmost importance in putting together these lists.
With so many players to choose from, it's not inconceivable to think that a guy putting together a list like this would accidentally overlook one, two or even more guys.
Also, it's inevitable that players who people can make a case for being on this list will unfortunately get left off.
So, to help ensure that players wouldn't be overlooked and to make sure that the right names were on this list, I sought the help of three Vikings enthusiasts: Jeff Brion, Justin Jarl and Jon Corey—three guys who are fantastic Minnesota-sports minds with an overabundance of useless stats that litter their brains.
Together, the four of us, after many hours of adding players, taking players off and moving guys up and down the order, crafted this list of the 25 most underrated players in Vikings history.
We hope you enjoy the countdown to No. 1!
25. Todd Scott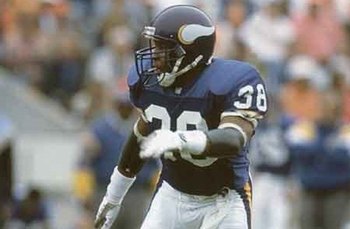 Vikings Tenure: '91-'94
Position: SS
Todd Scott kicks off our countdown at No. 25.
Over the first four years of his career, he became one of the better strong safeties in the NFL.
He piled up five INTs in his sophomore season with the Vikes, leading to a pro-bowl berth in 1992.
Some of you may recall a certain game against the Chicago Bears, in the '92 season, where the Vikings were down 20-0 at the start of the fourth quarter.
Scott picked off Jim Harbaugh and ran it back 35 yards for a touchdown, which cut the lead to 20-7.
That play sparked a tirade from Head Coach Mike Ditka, where he laid into Harbaugh on the sidelines for calling an audible.
The Vikes went on to win that game 21-20 on a game-winning 1-yard run from Roger Craig, prompting Ditka to take away audible-calling privileges from his QB for quite some time.
Scott ended up leaving the team after the 1994 season and went on to play three more years, finishing his career with the Kansas City Chiefs.
24. Moe Williams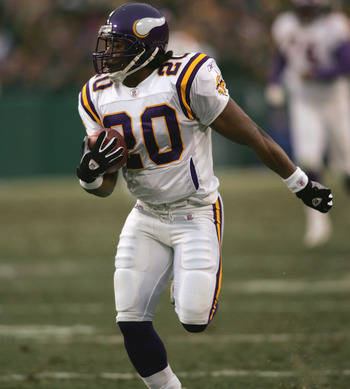 Doug Benc/Getty Images
Vikings Tenure: '96-'00; '02-'05
Position: RB
This is not so much for what he did during his first five seasons with the Vikings, but more for what he accomplished in the four seasons after his return from a one-year tour of duty with the Baltimore Ravens.
He was an integral part of the offense in the 2002 and 2003 seasons as the change-of-pace back for Michael Bennett.
While Bennett made it to Honolulu with 1,296 yards and six total touchdowns for his efforts in '02, Williams piled up 11 TDs and 1,181 all-purpose yards.
He was also instrumental in the Vikings big 31-17 NFC Wildcard win over the hated Green Bay Packers on January 9, 2005, when in the first quarter, he caught a dump-off pass from Daunte Culpepper and scampered 62 yards for the game's first score.
Moe Dogg put up 23 of his 26 total TDs during his second stint in purple and logged 4,229 of his 4,730 career all-purpose YDS as a member the team.
23. David Dixon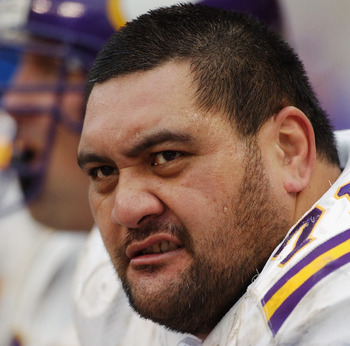 Jonathan Daniel/Getty Images
Vikings Tenure: 1992 (Practice Squad); '94-'04
Position: RG
David Dixon started 134 of the 152 games he played for the Minnesota Vikings from 1994 through 2004.
The 6'5" 343-lb New Zealander was a rock-solid blocker that held really down the RG position, while playing on the same line with the likes of Matt Birk, Jeff Christy, Randall McDaniel, Todd Steussie and Korey Stringer—all of whom made Pro Bowls during that span.
Constantly overshadowed, he never got the notoriety of the aforementioned names but needs to be recognized as one of the better guards in Vikings history.
22. Hassan Jones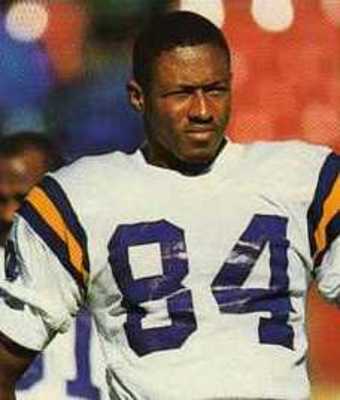 Vikings Tenure: '86-'92
Position: WR
Hassan Jones was a fixture in the Vikings offense for seven years, playing alongside—and mostly overshadowed by—the likes of Anthony Carter and Chris Carter.
He was the do-it-all receiver during his tenure.
He could stretch the field with his speed, but he didn't hesitate to go across the middle and make the tough catch.
He finished his Vikings career with 24 touchdowns, 3,733 receiving yards and a 16.8 YPC average.
21. David Palmer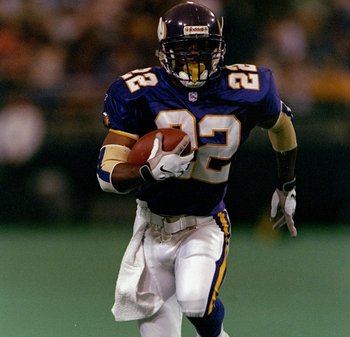 Tom Pidgeon/Getty Images
Vikings Tenure: '94-'00
Position: KR/PR
David Palmer was listed as a wide receiver and did also take some snaps at running back, but he made the most of his abilities as a very solid return man for the Minnesota Vikings.
Although undersized at 5'8" 173 lbs, he was quick and elusive and could spin out of tackles and frustrate opposing teams.
He went on to lead the NFL in 1995 with a 13.2 yard average on punt returns, in just his second season in the league.
He logged 4,884 total return yards during his seven seasons in Minnesota and had three return touchdowns: two punt returns and one kick return.
20. Chester Taylor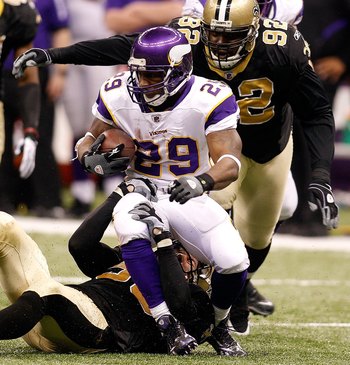 Chris Graythen/Getty Images
Vikings Tenure: '06-'09
Position: RB
A lot of what Chester Taylor did went unnoticed because of the presence of Adrian Peterson, but it doesn't get overlooked here as he hits the list at No. 20.
During his first season with the Vikings, he rushed for 1,216 yards and six touchdowns and also added 42 receptions for 288 yards.
During A.P.'s rookie campaign of '07, Taylor still managed to put up seven scores and 1,125 yards from scrimmage.
What goes even more overlooked was his effectiveness in moving the chains. During the Brett Favre run of '09, he caught 44 balls for 389 yards and a score—most of that coming on third down.
19. Chris Walsh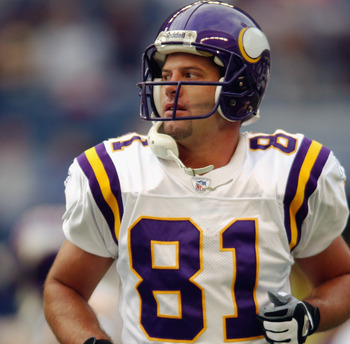 Otto Greule Jr/Getty Images
Vikings Tenure: '94-'02
Position: WR
A fan favorite for the nine seasons he played with the Vikings, Chris Walsh made his name not by catching balls as a receiving threat, but as one of the fiercest special-teams players of his era.
He was a tough, gritty lunch-pail type of player that made big hit after big hit on special teams.
He was nicknamed the "Undertaker" after playing an entire game with a broken jaw.
18. E.J. Henderson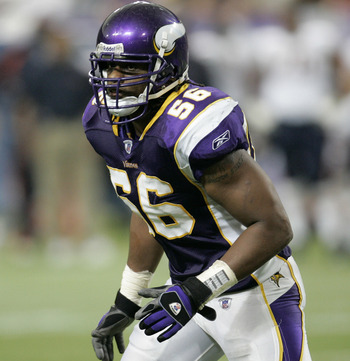 Rich Gabrielson/Getty Images
Vikings Tenure: '03-Current (Unrestricted Free Agent)
Position: MLB/OLB
E.J. has been one of the most underrated linebackers in the NFL over the last five seasons.
He's piled up 553 tackles over his nine-year career with the Vikes—this after missing 16 games between '08 and '09.
After a broken leg that ended his 2009 season, E.J. came back with a vengeance and earned his only pro-bowl berth in 2010.
He's been a mainstay in the Vikes line-backing corps since 2003, and hopefully he gets the opportunity to retire with the team that drafted him.
17. Wally Hilgenberg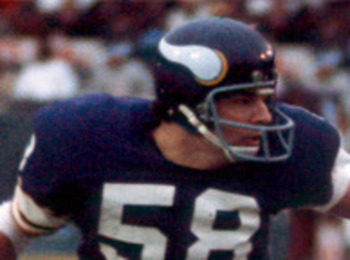 Vikings Tenure: '68-'79
Position: OLB
Wally Hilgenberg was picked up off of waivers before the start of the 1968 season.
He was entrenched as the starter about half way through that season and would go on to start every game before giving way to Fred McNeill in 1976.
He was a mainstay on the vaunted Purple People Eaters defense of the 70s that made it to four Super Bowls, and he was one of just 10 players to be on the team for each super-bowl appearance.
Unfortunately, his grittiness never earned him a berth into the Pro Bowl, but he remains to this day one of the very best linebackers in Vikings history.
16. Kirk Lowdermilk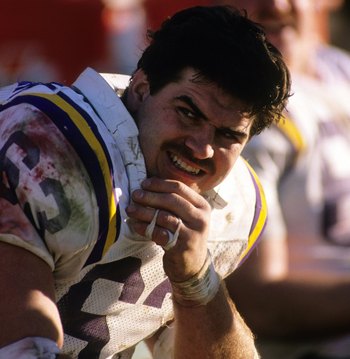 George Rose/Getty Images
Vikings Tenure: '85-'92
Position: C
Don't ya just love saying Lowdermilk? I do.
Anyway, Kirk Lowdermilk took over the center job in his third season with Minnesota and never looked back.
He only missed four games as the starter and was a fixture on offensive lines that featured Hall of Famers Gary Zimmerman and Randall McDaniel.
After the '92 season, he went on to sign a three-year deal with the Indianapolis Colts that made him the highest-paid offensive lineman in the NFL at that time. That's pretty high praise for a guy who never was selected to a pro bowl.
Ok, one more time for fun... LOWDERMILK!
15. Leroy Hoard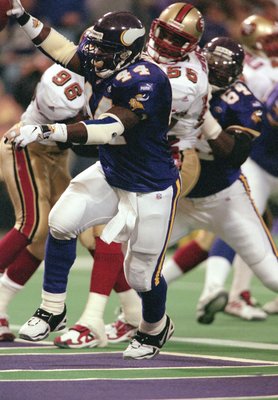 Tom Pidgeon/Getty Images
Vikings Tenure: '96-'99
Position: RB
Much like Moe Williams was to Michael Bennett in 2004, Leroy Hoard was Robert Smith's bruising change-of-pace back during his four years as a member of the Vikings.
During the 15-1 season of 1998, Hoard rang up nine rushing TDs and one receiving TD, including a 50-yard scamper against the Dallas Cowboys on Thanksgiving.
He followed up that season with 10 rushing TDs and 721 yards from scrimmage.
When it was all said and done, his Vikings tenure ended with 27 total TDs and 1,689 rushing yards.
It should be noted that Hoard did make a pro bowl (1994) as a member of the Cleveland Browns.
14. Vencie Glenn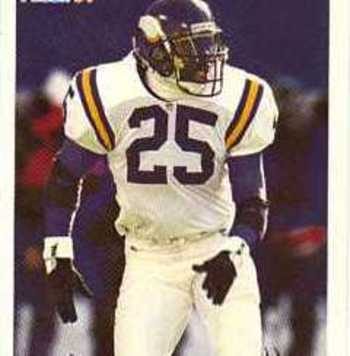 Vikings Tenure: '92-'94
Position: FS
Vencie Glenn was a bruising safety at 6'0", 205 lbs that became a welcoming site for Vikings fans in the early 90s.
During his three seasons with the Vikes, he notched 184 tackles and one sack.
The underrated part of his game, however, was his mad ball-hawking ability.
His ability to track down the football was never more evident than in the last game of the '92 season.
He picked off Brett Favre three times as the Vikes beat the Green Bay Packers 27-7 on Dec. 27, 1992, to capture the NFC Central Division.
He finished out his stay with 14 INTs that totaled 169 return yards as a member of the purple and gold.
13. Mike Merriweather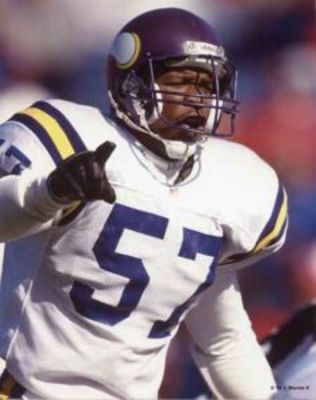 Vikings Tenure: '89-'92
Position: OLB
Although Mike Merriweather was not what you would consider underrated during his three-year Pro-Bowl run from 1984-1986 as a member of the Pittsburgh Steelers, he became the epitome of underrated during his four seasons with the Vikes.
He was a hard-hitting linebacker better known for his ability to cover the best tight ends and running backs in the game.
At 6'2", 230 lbs with speed, he made it difficult for TEs to get open down the middle of the field and made it extremely tough for RBs to get open out in the flat.
He racked up seven INTs during his Vikings tenure—two of which went for TDs. He also logged 10 sacks and four fumble recoveries—one that went for a touchdown—bringing his TD total to three.
12. Issiac Holt
Vikings Tenure: '85-'88; '89 (Traded to Dallas Cowboys at deadline)
Position: CB
Issiac Holt may be remembered most for being a key component in the Herschel Walker trade back in 1989, but he was a lock-down corner for the Vikes when he was here.
He tallied 14 INTs in his 4.5 seasons, including eight picks in 1986. However, he wasn't much of an interception guy.
He did most of his work by just locking down the opposing teams best WR and not letting him get anything, and was also very stout against the run—similar to that of Antoine Winfield.
Looking back, I bet we all wish that trade never would have happened. It would have been nice to see what more he could have done here—that and being able to keep all those picks the team gave up.
11. Anthony Parker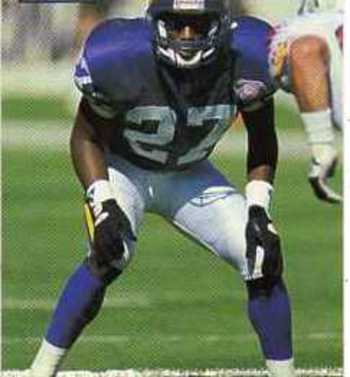 Vikings Tenure: '92-'94
Position: CB
He was only a member of the Vikings for three seasons, but he made a major impact in the short time he was here.
He picked off eight passes and had four total returns for touchdowns during his three-year stint in the twin cities.
His best season came in 1994 when he finished with four INTs, with two of those going back for touchdowns. He also picked up a fumble and ran it back 23 yards for another score.
However, it wasn't enough for him to get selected to the pro bowl, as he was snubbed in favor of Eric Allen, Eric Davis, Deion Sanders and Aeneas Williams.
I mean seriously… who are these guys???
Unfortunately, after that season, he left for the so-called greener pastures of the St. Louis Rams.
10. Heath Farwell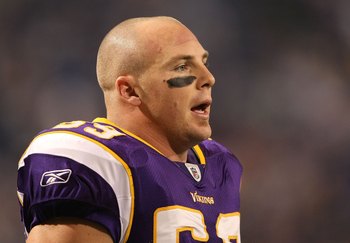 Nick Laham/Getty Images
Vikings Tenure: '05-'10
Position: LB
Is it me, or is there something about special teams that always seems to go unnoticed?
Well, not today.
He was listed as a linebacker, but Heath Farwell earned his paychecks by blowing people up on special teams, and in doing so, becoming a Minnesota Vikings fan favorite over his six-year stay.
During his time here, he was known as one of the very best special teamers in the NFL; however, a torn ACL in the opening preseason game of the 2008 campaign caused him to miss the entire year.
That didn't stop him from persevering, which is exactly what he did—earning him a much-deserved pro-bowl berth in 2009.
His tough, no-nonsense approach that fans adored made it a sad day on September 3, of this past season, when the Vikes made him a cap casualty and was released.
9. Henry Thomas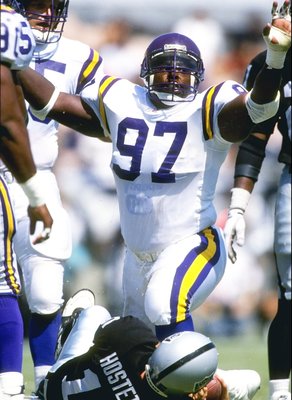 Stephen Dunn/Getty Images
Vikings Tenure: '87-'94
Position: DT
Henry Thomas was a model of consistency during his time with this organization.
He was a starter right out of college and never missed a game for the Vikes, and he only missed one start in 1991.
He did make two Pro Bowls, so one may try to make the case against him being underrated, however, to only make two Pro Bowls for the career he had is a travesty, making him extremely underrated.
However, it's tough to get noticed when playing alongside guys like John Randle and Chris Doleman.
In 1990, he put up 109 tackles and 8.5 sacks, and did not make the pro bowl. How does a DT with numbers like that not make the pro bowl?
With the Vikings alone, he registered 640 tackles and 56 sacks (93.5 for career) to go along with 8 fumble recoveries—taking two of those back for scores.
Not too shabby for a DT that was 6'2", 277 lbs during his playing days.
He would go on to have great seasons with the Detroit Lions and the New England Patriots, where he finished out his career.
8. Lance Johnstone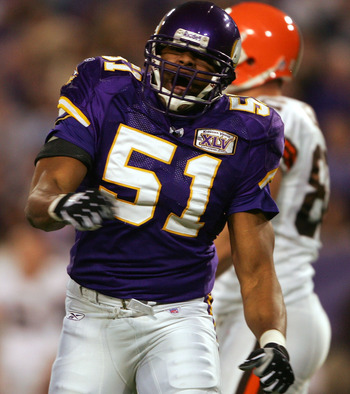 Elsa/Getty Images
Vikings Tenure: '01-'05
Position: DE
What I never understood—and still to this day haven't figured out—was why Lance Johnstone was utilized the way he was while a member of the Minnesota Vikings.
He managed to post 41 sacks over five seasons with the Vikes but only ever played on third-down snaps. In '03 and '04 he posted back-to-back double-digit sack seasons.
Had he played even 50 percent of the defensive snaps each game, his numbers would be mind-blowing.
The Vikings defense wasn't able to stop the run during Johnstone's tenure anyway (giving up 4.5 YPC over that five-year span), so it just didn't make any sense to keep him on the sidelines on first and second down.
At least if he's in there, he's a threat to sack the QB on any given play.
I mean seriously, how did this guy lose any playing time to Kenny Mixon? It's a mystery of the world I'll never understand.
The coaching staff really dropped the ball and basically wasted away his talents while he was here.
Johnstone went back to finish his career where it all started for him—with the Oakland Raiders.
He ended up with 71 sacks to his credit and in my mind is one of the NFL's most underrated pass rushers of the last 10 years.
7. Ed Sharockman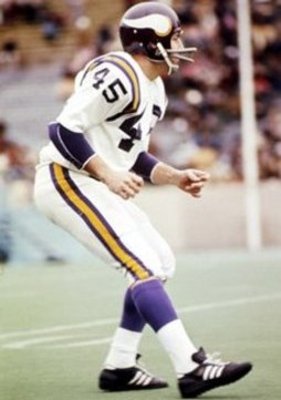 Vikings Tenure: '61-'72
Position: CB
It had to be difficult to get any attention when playing alongside Bobby Bryant, Paul Krause, Jim Marshall, Alan Page, Carl Eller and Gary Larsen.
But that's exactly what Ed Sharockman did—and did extremely well.
Sharockman played his entire 12-year career with the Minnesota Vikings, missing only 13 games over that span, and was the starter in all but three of those seasons.
He was also a member of the 1969 team that won the very last NFL Championship—beating the Cleveland Browns 27-7. That's right, people… the Vikes do have a championship to their credit.
He retired with 40 career INTs and four total TD returns.
6. Terry Allen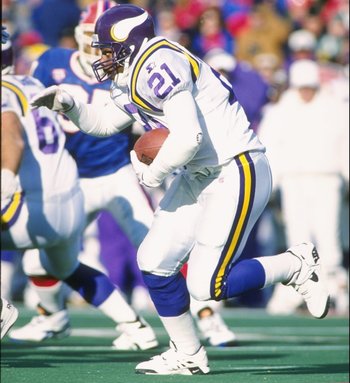 Rick Stewart/Getty Images
Vikings Tenure: '91-'94
Position: RB
Terry Allen started out his career as the backup to Herschel Walker, but that changed in his second season when the Vikings let Walker go.
In his first year as starter, he piled up 1,201 rushing yards and 13 TDs to go along with 49 catches for 478 receiving yards and two more scores.
He was well on his way to stardom when he suffered a torn ACL in the summer of 1993.
After sitting out that season, he came back and managed to still rush for 1,031 yards and eight TDs.
However, the artificial turf was just too much for his two reconstructed knees to handle, so he packed it up and "took his talents" to D.C. where he went on to make one pro bowl as a member of the Washington Redskins in 1996.
Allen would finish out his Vikings career with 2,795 rushing yards and 26 total TDs.
Man, it would have been fun to see what he could have been without his knee troubles.
5. Robert Griffith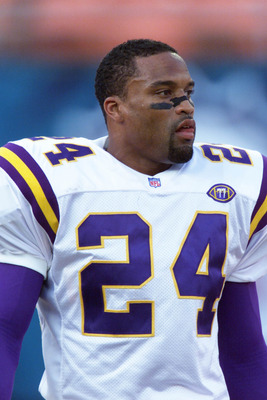 Eliot J. Schechter/Getty Images
Vikings Tenure: '94-'01
Position: SS
Robert Griffith was the leader in the secondary from the moment he took over as the starting strong safety in 1996.
While he displayed great hands and the ability to play solid coverage, he was best known for his run-stopping ability.
Griffith racked up 837 tackles during his run with the Vikings, with two seasons of over 90 tackles.
He also posted 17 INTs and 6.5 sacks while a member of the Vikes.
He was finally rewarded for his standout play by being selected to the 2000 Pro Bowl.
He became an unrestricted free agent after the 2001 season and went on to sign with the Cleveland Browns, but he still remains one of the best tacklers the Vikings have seen in the last 15 years.
4. Ed McDaniel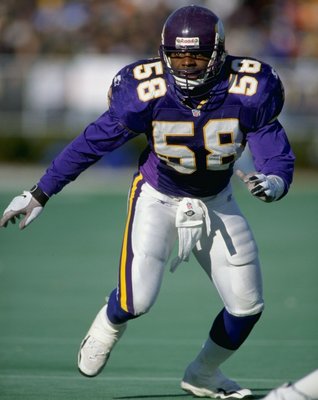 Scott Halleran/Getty Images
Vikings Tenure: '92-'01
Position: OLB/MLB
Ed McDaniel isn't just one of the most underrated players in Vikings history, he's one of the most underrated linebackers of all time.
He got the call to start at OLB at the beginning of his third year in the league and never looked back.
He went on to start 109 games and missed only two due to injury.
Eddie Mac finished his fantastic nine-year career with 607 tackles and 19.5 sacks.
He was also selected to the 1998 pro bowl as a middle linebacker—a small consolation for losing to the Atlanta Falcons in the 1998-99 NFC Championship Game.
That aside, Ed McDaniel still remains one of the all-time fan favorites and one of the better linebackers to suit up for the purple and gold.
3. Jim Kleinsasser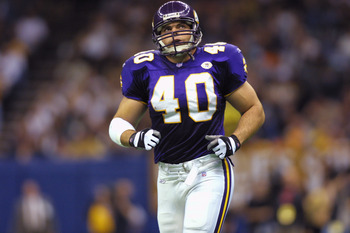 Ronald Martinez/Getty Images
Vikings Tenure: '99-'11
Position: TE/FB
The native of Carrington, ND, managed to score just seven touchdowns during his brilliant career, but it wasn't scoring that made "The Sauce" one of the all-time fan favorites in Vikings history.
Jimmy's career was defined by simply being one of the very best run-blocking FB/TEs in the NFL over his 13-year career.
He plowed the way for seven of the eight best single-season rushing marks in Vikings history—a mark that includes Adrian Peterson's team record and NFL leading 1,760 rushing yards back in 2008.
In 2007 and 2008, he was selected to the USA Today's "All-Joe Team" that honors hard workers and under-recognized players in the league.
Vikings fans were saddened when he announced his retirement just a couple of weeks ago on January 5.
It would have been nice to see him earn a Pro Bowl berth, because he played at an elite level every time he stepped out onto the field.
2. Tim Irwin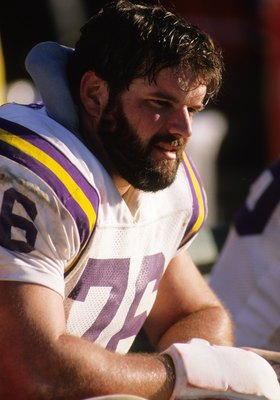 George Rose/Getty Images
Vikings Tenure: '81-'93
Position: RT
How this gentle giant never made it to the Pro Bowl is beyond me.
It may or may not have something to do with the fact that he had to replace long-time great, and Hall of Fame RT, Ron Yary. The bar was set pretty high when he retired.
However, once Yary retired, Tim Irwin went on to anchor the right side of the Vikings offensive line for the next 12 seasons without missing a single start.
This guy was so tough that he was put in to block FG kicks. He notched 10 career blocks, which is good for third all-time in Vikings history.
He also tied a Vikings record with two blocked kicks in a single game, against the Atlanta Falcons back in 1985.
Irwin consistently played at a pro-bowl level, however, was never given the opportunity because he was constantly overshadowed by line mates and HOFers Gary Zimmerman and Randall McDaniel.
He is on the list as one of the 50 Greatest Vikings of All-Time, but it doesn't take away from the fact that he's still one of the most underrated linemen of the last 30 years.
1. Jake Reed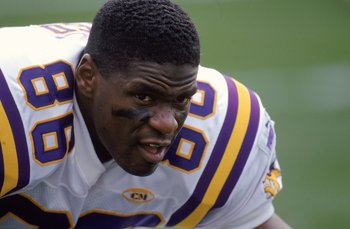 Brian Bahr/Getty Images
Vikings Tenure: '91-99; '01
Position: WR
Jake Reed was the third, and mostly forgotten, member of the famed "Three Deep" which included WRs Chris Carter and Randy Moss.
However, before Moss came along, Reed and Carter were tearing it up as the best receiving-duo in the league for about a four-year stretch.
Both players went over 1,000 receiving yards in four consecutive years from '94-'97.
When Moss did arrive in 1998, they instantly became the best trio of receivers on any one team, and nobody could stop them.
Reed also hauled in 33 TDs to go along with 6,433 total receiving yards as a member of the Vikes organization.
Being overshadowed as much as he was, he still was able to put up numbers that put him in that class of the Top 5 best receivers in Minnesota Vikings history.
Honorable Mentions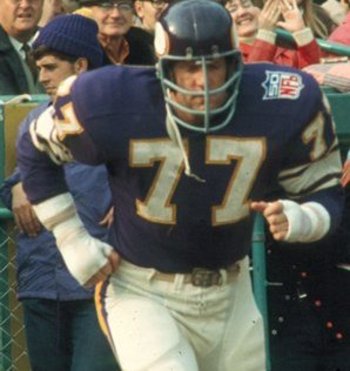 Gary Larsen
Honorable Mentions:
Gary Larsen; DT, '65-'74
Doug Sutherland; DT, '71-'80
Stu Voigt; TE, '70-'80
Orlando Thomas; FS, '95-'01
Roy Winston; OLB, '62-'76

Jeff Brady; MLB, '95-'97
Check out more of Brian's articles at Sports-At-Work.
Follow Brian on

Email Brian: Brian.Dezelske@gmail.com
Keep Reading

Minnesota Vikings: Like this team?