Super Bowl 2012: Eli Manning Will Surpass Peyton with Second Ring
January 21, 2012

Andy Lyons/Getty Images
There is no secret that Indianapolis Colts' Peyton Manning is considered the better quarterback between him and his brother Eli. If the New York Giants can win this year's Super Bowl, many should start thinking differently.
Over his 14 year career, Peyton has been named to the Pro Bowl 11 times, as well as named the NFL's MVP four times. While he has taken his team to the playoffs 11 times, the team has only managed to win one Super Bowl.
The Colts have been there twice, but they lost to the New Orleans Saints in the 2009 title game. There is no denying what kind of success he has had over his career, but his brother's success in much less time cannot go ignored.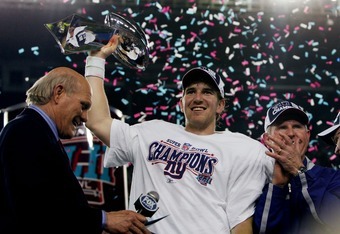 Harry How/Getty Images
This is Eli's eighth season in the league with the Giants and the team has reached the NFL's postseason six times. Before this season, they only made it out of the first round once—that was in 2007 when they won the Super Bowl over the New England Patriots.
They missed the postseason in both 2009 and 2010, but they have now been back in the last two years.
If the Giants were to win it all this season, that would make Eli 2-2 with already two rings in a little more than half as much time as his big brother.
Eli has only been named to the Pro Bowl twice and he has never been named MVP. What he does have though is time to continue to grow his game as well as his trophy case.
While there is no argument to how much success Peyton has had during the regular season, some will argue that how you perform in the postseason is more important.
The point of playing this game is to go out and win the Super Bowl. The players who do it the most, are regarded amongst the best, while those who don't often are forgotten.
Nobody is going to forget Peyton, but with his career potentially on the line, his younger brother has a chance to find a lot more success and grow the gap between the titles they claimed.
Will that be enough though to make people consider him the better player when it is all said and done? It is tough to say, as Eli already is fighting the standards that have been set by his brother.
Only time will tell what will come of the Manning brothers, but it will be interesting to see which way the legacy goes if one of the greatest players to ever play the game bows out after this season concludes.