Los Angeles Clippers Stunned After Great Comeback from Minnesota Timberwolves
January 21, 2012
Harry How/Getty Images
The Los Angeles Clippers have been one of the hottest teams in the NBA in recent weeks.
In the last 10 days, the Clippers have taken down the Miami Heat, Los Angeles Lakers and Dallas Mavericks. Even without the services of star point guard Chris Paul, other players have stepped up to fill the void.
Chauncey Billups and Mo Williams have played great recently, and Blake Griffin continues to be a force.
However, the Timberwolves got the best of the Clippers Friday night.
The Clippers led the T'wolves for most of the game, but Minnesota never gave up. Late in the fourth quarter, the Timberwolves began to mount a comeback, and when the Clippers' Williams was ejected for his second technical of the night, the Wolves took advantage.
The Clippers looked like a different team after Williams' ejection. Shots stopped falling for Los Angeles and Minnesota seemed to hit everything they tossed up. Ricky Rubio only had nine points on the night, but more than half of those came in the last few minutes of the fourth.
The Clippers, meanwhile, managed just two points in the final three-and-a-half minutes of the game. Rubio, Love and the Timberwolves took advantage of the Clippers' miscues, while capitalizing on their own opportunities.
Minnesota fought back and Rubio tied the game at 98 with 20 seconds left in the fourth quarter. The Clippers gave the ball to Billups and it looked as if he may play the hero for the second time in three days, but instead he missed a layup and the Timberwolves regained possession.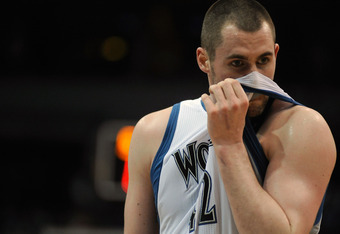 Hannah Foslien/Getty Images
After a timeout, Minnesota inbounded the ball to Love and he hit a great 28-footer at the buzzer.
The Clippers simply lost this game; they had the game all wrapped up, but never could put the Timberwolves away.
LA will learn from this and continue to improve throughout the season. This is somewhat expected from a young team that is missing (arguably) its best player, but if the Clippers want to compete for a playoff berth, they have to win these type of games.