San Francisco 49ers vs. New York Giants: Injury Reports and Prediction
January 21, 2012

Ezra Shaw/Getty Images
Alex Smith connected with Vernon Davis for the nail-biting victory, and a decade's worth of caged cheers were released. 
The noise traveled the distance from Candlestick Park all the way to my living room in San Jose. Or maybe those were the echoes of my own screams. 
Who would've thought that Alex Smith would be the one to unlock that captive joy?
Not you. Not the thousands of fans who, last season, booed his every throw. Even the completions!
What really happened is this: As everyone ooh'd and ahh'd at the statistics of "elite" quarterbacks, Alex Smith snuck up, unnoticed, and picked the lock to advance the 49ers further than we all dared to imagine.
Even the boldest Smith supporters, myself included, never envisioned this happening so soon. I believe my overly optimistic predictions before the season were a 9-7 record and early playoff exit. 
Not this. Not a date in the NFC Championship with the New York Giants. 
Looks like I have 'til Sunday for my nails to grow back.
Giants Injury Report
Questionable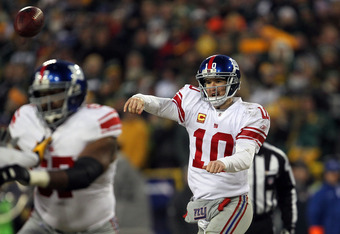 Jonathan Daniel/Getty Images
TE Jake Ballard (knee)
Probable
RB Ahmad Bradshaw (foot)
QB Eli Manning (illness)
C David Bass (illness)
LB Mark Herzlich (ankle)
CB Corey Webster (hamstring)
DE Justin Tuck (shoulder)
DE Osi Umenyiora (ankle)
WR Hakeem Nicks (ankle)
Outlook: Health and confidence are not a concern for the Giants. 
When the two teams met Nov. 13, a 27-20 Niners' win, this team was struggling with injuries. It's a little different this time around. Manning missed a day of practice, but it was nothing a couple of Tums couldn't cure. Bass has the same affliction but will surely borrow some of his quarterback's medicine and be alright.  
Losing Nicks, the team's go-to receiver, would be a big blow for the offense. He rolled his ankle and has been limited in practice but should be ready on Sunday. The rest of the players are dealing with nagging injuries—Who isn't at this point?—and just need a little rest before kickoff.
Ballard is listed as questionable after undergoing a "procedure" on Thursday. It's not considered too serious, and I doubt he sits this one out.      
49ers Injury Report
Questionable
CB Tarell Brown (thigh)
WR Ted Ginn (knee)
C Jonathan Goodwin (calf)
LB Patrick Willis (knee)
S Dashon Goldson (ankle)
TE Delanie Walker (jaw)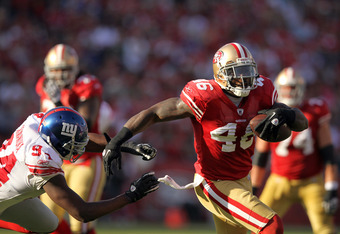 Ezra Shaw/Getty Images
Outlook: One man's loss is another's opportunity. Ginn's injury appears to be the most serious of all, opening the door for receiver Kyle Williams to get more snaps on offense and special teams.
Ginn has been one of the league's premiere return man—two touchdowns this season alone—and will be missed. However, Kyle Williams has the speed and quickness to make plays. He also has the better hands of the two. 
Tight end Delanie Walker has returned to practice and is likely to play on Sunday. His insertion in the lineup instantly sparks the offense with his ability to catch the ball and block. Walker had perhaps his best game when the two teams met earlier in the season. That memory alone may allow Vernon Davis to avoid double teams, which spells trouble for the Giants.
The inclusion of Patrick Willis on the list is a bit alarming as the team will need their star linebacker. He's been limited in practice while nursing a bum knee, but no way he misses Sunday's game. 
Prediction: The famous nursery rhyme goes something like this: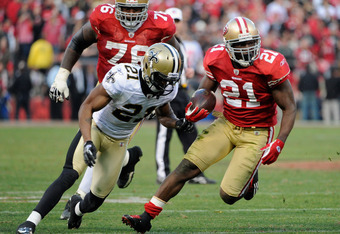 Thearon W. Henderson/Getty Images
It's raining, it's pouring, the 49ers Super Bowl hopes are soaring.
The weather will be the deciding factor in Sunday's NFC Championship between two evenly matched teams. 
With a high possibility of rain, both teams will rely on their rushing attack more often than normal.
Well, the 49ers defense just so happen to be the best at stopping the run, allowing an NFL-low 77.2 yards per game. The Giants, on the other hand, give up 121.2 per game.
That, along with the play of running backs Frank Gore and Kendall Hunter, will prove to be the difference as the 49ers continue their incredible journey to Indianapolis. 
Rain, rain, come this way. 
Final Score: 49ers 27, Giants 21