Tebowmania: How Faith Has Jaded America's Football fans
January 21, 2012

Al Bello/Getty Images
Denver Broncos' quarterback Tim Tebow replaced Kyle Orton five games into the season. The team's record was 1-4 at the time. While he struggled for the first three quarters of every game, Tebow was clutch in the last frame and in overtime. The national media and public termed it "Tebow Time." Tim Tebow became the center of the sports world. More specifically, the constant media coverage combined with his overstated religious beliefs, and social media outlets such as Twitter and Facebook have force-fed sports fans one individual.  However, a team that excelled in the latter part of the year and made the AFC Divisional Playoffs was not a one man effort.
What the fans say:
            Supporters of Tebow will rave about his fourth quarter and overtime play, while they discount his ineffective play for the first three quarters. They will tell you the Broncos go as far as Tebow will take them. Completing a high percentage of his passes, making the NFL throws, and going through his progressions are all not important according to Tebow's backers. All that matters is that he wins they say. We have encountered the first problem. The Denver Broncos are a T-E-A-M. There is no "I" in team. The Broncos were founded in 1960. The "Orange Crush" defense of 1977, Hall of Fame quarterback John Elway, "The Drive," are all synonymous with Denver Broncos football. Let me repeat that. They are all synonymous with Denver Broncos football, 52 players, a team.
Religious beliefs:
            Tim Tebow is a great person and positive role model for kids to follow. Professional athletes are known to make mistakes and embody a lifestyle few can match or keep up with. DWI's, guns in strip clubs, and domestic violence have put players on the news for decades. Therefore, it is refreshing to see someone like Tebow make it into the ranks of professional football. His squeaky clean image is something parents can be proud of. ESPN did a segment on how he inspired a cancer patient. It is well documented that he spent his spring breaks at Florida doing missionary work in other countries. Compare that with the drunken escapades and sexual situations of college-aged students flaunted on MTV. Fans like the fact that an individual that is genuine about his Christian beliefs is in the limelight. However, his missionary work, moral base, and kindness shouldn't mask or overshadow his ineffective quarterback play.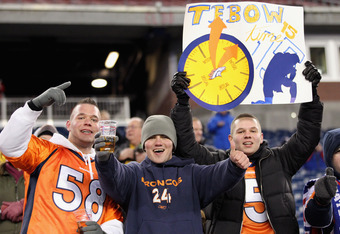 Jim Rogash/Getty Images
Ineffective play:
                Pundits and fans let the ineffective play of Tebow slide because he is such a polarizing figure. Therefore, conventional wisdom states that he should be praised constantly, and fans believe he is not worthy of the criticism he receives as a quarterback in the NFL. Tom Brady, Drew Brees, Aaron Rodgers, Peyton Manning, Ben Roethlisberger. There are reasons these guys are considered the top quarterbacks in the NFL. Each of these players has a completion percentage of 63 percent or above, with Brees at a 65.9 clip. Every gunslinger throws at least 1.6 touchdowns for every interception they give up. Rodgers accuracy is tremendous, flinging 3.5 touchdowns for every one pick. The quarterback rating of the five champions ranges from 92 to 104. Compare those numbers with Tebow's statistics. His completion percentage is a pedestrian 47.3. He does chuck 1.9 touchdowns for every interception he allows. That mark is only slightly better than "Big Ben's" 1.6 mark, and it is safe to say that Roethlisberger has thrown many more passes than Mr. Tebow. His quarterback rating is 75.1, almost 20 points lower than Roethlisberger's value of 92.   
            Jewelry is another benchmark that separates Brady, Brees, Rodgers, Manning, and Roethlisberger from Tebow. "Tom Terrific" has 3 rings, Roethlisberger has 2, Brees, Rodgers, and Manning have 1. Heck, even New York Giants quarterback Eli Manning has a Lombardi Trophy and is trying to get a second one. Tebow has zero.
            Making it to the Pro Bowl is a sign that a player was chosen as the best at his position. The following is a list of the top tier quarterbacks and how many times that have made it to Hawaii. Brady: 7, Brees: 5, Rodgers: 3, Manning: 11, Roethlisberger: 2. Tebow has never been selected.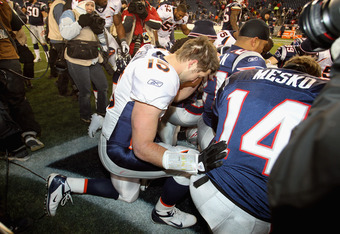 Jim Rogash/Getty Images
Overshadowing the league:
            The attention paid to Tebow has overshadowed bigger NFL stories that have substance. Articles about athletes and teams that are winning and getting it done. A major example of this is the coverage leading up to the AFC Division Playoff game between the New England Patriots and the Denver Broncos. Tom Brady, a three-time Super Bowl winner and seven-time Pro Bowler received little to no attention prior to the game. All of the compliments and respect were thrown Tebow's way after his performance against the Pittsburgh Steelers in the Wild Card round. Brady showed why he deserves all of the acclaim with 363 yards and 6 touchdowns in a 45-10 lopsided victory. Tebow threw for 136 yards and 0 touchdowns.  
            Tebow's comparison to Philadelphia Eagles quarterback Michael Vick is inaccurate. We have never seen anyone like Vick in the league. His running ability mesmerizes audiences.  He can stop on a dime, make ankle-breaking cuts, and blow by defenders at incendiary speeds. Vick has 5,219 career rushing yards; Tebow has 887 yards. I will go deeper than that, since Vick has been in the league longer than his counterpart. In their first two seasons in the NFL, Vick has 1,066 yards rushing and Tebow has 887 yards. Vick is the biggest dual-threat quarterback the league has ever seen.
The Wrap-Up:
            Tebow does some great missionary and charity work in America as well as other countries. He is an upstanding individual and should be appreciated for his character values and his moral beliefs. However, he should not get more credit than others because of his overstated religious beliefs. He should not be praised as a fantastic quarterback because he is a polarizing figure. The numbers never lie, and the numbers prove that Tebow doesn't hold a candle to the best players at his position.