Peyton Manning Trade Rumors: Colts Star Better Fit for Redskins Than Matt Flynn
January 19, 2012

Jed Jacobsohn/Getty Images
Mike Shanahan is one big-name quarterback away from being fresh out of excuses. Fortunately for him, that player may well be on his way to Washington.
While it doesn't have the same kind of backing as a tweet from Rob Lowe, there are reports out there suggesting that the Redskins are interested in Peyton Manning. 
Chris Burke of Sports Illustrated tweeted that the Redskins are indeed interested in bringing Manning, not Packers quarterback Matt Flynn, to town.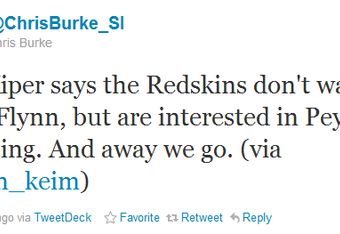 It makes sense. The tale of the tape obviously favors Manning in a big way.
Career Statistics:
| | | | | | |
| --- | --- | --- | --- | --- | --- |
|   | Yards    | Touchdowns | Passer Rating | Career Record | Age |
| Peyton Manning    | 54,828 | 399 | 94.9 | 141-67 | 35 |
| Matt Flynn | 1,015 | 9 | 92.8 | 1-1 | 26 |
Flynn has one thing working in his favor. That is, his age. However, for the Redskins, that is an advantage to Manning.
I know, this looks like a terribly unfair argument. Manning has been a starter since 1998, while Flynn has two career starts. Even so, that is actually the point, and also why Manning's age works for him. 
Flynn is a young player. He would have to be the only option, at least for a few years. Manning is a more reliable player, which we only know from experience. While he has missed the last season, there's no realistic doubt that Manning can step in and be a strong player.
With Manning, the Redskins could also look for a young quarterback in the draft. They could take a quarterback in the later rounds to be groomed for a season or two. Remember, Flynn himself was a seventh-round pick. It is not even inconceivable that the Redskins could take Robert Griffin III in the draft and groom him under Manning.
Those who would take Flynn over Manning at this point have one game against a bad defense to base their point on. I don't care if you are opposing some fierce hybrid of the 1985 Bears and 2000 Ravens; one game is not enough of an argument to use against Peyton Manning. The 2011 Lions were not that defense.  
For a team that will be looking to groom a young quarterback, a man like Manning is a fantastic option. He is not a long-term option anymore, but we're looking at the short term. 
With Flynn, you have no choice but to devote a few seasons to him. Ordinarily, that would be fine. However, if you're going to make a commitment to a quarterback, you ideally want more than two starts to base your opinion on. While they may have been strong games, you can't overlook the fact that Flynn has only two starts.
Manning works for the Redskins because their division is not a particularly daunting one. While I know that the Giants are in the NFC Championship Game, I am also all too aware that they were a 9-7 team this year. 
Nothing about any team in that division suggests that the Redskins can't compete as long as they get a quarterback. With the duo of Rex Grossman and John Beck, the Redskins aren't going to be anything better than about 6-10. With a player like Manning running the show, that can easily be inverted. 
Manning gives Washington the best chance at short-term success, but can also be a good mentor for a younger quarterback. The fact that they are interested in Manning and not Flynn shows that someone in Washington knows what he is doing.