Ranking the Top 25 Fantasy Football Players in 2012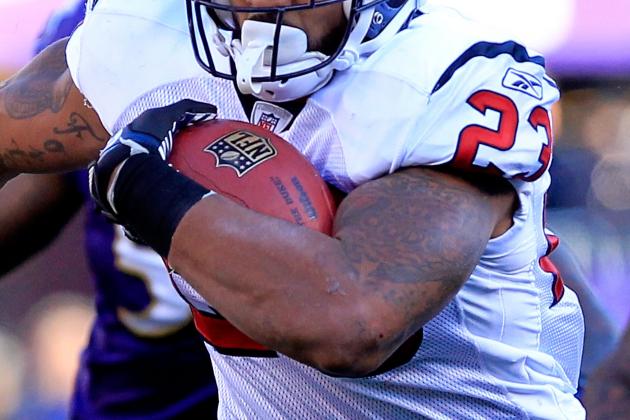 Chris Trotman/Getty Images

Who are the top 25 fantasy football players for 2012?
It's not as simple as looking at where everyone finished this year and then taking the top 25 performers.
Head coaches change. Offensive and defensive coordinators change. Rookies from the draft alter playing time and roles for incumbent players. Free-agent signings also change how coaches plan to utilize players. Players age, and all those hits accumulate to take their toll on their bodies.
And lastly, of course, my favorite saying: The past is not a predictor of the future.
But as the teams are currently constituted, I've assembled my Top 25.
This list will be presented in mock fantasy draft order. However, that doesn't mean this is the order in which these players should be drafted—average draft position must be used for making those decisions.
Rather, this list simply represents my top 25 fantasy players and the order in which I would consider these specific players during a draft.
This list also will not include projected rookies from the upcoming April draft since the value of those rookies can vary greatly depending on their drafting team's situation.
Note: The stats listed here exclude Week 17 numbers. Also, the stats are from standard scoring formats where touchdowns are worth six points instead of four.
So who are these guys anyway?
Begin Slideshow

»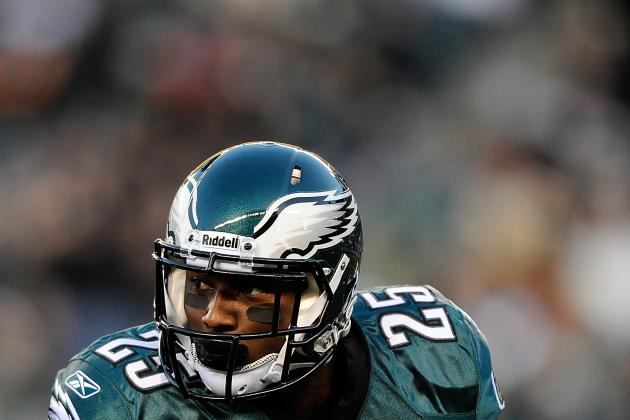 Patrick McDermott/Getty Images

McCoy earns the No. 1 spot by a hair over Arian Foster.
He amassed over 1,600 total yards and 20 total touchdowns despite facing the third-most difficult schedule against running backs.
McCoy is also strong in PPR leagues, catching 48 passes.
His production didn't suffer when starting quarterback Michael Vick was gone for three games, notching double-digit production in non-PPR leagues in each of those three games.
McCoy also doesn't turn the ball over (just once in each of the last two seasons as the undisputed starter).
And his team's situation is stable. Wide receiver DeSean Jackson may leave in free agency but the loss won't be a significant hit, as he was already not a factor offensively this year.
As noted, coaching/roster changes may change teams' defensive abilities. But as of now, McCoy will face some tough run defenses in 2012: Dallas twice, Baltimore, Pittsburgh and Atlanta. He gets some relief facing the likes Cleveland and Tampa Bay.
But the schedule probably won't matter. Recall that McCoy faced the third-toughest RB schedule this year yet finished the second-highest fantasy RB.
Entering his prime (his fourth season), expect him to produce similar numbers in 2012.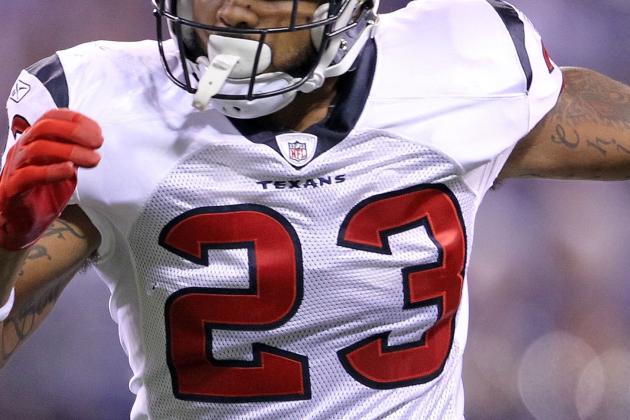 Andy Lyons/Getty Images

Foster missed three games in 2011 and still notched over 1,500 total yards and 12 touchdowns.
Though he played against the fourth-easiest schedule against running backs, Foster showed he is not a matchup guy when he rang up 132 yards rushing against the vaunted Baltimore defense in the AFC Divisional Playoffs.
Like McCoy, Foster only had one single-digit game, and his average fantasy points per game (19.2) was actually a wee bit higher than McCoy's (18.7).
Like McCoy, Foster is a fantastic receiver out of the backfield, adding 53 grabs for an 11.6 YPC average.
Like McCoy, Foster is entering his prime in his fourth season and has similar mileage to McCoy.
The tiebreaker in this ranking is based on the 2012 schedule for the Texans. As noted, team rosters/coaches can change, but as of this writing, the Texans will face playoff teams like the Packers, Patriots, Ravens and strong run defenses like Miami, Chicago and the Jets. They do play run-soft defenses in Tennessee and Indianapolis twice.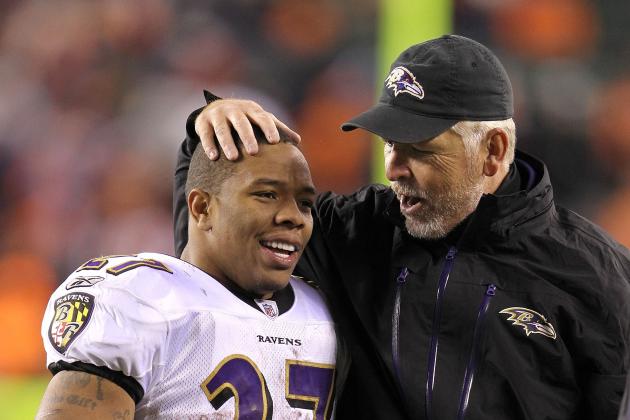 Andy Lyons/Getty Images

Rice notched over 2,000 total yards, better than both McCoy and Foster. He also added 15 combined touchdowns.
He is also a prodigious receiver out of the backfield, grabbing 76 passes to lead the team.
Rice finished as the third-highest scoring fantasy RB, and this despite facing the 28th-easiest schedule against RBs.
What makes Rice just a notch lower than the other two is that he has had two single-digit games this season, not including his AFC Divisional Playoff performance.
But the offensive environment in Baltimore is stable, and he's still young (and under 1,000 career carries so far), so Rice will continue to be a dominating fantasy player in 2012.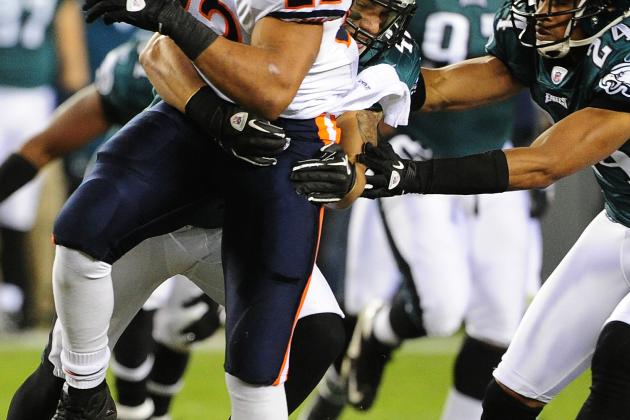 Scott Cunningham/Getty Images

Forte finished ninth among fantasy RBs with 14.1 FPPG.
This despite former Bears offensive coordinator Mike Martz being loathe to run the ball.
Even so, Forte's 2011 fantasy numbers improved upon his strong 2010 production (13.2 FPPG).
And with pass-happy Martz now gone, the Bears will find an offensive coordinator who will be more committed to the run.
What's more, part of the inspiration for Forte's performance this year may have been the fact he was in a contract year and openly campaigned for a large contract extension similar to that of DeAngelo Williams' new deal.
But coming off a season-ending injury, Forte instead will likely get the franchise tag by whomever becomes the new Chicago general manager.
This means Forte will go out in 2012 on yet another mission to perform like he deserves a big pay raise, as he did in 2011.
Good times ahead for Forte owners in 2012.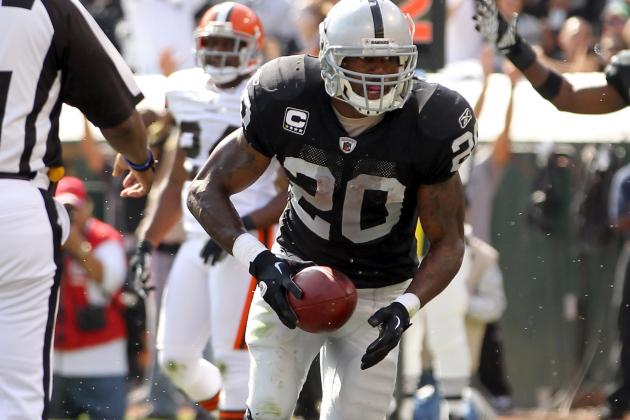 Ezra Shaw/Getty Images

OK, I'm jumping behind my bunker for this one.
But I've got some ammo with me.
I realize owners who had Darren McFadden in 2011 cursed at how their No. 1 draft pick failed them so spectacularly. McFadden was injured in Week 7 and never returned.
"Injury-prone" was probably the nicest thing any McFadden owners said about him.
Yet controlling for games missed due to injury, McFadden finished seventh among fantasy RBs with a stout 15.0 fantasy points per game (FPPG) average.
What's more, the 15.0 FPPG was a 50 percent improvement over his 2010 breakout fantasy season.
Chicago Bears offensive coordinator—and former offensive-line coach—Mike Tice is set to meet with Raiders brass about the vacant head-coaching position. If Tice gets the job, McFadden will be assured of a run-first offensive philosophy, and that will be music to fantasy owners' ears.
Yes, McFadden appears to be injury-prone. But the same label was said of Detroit quarterback Matthew Stafford, and Stafford played all 16 games this season for the first time.
The fact is, injuries are unpredictable. As another example, Bears running back Matt Forte never had a season-ending injury—until this year.
I'm feelin' that McFadden will be injury-free in 2012, and I have a pretty decent sixth sense about players.
If—no, make that when—McFadden plays all 16 games, he will absolutely post Top 10 fantasy numbers for RBs.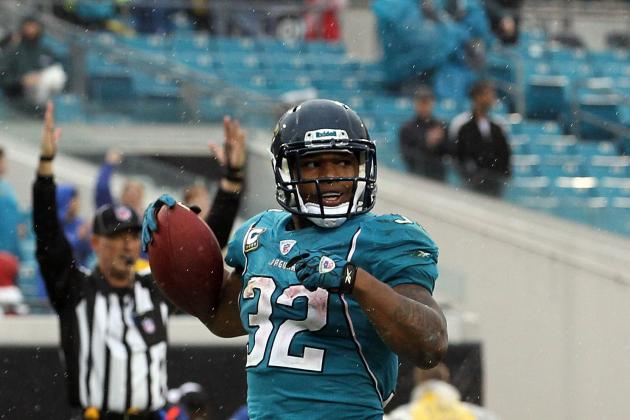 Sam Greenwood/Getty Images

The fantasy passing of MJD was greatly exaggerated.
Most, if not all, fantasy experts hated Maurice Jones-Drew for 2011.
But then a funny thing happened. Jones-Drew finished a sterling fifth among fantasy RBs (16.3 FPPG) with only two single-digit games (high single-digits, I might add).
Consider it MJD's statistical way of telling the haters, "In your face!"
Using NFL stats, he had nearly 2,000 combined yards (1,980 to be exact), along with 11 total touchdowns.
And that production is truly mind-boggling in light of how opposing defenses routinely stacked up EIGHT in the box to stop him due to a Jaguars passing attack so pathetic it wouldn't even make the cut on the scripted show Friday Night Lights.
Jones-Drew is not a sexy pick, and entering his seventh season with almost 1,500 carries under his belt, he is nearing the end of his fantasy RB1 shelf life.
But, he's got one more strong fantasy season left in him.
And it will help that in 2012, Jacksonville will only be playing what is currently perceived to be just four teams with solid run defenses—Miami, Chicago, Detroit and the Jets.
Your first round pick needs to be a lock, and stud RBs are still a scarce commodity. And because Jones-Drew is not a sexy pick, he still may not get the love on fantasy cheat sheets next year.
That will be good for you, because then, you can hold off in the first round and then snag MJD in the second round. Because in terms of production, after the top five RBs are gone, MJD will be one of the safest RB picks left on the board.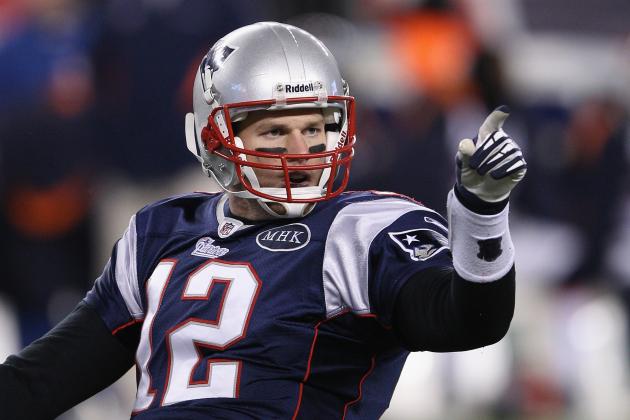 Elsa/Getty Images

Quick question: who were the top three fantasy QBs in 2011, 2010 and 2009?
Answer:
2011: (1) Aaron Rodgers, (2) Drew Brees, (3) Tom Brady
2010: (1) Tom Brady, (2) Aaron Rodgers, (3) Michael Vick
2009: (1) Aaron Rodgers, (2) Drew Brees, (3) Tom Brady
Point No. 1: The top three QBs are almost always some combination of Rodgers, Brees and Brady.
Point No. 2: The top QB in one year is not the top QB the next year.
So while there's obviously nothing wrong with picking Aaron Rodgers as the first fantasy QB off the board, it's just that he probably won't finish as the No. 1 QB in 2012.
The Patriots swung and missed on giving Brady another receiving weapon with Chad Ochocinco, who essentially dropped dead. Yet Brady still threw for an astounding average of 327.2 yards per game.
Expect New England to try again this offseason for another receiving threat for Brady.
The Patriots continue to avoid the running game as if the running backs have malaria. Tight end Rob Gronkowski looks like the real deal and not a one-year wonder. And Brady continues to amaze even when he only has one legit wide receiver threat in Wes Welker.
Add it all up, and there's no reason to think Brady won't be the top fantasy QB in 2012.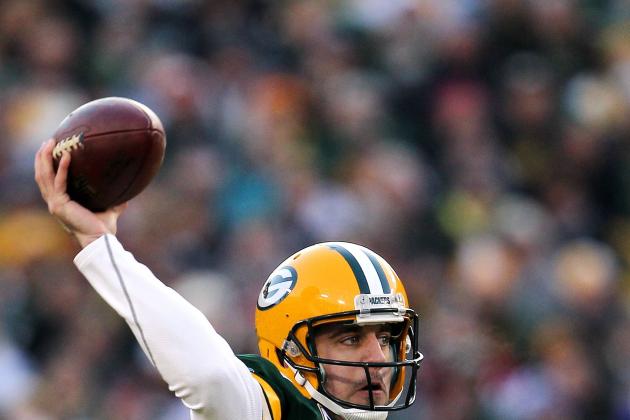 Jonathan Daniel/Getty Images

Debating Brady vs. Rodgers is like debating Angelina Jolie vs. Megan Fox.
Rodgers, like Brady, did not have any games this season below the fantasy average for quarterbacks of 17.5 FPPG.
Rodgers had a ridiculous season passer rating of 122.5 and a sick TD-INT ratio of 45-6.
Like the Patriots, the Packers avoid the running game, which gives the quarterback more passing attempts.
Rodgers, however, has a slight edge in receiving weapons in Greg Jennings, Jordy Nelson and Jermichael Finley.
What's more, the offense is relatively young, so their arrow is pointing up instead of down.
But last year, Brady was the one with the sick TD-INT ratio (36-4), and this year, his ratio dropped to 39-12.
Single-digit interception totals for quarterbacks that throw as much as these guys do is not normative. So expect Rodgers to throw a few more picks next year.
This is why I give a very slight edge to Brady in terms of ranking, which I know will go against the grain when compared to everyone else's 2012 fantasy QB rankings.
But who's going to complain about Angelina Jolie or Megan Fox anyway?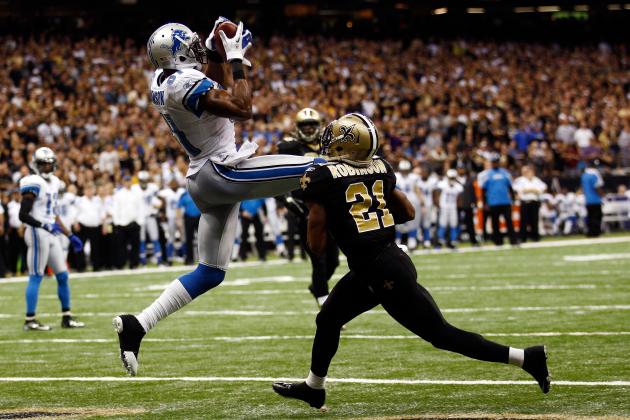 Chris Graythen/Getty Images

The days of Andre Johnson being a first-round fantasy wide receiver are over.
That distinction now belongs solely to Calvin Johnson.
He averaged 15.5 FPPG in 2011 and had the fewest single-digit games of all fantasy WRs.
Calvin is not just dominant; he's also the most consistent.
The Lions, like the Packers and Patriots, are a pass-first team. Unlike the Packers and Patriots, the Lions are more successful running the ball. Even when running back Jahvid Best was lost for the season, Maurice Morris and Kevin Smith stepped in and produced double-digits in five of the nine remaining games.
The Lions ability to run the ball helps keep opposing defenses from keying exclusively on Calvin. And even when defenses do focus on him, he is enough of a beast to often still prevail.
Maybe his nickname should be upgraded to Mega-Megatron.
While I am skeptical of whether Calvin will finish as fantasy's No. 1 WR in 2012, there's no question he will finish in the Top 3 and is the only WR worth taking in the first round.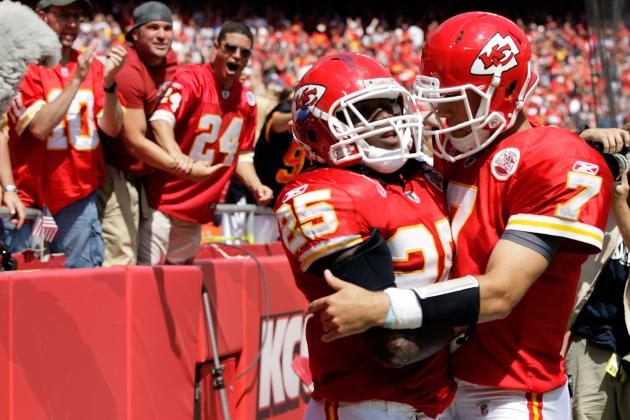 Jamie Squire/Getty Images

Charles owners will curse me, but injuries are unpredictable. Charles has no history of injury problems.
A home-run threat with any carry and a pretty solid pass-catcher despite a below-average offensive line, he has an additional quality that makes him still a solid RB1—he is the undisputed ball carrier on his team.
The Chiefs proved in 2011 they had no sustaining runner after Charles was out for the year.
If the Chiefs can solidify the QB position, since Cassel has shown to be nothing special, Charles can be a dynamic threat again in 2012 and improve upon his 1,935 combined yards and six total touchdowns from scrimmage in 2010.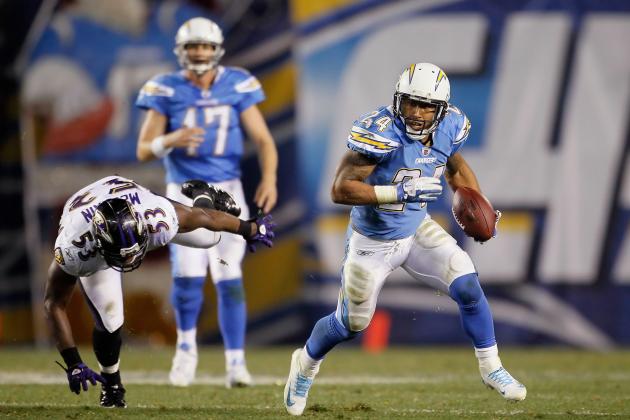 Jeff Gross/Getty Images

Mathews begins the second tier of fantasy RBs, where some questions limit their fantasy ceiling.
Mathews stormed out of the gate with five consecutive double-digit games to start the season, then finished the season with double-digit production in four of the final five games (not including Week 17).
Despite Mike Tolbert lurking in the shadows all season to vulture some carries and touchdowns, Mathews still finished 11th among fantasy RBs with a strong 13.3 FPPG average.
And Mathews added value in PPR leagues, catching 50 balls in 2011 for a 9.1 yards-per-catch average.
Entering his third season in 2012, expect the immensely talented Mathews to improve on his 1,091 rushing yards (on just 222 carries, I should add).
If the Chargers ever fully committed to Mathews, he would be a fantasy stud.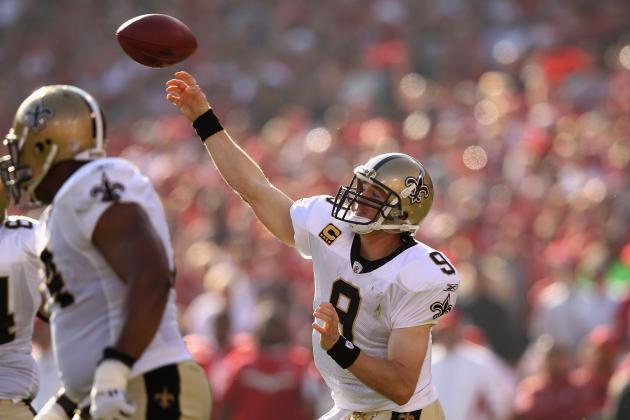 Ezra Shaw/Getty Images

Brees set the NFL mark for passing yards with 5,476 in 2011, but slung the ball an amazing 468 times to do it.
Will the Saints continue to run Brees' arm into the ground?
Remember, the Saints are not averse to running the ball. In 2009, Pierre Thomas was a highly effective runner.
In 2011, the Saints used their first-round pick to draft Mark Ingram, exhibiting a commitment to help the ground game. Unfortunately, Ingram never was able to establish himself, which helped to contribute to the Saints being content as a passing team.
In 2012, expect the Saints to put more emphasis on the running game and return to the balanced team that made them Super Bowl champs.
Whether Ingram takes a step forward or the Saints go with a different option, the team is going to rely a little less on Brees.
Don't get me wrong, he will still be a fantasy stud. But Brees will be just a bit less valuable than Brady or Rodgers.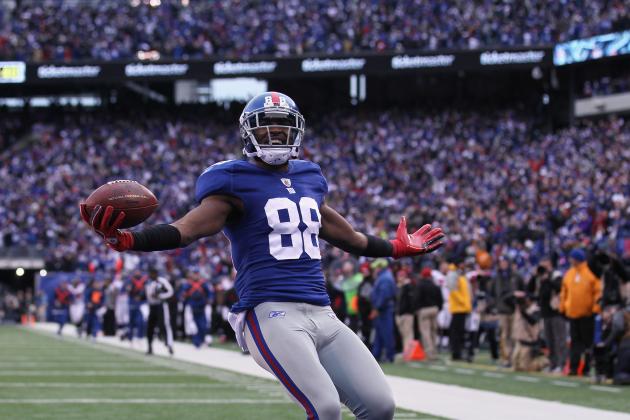 Nick Laham/Getty Images

Nicks wasn't exactly a fantasy monster in 2011.
He finished 20th among wideouts with a 9.8 FPPG average that would elicit shrugs from most fantasy owners.
But then came the NFL playoffs.
Six catches, 115 yards and two touchdowns against Atlanta.
Seven catches, 165 yards and two touchdowns against Green Bay.
Entering his fourth season in 2012, Nicks will be a hot WR in cheat sheets. And this time, the cheat sheets will be correct.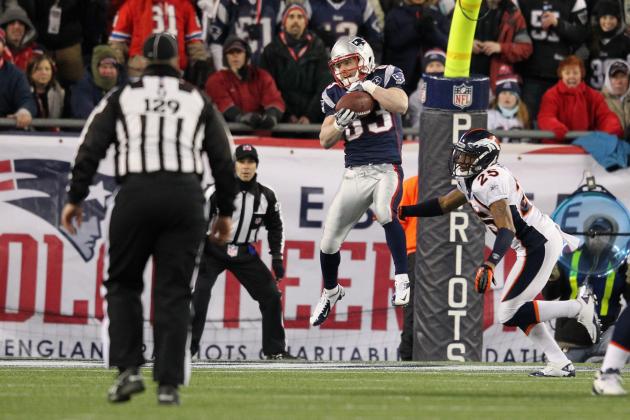 Jim Rogash/Getty Images

Welker finished 2011 with a 13.9 FPPG average, ranking him as the second-best fantasy WR.
Was 2011 a fluke, or should we expect similar production next year?
Welker was mediocre in fantasy in 2010 (8.5 FPPG, 20th among WRs), possibly playing through his knee injury.
However, he excelled in 2009 (12.4 FPPG, second among WRs).
Unless the Patriots bring in an impact free agent WR, Welker should remain one of the top WRs in fantasy.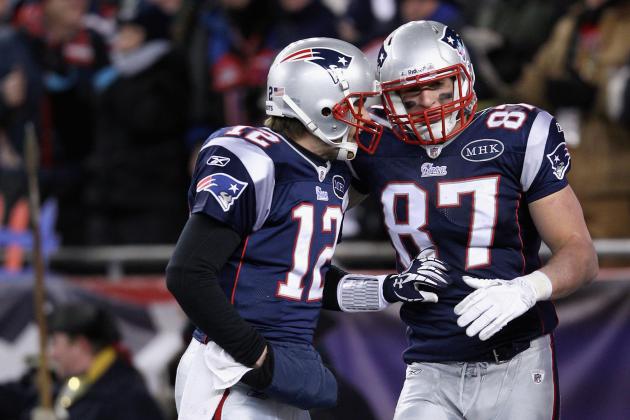 Elsa/Getty Images

I've never considered a tight end any higher than the fourth round of typical 10-12 team leagues.
But then again, we've never seen a tight end like Gronkowski before either.
You could see a few flashes of 2011 in 2010. But after averaging 6.4 FPPG in 2010 (ninth among TEs), no one saw Gronkowski's full-on beast mode coming in 2011.
He averaged an astounding 14.5 PPG in 2011, which—if he were a WR—would place him third on the WR list.
He is tough to bring down, and at 6' 6" and 265 pounds, is a matchup problem for any defensive team.
A first-round pick is out of the question for Gronkowski, especially when stud RBs are going to be scarce in 2012. But a second-round pick for him is certainly a viable option.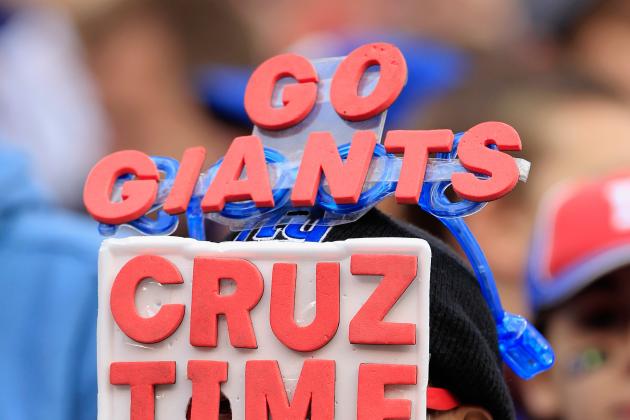 Chris Trotman/Getty Images

Cruz didn't just blossom in his second season—he exploded.
Cruz caught 82 balls for 1,536 yards and nine touchdowns. Using fantasy numbers, he compiled a 12.1 FPPG average (tied for fourth among fantasy WRs).
This is not to say Cruz should be drafted in the second round of your league. Most likely, based on his quiet postseason so far, 2012 cheat sheets will list Cruz as a third or maybe a fourth-round pick. You will definitely want to take him where his value lies via ADP and not overpay.
But I am saying that, going into his third season in a dynamic passing offense, he will produce as a Top 5 WR again—perhaps even Top 3—and easily outproduce his draft position.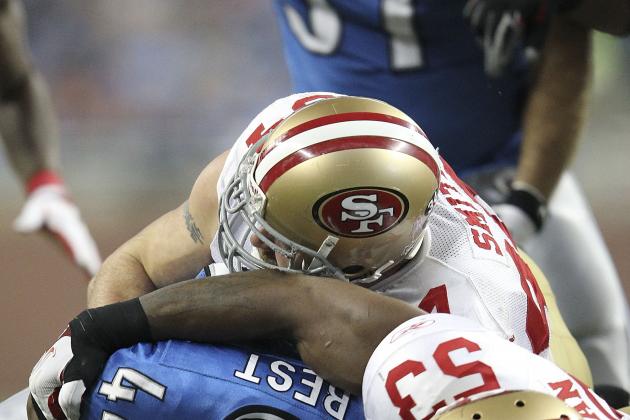 Leon Halip/Getty Images

Like Cruz, I want to re-iterate there is absolutely no way you should take Leshoure as a low second-round pick. What I am saying is that Leshoure will produce like a low second-round pick, regardless of where his average draft position ends up being (likely in the late rounds).
Most, if not all, 2012 cheat sheets will list Jahvid Best as the Lions primary RB. And just this past week, Detroit GM Matthew Mayhew, head coach Jim Schwartz and Best himself all said they expect Best to return.
But concussions are a tricky thing.
The most recent example was NHL star Sidney Crosby. He was out for 10 months last year with concussion problems. Crosby finally returned to the ice Nov. 21, but returned to the sideline after a Dec. 5 game brought back concussion symptoms.
Crosby hasn't played since.
Like Crosby, Best hasn't played for an extended period—since Week 6 in 2011. He may be feeling fine now, but then again, 300-pound linemen and 250-pound linebackers aren't trying to knock your head off right now.
When he did play, Best was the eighth-best fantasy RB, averaging 14.3 FPPG.
Hey, even Kevin Smith had some productive games too as the lead Detroit running back.
Point is, any decent talent as Detroit's RB will produce solid fantasy numbers.
Leshoure, Detroit's second-round pick in 2011, is fully capable of doing what Best (or Smith) did.
Take Leshoure in the late rounds and watch him end 2012 among the Top 25 fantasy performers.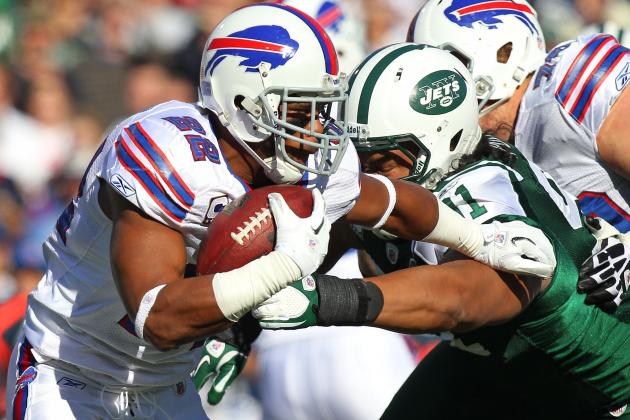 Tom Szczerbowski/Getty Images

Fred Jackson is like Maurice Jones-Drew.
Not a sexy pick, but still productive.
In Jackson's case, he was the fourth-best fantasy running back in 2011 (17.0 FPPG) before he broke his right leg.
But unlike MJD, he has internal competition for the lead role.
Bills head coach Chan Gailey said he will split the carries between C.J. Spiller and Fred Jackson in 2012, considering Spiller's solid performance towards the end of the season in Jackson's absence.
The same scenario was supposed to happen in 2011, but Jackson was such a force that Spiller was never a factor before Jackson's injury.
Expect Jackson to still be the primary ball carrier in 2012 and be productive with his touches. But due to the diminished volume relating to Spiller, Jackson shouldn't be a first-round pick.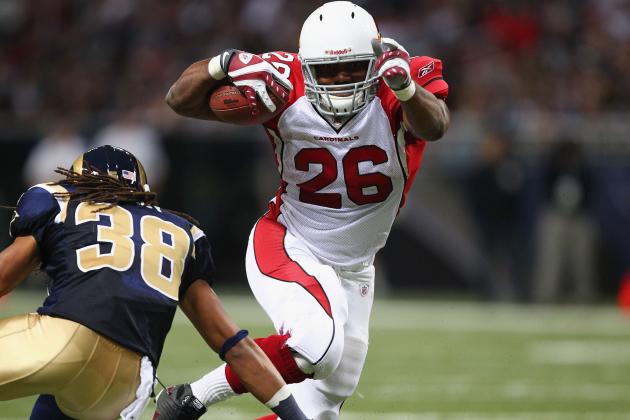 Dilip Vishwanat/Getty Images

Wells fought through injuries to post an 11.9 FPPG average, 15th among fantasy RBs.
His spectacular games suggests that if healthy, he could've finished much higher.
But Wells does have a track record of injuries.
Rookie Ryan Williams missed all of 2011 due to a ruptured patella tendon in his right knee. Will he be a threat to Wells' production in 2012?
While certainly talented, Williams may have trouble with pass protection and need some time to develop. That will continue to motivate the equally talented Wells, who ran aggressively in 2011, presumably with the team's Williams pick having lit his fire.
This situation will be the 2012 equivalent of the 2011 situation in Buffalo—the incumbent will demonstrate why he should be the lead back, and the younger backup will have to bide his time.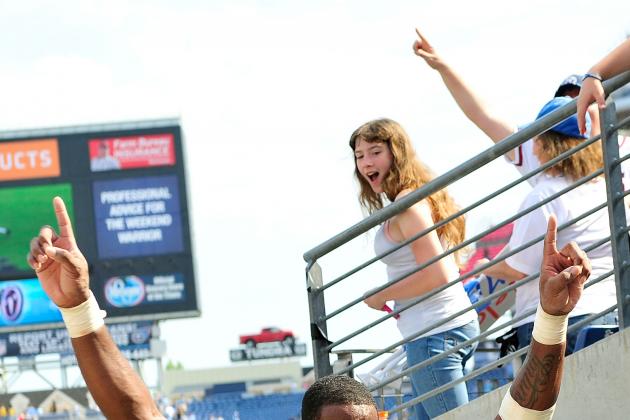 Grant Halverson/Getty Images

Britt averaged 15.0 FPPG in the three games he played in 2011 before being lost for the season. Small sample size for sure, but it would put him as the second-best fantasy wide receiver.
Nate Washington, who isn't the talent that Britt is, still averaged a respectable 9.2 FPPG in Britt's absence.
In 2010, Britt averaged 13.0 FPPG, placing him third among fantasy wideouts.
Expect him to play a full season in 2012 and have a breakout year.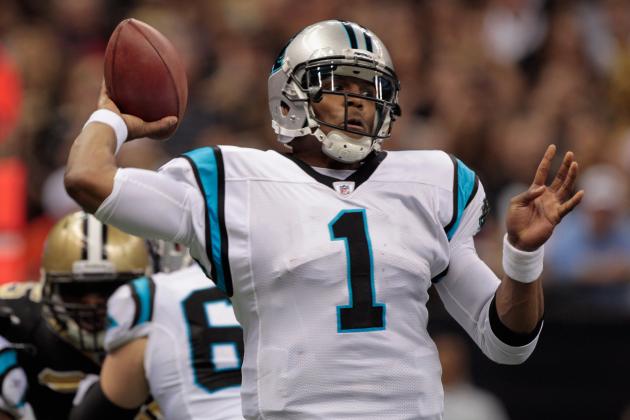 Chris Graythen/Getty Images

Newton finished 2011 with a 26.5 FPPG average—just 1.2 FPPG less than Tom Brady—and good enough for fourth among fantasy QBs.
He broke all the fantasy rules about how rookie quarterbacks will produce, having only three games below the positional average (17.5 FPPG) while having several monster games.
Newton in 2011 even outproduced the No. 1 fantasy QB in 2010 (Brady at 23.2 FPPG).
An intense competitor who will be expected to spend the offseason learning the nuances of playing the position as a passer more than a runner, Newton's offensive situation is stable enough to ensure continued success in 2012.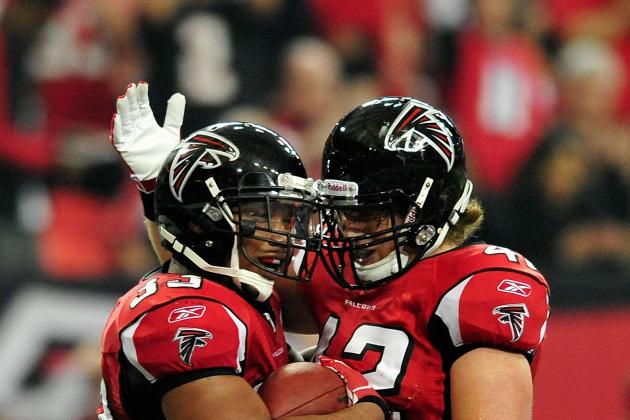 Grant Halverson/Getty Images

Is it truly possible that Turner would be ranked ahead of Adrian Peterson?
It is when you consider that Peterson's recovery from ACL reconstruction and MCL repair threatens the start of the 2012 season.
And when Peterson does return, we don't really have any confidence that it won't impact his performance the rest of that season.
Instead of saddling yourself with doubts, better to go the safe route with Turner.
Although he's one-dimensional and likely reaching the end of his shelf life as a starting fantasy RB, Turner has one more productive season in him.
At the present time, he also has no one challenging his role—always important to fantasy owners looking to fill their backfields.
Averaging 12.2 FPPG in 2011—13th among fantasy backs—Turner is no longer an RB1 but still a solid RB2.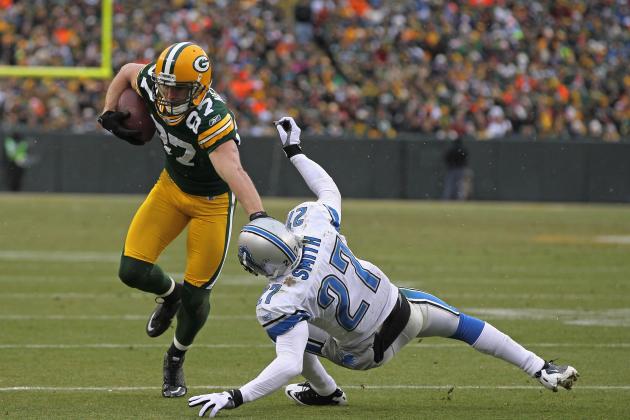 Jonathan Daniel/Getty Images

Greg Jennings, who averaged 11.5 FPPG in 2011, at this point in his career—entering his seventh season in 2012—is about where he will be for fantasy. That is, very solid but not a stud.
Jordy Nelson is not a stud either—yet.
Nelson was in his fourth season in 2011 when the light bulb turned on and he had a breakout year—1,263 receiving yards and 15 touchdowns, eclipsing Jennings' totals of 949 yards and nine touchdowns.
Nelson's arrow is pointing up in the potent Packer offense, whereas Jennings is holding steady.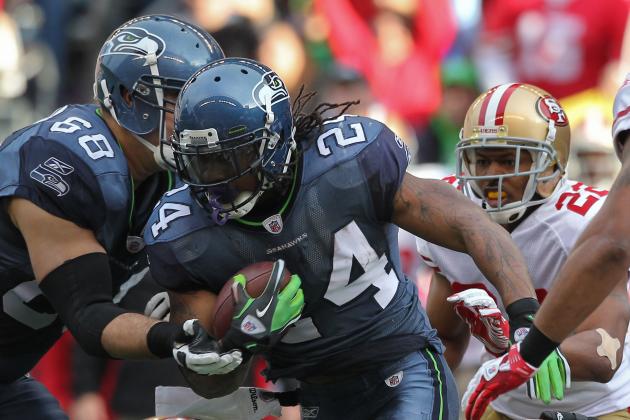 Otto Greule Jr/Getty Images

I admit I've never been a Lynch fan.
But I have to give him his props.
In 2011, he ran for 1,204 yards and 12 touchdowns. The impressive part is how Lynch accomplished this despite more defenders in the box stemming from the team's anemic passing offense.
Seattle committed to the run and to Lynch as the featured back, and he rewarded their commitment.
From a fantasy standpoint, he finished in the Top 10 for running backs with a stout 13.8 FPPG average.
The only problem is that, as of this writing, it's uncertain whether Lynch—a free agent—will return to the team.
If he does, then Lynch makes a solid RB2, particularly in non-PPR leagues.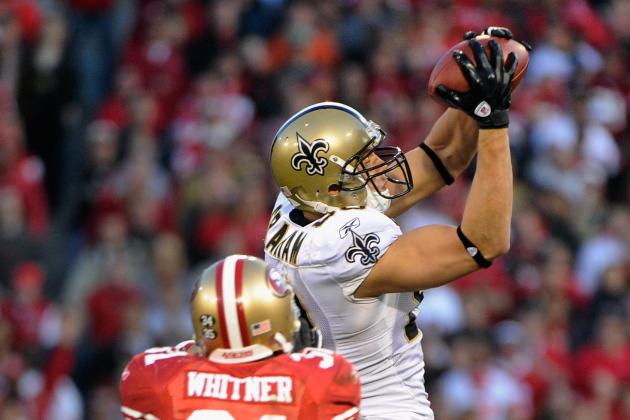 Thearon W. Henderson/Getty Images

In this breakout season, Graham finished 2011 with a 12.0 FPPG average, placing him second among tight ends.
He continued his onslaught in the postseason, with seven catches for 55 yards and a touchdown against the Lions and five catches for 103 yards and two touchdowns against the vaunted 49ers defense.
Comparing him to wide receivers (since he plays like one), Graham would have ranked sixth—ahead of players like Larry Fitzgerald, Carolina's Steve Smith and Greg Jennings.
Graham and Gronkowski represent the new wave of tight ends—athletic, pass-catching freaks of nature (Graham is 6' 6" and 260) who are nightmares to match up defensively.
Entering his third season and with a stud quarterback like Drew Brees throwing him the ball, Graham will exceed his 2011 yardage total in 2012.