Fantasy 2011 Lesson Learned No. 2: Get Your Top Pick Right
January 4, 2012
Ronald Martinez/Getty Images
Welcome to the second in a series of articles on Fantasy Football Lessons Learned, intended to help us learn from the what the 2011 season taught us.
In case you missed it, the first Lesson Learned was to beware of your cheat sheets.
The second Lesson Learned involves the importance of your top draft pick.
This may sound elementary, but too many fantasy owners take for granted how critical the first-round pick is. After all, fantasy owners all have those cheat sheets that tell us who to take, right?
So inevitably every July/August, the most popular fantasy football article is the one with the word "sleeper" in it.
It's as predictable as death and taxes.
You'll also hear fantasy experts extol the importance of sleepers and how sleepers can make or break your fantasy team.
Well, here's today's Lesson Learned:
That's bull.
The player who will make or break your fantasy team will be your first pick. Your first-round pick simply cannot be a bust.
Your first-round pick, after all, is supposed to be your fantasy team's biggest impact player. A bust in this round is like starting 20 yards behind everyone else in a 100-yard dash: Sure, it's possible you can overcome the deficiency to win but the task will be significantly more difficult.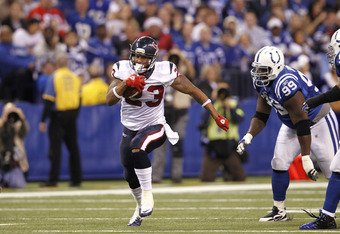 Joe Robbins/Getty Images
Think about real NFL general managers. We judge their ability largely on their top picks.
Since 2005, the St. Louis Rams' first-round draft picks have been:
OT Alex Barron (2005)
CB Tye Hill (2006)
DE Adam Carriker (2007)
DE Chris Long (2008)
OT Jason Smith (2009)
QB Sam Bradford (2010)
DE Robert Quinn (2011)
All this, despite their average first-round draft position in that span being ninth.
And their record in that span, not surprisingly, is 29-83.
On the other hand, the Green Bay Packers' first-round draft picks in that same span have been:
QB Aaron Rodgers (2005)
LB A.J. Hawk (2006)
DT Justin Harrell (2007)
DT B.J. Raji and LB Clay Matthews (2009)
OT Bryan Baluga (2010)
OT Derek Sherrod (2011)
The Packers' average first-round draft position was 19th.
And also not surprisingly, their record during that period is 67-45.
Fantasy mirrors reality. Here's my story: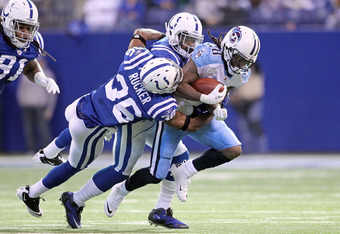 Andy Lyons/Getty Images
This year, I drafted RB Chris Johnson with my first-round pick at No. 2 overall. Whoops. My next four picks: RB Frank Gore, QB Philip Rivers, WR DeSean Jackson, and TE Antonio Gates.
Yes, quite possibly the worst team in fantasy history. Not surprisingly, the first few weeks of the season, I was dead last in my league.
Eventually, through some trades (such as parlaying Gore into Hakeem Nicks) and astute waiver-wire pickups (like Laurent Robinson and Tim Tebow), I still made the playoffs and reached the semi-finals.
So, yes, it's possible to overcome a bust in the first-round, but it's definitely more challenging. Get your first-round draft pick right—no matter where you draft in the first round—and you will have significantly better odds of success than if your first-round pick is a dud.
If your first-round pick is a dud, then you will need great sleepers to compensate and keep your team competitive. On the other hand, if your first-round pick is a home run, then adding great sleepers will turn your team into a monster fantasy force.
Remember my league? The eventual champ had the last pick in the first round and took RB LeSean McCoy. He added sleepers like WR Wes Welker and RB Beanie Wells, then steamrolled everyone in both the regular season and the playoffs.
Yes, sleepers are important but your first-round pick is even more so.
So before you spend hours pouring over the various sleeper articles next year, make sure you do your homework and get your first-round pick right first.