Paul Pierce's Top 10 Performances for the Boston Celtics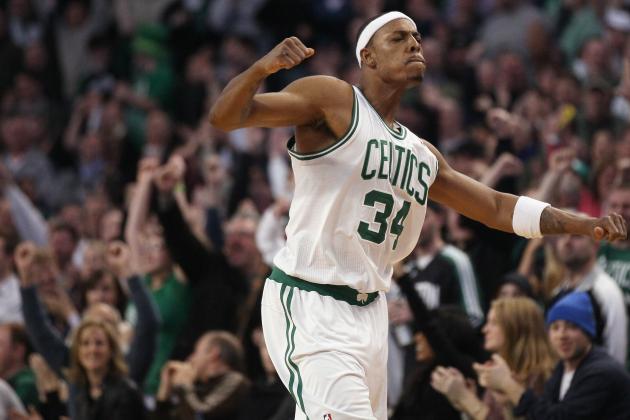 Elsa/Getty Images
Paul Pierce creeps ever closer to replacing Larry Bird as the Celtics second highest scorer in franchise history
Paul Pierce is preparing to accomplish a dream few ever thought possible. After Pierce's 19-point performance against the Orlando Magic Monday evening, he is now just 167 points away from passing the immortal Larry Bird on the Boston Celtics' all-time scoring list. At Pierce's current scoring rate, he'll pass Larry Legend in the next 10 games.
Yet despite this dream becoming a reality, 2012 is turning out more like a nightmare for the Celtic captain.
After being sidelined for the first three games of the season with a heel injury, Pierce returned to the team as they continued their spiral down to the bottom of the Eastern Conference. The 34-year-old veteran is shooting just 41 percent from the field and is posting career lows in points per game and field goals made.
But if we've learned anything in watching Pierce through his illustrious 13-year career, it's that he'll battle back. And in the process of surpassing Larry Bird's point total, Pierce will likely add some more unforgettable scoring performances to his resume.
But before he does so, let's reflect on the greatness of the one called "Truth," as we countdown the 10 greatest performances of Paul Pierce's career.
Begin Slideshow

»
Boston Celtics 113, New York Knicks 96
Stat Line: 38 PTS, 14-19 FGM-A, 6-8 3PM-A
The Boston Celtics narrowly escaped the first two games of their 2011 playoff series against the New York Knicks. Ray Allen saved the Celtics with a game-winning three pointer in Game 1. Two nights later, it was Kevin Garnett who scored the winning basket in the final seconds of play.
Game 3 would belong to Pierce. It was the first post season game in Madison Square Garden in seven years, but it was a Celtic who stole the show.
Of Pierce's 38 points, 18 came from three-point territory. He missed only five shots on the night and was a perfect 4-4 from the free throw line.
There is no team that Paul Pierce has scored more career points against than New York. His Game 3 performance only added to his reputation as a Knick killer as he gave Boston a stranglehold on the series.
Boston Celtics 103, Detroit Pistons 83
Stat Line: 28 PTS, 6 REB, 5 AST
On paper, there is nothing spectacular about Pierce's November 1st performance from 12 years ago. But much like his career, this performance goes far beyond the box score.
Less than two months before the Celtics' season opener against the Detroit Pistons, Pierce was lying on a hospital bed fighting for his life.
After a night club altercation that left Pierce with 11 stab wounds, his life (much less his basketball career) was in serious jeopardy. But true to form, and like he would over the course of his 14-year career, Pierce battled back.
Against doctors' advice, Pierce pushed himself over the next month to return to the game. In the Celtics' season debut, Pierce scored 28 points as he led his team to a 20-point victory.
Boston Celtics 102, Indiana Pacers 92
Stat Line: 37 PTS, 10 REB, 7 AST, 14-15 FTM-A
At halftime of Game 4 of the 2003 Eastern Conference Quarterfinals, the Celtics trailed the Pacers 48-36. Indiana, led by Ron Artest on defense, helped limit Paul Pierce to just five first-half points.
However, Pierce led a furious offensive charge as he single-handedly abused a flurry of Indiana defenders to the tune of 32 points in the final two quarters. His second-half assault was highlighted by a buzzer beater at the end of the third period in which Pierce went jaw-to-jaw with defender Al Harrington.
Pierce buried both the jumper and the Pacers as his playoff mystique continued to grow.
Boston Celtics 115, New Jersey Nets 108 (OT)
Stat Line: 48 PTS, 17-18 FTM-A, 12 REB
Paul Pierce's 48 points against New Jersey in 2001 was impressive on several fronts. It helped give the Celtics an overtime victory against their toughest conference foe at the time. Also, the win brought Boston to within a game of the division lead, and Pierce's 48 points gave him a career high up to that point.
But what's most astonishing of Pierce's 48 points scored that afternoon is that 46 of them came in the second half!
In the best scoring half of Pierce's illustrious career, he played to his greatest strength—he got to the free throw line. Pierce was an impressive 17-18 from the charity stripe against the Nets.
While debate regarding the best scorer in Celtic history will continue long after Pierce's retirement, there is no question that he stands alone as the best at getting to the free throw line. He ranks first in franchise history in free throws attempted (7261) and free throws made (5849).
Pierce also stands alone with the greatest scoring half in team history with his 46 in 2001.
Paul Pierce will never be remembered as one of the game's elite perimeter shooters. But on Valentine's Day of 2010, No. 34 was the best on display.
Although it was All-Star weekend, Pierce's competitive nature did not take a break.
Pierce earned a score of seventeen in the first round of the contest, and then upped that performance with a score of twenty (draining all five money balls) in the final round of the three-point shootout.
Although he did not guarantee victory like his franchise elder, he went into the contest with equal confidence. And while Bird celebrated victory with a finger of triumph held high in the air, Pierce did so in just as true of fashion: with a fist pump and a scowl.
Cleveland Cavaliers 113, Boston Celtics 109
Stat Line: 50 PTS, 7 REB, 8 AST
The 2006 season was a special one for the Celtic Captain. Although the team missed the post-season for the first time in four seasons, it would be despite the efforts and production of Paul Pierce.
Pierce recorded career highs in points scored (2166) and points per game (26.8). He appeared in his fifth straight All-Star game and scored over 30 points 28 times.
Still, he would save his best performance for when the hottest ticket in the NBA, LeBron James, came to town.
The two superstars went toe-to-toe, matching each other shot-for-shot. The duel extended into two overtime periods as neither Pierce 'nor James would relinquish defeat.
Finally, it was the Cavaliers (behind James' 43 points) who would prevail. Nevertheless, it was Pierce who won the personal battle as he scored a career-high 50 points.
If it was James who won this battle then it would be Pierce who would later win the war as their duel in '06 would pale in comparison to a meeting they would have some two years later.
Boston Celtics 94, New Jersey Nets 90
Stat Line: 28 PTS, 12-15 FTM-A, 5 REB, AST
The 2002 Boston Celtics entered the fourth quarter of Game 3 in the Eastern Conference Finals facing a 21-point deficit. It had been fourteen seasons since a conference finals game had been played in Boston, and for three quarters, it played out in disastrous fashion.
But over the last twelve minutes of play, behind the scowl and determination of their leader, the Celtics made NBA history. Pierce's 18 fourth-quarter points led Boston en route to completing the greatest playoff comeback ever.
Pierce handled every fourth-quarter possession with an intensity and drive that the New Jersey Nets could not match. Although Pierce was unable to find any rhythm shooting the ball from the field (8-21), he attacked New Jersey defenders and got himself to the free throw line an impressive 15 times that evening.
And while Game 3 would be the last victory for Boston that season, the contest displayed for Celtic fans everything they needed to know about their budding superstar. Pierce's performance proved that even in the worst of times—and when all odds are against him—he will continue to battle; he will continue to fight; that he will always come back.
Boston Celtics 98, Los Angeles Lakers 88
Stat Line: 22 PTS, 7-10 FGM-A, 3-4 3PM-A
Paul Pierce waited 10 NBA seasons to play on the NBA's greatest stage.
But halfway through the third quarter of his first game in the Finals, Paul Pierce "heard a pop."
It was his knee. He, along with the Celtic fanbase, collectively held their breath.
The "pop" was merely a sprain. And while he left the court on a wheelchair, he returned to it with a vengeance. With the score tied late in the third quarter, Pierce emerged from the locker room and hit two huge three pointers to give the Celtics a four-point lead going into the final quarter.
Pierce would score a total of 22 points in his first game of the Finals, but it was his emotional lift more than anything else that sparked the Celtics to victory.
Pierce would go on to out-perform the league MVP, Kobe Bryant, in the 2008 Finals as he captured the series MVP. In the process, he would celebrate the 17th title in the Celtics' decorated team history, and the first he could call his own.
Boston Celtics 120, Philadelphia 76ers 87
Stat Line: 46 PTS, 16-25 FGM-A, 8-10 3PM-A, 6 AST
It was during the 2002 post-season that Paul Pierce emerged onto the landscape of the NBA elite.
His first appearance in the NBA playoffs was highlighted in an elimination game against the Philadelphia 76ers in the first round. With the series tied two apiece, Paul Pierce torched the reigning Eastern Conference Champions for 46 points, his post-season career high.
Pierce inspired the Celtics to one of their greatest quarters in franchise history, as they scored 43 in the final period. Pierce led the way with eight three pointers as Boston pounded Philadelphia by 33 points in the close-out contest.
Boston Celtics 97, Cleveland Cavaliers 92
Stat Line: 41 PTS, 4-6 3PM-A, 11-12 FTM-A, 4 REB, 5 AST
Game 7 of the Eastern Conference Semifinals is Paul Pierce's defining moment.
It is the game that cemented his legacy in Celtic lure; a performance of a lifetime.
For four quarters Pierce played just as he had for the 10 seasons he spent in a Boston uniform. He scored in every way: from the paint, from the elbow, from the free throw line (11/12), and from beyond the arc (4/6). He scored early, and he scored late.
But the defining play was not one of Pierce's 13 field goals he made that afternoon, nor was it one of his five assists. Instead, the defining play came during a jump ball with exactly a minute left in the contest.
The jump ball sequence personifies Paul Pierce's career as a Celtic. After the toss, a skirmish for the ball ensued at mid court. Pierce dove to the floor, fought for possession and wrestled it away from two Cavaliers, including LeBron James. Pierce just wanted it more.
In a building cluttered with championship banners, former Hall of Famers and legendary plays, Pierce's fight for possession is hardly remembered but can't be forgotten.
After all, it was part of a title run.