Philadelphia Phillies: How They Can Replace Ryan Madson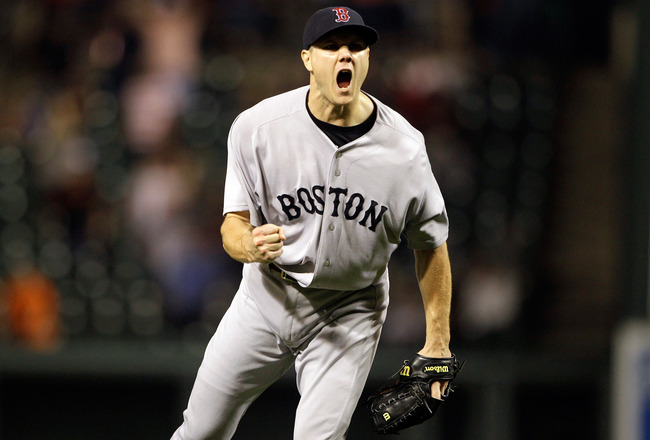 Rob Carr/Getty Images
The surprising and dominant play of Ryan Madson during the 2011 season had Philadelphia Phillies fans excited about his future. Unfortunately that ship has sailed, as he is now a member of the Cincinnati Reds.
That leaves a big hole to fill for the Phillies, but it looks as if Ruben Amaro Jr. has gone to the free agent market to solve that problem.
The closer is such a crucial role in the way baseball is played today. With a dynamite starting staff who can go late into games, the Phillies need that explosive pitcher who can shut the door.
Here is a list of guys who can do just that.
5. Make Kyle Kendrick the New Set-Up Man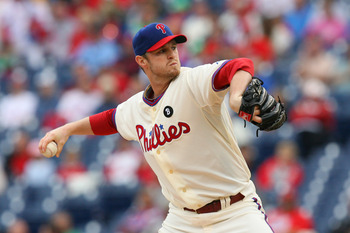 Hunter Martin/Getty Images
Kyle Kendrick is the definition of a work horse.
He has been a starter and a reliever and has proven that he is more than capable of being a solid MLB pitcher.
In recent years, Kendrick has been more of a long reliever, but with all the new and young arms in the bullpen, his services could be used as a set-up man.
Before Madson was a closer, he served as the set up man to Brad "Lights Out" Lidge. Madson was called the Bridge to Lidge. The Phillies didn't really have a permanent set-up man in the 2011 season, and Kendrick could fill that hole nicely.
Kendrick could be the key component to the Phillies' pen and this would be a step up for him from the long reliever role.
No. 4: Dontrelle Willis Becomes the Long Reliever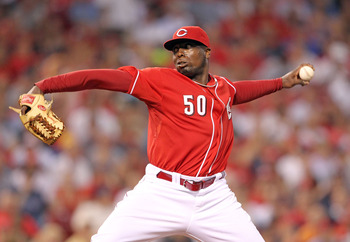 Andy Lyons/Getty Images
The former National League Rookie of the Year as a member of division foe Florida Marlins has found a home in Philly.
He has been a starter his entire career, so when the Phillies signed Willis this offseason, many questioned what exactly his role would be.
The starting rotation seems to be set thus forcing Willis to the pen.
He has proven he can be an effective pitcher in the big leagues, so why not make him the new long reliever? He is used to pitching upwards to seven innings, so this would be the ideal role for him.
Also, Willis could be the lefty specialist. Say, in the later innings, he could come in to get a tough left-handed hitter out, then send the closer in to shut the door.
Willis' job is uncertain as of now, but there's no disputing he will be a huge asset to the Phillies' pitching staff.
3. Utilize Michael Schwimer and Michael Stutes More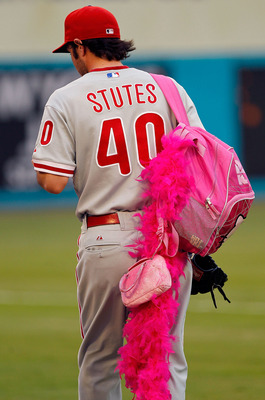 Mike Ehrmann/Getty Images
It's time for Michael Stutes to ditch the pink back pack and carry the Phillies' bullpen on his back. Stutes, although sometimes inconsistent, has shown some electric stuff this past 2011 season.
He isn't afraid to attack hitters and challenges them with every pitch. This is key in being a reliever because you have to be able to pitch multiple days in a row. Stutes constantly attacking the zone forces hitters to swing, thus keeping his pitch count low.
Another young arm the Phils can look to for some help out of the pen is Michael Schwimer. He appeared briefly for the Phils in the 2011 season, but look for him to have a more important role this season. He is young and like Stutes, isn't afraid to attack the zone.
If the Phils loose some key bullpen guys, look for Stutes and Schwimer to be the first called on out of the pen in the later innings of close games in 2012.
2. Re-Sign Brad Lidge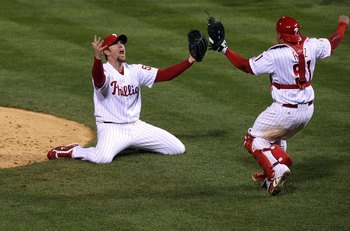 Jim McIsaac/Getty Images
The 35-year-old isn't getting any younger and has been bitten by the injury bug since his perfect 2008 season, when he led the Phillies to winning the World Series.
Madson basically took over Lidge's role last season and did a great job. Now that Madson is gone and Lidge remains unsigned, a healthy Lidge could be the answer to the Phillies' bullpen woes.
Since Lidge has experience in the closing role and has performed well under the spotlight, it might not be a bad idea to take a chance in re-signing him. He could be either a set-up man or share roles at the closer spot.
Either way, signing Lidge to a one-year deal doesn't really hurt the team. The younger guys can learn from him and he is a proven winner, which could be helpful come October.
1. Jonathan Papelbon Becomes the Saviour in the Bullpen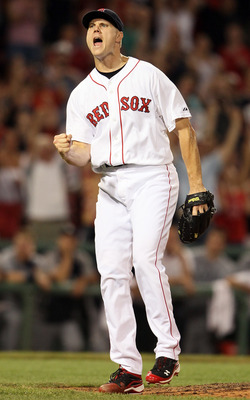 Elsa/Getty Images
He may be wacky and nutty, but he sure knows how to close out ball games. And he is full of passion, just like Philly fans.
Without further ado and/or eloquence, I introduce to you Jonathan Papelbon, the new Phillies closer, and the ultimate answer to replacing Ryan Madson.
Not only are the Phils replacing Madson, but they are also upgrading at the closer position.
As long as Papelbon can keep his cool and continue to shut the door on opponents, not only will he have a very successful career in Philly, but he will instantly become a fan favorite.
He has played and won in Boston, which is just as demanding, if not more, than Philadelphia. He knows pressure and operates like the ninth inning was a Sunday stroll.
For a four-year, $50 million deal, he better produce numbers, or else the City of Brotherly Love will have another Ilya Bryzgalov situation to deal with.
While Madson is no longer in the picture, the Phillies have many arms in the bullpen that can step up and dominate teams in later innings. They also upgraded by acquiring arguably the best closer in the game today.
Madson served his time in Philly and was great to the club, but the Phillies have all the right tools to move forward, returning to the World Series.
Keep Reading

Philadelphia Phillies: Like this team?