Should Danny Ainge Move the Boston Celtics in a Different Direction?
January 17, 2012

Elsa/Getty Images
That's five, count them, five losses in a row for the Boston Celtics. 
It's the longest losing streak of the "Big Three" era. To add insult to injury, four of the five losses have come at home.
It's the type of streak that is going to make fans ask if it might be time for general manager Danny Ainge to blow the team up, declare this season lost and try to start acquiring salary cap room and draft picks in an effort to build for the future.
Make no mistake about it, whatever direction Ainge does choose, he can't go halfway with it.
That's really part of the problem, too. If Ainge were to blow up this team, it would probably involve placing both Ray Allen and Kevin Garnett as well as Paul Pierce on the trading block. The goal wouldn't be to get "fair value," either. 
The goal would be to acquire one of two things: players with contracts set to expire, or even better, draft picks.
The problem is that most of the teams that might be tempted to acquire guys like Garnett or Allen are likely to be contenders who will also have lower first-round picks in the upcoming draft. 
Then again, multiple picks could be corralled into a deal to move up. The Celtics already own two first-round picks in the 2012 NBA Draft: their own, as well as a top-10 protected pick from the Clippers. That basically means that they get the Clippers pick, provided it's not a top-10 pick. 
Ainge could also deal for future picks, but the strength of the 2012 draft class coupled with the imminent departures of Ray Allen, Kevin Garnett, Jermaine O'Neal and Paul Pierce—all of whom either via trade, retirement or expiring contracts by the time the 2013-14 season concludes—adds a sense of urgency to this decision.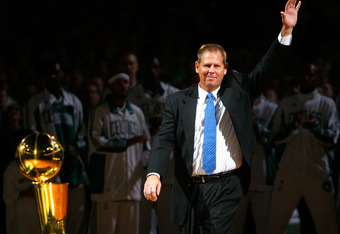 Jim Rogash/Getty Images
Ainge has already hinted at the possibility of a embarking on a total rebuilding process. 
"I'm committed to the guys as long as they're going to perform, but they've got to perform," he said. "They've got to show they have an opportunity to win. Otherwise, I've got to at least make an effort to go another direction."
That was Ainge's response to the question of whether he'd consider making major changes to the current Celtics roster between now and the trading deadline in an interview last Thursday following the Celtics' home loss to the Dallas Mavericks.
Three losses later, the Celtics are a 4-8 team. If the playoffs started today, they'd be on the outside looking in. If that's the eventual destination of not blowing up the current roster, then the consequences of embarking on a total rebuilding process seem far less severe. 
The shortened season may be playing a role in the Celtics current swoon. As an older team, the frequency of games exposes that age even more. The Celtics have had problems executing their offense both early and late in their games.
That might be a valid excuse, but in the end it doesn't matter. The time won't be returned. The contracts of Allen and Garnett are still set to expire at the end of this season. Paul Pierce will still be older next season.
Can Ainge get enough in trade to make a rebuilding process viable without the team diving into another prolonged period of futility? The Celtics teams that Danny Ainge played for were victimized first by the untimely and tragic deaths of Len Bias and Reggie Lewis. They were also undone by an unwillingness to make moves to get younger as legends such as Kevin McHale, Larry Bird, Robert Parish and Ainge himself got older.
Ainge's mission as general manager is daunting. The Celtics are a team with a fanbase that expects success. Is a low seed in the playoffs this year and the chance—albeit a slim one—of a deep postseason run worth possibly missing the playoffs for a number of years down the road?
That very well may be the choice. The Eastern Conference has a number of rapidly improving young teams such as Philadelphia and Indiana. Miami and Chicago are already teams that can win a title. Then there are teams such as the New Jersey Nets, New York Knicks, Orlando Magic and Atlanta Hawks, all of whom have either lots of money to spend in the free-agent market or considerable talent already on their roster.
The season might be young, but the All-Star break is just a over a month away. Between now and then, Danny Ainge has to make the most critical decisions of his career as Boston Celtics general manager.
Should he cling to a decorated past and the three current first-ballot Hall of Fame players on his roster or disassemble the team he personally assembled back in the summer of 2007 in an effort to reclaim the glory of June 2008?
The clock is ticking.