NFL Playoffs: Game Plans and Predictions for Conference Games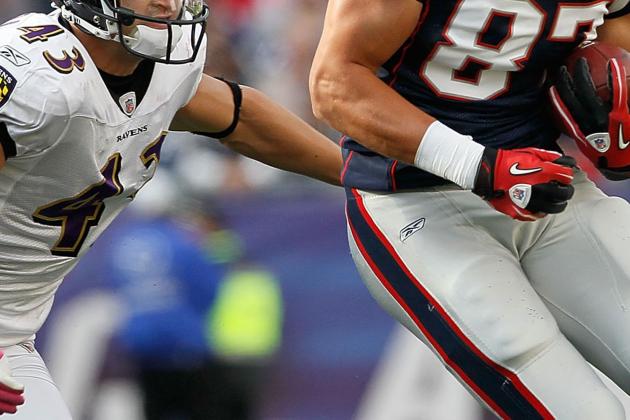 Jim Rogash/Getty Images

The playoffs are dwindling down and we're almost to the big one. Lucky for us NFL fans, we get some of the best matchups possible in the impending conference championship games.
New England Patriots vs. Baltimore Ravens. Offense vs. Defense.
San Francisco 49ers vs. New York Giants. No-run-defense and Frank Gore vs. Pass Rush and Hakeem Nicks.
These teams match up beautifully, and it will lead to a lot of serious preparation from all this week.
In anticipation of Sunday, I thought I'd look at how these teams match up on paper and give my predictions for how it will all go down.
Begin Slideshow

»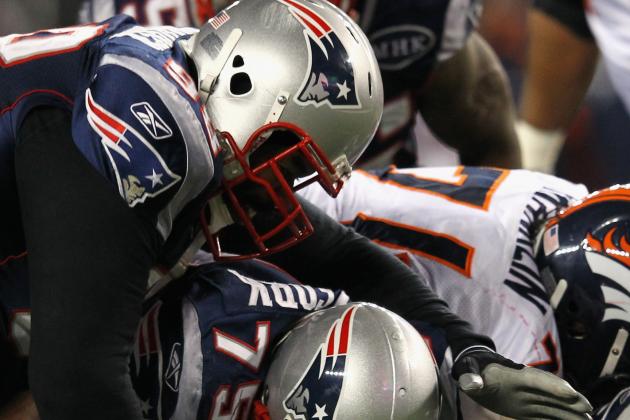 Al Bello/Getty Images

Game Plan: Play hard-nosed at the line and don't lose control on offense
We all know how good the New England Patriots' offense is. Even when matched against a defense like the Ravens', Tom Brady is always dangerous.
The tight ends had fantastic games against the Broncos, and it further cemented the idea that Brady doesn't need a deep option. When coverage was tight (meaning Gronk, Hernandez and Welker were all bottled up), Deion Branch broke free for a 61-yard touchdown pass.
That's the kind of offensive play that makes the Patriots so dangerous. When Tom Brady's under center, everyone becomes a weapon.
The biggest struggle for New England will be the defense. The Ravens aren't the best offensive team, but they can still catch you off guard. These teams last met in the playoffs December 10, 2010, a game in which Ray Rice rushed for 159 yards and 2 touchdowns.
The one thing the Pats can do is control the run. After how well the secondary played last weekend, boxing up Rice and forcing the Ravens to throw could be a boon for New England.
X-Factor: Defensive Line
Last week against the Broncos, the Patriots' defensive line was unstoppable, combining for 10 tackles and 2.5 sacks. They were all over Tim Tebow, forcing him into bad throws and scrambles. That kind of pressure will put all kinds of stress on Joe Flacco and crew.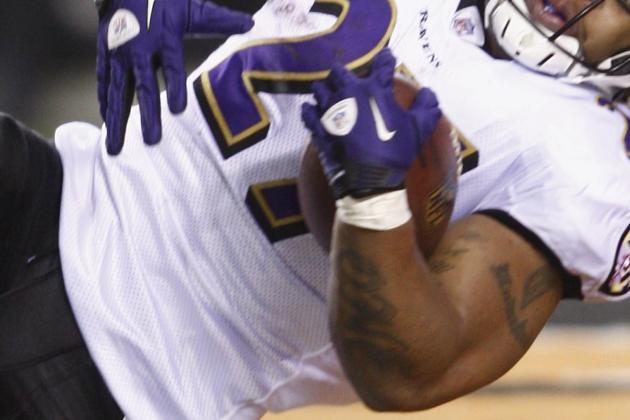 John Grieshop/Getty Images

Game Plan: Disrupt the Patriots' offense and unleash Ray Rice
The Patriots and Ravens are like fire and ice. New England features one of the most prolific offenses in the NFL, while Baltimore has one of the most domineering defenses.
Two of New England's biggest losses this season came to the Steelers and Giants. Both teams utilized pass rushes to keep the offense off balanced and out of sync. In other words, the Ravens' bread-and-butter.
Brady is good, but so is Ray Lewis. If the Ravens can bring pressure and keep the offense off balanced, it'll be hard for New England to hit a groove.
On the other side of the ball, the Ravens have to go with what they've used all season long. If forced to rely on the pass, the Ravens will lose this game. Instead, they need to trust the run and let Ray Rice pound the ball up the field.
X-Factor: Ray Rice
As mentioned on the Patriots slide, Ray Rice knows how to dominate the New England defense. The most dangerous thing about Rice is his two-way play. Naturally he's a great running back, but if need be he can also become a target for the pass.
If fully utilized, Rice can confuse the New England defense all day long. Baltimore can keep Tom Brady in check, but you can't win without putting points on the board. If they trust Ray Rice to do so, he won't let them down.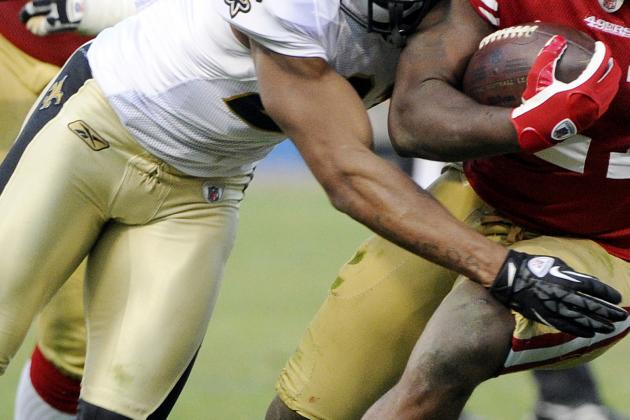 Thearon W. Henderson/Getty Images

Game Plan: Let the defense suffocate and don't get stale on offense
The San Francisco 49ers old school style has helped them emerge as one of the biggest surprise teams this season. On offense, they pound the ball on the ground, but can air it out when necessary. On defense, they suffocate you.
The 49ers had the best rushing defense in football, and that's the reason they've been such a success. By limiting the rush, San Francisco can play comfortable defense. When you let a squad this good get comfortable, I don't care who you are, you're not scoring the ball.
On offense, San Francisco relies heavily on Frank Gore. The veteran running back is a freight train, fighting for every last inch. If we learned anything from the 49ers' 36-32 win over the Saints, it's that in crunch time Alex Smith knows how to throw.
Even without a standout No.1 option Smith always has Vernon Davis to throw to.
With a new confidence that comes in having a reliable fourth-quarter quarterback, San Francisco just got that much more dangerous.
X-Factor: Frank Gore
When these two teams last met, November 13, Frank Gore was a non-factor as he tweaked his knee and was out after six caries. The 49ers still won that game. It'll be a brand new offensive game for San Francisco, and the surprise attack of Gore gives them a brand new edge.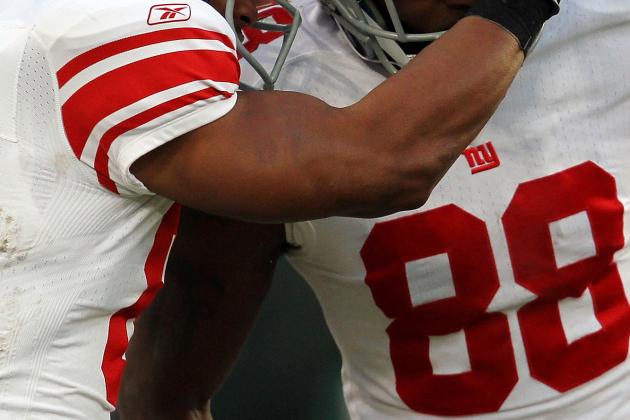 Jonathan Daniel/Getty Images

Game Plan: Make Alex Smith uncomfortable and go aerial on offense
The New York Giants have been the hottest team of the playoffs, and they come into their game against San Francisco having already knocked out the Atlanta Falcons and Green Bay Packers.
That doesn't mean they don't have to play hard.
On defense the Giants rely on their pass rush to keep opposing offenses off balance. If the other team gets comfortable, New York's defense tends to struggle.
They've really got to prepare for Frank Gore on this one. If they can keep him in check, then Jason Pierre-Paul and that defensive line can do their thing against Alex Smith.
On offense, Eli Manning has to be at his best. They aren't going to be able to establish much of a run game, and so Manning will be called on to put up touchdowns. Lucky for him he comes in with two red hot wide receivers.
X-Factor: Victor Cruz and Hakeem Nicks
Like I said above, the Giants aren't going to win this one with the run or with defense. This game very much rides on Eli Manning, but he'll be his best if his wide receivers are.
Victor Cruz is capable of being explosive, but he's not the only big target. Hakeem Nicks comes into this game red hot, having 356-yards and 5 touchdowns over his last three games. If they bring their A-game there's suddenly a lot of pressure on the San Francisco defense.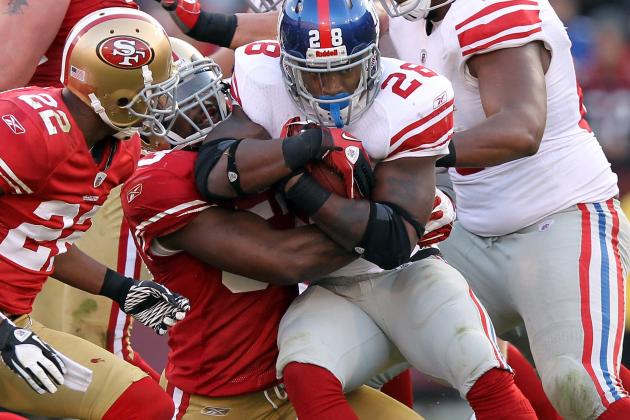 Ezra Shaw/Getty Images

AFC: Patriots 28-20 Ravens
The Ravens defense will play hard, but in the end Brady will do his thing. The Patriots will buckle down on defense and keep Ray Rice in check.
NFC: 49ers 24-14 Giants
Despite the high score of their first meeting, this game will come down to defense. Both will be good, but San Francisco will be able to ride Frank Gore to victory.
Superbowl: New England Patriots vs. San Francisco 49ers