MLB Free Agency 2012: Texas Rangers to Sign Prince Fielder, Yu Darvish or Both?
January 17, 2012

The 2011-2012 MLB offseason began with a bang as four of the most coveted stars were off of the hot stove and into the cool cash—just a few weeks into the free agency free-for-all. 
Albert Pujols caught on with the Los Angeles Angels of Anaheim in early December—the exact same day (and team) that C.J. Wilson joined. 
Jose Reyes was with the new-money Marlins even before Pujols' big splash. Likewise for Jonathan Papelbon as he signed with the Phillies with the quickness.
Once Pujols and Reyes were off the market, Fielder was the best offensive option remaining in payroll purgatory. 
Not many believed the beefy first baseman would still be looking for a suitor come mid-January.
And few foresaw the length of deliberation it would take the Texas Rangers to sign Yu Darvish.
Now only two days remain in the four-week time allotted for the Rangers to conjure up a contract with the Japanese ace.
For Yu Darvish, it's either the Texas Rangers or back to Japan for another season with the Nippon Ham-Fighters. 
For Prince Fielder—who reportedly met with the Rangers last Friday—it seems as though the Texas Rangers, as well as the Washington Nationals, are the last two teams remaining in the hunt for his services. 
So, what's the likelihood that the Rangers will sign Yu Darvish?  Is there a chance they could sign Fielder if the Darvish talks breakdown?  And...please, please...do the Rangers have a shot to sign both Darvish and Fielder?
I present three scenarios, with my opinion of the likelihood of each happening for the Texas Rangers in the not-too-distant future (heck, spring training starts in a few weeks). 
The Texas Rangers sign Yu Darvish—Likelihood: High
Sure, the longer it takes to get a deal done with Darvish—and this one has almost pushed the four-week limit—the more doubt begins to creep in that the Texas Rangers and Darvish just can't come to terms.
Word is that the Rangers and Darvish are on point in terms of the money of the proposed contract, and that problem is Darvish is seeking a five-year deal, and the Rangers are in preference of a six-year contract.
Sound odd?
Darvish is just looking to maximize his value as a free agent in the future. At 25 years old, Darvish would be 30 at the end of a five-year deal, and, hey, the younger you are, the more likely you are going to sign a multi-year payday.  Just ask Albert Pujols...okay, bad example.
Regardless, I find it unlikely that the Rangers would have placed a bid of $51.7 million dollars had they not been willing to do whatever it takes to get a deal done—even if it's agreeing to a deal that's a year shy of what they would prefer.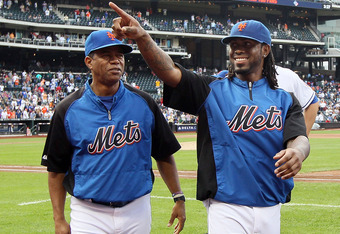 Jim McIsaac/Getty Images
The Texas Rangers sign Prince Fielder and not Yu Darvish—Likelihood: Poor*
Whether or not Prince Fielder—whose agent is Scott Boras—has any intentions of signing with the Texas Rangers, it's obvious that he is waiting on the Texas Rangers to sign/not sign Darvish.
Although I'm not sure I buy the "Prince Fielder as contingency plan" noise, it looks pretty certain that if the Rangers fail to come to an agreement with Darvish, the talks with Fielder will heat up. 
Essentially, it's what the Rangers did last year when they signed Adrian Beltre after Cliff Lee stunned the world by signing with the Phillies.
*I ranked this as "poor" because I feel the Rangers will sign Darvish, thus the Fielder-as-backup-plan becomes moot. 
The Rangers sign Fielder as well as Darvish—Likelihood: Good (It could happen)
Yes, that's right, I think the Rangers have a solid shot at signing both Prince Fielder and Yu Darvish.  For the sake of argument, let's say the Rangers sign Darvish. 
Okay, that parts done, now that leaves Fielder.
We've all had enough time to ponder the demands of Fielder, and his agent.  Fielder will probably ask for "Pujols-like" money.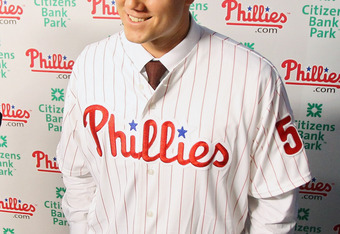 Len Redkoles/Getty Images
Whoa boy.
At 10 years and $240 million, this request reminds me of my dad's Christmas gift request caveat:
"Remember Tim, you can always ask."
Well, I'm still waiting on my GI Joe Command Center...it's been 25 years and counting, so I've moved on.
With Fielder's appeal for a 10-year deal—just like my misbegotten X-mas request—the more time that passes, the less likely this gift is going to happen.
For better or worse, the reason that Pujols was able to sign such a ludicrous contract was that the Angels are notoriously loose with their dough, and they have an absolutely colossal television contract.
Plus, Pujols—although he doesn't play what's considered a "premium" position—is an excellent defender.
Doesn't hurt that Pujols is the best hitter in the last decade, or that he isn't 70 lbs overweight.
It seems to me that Fielder is best-suited for a five-year deal.  That way, once the contract concludes, he'll still be just 32, young enough to cash-in on one final payday before he calls it a career.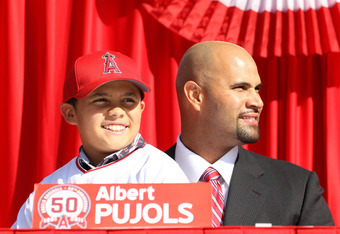 Stephen Dunn/Getty Images
A five-year deal could be end-loaded (starting off lower in year one then increasing), front-loaded (largest payday upfront, then decreasing). And that's just scratching the surface; believe me, Boras is familiar with an endless array of contract configurations.
Here's my hunch
Sometimes—although not often enough—decisions made by professional athletes aren't based solely on money. 
Last offseason, Cliff Lee took a pay cut—though certainly shy of welfare consideration—when he decided to sign with the Phillies.
Cliff Lee just wanted to play in Philadelphia—it was as simple as that.
I think that Prince Fielder wants to be in Texas.  And why wouldn't he?
Great ballpark for left-handed power hitters.  Check.  Solid fanbase.  Check.  Playoff-caliber team—you'd better believe it, you don't win consecutive American League pennants unless you're the real deal.
Should Fielder land in the Lone Star State, he'd make the best offense in Major League Baseball even better. 
We'll just to have to wait and see what happens.
After waiting over two months to see where Fielder will sign and nearly a month in eager anticipation of the Darvish decision, we can handle a few more days of conjecture.