Yu Darvish News: Texas Rangers, Blue Jays to Find out Where Darvish Lands
December 19, 2011
Junko Kimura/Getty Images
Although it's been less than a week since the bids were posted for the rights to Yu Darvish, it seems like an eternity has passed. So much has happened, yet so little with actual teeth.
According to MLBtraderumors.com, the wait is nearly over, as the Nippon-Ham Fighters are expected to announce the winner in the Darvish Derby tonight.
The early reports had the Toronto Blue Jays as the clear favorites to retain the rights to the lean, 6'5" Japanese ace. Almost as quickly as that rumor arose, though, most media backed off substantially.  
Most thought the highest bid for Darivsh wouldn't be quite as high as the $51.11 million post the Red Sox made for fellow Japanese expatriate Daisuke Matsuzaka.
"Dice-K," as he has been known here in the states, had an excellent debut in 2007 as he helped the Red Sox to their second World Series title in three years following his inaugural major league season. In 2008 he was sharp as well, as he went 18-3 with a 2.90 ERA.
Yet, 2008 saw a noticeable decline in his strikeout to walk ratio, which might have hinted at his future demise.
In his last three seasons, Matsuzaka has managed only 16 wins after putting up 33 in his first two seasons and now is expected to miss all of 2012 (along with teammate John Lackey) to recover from Tommy John surgery.
Although Yu Darvish is possibly the best pitching prospect to come from Japan since Hideo Nomo nearly 16 years ago, there is a rather large question mark hanging over his head.
Most of the focus is on whether Darivsh, and his reported seven-pitch arsenal, has what it takes to consistently get major leaguers out.
The fact that he is, essentially, an unproven quantity on the major league level is what caused speculation that the bid for his services wouldn't race as high as it had for the aforementioned Matsuzaka.
If the bid was indeed significantly higher than the $51.11 million relinquished by the Red Sox in '06, then you're looking at the type of contract that can hinder teams for years. Some speculate that Darvish, who earned about $6 million last year, plus about the same from endorsements, would require at least $15 million per year for five years.
Add it up and you get an expenditure north of $125 million for a pitcher who has put up his astounding numbers against batters that are the equivalent of Triple-A players.
One bonus to signing a free agent is that you don't have to squander any potential future studs from you minor league system.  Thus, you keep your farm system intact. 
Regardless, the addition of Yu Darvish to any team's rotation—not just the Blue Jays or Rangers—is a tantalizing temptation. And, despite the large cache of cash necessary, I was somewhat surprised only the Rangers, Blue Jays, Yankees and Cubs were considered "serious" contenders for Darvish (via MLBtraderumors.com).
The addition of Darvish to the Blue Jays' rotation would catapult them to contenders in the toughest division in the bigs: the AL East.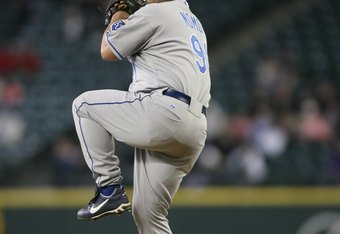 Otto Greule Jr/Getty Images
And as for the Texas Rangers, Darvish would fit nicely as a No. 3 behind Colby Lewis and lefty Derek Holland. He might not stay in the three-hole for long, as most scouting reports project Darvish as a potential front-of-the-rotation star.
In the next few hours, the Yu Darvish saga will transform from crazy conjecture into serious contract negotiation.
Once Darvish's destination is known, watch in amazement as a flurry of big deals, trades and everything under the major league sun goes down as the clock ticks furiously toward spring training.
Once the announcement is made official, it will be time to turn our collective attention to other questions, such as, will Yu Darvish become a star, in the mold of a Hideo Nomo, or will he wilt into a cautionary tale of broken promise and squandered talent (not to mention money) a la Daisuke Matsuzaka?
The answer, of course, is that no one knows—not yet. But much like the Darvish Derby, the answer will have to be given at a later date. In just a few more hours (or less), it will be time for baseball fans, and one lucky team, to kick back and enjoy the ride to the unknown.
Follow Timothy on Twitter @TMurrayHowell—he follows back, but not in a creepy way. Or hit him up on Facebook —you know you have an account.