Yoenis Cespedes News: 7 Teams Scouting Him Hard in Dominican Winter League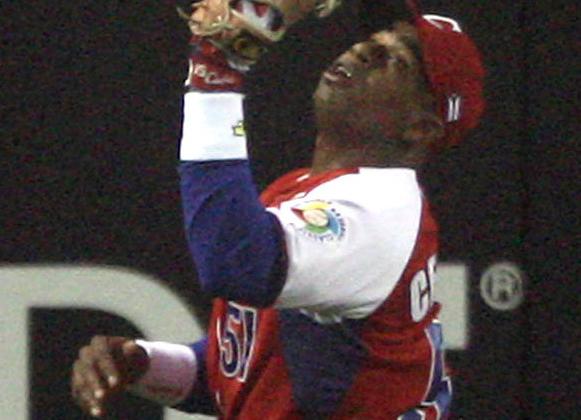 Donald Miralle/Getty Images
Scouts finally got their first shot at seeing Yoenis Cespedes play live baseball last Thursday.
After a few months that have featured a whole bunch of speculation regarding how good Yoenis Cespedes could be, major league scouts finally got a chance to actually see him play live baseball last week.
This past Thursday Cespedes made his debut in the Dominican Baseball Winter League. To say that scouts were looking forward to "eagerly observing" is a bit of an understatement.
Cespedes is a player who is none too shy about showcasing his athletic prowess. The problem is that the video that the link will take you to is almost the sum of all the footage of Yoenis Cespedes playing baseball that is readily available.
Cespedes is rumored to be seeking a contract in the $50 million range.
He may end up getting such a deal. But if he does, it's not going to happen until someone has seen him play live in something other than a produced video montage.
No scout is going to put his entire job on the line based on a video that vaguely resembles something you might find on an old "MySpace" account.
If in fact Cespedes looks to be as good as rumored, then he could get a contract in that $50-million range. While that high price will scare some teams off, it won't scare them all off.
It's likely that almost every team had at least one scout in the Dominican Republic last Thursday but which teams are truly serious about pursuing Cespedes? Here's a list of some to keep track of.
Begin Slideshow

»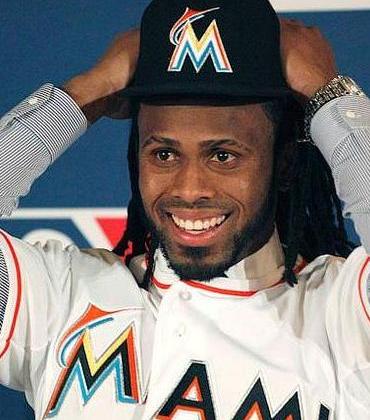 The Marlins already made a big splash by acquiring shortstop Jose Reyes.
If there is one team that could be described as the "favorite" to sign Cespedes to a big-money, lucrative, long-term deal it's the Miami Marlins.
They've already displayed a willingness to spend this year. They inked Jose Reyes to a deal of more than $100 million and then turned around and spent over $30 million on former Padres closer Heath Bell.
If that sounds like they've already spent a ton and don't have anything left to spend, that assessment would only be half-right.
Yes they spent a lot but they also were prepared to spend a lot more. How much? The Marlins reportedly offered Albert Pujols a deal in the $275 million range.
Pujols turned the deal down and the Marlins ended up spending $58 million on free agent pitcher Mark Buehrle.
That's a lot less then they were prepared to spend on Pujols and Cespedes would be real nice public relations move for the Miami Marlins as well.
Miami has the Nation's largest and most condensed Cuban population. The Marlins franchise also has some other reasons to sign Cespedes.
The team has a new stadium and management would very much like to insure sell outs. They'd also like to do anything to distract the public from what has become a scandal-laden controversy surrounding the construction and public-funding of the stadium.
The best way to do that is to win and win with players that the public wants to see win. The Marlins would hope that Cespedes would help them do just that.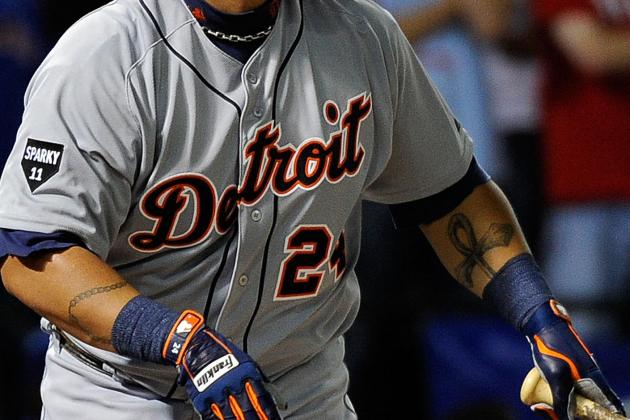 Kevork Djansezian/Getty Images
Slugger Miguel Cabrera could use one more bat in the lineup to make another run at the World Series.
Even after winning 95 games.
Even after advancing to the American League Championship Series.
Even after having the American League MVP and the American League Cy Young Award winner not just on the same team, but wrapped up into one player in Justin Verlander. The Detroit Tigers are still hungry.
The Tigers think they're on the cusp of being not just a World Series contender but a champion. They might be right.
They will enter the 2012 season as near consensus favorites in the American League Central. That's nice but for a team that just went to the Fall Classic in 2006 and who has a manager that already won a World Series in 1997 with the now Miami Marlins that's not going to be enough this season.
The Tigers who have had a fairly quiet offseason could make a real splash by acquiring Cespedes. This is a team that could use a little more offense as well as a little more pitching.
The issue for Detroit would be one of time.
How quickly can Cespedes realize what is assumed to be near limitless potential?
In Miami, a decent season would be fine, But in Detroit the time is now.
The team's best players are right smack in their primes. Miguel Cabrera is 28 years old and Justin Verlander is 27. Manager Jim Leyland is 67 and closer Jose Valverde is a free agent after this coming season.
If Detroit likes what they see from Cespedes they might make him an over-the-top offer to reel him in. They may end up viewing him as the final piece of a World Series puzzle.
On the other hand, if they think he's got a few years of development before reaching his potential they may be willing to sit and watch someone else spend the big bucks.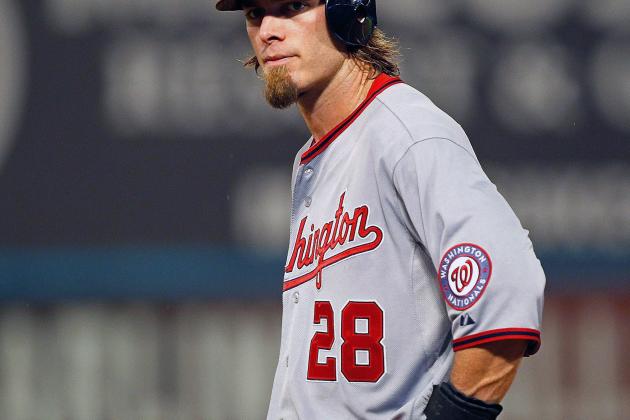 Mike Ehrmann/Getty Images
Washington spent over $100 million on free agent Jason Werth last season.
If it seems like the Washington Nationals have been linked to nearly every major free agent or player available in trade this offseason that's because they have been.
Yet in spite of being in the mix for lots of players the Nationals have only reeled one big-name player in. They traded for left handed pitcher Gio Gonzalez on December 23rd. The team is hot on the trail of the Price Fielder, the top free agent remaining on the market first baseman.
Much in the same manner that Miami spent $58 million on pitcher Mark Buehrle after missing out on Albert Pujols without batting an eye, the Nationals may look at a deal in the neighborhood of $50 million for Cespedes as considerable savings if they don't end up dropping well over $100 million on the bat of Prince Fielder.
Unlike Detroit—which is clearly prepping for a run to a World Series in 2012—Washington wants to win next year but is also looking towards the future as well. If Cespedes is great immediately that would be fine; but if it takes him a few years to become the star that many feel he has the potential to be then that would be okay as well.
Washington, which features 23-year-old pitcher Stephen Strasburg and has the top rated offensive prospect in all of baseball in their minor league system in 19-year-old Bryce Harper, is building toward what they hope will be a run of dominance.
Adding a five tool outfielder who is only 26 would be yet another piece in what they hope will be a dynasty type of team in a few years.
For Washington, Prince Fielder's eventual decision will go a long way toward determining their path of Cespedes. In spite of seemingly limitless funds, signing both Cespedes and Fielder might be a bit of a strain on the budget.
If Washington feels like Fielder is a to eventually sign with them they could back off Cespedes. If they feel like Fielder will eventually end up in Texas or some other destination, then Cespedes would be more likely to have a D.C. address in 2012.
Jonathan Daniel/Getty Images
The Cubs have made massive changes this offseason off the field but have yet to make a big move to change the roster.
In Chicago, Cubs fans are just waiting. They're waiting for what many assume to be a "big move" of sorts.
After bringing in Theo Epstein to take over as the team's president and naming Jed Hoyer the general manager and Dale Sveum the manager the Cubs will have a totally new crew running the team in 2012.
Theo Epstein has promised to rebuild the team and focus on stock piling top minor league talent and younger players.
He traded for well-regarded first base prospect Anthony Rizzo.
Cespedes would represent an intriguing acquisition for Epstein and company. Theo made his reputation in Boston as a guy who could spot top young talent. He also took plenty of heat for some ill conceived free agent signings such as John Lackey, Julio Lugo and Daisuke Matsuzaka.
Cespedes is a combination of both.
He's young and has yet to fulfill his potential but he's not inexpensive. The Cubs were not major players in the free agent market this off season. Epstein has said he'd prefer to build around younger players than high priced free agents.
"We're going to build this around young players," Epstein said to the Chicago Tribune. "Free agency should never be the primary area you rely upon to build your club. I think if you set out to build a foundation based on free agency, you've got a tough road ahead of you."
Even with that statement it appears that the potential value in signing Cespedes could be too tempting for Theo to resist. After all, Theo dropped $142 million on Carl Crawford—a player who Cespedes might have a similar skill set to. Cespedes is younger and would be cheaper as well.
Perhaps he's both the "present" and the "future" for the Cubs?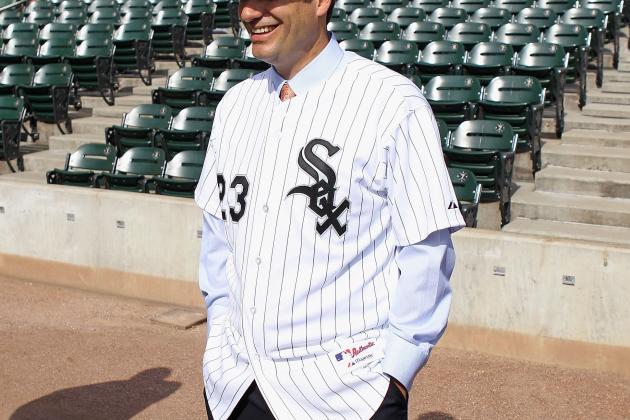 Jonathan Daniel/Getty Images
New Manager Robin Ventura hopes to lead the White Sox to a resurgence in 2012 and beyond.
If it seems like both Chicago baseball teams are entering a form of rebuilding, that's because it's true.
The White Sox are coming off a very disappointing 2011 season in which players getting paid big bucks, such as Alex Rios and Adam Dunn, had terrible seasons that the rest of the roster just couldn't overcome.
The White Sox dealt promising young closer Sergio Santos to the Blue Jays in an effort to stockpile some young starting pitching. Starting pitcher Gavin Floyd could still be dealt as well.
The White Sox have had Juan Pierre leading off for much of the 2011 season. He's unlikely to return in 2012 and while the team has other players who could bat leadoff, bringing in Cespedes would make a statement.
It's also one that comes with some risk. General Manager Kenny Williams is feeling the heat for acquiring the cumbersome contract of Alex Rios and lavishing over $50 million on Adam Dunn who finished last season with a .159 batting average.
Spending $50 million on Cespedes could be a move that sparks a White Sox revival. But it could also be the last straw were he to become another big money bust under Williams.
Kenny Williams job could literally be on the line were he to spend big bucks to reel in Cespedes. So if he ends up wearing a White Sox jersey, then they'll have to be nearly 100 percent sold in his star potential.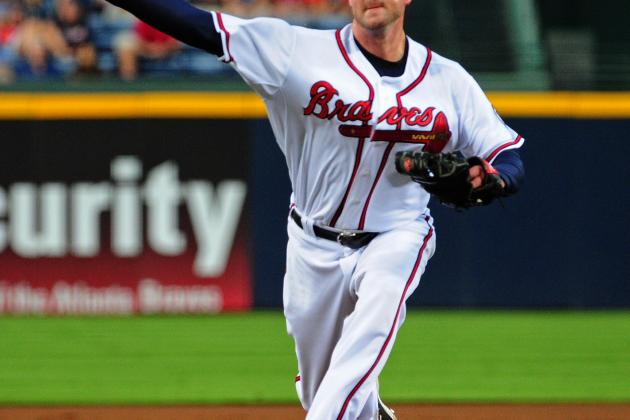 Scott Cunningham/Getty Images
The Indians enter 2012 as a team poised to compete with Detroit for the division. Veteran pitcher Derek Lowe hopes to play a key role.
The Cleveland Indians have made a concerted effort to improve.
They added Ubaldo Jimenez at the trade deadline last summer. They added veteran pitcher Derek Lowe in one of the first deals of the offseason. They even picked up the $7 million option on Fausto Carmona.
The Indians think they can compete with Detroit for the Central Division crown in 2012 and adding one more offensive piece could put them over-the-top.
The question is "is Cespedes that piece" and if he is can the Indians afford him?
The moves to improve the team by the Indians haven't been especially expensive. Cespedes would represent a serious investment.
With Shin-Soo Choo poised for free agency at the conclusion of the 2014 season and Justin Masterson a free agent after 2015, the Indians with a limited payroll must be mindful of their expenses.
They also must be mindful of their win-loss record too.
A playoff birth would certainly go a long way toward boosting attendance as well as their national profile. It can't come at a "spare no expense" type of cost though.
The Indians will be weighing the pros and cons of Cespedes quite heavily. If he were to eventually land in Cleveland, this would be a sign that they feel he's nearly ready to be a major league star right now. This team literally can't afford to wait.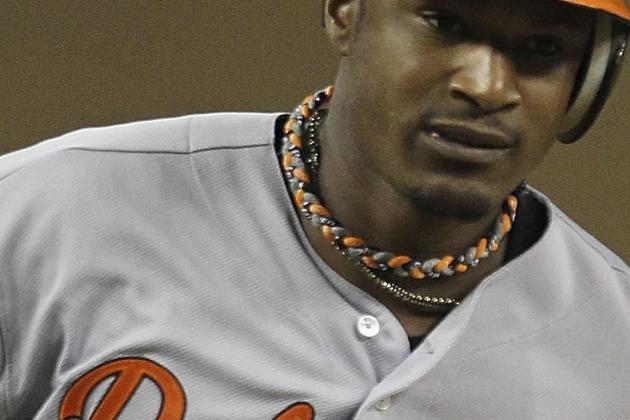 Leon Halip/Getty Images
Outfielder Adam Jones is one of Baltimore's most valuable player assets.
In order for the Baltimore Orioles to improve, they must acquire starting pitching.
That's not a secret and it's not a new problem either. The team has been waiting for it's young pitching talent to develop into reliable big league starters for years.
It hasn't happened yet, though. Not in the manner in which the Orioles need. With new general manger Dan Duquette at the helm, perhaps he will take a slightly different path toward building a stronger starting rotation?
Duquette has a major piece of trade bait in outfielder Adam Jones. Jones is only 26 and possesses power, speed and the ability to hit as well. He's also a free agent at the conclusion of the 2014 season when he'll be 29 years old.
If Jones continues to improve, he'll probably command a very high contract—high enough that Baltimore won't be able to afford him or they may just feel that they'd have to overpay to retain him.
If Duquette feels that Cespedes is a reasonable replacement for Jones and, at $50 million, will be more affordable and on the roster for a longer period of time that could be a "win-win" for them. The team could trade Jones as part of a deal to acquire starting pitching.
Better still, none of this would have to happen immediately. The Orioles could enter the season with Cespedes in the minors or as a fourth outfielder and then deal Jones midseason which could maximize his value if a contender were to come calling.
While the Orioles are under plenty of pressure to win because of their current playoff drought, most fans would begrudgingly acknowledge that the team is unlikely to win now.
Baltimore is one of the few options where Cespedes could join a team and not be under that much pressure to perform immediately. General Manager Dan Duquette knows he's going to have to be creative to turn Baltimore around in one of baseball's most competitive divisions.