Texans vs. Ravens: 5 Things We Learned from Houston's 20-13 Loss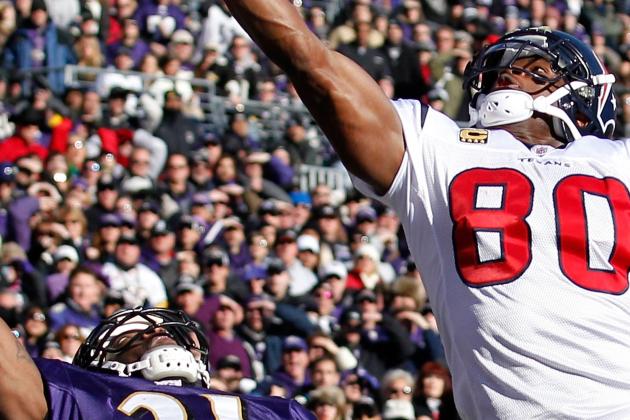 Rob Carr/Getty Images

With a remarkable season coming to a sad close in frigid Baltimore this afternoon, most Texans fans are understandably distraught. But for some reason, I'm not. I feel good, actually.
It was an amazing season and no one thought the Texans even had a shot in this game, but they fought until the bitter end and many national guys are claiming the Texans were the better team today.
But I'm not mad because I've said numerous times that I had the feeling of "house money" in regards to this team after they lost Matt Schaub for the season two months ago. The fact that most weren't even sure if Houston would make the playoffs with Yates under center and to come within a touchdown of going to Championship Sunday is so much to be proud of.
But I'm here to tell you why there is plenty to look forward to after this game and here are a few reasons.
Begin Slideshow

»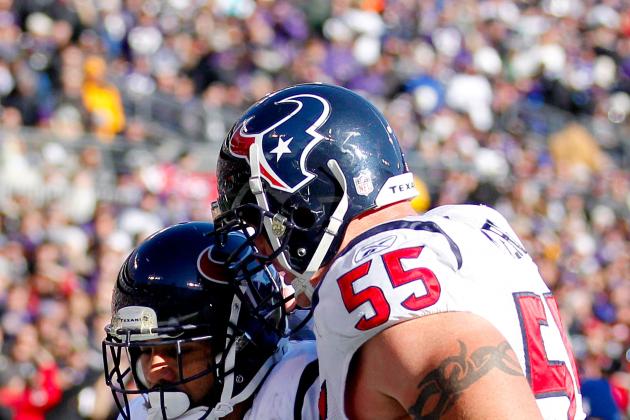 Rob Carr/Getty Images

Not that it was in question before this game, but there is no scenario in this world in which Arian Foster isn't a Houston Texan for the long term.
All week the national media has been going on and on about how you can't run on the Ravens and the Texans might as well not even try. He only followed up that talk with a 132-yard day with a touchdown as well as another 22 receiving. The one catch he had that was snatched out of the air one-handed and he converted a first was the thing highlight reels are based on.
After having a pretty bad game against the Ravens back in October, Foster swore that he would never have another performance like that and he lived up to it today. Besides Andre Johnson, who has seniority, there wasn't a guy I felt worse for than him when he was walking alone on the sideline as time expired.
Being a restricted free agent, the Texans don't have to lock him up long term this offseason, but after proving that his breakout season last year wasn't a fluke, I think a long-term deal gets done by the preseason.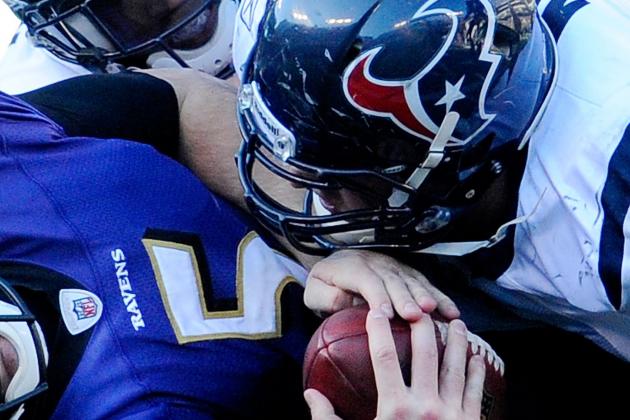 Patrick McDermott/Getty Images

Even though the Texans had the better defense statistically in 2011, the Ravens have that reputation of being the best defensive team in the game. But the Texans and their "Bulls on Parade" attitude had a little to say about that today.
This is one of those games where you look at the numbers and think that the better team didn't win. They held the Ravens to just 227 yards of total offense and bottled up the electric Ray Rice, who finished the day with only 60 yards and a paltry 2.9 yards per carry.
But the play of Johnathan Joseph cannot be overlooked. He was controversially matched up on Torrey Smith due to his speed and locked him down all afternoon. He defended multiple passes and held Smith to one catch for only nine yards. JJo earned every cent of his contract this year.
But the decision to maybe let Mario Williams walk in the offseason may be becoming clearer. J.J. Watt is getting better every week and Brooks Reed was almost unblockable today as the rookie duo combined for five sacks today. Both of them are only going to get better with more experience and time under Wade Phillips' scheme.
I think the torch was passed today on the next dominant NFL defense.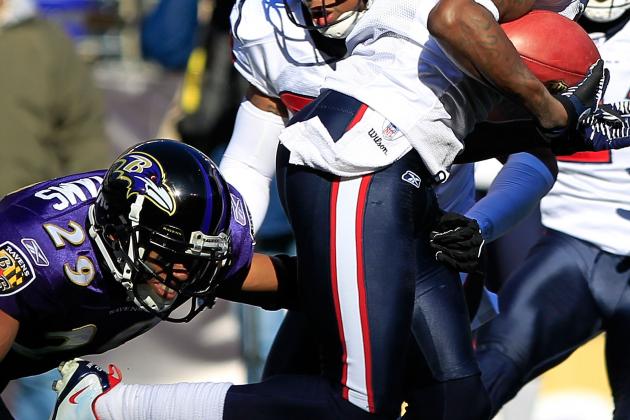 Chris Trotman/Getty Images

If you even take a thirty-second peek at Twitter right now, Jacoby Jones might have a "For Sale" sign in his front yard when he gets home this evening.
A few times this season, we have seen Jones play a punt on a hop and every time we said that he got lucky and that he should never do that. In fact, just last week on a podcast I said that something like that was going to burn him in the future. I had no idea that it would be on his first punt this week.
To come out and strike quickly with the first points of the game and then follow it up with a three and out, the Texans couldn't have hoped for a better start. The crowd was already starting to quiet down and if there is such a thing as momentum, Houston clearly had it. But then Jacoby pretty much just handed them a free touchdown.
Even before this play, there were plenty of people who wanted Jacoby Jones wearing another uniform next season. I was one of them. But now I'm not sure if there is any scenario that sees him returning to the team next year. He has now become one of the biggest goat's in Houston sports history. He is up there with Brad Lidge now as a guy that is always going to make fans think of one boneheaded play.
In the end, Jacoby is overpaid for a punt returner that has the ability to meltdown at any moment. He brings nothing to the passing game and he makes so many mental mistakes that it's time to end the experiment and cut ties with him.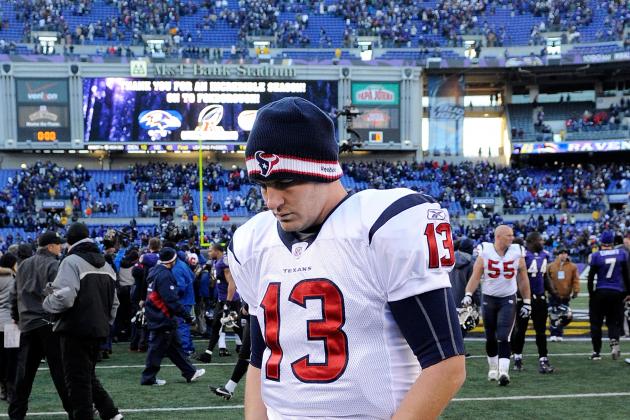 Patrick McDermott/Getty Images

I do have to say that I'm rather surprised to see the backlash fans are throwing at T.J. Yates right now on local radio and Twitter. Everything from calling him a bum to saying Kubiak should have benched him for Delhomme is being said. But I have to wonder what people really expected from him.
If you look at Yates' line for the day, you'd come away thinking that this guy played like a rookie. Well, for those who missed it, it's hard for me to dump on a fifth-round rookie, who was holding a clipboard before Thanksgiving and never expected to see the field before 2015, for having a rough game against the third-best defense in the NFL on the road in the playoffs.
Anyone who really believed that T.J. Yates was going to lead the Texans on a Super Bowl run was just setting themselves up for disappointment. When Matt Schaub went down, it became all about building for next season and seeing if Yates really was the quarterback of the future. I think he has proven that and it will see him move up the depth chart to the first backup to Matt Schaub headed into next year.
Trust me when I say that there isn't a guy on that roster that feels worse on that plane right now than T.J. Yates.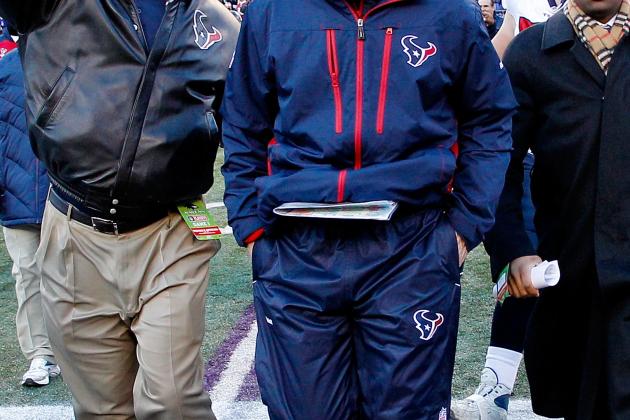 Rob Carr/Getty Images

Today was the first time that I read and heard national sports people giving the Texans some serious accolades. As expected, today was probably the first or second time they've actually seen the Texans play a full game and many were saying by the fourth that if Houston had a healthy Matt Schaub, they were the AFC representative for the Super Bowl. Not that we need the national media to tell us that in Houston, as a good chunk of us believed that even before this game.
The reason I feel this way personally is because if even remotely healthy, with Schaub being the key loss, this roster is a Super Bowl threat as is. All of the key pieces (Mario Williams is still up in the air) are coming back next year and it appears that the coaching staff will as well. Add health, another home run draft by general manager Rick Smith and free agency and the Texans might not just be contenders. They might be preseason favorites.
To see the adversity that the Texans have overcome this year and to be just two wins away from the Super Bowl not only speaks of their character, but to their depth. This team is deep at every position and they'll only get stronger over the offseason.
They're young and they have the blueprint in place to be perennial playoff participants and annual contenders going forward. If that isn't enough to get you excited, I don't know what is. The countdown to the 2012 season is officially underway.
Mike Kerns is a Featured Columnist for the Houston Texans at Bleacher Report. Feel free to follow him on Twitter and catch his latest Texans podcast at State of The Texans.