2012 Playoffs: Putting Tim Tebow's Loss to Tom Brady and the Pats in Perspective
January 15, 2012

Jim Rogash/Getty Images
Tim Tebow and the Denver Broncos lost, and lost big, to the New England Patriots, 45-10.  It was a team loss, a horrible loss, and everyone deserves blame.
But who will get the most? Tim Tebow.
While Tebow certainly didn't play well, the blame can go around.  The defense was non-existent.  The O-Line was atrocious.  The receiving core was playing hot potato with the football and the coaches got out-Foxed.
Tebow can do better, and he probably will.  I'm here to argue that we learned almost nothing about Tebow in this game.  No matter what people like Pete Brisco, Colin Cowherd, Merril Hodge, Trent Dilfer, Mark Schlereth, or Stephen A Smith will say, this game has almost NO bearing on Tim Tebow's future.
You can't predict what will happen next.
You can't tell if he will be elite or not.
And in fact, you can't even tell which game was Tim Tebow's!  Quick, whose stats are these:
| | | | | | | | |
| --- | --- | --- | --- | --- | --- | --- | --- |
| Player | Attempt | Complete | % | Yards | TDs | INTs | Rating |
| QB 1 | 9 | 26 | 34 | 136 | 0 | 0 | 52 |
| QB 2 | 12 | 25 | 48 | 153 | 1 | 0 | 80 |
| QB 3 | 23 | 42 | 54 | 154 | 0 | 3 | 49 |
| QB 4 | 10 | 18 | 55 | 113 | 0 | 3 | 35 |
| QB 5 | 15 | 29 | 51 | 169 | 0 | 2 | 40 |
| QB 6 | 15 | 30 | 50 | 170 | 0 | 2 | 39 |
| QB 7 | 9 | 21 | 42 | 123 | 0 | 2 | 22 |
Stumped?
Only one of them is Tebow's stat line.  The rest are all Super Bowl winning QBs, in the playoffs, at their worst. 
QB 1 = Tim Tebow.  In only his second playoff game, and 16th career start, Tebow had a stinker of a game against the dialed-in New England Patriots.  Really, I ask of you, which QB, which offense, and which team were beating New England in this game?  Further, just how poor did the rest of Tebow's team, from his defense, to pass protection, to ball-dropping WRs look?  How many incompletions were a result of Tebow being forced to throw the ball away? 9-26 (34%) for 136 yards and a 52 QB rating is not impressive.  But hey, it happens.
QB 2 = Trent Dilfer.  The same guy who has flip-flopped all year on whether or not Tebow can play QB, and throw the rock, turned in this fine example of elite quarterbacking.  This was a Super Bowl winning performance from Trent Dilfer: 12/15 (48%) for 153 yards and a QB rating of 80%.  Yes, I said he won a Super Bowl with that. It happens.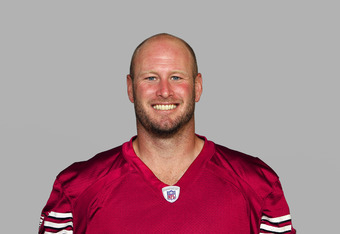 Getty Images/Getty Images
QB 3 = Tom Brady.  The great Tom Brady, AFTER winning three Super Bowls, dropped a 23/42 (54%) for 154 yards, 0 TDs, 3 INTs, and a 49 QB rating. We are talking about maybe the greatest QB ever, with loads of experience and titles, turning in a very Tebow-esque performance in a 2009 playoff loss.  It happens.
QB 4 = Eli Manning.  The younger Manning is clearly an elite thrower, just look at his numbers this year.  However, check out these stats from a 2005 playoff loss: 10/18 (55%) 113 yards, 0 TDs, 3 INTs and a 35 QB rating.  Even Tebow would cringe at those numbers.  It happens.
QB 5 = Eli Manning.  Just like New York, it is so good (or in this case, so bad) you say the name twice. Eli Manning.  This stat line is the year AFTER he won the Super Bowl, so we are talking about a guy with a ring and plenty of experience.  15/29 (51%) for 169 yards, 0 TDs, 2 INTs and a 40 QB rating.  Put those stats on Tebow and they say he can't play.  On Eli, just a bad game.  It happens.
QB 6 = Peyton Manning.  Not to be outdone by little brother, Peyton Manning gave us this gem in 2006: 15/35 (50%) for 170 yards, 0 TDs, 2 INTs and a 39 QB rating.  We are talking about, statistically, one of the top 3 QBs of all time.  We are also talking about a guy with a losing career playoff record.  Peyton was a full 7 years into his career at the time of this debacle.  It happens.
QB 7 = Ben Roethlisberger. Quite possibly the worst game of all time from a QB, yet Big Ben won a Super Bowl with it in 2005: 9/21 (42%) for 123 yards, 0 TDs, 2 INTs for a QB rating of 22. This performance begs the question: Did the Steelers win two Super Bowls because Roethlisberger is elite? Or is Roethlisberger only seen as elite because the Steelers won two Super Bowls?  It happens.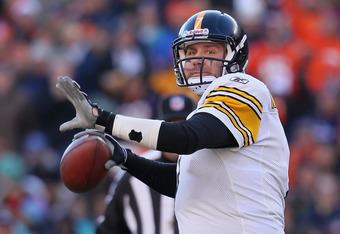 Jeff Gross/Getty Images
I would give you the playoff stats from two other elite QBs from their first few years in the NFL, but neither Aaron Rodgers nor Drew Brees MADE it to the playoffs for four years.  That seems a bit unfair to them, don't you think?
Speaking of Drew Brees, isn't it odd that the greatest single-season passer in NFL history (Brees) lost on the same day that one of the worst statistical passers (Tebow) in the NFL this season did.  People will say that you can't win with Tebow, because you have to pass the ball all over the field?  Really?  That's your argument?  Drew Brees just lost, and so did Tim Tebow.  All those people should be telling you is, "I don't know."  They don't!  They don't know anything.  Nobody does. 
You can win by running.  You can lose by running.  You can win by passing.  You can lose by passing. 
Look at this tidbit: no QB who has led the league in passing yardage has EVER won the Super Bowl that year.  Further, no one with a Top 5 all-time touchdown passes (single season) ever won the Super Bowl in that year. 
There isn't "one way to do it."  You need balance and elite players.  That seems to be the one constant for ALL quarterbacks and ALL teams.
The other constant is that we don't know anything, we can't predict anything, and all QBs can have great games one week (Tebow versus Pittsburgh) and a bad game the next week (Tebow versus New England).  This doesn't make him any better, or any worse, than any other QB.
However, moving forward, I can tell you that I would rather have Tim Tebow as the starting QB of my team than any QB besides Brady, Rodgers, and (maybe) Brees. With hindsight, the performances by all these QB greats just look like bad games in isolation.  I have a feeling, that, moving forward, we will one day say the same thing about Tim Tebow against New England.
Remember, all those horrible stats, all those horrible games, were turned in by veteran QBs, with plenty of experience, titles every where, and elite teammates.  Tebow had a bad game with NONE of those.  Perspective, from both Tebow backers and bashers, matters. 
In all, Tebow's first playoff experience teaches us virtually NOTHING about Tebow right now, it has no predictive impact on his future, and has absolutely no bearing on whether he can be an elite QB.
I can't guarantee that Tebow will win a championship... but nobody (as these stats demonstrate) can guarantee me that he can't.  Nobody.