Minnesota Vikings: 11 Positions the Vikings Should Target This Offseason
The Vikings inability to intercept opposing quarterbacks set an NFL record in 2011.
Hannah Foslien/Getty Images
The Minnesota Vikings finished the 2011 season with just about the same needs they had in 2010, if not more. On a positive note they did improve their draft pick by nine positions with the third worst record in the NFL.
Their combined nine wins in 2010 and 2011 are the lowest two-season total in franchise history since 1966 and 1967. Since the AFL-NFL merger in 1970, the Vikings have only finished last within their division three times, with two of them occurring the last two seasons.
The Vikings, due to their dominance in the '70s, own the Twin Cities, but find themselves on perilous ground. A couple of home games this season came close to being blacked out locally. If the losing continues, this could easily become a reality next season. Newly appointed general manager Rick Spielman may only have one season to prove he has what it takes to turn things around. He and head coach Leslie Frazier must turn things around quickly and get the Vikings back onto the winning track.
Much of the Vikings troubles can be attributed to the numerous injuries the team suffered, especially to their defensive backfield. The Vikings finished 31st in the NFL in scoring defense giving up more 28 points per game. Only the Tampa Bay Buccaneers yielded more points.
At one end of the spectrum, there were a number of players whose careers are much closer to the end than the beginning, as demonstrated by their performance. On the other end, the Vikings were forced to play a number of rookies and younger players with limited experience that contributed to a 3-13 record—tying the franchise worst with the 1984 team.
With so many holes to patch, the Vikings are in a great position with the third pick. Almost whoever they select they can tell us it was the best available player on their board, and it cannot help to fill a need—unless of course they select a defensive end, the one position they seem to be all right with Jared Allen, Brian Robison and Everson Griffen.
Here's my look at the Vikings top 11 needs by position, in order of importance, heading into the 2012 season.
No. 11: Tight End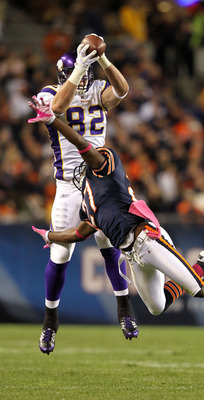 Kyle Rudolph is poised to be the Vikings tight end for a long time, but they still need some backup.
Jamie Squire/Getty Images
The Minnesota Vikings hope that their second-round draft choice, Kyle Rudolph will be their primary tight end for a long time.
Gone is Jim Kleinsasser, retiring after 13 seasons, and most likely Visanthe Shiancoe who did not have a catch in the final three games of the season.
With rookie free agent Allen Reisner and second-year player Mickey Shuler are the only other tight end listed on the Vikings active roster, they will be looking to add some depth.
If the Vikings draft a tight end, it won't be until late in the draft.
A couple of players the Vikings may consider after the third round include George Bryan from N.C. State or Philip Lutzenkirchen from Auburn.
No. 10: Kicker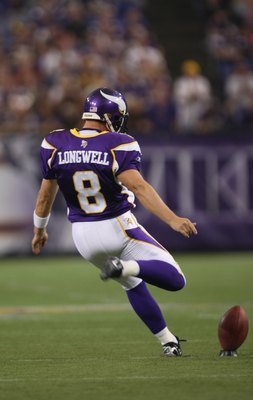 Doug Pensinger/Getty Images
The rule change placing the ball at the 35-yard line did not help kicker Ryan Longwell as much as I had hoped.
Only 19 of 77 kickoffs for Longwell resulted in a touchback. His 24.7 percentage was good for only 27th in the NFL.
Longwell also missed six of 28 field goal attempts this season. His 78.6 percentage was the lowest in his six seasons with the Vikings, and the third poorest season in his career.
With the inability to put the ball in the end zone and reduced accuracy, the Vikings may look to replace Longwell who will be 38 next season, even after signing him to a four-year contract before the 2011 season.
No. 9: Linebacker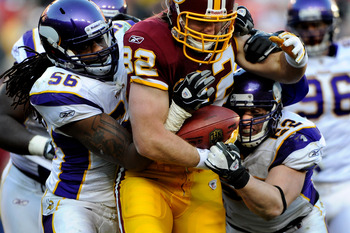 Linebacker Chad Greenway was selected to his first Pro Bowl in 2011.
Patrick Smith/Getty Images
The Vikings linebackers were, at best, steady in 2011. The three starting linebackers combined for only 5.5 sacks, with no interceptions and only one fumble recovery.
Brothers E.J. and Erin Henderson are unrestricted free agents, and not expected to return for the 2012 season.
While the Vikings will welcome back Jasper Brinkley to take over the middle linebacker position next season, they may need to find someone to replace Erin Henderson if they decide not to re-sign the younger Henderson.
No. 8: Quarterback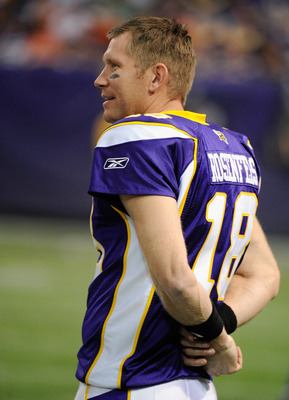 Even after two stints with the Vikings, quarterback Sage Rosenfels will not be back in 2012.
Hannah Foslien/Getty Images
Christian Ponder and Joe Webb make for an interesting tandem of quarterbacks—yet neither proved they are quite ready to be anointed the starter.
Ponder's stats in his rookie season are not that different from those of Matthew Stafford in his first season for Detroit. Both finished with a 2-8 record, throwing 13 touchdowns, but Stafford threw 20 interceptions to Ponder's 13.
Comparing their rookie seasons, Ponder finished with a 70.1 passer rating compared to 61.0 for Stafford.
If the Vikings provide better protection for Ponder by improving the offensive line and find another capable wide receiver, there's potential for him to attain the same kind of success Stafford had this past season throwing for 5,038 yards with 41 touchdowns.
After selecting Ponder with the 12th pick in the draft last season, it's unlikely the Vikings will draft another quarterback this season, but they will need find a veteran to be the emergency third-string quarterback.
No. 7: Defensive Tackle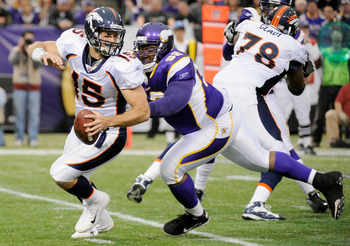 Hannah Foslien/Getty Images
Without defensive tackle Pat Williams, and an ailing Kevin Williams who started the season with a two-game suspension and suffered form plantar fasciitis upon his return, the Vikings run defense dropped to 11th best in the NFL with an average of 107 rushing yards allowed.
Their run defense has been slipping. In 2008 the led the NFL allowing only 76.1 rushing yards per game. That increased to 87.1 in 2009 and then 102.2 in 2010. This trend prompted the firing of defensive line coahc Karl Dunbar.
The Vikings added Remi Ayodele in the offseason to replace Pat Williams. Ayodele finished the season with only four tackles and 10 assists.
The Vikings did give Christian Ballard, their fourth-round draft pick out of Iowa a little more playing time at the end of the season.
The Vikings will be looking to add some depth and experience to the interior of the defensive line. They will mostly likely look to sign a free agent than use a draft pick here.
A couple of potential free agents the Vikings should cast an eye toward for next season include Jason Jones from Tennessee and Pail Soliai from Miami.
No. 6: Safety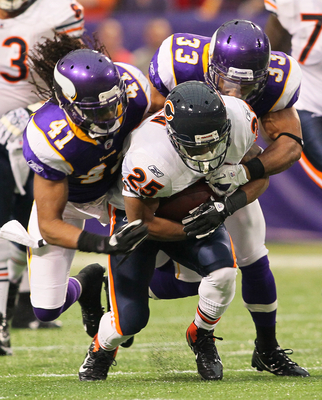 The Vikings could use a veteran presence at safety.
Adam Bettcher/Getty Images
It sure seems like the Vikings have not had a dominant safety since Joey Browner was starting back there from 1985 to 1991. During that span, he was selected to the Pro Bowl in six of seven seasons.
Due to injuries to Husain Abdullah and Tyrell Johnson, the Vikings were forced to start rookie Mistral Raymond seven games this season.
Johnson, a second-round draft pick of the Vikings in 2008, has started 34 of 38 games, suffered a torn hamstring and Johnson is considering retiring after suffering four concussions over the past two seasons.
It would be nice to add a veteran safety to play along side Jamarca Sanford. The third-year safety from Mississippi started 15 games for the Vikings and led the team with two interceptions—all right, not exactly a great achievement.
There has been some rumors about moving Antoine Winfield from cornerback to safety, a move he is not interested in making.
No. 5: Offensive Guard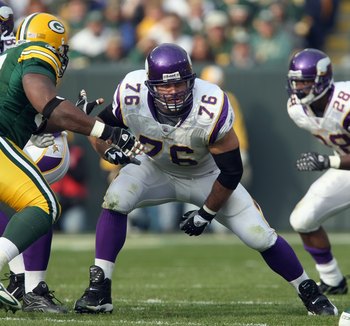 Jonathan Daniel/Getty Images
Due to injuries, Steve Hutchinson has not been as effective or durable for the Vikings over the past two seasons. According to Tom Pelissero, Hutchinson is contemplating retirement.
This would leave a huge hole for the Vikings offense to plug. Hutchinson made the Pro Bowl seven straight times before a thumb injury forced him to miss five games last season.
The Vikings are considering moving left tackle Charlie Johnson to guard and look to upgrade the tackle position.
Like Hutchinson, right guard Anthony Herrera has also been limited the past two seasons due to injuries.
The Vikings could look to upgrade their guard situation through signing a free agent, such as Chilo Rachal who fell out of favor with 49ers head coach Jim Harbaugh during the season, or Ben Grubbs, who before this season, played in every game for the Ravens since being drafted in the first round in 2007.
They could look to upgrade with a late-round draft as well. This is a position I could see the Vikings filling with a fifth to seventh round pick on one of the offensive linemen they coach at the Senior Bowl. They will get a good look at Wisconsin's Kevin Zeitler and Ohio State's Mike Adams and Mike Brewster.
No. 4: Running Back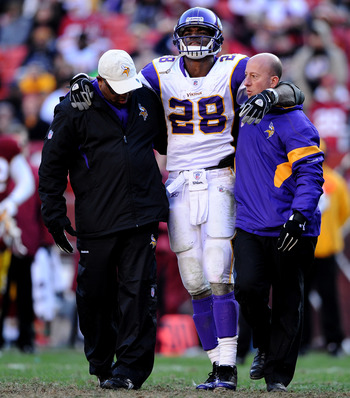 Both Adrian Peterson and Toby Gerhart face uncertain offseasons with knee injuries.
Patrick Smith/Getty Images
One of the Vikings' strengths has become a position of uncertainty and concern after Adrian Peterson suffered tears to both his ACL and MCL in his left knee in Week 16 against the Redskins, and his backup, Toby Gerhart, suffered a sprained MCL on his left knee against the Bears the following week.
With Lorenzo Booker a free agent, that leaves Percy Harvin the only other player on the active roster that has carried the football for the Vikings.
The good news is that Gerhart will not require surgery, and so far Peterson is ahead of schedule and has set a personal goal of being ready for Week 1 of the 2012 season.
The Vikings will probably look to reinforce the running back position with a mid-round draft pick, and by picking up a free agent with some experience like Jason Snelling from Atlanta, Kevin Smith from Detroit or Steve Slaton from Miami.
No. 3: Wide Receiver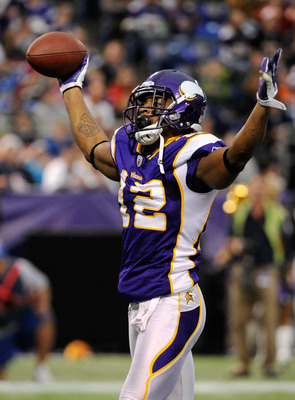 The Vikings need to find another recevier to complement Percy Harvin.
Hannah Foslien/Getty Images
Thankfully the Bernard Berrian era came to an end when the Vikings waived the wide receiver following the Week 7 seven loss to the Packers. Unfortunately the Vikings were unable to find anyone to step up and contribute consistently.
While Michael Jenkins should be fully recovered from a torn meniscus that ended his season in Week 12, the Vikings need to upgrade their receiving corp.
In order to address other pressing needs, don't expect the Vikings to use their first-round pick to select Justin Blackmon, the top-rated wide receiver in the draft. They should look to use their second-round pick to add either a cornerback or wide receiver and could select Dwight Jones from North Carolina, Marvin McNutt from Iowa or Nick Toon from Wisconsin.
Looking over the list of potential free agent wide receivers, there is not much that provides a lot of excitement.
The Vikings could look to re-sign Devin Aromashodu, or pursue free agents Brandon Lloyd, Reggie Wayne, Pierre Garcon or Robert Meachem.
The Vikings approach in 2011 to bring in quantity didn't produce any stars when they had over a dozen wide receivers to open training camp, so they should look for quality in 2012.
No. 2: Cornerback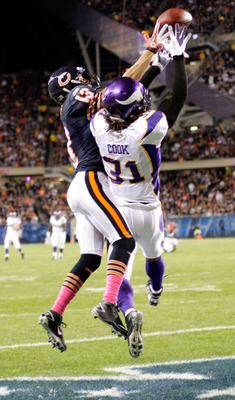 Chris Cook's return will depend on the verdict in his pending felony domestic assault case.
Jamie Squire/Getty Images
No position was decimated worse than cornerback for the Vikings in 2011.
The Vikings were looking forward to the return of cornerbacks Cedric Griffin and Chris Cook. The plan was to move Antoine Winfield inside to cover the slot receiver in the nickel package, having Cook play the outside.
The problems started when Winfield missed four straight games starting in Week 5 due to a sore neck.
Things got worse when Cook was arrested and booked for domestic assault right before the Packers game in Week 7. The arrest prompted Leslie Frazier to suspend Cook from the team. His return will depend on the verdict of his pending trial in March.
Upon Winfield's return that same week against the Packers, he suffered a broken collarbone that ended his season.
Down two of the Vikings top three cornerbacks, things got even worse two weeks later when they would lose Asher Allen to an injured shoulder. A concussion would cause him to miss the final two games of the season.
This left the Vikings having to sign Benny Sapp, who the Dolphins released after Week 1, and Marcus Sherels, who made the team as a punt returner.
The Vikings will most likely look to use either a second- or third-round pick on a cornerback. While the top two rated cornerbacks, Morris Claiborne from LSU and Dre Kirkpatrick from Alabama, will surely be gone, they still could end up drafting Desmond Trufant from Washington, Stephon Gilmore from South Carolina or Xavier Rhodes from Florida State.
The Vikings could also look to make a move in the free agent market to address the need. Some of the top free agent cornerbacks include Brent Grimes from Atlanta and Brandon Carr from Kansas City.
The Vikings Top Need: Offensive Tackle
Otto Greule Jr/Getty Images
One of head coach Leslie Frazier's biggest mistakes may have been the release of left tackle Bryant McKinnie.
In his place the Vikings signed Charlie Johnson from the Colts.
If Christian Ponder, or anybody for that matter, is to have any success as the Vikings franchise quarterback, they must upgrade at left tackle for 2012.
Look for the Vikings to move Johnson to guard and try to upgrade the tackle position.
DeMarcus Love, the Vikings sixth-round draft choice last season from Arkansas, may get a chance to win the position if the Vikings don't address the need with their third pick in the draft by taking Matt Kalil from USC—a move that would be extremely wise to make, unless they can make a deal to trade down and still draft Kalil.
Keep Reading

Minnesota Vikings: Like this team?