How Would the NFL, Los Angeles React If the San Diego Chargers Moved Back There?
January 14, 2012

Ezra Shaw/Getty Images
Writer's note: This article was written days before Jeff Fisher's hire in St. Louis.
The NFL is very likely returning to Los Angeles in the near future. If you read my columns, you know that while I am a Minnesota Vikings fan who does not want to see them move anywhere, much less to Los Angeles, I have demonstrated by my pro-Los Angeles Raiders article I do believe the NFL could work in Los Angeles, but only if the right team moved back there.
The biggest case for the Chargers seems to be the fact they cannot get a stadium. Thus, they are a prime candidate to move. This is precisely the reason the Raiders are now reportedly thinking of the possibility of moving to Los Angeles themselves.
I didn't intend this to be an "NFL: The Los Angeles Contenders" series, but it appears to have taken that turn. For now, it is the San Diego Chargers time for analysis.
Another factor working for the Chargers favor to move, besides their renewal of their lease every year between now and 2020, is the fact they once called Los Angeles home. But that was only for one season, and it was way back in 1960, more than fifty years ago when the NFL was a totally different thing and not the media giant it is today.
The Changers Played in LA One Year, 50 years ago. With Little History, So What?
I am concerned that while many Los Angelinos will just be glad to have any kind of football back, many others will reject this team on the basis it means nothing to them unless they are of the over 60 crowd and even then, they would have very limited memories of that lone season.
Jeff Gross/Getty Images
Let's face it, this is a mediocre team annually that chokes in the playoffs and just signed up for another year of irrelevance with coach Norv Turner and general manager A.J. Smith keeping their jobs. If they make it to Los Angeles, why would the fans sign up to see this re-tread story?
My guess is new management and new ownership would want to bring in their own guys in order to create a new sense of excitement and freshness, but what if they don't?
How many times did we think Turner was assuredly gone only to find out later he wasn't?
My order of preference for the NFL's return to Los Angeles has always been: 1. Oakland Raiders 2. St. Louis Rams 3. San Diego Chargers 4. Jacksonville Jaguars 5. Buffalo Bills 6. Minnesota Vikings.
I also believe that it would be better if the first NFL team to return to Los Angeles were a native California team since it would make pending realignment easier. Moving one of the top three teams would accomplish that.
While the Rams may not have always been a Los Angeles team for 46 years, they did call the city home, even if it was actually in Anaheim after 1979. They have the history that the Chargers lack. Still, it would be an easy move to justify since they already play in the NFC West.
Finally, since they hired former Tennessee Titans head coach Jeff Fisher, a University of Southern California alum, an eventual move would have him going home. Why does any of this matter? It makes more sense than having the Chargers move just to move.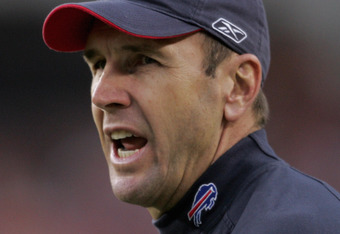 Andy Lyons/Getty Images
Being a team Without a Home Means They'll Probably Move to Los Angeles

While it certainly appears I am advocating not moving the Changers, that couldn't be more wrong. A stadium deal does not appear to be happening any time soon in San Diego. Even if it were to be surprisingly approved, a voter referendum would follow which would ultimately end any of those hopes.
I don't want to be harsh, but the truth is, no one really cares about the Chargers. Their history really doesn't warrant anything special. Thus, no one is advocating for them to stay where they are. At least the Rams and Raiders have significant history in the city that many fans can and would appreciate.
The truth is, there simply is no good place for the Chargers, but someone is going to have to take them. Probably, come 2013 or 2016, they will be one of the two teams to wind up in Los Angeles. The question truly is when it will happen.
While they would likely be the first, although I am not eliminating my Vikings due to the possibility of the indecisive Minnesota state legislature to do anything on the matter of their own stadium.
For the sake of argument, if they were the second team, to the Rams or Raiders, who would have already beaten them there, they would already be second fiddle in their new city, so they'd be getting off to the wrong foot.
Bottom Line
Whoever is the first team to relocate to Los Angeles is going to reap the rewards of the media, hype, attention, glamour, prestige, intrigue, etc. They are going to have first dibs on the new fans. The Chargers could go from also-rans in San Diego to celebrity over night.
I wanted the Chargers and Jaguars to not only have bad records which would keep the fans away and lower attendance so that they would end up in Los Angeles first. While I got that wish this season, they now must finish the deal with a move.
Their uninspiring coaching hires, Mike Mularkey to the Jaguars and retentions in the case of Turner and Smith in San Diego give me hope that the fans will continue to be apathetic about both team's long term future in their current locales.
Information from Wikipedia and ESPN.com contributed to this article.