NBA Trade Talk: Whitlock's Dwyane Wade-Rajon Rondo Trade Idea Must Be Considered
January 12, 2012

Mike Ehrmann/Getty Images
The Boston Celtics are one of the stalest teams in the NBA right now and need a major shakeup.
At 4-5, the Celts only wins are over the Wizards (X2), Pistons and Nets. They just so happen to be the three worst teams in the Eastern Conference.
Something needs to change or this team is destined to throw together a .500 season and first round exit. They need new energy.
While it sounds incredibly wacky, Fox Sports' columnist Jason Whitlock has provided a fantastic solution. He believes the Celtics should send Rajon Rondo and Ray Allen to the Miami Heat in exchange for Dwyane Wade and Mario Chalmers:
It's always in the best interest of the NBA for the Celtics to be relevant. Boston needs an in-his-prime superstar to be a legit contender. The Big Three are too old. You put Wade with Paul Pierce and Kevin Garnett and you have a nucleus that can scare people for this year and next year.

You add Rondo and Allen to James and Bosh and you have an all-time great team. I ran this trade past Bill Simmons last week, and he loved it.
Simmons is ESPN's "sports guy" who is the unofficial biggest Celts fan.
From the Celtics point of view, it makes plenty of sense. Wade, despite dealing with nagging injuries, is one of the 10 best players in the league. He has championship experience, plays suffocating defense and can run the point if needed. He's a team player and would instantly rejuvenate an aging team that could use a jolt.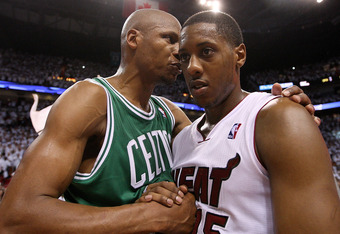 Mike Ehrmann/Getty Images
While on paper the deal sounds bad for Miami, in reality it would make the Heat a real team. Right now they are three stars surrounded by a bunch of bench players. They don't have a reliable point guard and don't have a sharp shooter to spot up when LeBron James forces the defense into the paint.
Rondo and Allen make Miami a complete team. There wouldn't be any questions who would take the last shot. There wouldn't be any questions who the leader of the team is. Everybody would have a defined role. This may not be a big deal right now, but come playoff time it is.
Besides, how incredible would LeBron and Bosh be with a top-five point guard?
While this deal will likely never come to fruition, credit Whitlock for thinking outside of the box and coming up with something that really would work.
Then again, with the itchy trigger finger of Celtics GM Danny Ainge, it can't fully be thrown in the trash.