NFL Playoff Predictions: Alex Smith Will Make Fools of Those Who Wrote Him off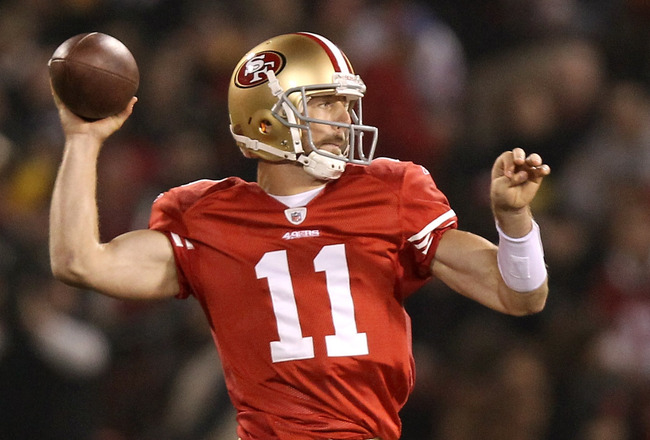 Ezra Shaw/Getty Images
We have a different Alex Smith on our hands, ladies and gentleman.
He is no longer the timid and non-confident quarterback that we are used to seeing. The new and improved Smith is primed to prove his doubters wrong, and he'll have his chance this postseason.
It's been the question all year: Can the 49ers keep up offensively with the New Orleans Saints and Green Bay Packers?
Whether or not you think that is a sensible question is another question. However, the 49ers are going to need Smith to step up and make plays one way or another.
It's a quarterback-driven league. Drew Brees and Aaron Rodgers are going to find a way to get into the end zone. The 49ers, however, aren't going to need Smith to match the numbers that those two superstars will put up. That's just unreasonable to expect.
But the 49ers are going to need him to make plays when necessary, and that's exactly what Smith is going to do.
Here's a list of five reasons why Smith is going to force all of the naysayers to eat crow this postseason.
Smith Can Beat a Defense That Dares Him to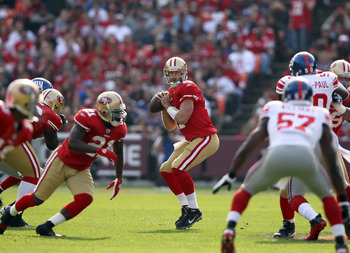 Ezra Shaw/Getty Images
Alex Smith has constantly been criticized for being a "game manager" throughout the 2011 season. It's a fair statement for those who look only at the box score after the game because Smith hasn't exactly lit up the scoreboard this year.
He hasn't had to, though.
The 49ers rely on a consistent running game, a suffocating defense and the best special teams unit in the NFL to win games. But when Smith had to step up and win games for the 49ers, he came through.
Justin Tuck, the defensive end for the New York Giants, called out Smith before the two teams played in Week 10. He basically showed the 49ers his team's cards and told everyone that they were going to stop Frank Gore and force Smith to beat them.
Smith accepted the challenge and had one of the best performances of his career. He threw for 242 yards and a touchdown. His only interception came off of a dropped pass by Ted Ginn Jr. Smith was hitting his receivers on time and in stride. He was moving around fluidly inside the pocket in order to evade the Giants' pass rush.
All this came after Gore rushed for zero yards in the first quarter and then watched the last three from the sideline.
The 49ers went on to beat the Giants 27-20 and improved their record to 8-1. It was the game that earned the team some national recognition. It also prevented Smith's doubters to continue calling him a game manager.
Potential Opposing Defenses Can't Stop the Pass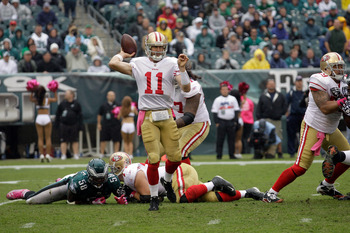 Rob Carr/Getty Images
Things are shaping up nicely for Alex Smith to put up some big numbers this postseason.
With the exception of the Houston Texans and the Baltimore Ravens, the 49ers will not have to face a team with an intimidating secondary. The New Orleans Saints, Green Bay Packers, New York Giants and the New England Patriots round out the bottom-four pass defenses in the NFL. The Denver Broncos' were ranked 18th in the NFL.
This can only be good news for Smith because he thrived against the top pass defenses in the league.
Out of the 16 games Smith started at quarterback this season, nine of them were against defenses who ranked in the top 11 in pass defense.
So how did Smith fare in those games?
He had a touchdown-to-interception ratio of 7-1 and an average quarterback rating of 94.5. The 49ers also went 8-1 during that span, with their only loss being to the Baltimore Ravens.
Smith had to be licking his chops after looking at the opposing defenses the 49ers could play the next couple of weeks.
Smith Now Has Some Swagger
Ezra Shaw/Getty Images
Alex Smith was never a guy who exhibited much tenacity during his first five years in the NFL. You could see it in his body language. He was just not a very fiery leader.
But that all changed this year. Even tight end Vernon Davis has noticed a difference in the way Smith carries himself on and off the field this year.
He doesn't look like an out-of-place child at a new school anymore. He doesn't look like a guy running back to the sidelines with his tail between his legs after he overthrows his receiver downfield.
He now looks like the leader of the offense.
It now looks like he belongs out there and he's doing it all with a bit of swagger. This was something that Smith had lacked for his entire career, but needed desperately in order to succeed in the NFL.
Smith translated his swagger into words in a recent interview. When asked what he thought his chances were of outgunning Drew Brees, he answered, "I have no idea. I don't care. I really don't care. I'm looking to outscore him. He can throw for how many yards as he wants to."
It was such a simple comment, but it was packed full of confidence and affirmation. He doesn't want to outduel Brees. Smith could probably care less.
Smith's answer to this question three years ago would've been bland and unoriginal. But Smith is a new man this year. He is a confident quarterback who gave a very honest answer to a tricky question.
This new-found swagger suits him quite well.
CLUTCH!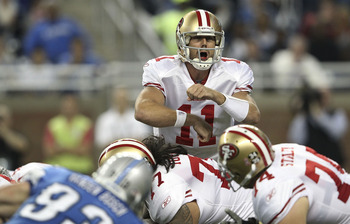 Leon Halip/Getty Images
If you haven't seen the video of the 49ers' postgame celebration after they beat the Detroit Lions, watch this.
The sound of Jim Harbaugh's voice echoing throughout the locker room after he screamed "clutch" while directly pointing at Alex Smith can give one goosebumps.
And how can you not appreciate the genuine smile that Smith has on his face after he was singled out like that. He has the look of a 12-year-old boy who just hit a walk-off home run for his little league baseball team.
But that praise was well deserved. Smith made a clutch throw against the Detroit Lions to win that game. He hit Delanie Walker for the touchdown on 4th-and-goal. And as it turned out, that was the third time in the last four games that Smith led a fourth-quarter comeback on the road.
Just two weeks prior, Smith brought the 49ers back from a 20-3 deficit in Philadelphia. He went 9-for-9 in the third quarter for 179 yards and two touchdowns. It was arguably Smith's best performance in a 49ers uniform.
Smith has compiled five game-winning drives all together this year—four of which were on the road. That tied the franchise record that Joe Montana set in 1989.
Smith doesn't necessarily fill out the stat sheet. He's just not that type of quarterback at this point in his career. But he makes the plays when he needs to, and that's the mark of a clutch quarterback.
Smith Excels Against the Blitz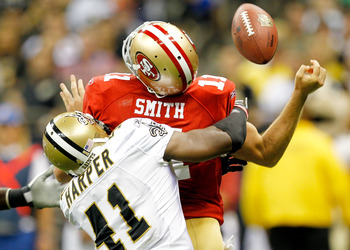 Sean Gardner/Getty Images
One thing that the New Orleans Saints and Green Bay Packers defense has in common is their exotic blitz packages.
Both defenses rely on getting pressure on the quarterback in order to be successful in the grand scheme of things, but that will play right into the hands of Alex Smith.
When blitzed this season, Smith went 91 for 153 for 1,116 yards, eight touchdowns, one interception and a 96.7 passer rating.
Smith has also shown a tremendous amount of poise in the pocket this season. He isn't afraid to hang in there and take a big hit if it means delivering a strong and accurate pass downfield. In years prior, Smith bailed after the first sight of pressure and rolled out to the right every single time. This resulted in a broken play more often than not.
The Saints, however, have a bit more complex blitzing scheme than other teams. They like to blitz defensive backs from all over the field, so you never know where the pressure is going to come from.
But could the Saints perhaps have showed their cards too early?
The Saints relentlessly blitzed the 49ers every play when the two teams faced off in the first preseason game of the year. Reports stated the Saints did this because Jim Harbaugh never returned the Sean Payton's call to settle a "gentleman's agreement."
The Saints might have changed their blitzing packages since then, however, so all of this speculation could be worthless. But the Saints will bring the blitz in one way or another, and Smith will be ready.
Bonus: Could 49ers Open Up the Playbook in the Postseason?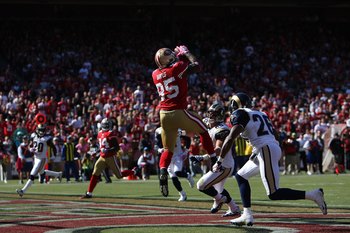 Jed Jacobsohn/Getty Images
If there is any knock on the 49ers this season, it is their inability to score in the red zone.
But here's some food for thought. What if the 49ers have been intentionally struggling in the red zone in order to keep their plays secret? It's possible because the 49ers officially wrapped up the NFC West in Week 13. The division was also practically theirs to lose due to their 9-1 start.
So why would the 49ers show the rest of the league all of their plays and give their potential playoff opponents some valuable film to study?
They were able to execute in the red zone when wins were necessary in order to hold onto the No. 2 seed. The 49ers have a 75 percent success rate—6 for 8—in the red zone during the last three games of the season.
So you might be asking, what kind of plays are you talking about?
In 2009 when Vernon Davis caught 13 touchdown passes, the majority of them came off of the seam route. All Davis did was streak down the middle of the field—the seam—and leap up to catch the ball over the defenders who had their backs to the quarterback.
Smith and Davis mastered that play, and it worked almost every time because Davis is simply too fast for linebackers to cover him. Yes, he is doubled practically every time in the red zone nowadays, but sometimes that isn't even enough to contain his freakish athletic abilities.
Look for the 49ers to incorporate this play into their game plan because no one has seen 49ers use it the last two years.
Keep Reading

San Francisco 49ers: Like this team?