NFL Playoffs: 10 Biggest Surprises from Wild Card Weekend
Doug Pensinger/Getty Images
The NFL continues to draw adamant support from fans around the nation, thanks in large part to the adage that "anything can happen on any given Sunday." The wild unpredictability of professional football was on full display this weekend, as the seemingly impossible suddenly became a reality, while what was once consistent and reliable fell apart when it mattered most.
The full slate of playoff games on Saturday and Sunday has raised a myriad of questions for the upcoming Divisional round: is the Giants secondary finally back to its once-dominant form? Is Tim Tebow and the Broncos passing game a legitimate vertical threat? Have Arian Foster and Andre Johnson finally found consistency? With all these and more in mind, here are the ten biggest shocks from the NFL Playoffs' Wild Card round.
Surprise #10: T.J. Yates Avoids Critical Mistakes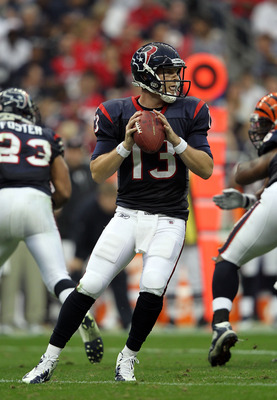 Jamie Squire/Getty Images
When Texans QBs Matt Schaub and Matt Leinart were dealt season-ending injuries in consecutive weeks, the Houston faithful knew that whoever lined up under center next would be an offensive liability. And coming into this weekend, they were right: rookie T.J. Yates had thrown as many interceptions as touchdowns in 2011.
Going against a Bengals secondary that ranked top-ten in the league in both passing yardage per game and total passing scores allowed, few expected Yates to play mistake-free football. However, he did just that, completing 55% of his passes, and far more importantly, allowing no turnovers to the opposing Cincinnati defense. Yates performed fantastically as a game-managing quarterback, allowing his Texans to cruise to a 31-10 victory.
What It Means For Next Week: Houston has their work cut out for them this coming weekend, traveling to Baltimore to take on the Ravens, who ranked fourth in total pass defense during the 2011 campaign. Baltimore will have no problem putting away an upstart Texans team if they force Yates to make bad decisions. However, if he can replicate his play on Saturday, the game will be far closer than expected.
Surprise #9: The Broncos Run Defense Struggles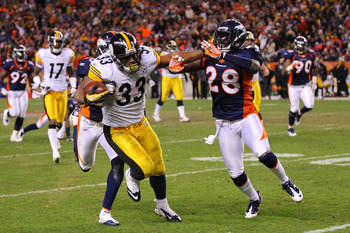 Doug Pensinger/Getty Images
While the Denver Broncos have experienced immense inconsistency on the offensive side of the ball this year, their defense has been a stout, dependable unit week after week. With Pittsburgh RB Rashard Mendenhall sidelined from Sunday's contest due to a torn ACL, Denver's respected run defense was all but guaranteed to shut down second-string tailback Isaac Redman and force the Steelers to become one-dimensional through the air.
However, Redman torched the Broncos for 121 yards on just 17 carries, averaging 7.1 yards per carry. Had Pittsburgh not fallen behind early, Redman's workload would have been much larger, and who knows how many yards the Denver linebackers would have allowed?
What It Means For Next Week: When Denver heads over to New England for their Divisional round clash, coach John Fox and defensive coordinator Dennis Allen will focus primarily on Tom Brady and the Pats receiving core. However, if they struggle to defend the run again, it will give the Patriots' already dangerous offense an added dimension, opening up further opportunities through the air.
Surprise #8: Bradshaw and Jacobs Pick It Back Up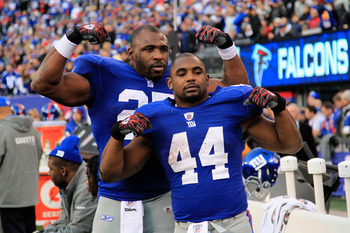 Chris Trotman/Getty Images
Perhaps one of the most unexpected occurrences of the 2011 season was the disappearance of the New York Giants running game. RBs Brandon Jacobs and Ahmad Bradshaw, big-name players who garner respect from all around the league, lead a rushing attack that ranked dead-last in the NFL in yards per carry. The Giants had developed an offensive culture that relied on a sturdy presence on the ground, but during the regular season, neither back could find much success.
That all changed on Sunday. New York stunned defensive-minded coach Mike Smith and the Falcons with 172 rushing yards, an average of 5.5 per play.
What It Means For Next Week: The 15-1 Green Bay Packers ranked 26th in opposing yards per carry. With home-field advantage, the Pack will be heavily favored to beat Big Blue this weekend, but if the Giants can establish the run for a second straight week, this game could turn into a big-time upset. In their week 13 matchup, Ahmad Bradshaw was held to just 38 yards. An improved performance from him will take pressure off of QB Eli Manning, and will force Green Bay's defense to stack additional linebackers and safeties near the line of scrimmage.
Surprise #7: Demaryius Thomas Wreaks Havoc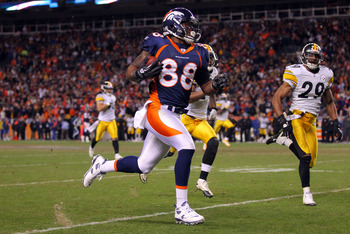 Doug Pensinger/Getty Images
WR Demaryius Thomas seemingly emerged from nowhere this season, quickly becoming Broncos QB Tim Tebow's favorite target. However, Thomas' inconsistency, mixed with Pittsburgh's top-ranked pass defense, lead most football fans to believe that the second-year wideout would be quiet on Sunday.
Who'd have thought that Thomas would turn around and produce 204 receiving yards and the game's winning score in overtime? Shocking the nation, Thomas burned the Steelers' acclaimed secondary and was a key reason for Denver's upset victory.
What It Means For Next Week: New England's pass defense was their Achilles' heel throughout the regular season, and the lack of a respectable secondary has many doubting their legitimacy as a title contender. If Thomas can perform well again, this time against CBs Devin McCourty and Kyle Arrington, the Broncos just may be able to continue their surprising playoff run.
Surprise #6: Michael Turner Is Silenced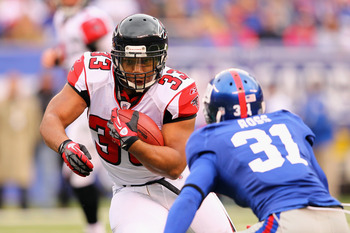 Al Bello/Getty Images
The Giants were allowing over 120 rushing yards per game in 2011, and Falcons star back Michael Turner turned in over 1,300 yards this season to go along with 11 scores. Heading into Sunday's contest at MetLife Stadium, it was surely advantage Turner.
However, New York's defenders won the battle Sunday afternoon, holding the Pro-Bowl caliber rusher to just 41 yards and no touchdowns. Turner mustered a mere 2.7 yards per attempt against a defense that had been sub-par at best all year.
What It Means For Next Week: The Giants must continue their recent success stopping the run in Green Bay. Halfbacks Ryan Grant and James Starks have been less than stellar this season, and New York has to shut down as many aspects of the Packers' dynamic offense as possible. If the Giants can remain disciplined up front, it gives them a vital sense of confidence on defense.
Surprise #5: The Saints Shut Down the Run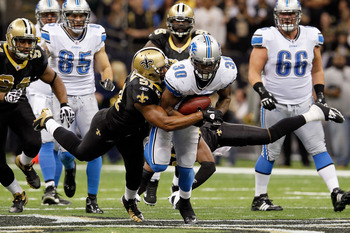 Kevin C. Cox/Getty Images
Like the aforementioned Giants, the New Orleans Saints had struggled throughout the regular season in stopping opposing running backs. The Saints were a bottom-tier defensive unit heading into Saturday's showdown with the Lions, and although Detroit RB Kevin Smith is far from a star, he was expected to see at least some success against the weak New Orleans linebackers and safeties.
It's funny how everything changes in the postseason. The Saints suddenly became ferocious along the interior, holding Smith and other Detroit ball-carriers to an astounding 32 yards on the ground. With no other form of offense, quarterback Matthew Stafford was forced to throw 43 passes, and the Saints won by three scores as a result.
What It Means For Next Week: The Saints face a far more daunting running back in San Francisco's Frank Gore in the Divisional round. The Niners are a run-first team with an elite offensive line, but New Orleans proved that they can in fact defend the run when it matters most. If the Saints are able to duplicate even a fraction of this success at Candlestick Park, Alex Smith will be forced to assume a bigger offensive responsibility. That's a bad sign for Jim Harbaugh's team, as Smith has attempted more than 35 passes in only two games this year.
Surprise #4: The Texans Offense Finds Consistency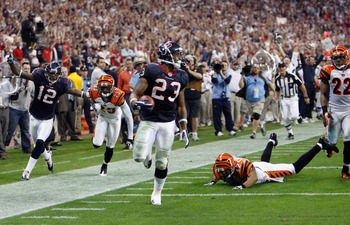 Bob Levey/Getty Images
The Texans came into Wild Card weekend with perhaps the least momentum of any team, dropping three straight contests to the Panthers, Colts, and Titans, none of which made the playoffs. During this streak, Houston's undeniable weakness was the consistency of its offensive unit. Superstar WR Andre Johnson had battled injuries all season, and RB Arian Foster was just slowly returning to last year's elite form.
Against all odds, they came out and lit up the Reliant Stadium scoreboard, dropping 31 points on a respected Bengals defense. Foster looked like his old self, rushing for a whopping 153 yards and reaching pay-dirt twice. Johnson got in on the action as well, scoring a touchdown and notching 90 receiving yards. The slumping team that fans saw go 1-3 in the last quarter of the regular season suddenly came out focused and determined, and Houston earned its first playoff victory in franchise history.
What It Means For Next Week: Practically nobody factored the Texans into Super Bowl contender talks, due to their up and down performance in their final few games. However, this win reminded the league that Houston is, in fact, a legitimate threat when firing on all cylinders. Baltimore's defense is amongst the best in the NFL, but the Texans showed that they are capable of scoring points in unbridled fashion. The Ravens may struggle with the sudden task of controlling such a hot offense.
Surprise #3: Tim Tebow Airs It out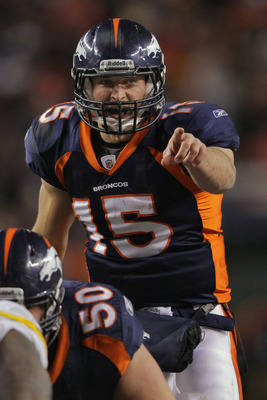 Doug Pensinger/Getty Images
Tim Tebow has surpassed NBA star LeBron James as the most polarizing figure in all of professional sports. His unorthodox throwing methods and his openness about religious faith may be debated for years to come, but one thing remains a fact: heading into Sunday night's game against the Steelers, Tim Tebow's season high in single-game passing yards was 236. Pittsburgh's dominant secondary was prepared to have a field day against such an unproven signal-caller.
Then Tebow did the unthinkable: he shocked the sporting world with 316 yards through the air, picking apart the Pittsburgh defense with a 125.6 passer rating. Tebow outperformed perennial Pro-Bowl quarterback Ben Roethlisberger in nearly every way imaginable. And to top it off, it was not done in typical Tebow-fashion: Tebow gashed the opposing secondary with deep passes from the pocket, and the majority of the damage was done early on, in the second quarter. The Steelers allowed just six pass plays of over 30 yards all of this season, yet Tebow engineered five on Sunday alone.
What It Means For Next Week: Tebow's turnaround was the story of the weekend, and it has people talking about the Broncos' chances at an improbably playoff run once again. The Patriots' secondary ranked second-to-last in passing yardage per game, and now that Tebow has seemingly found his stride, Denver has a shot to take down the AFC East champions. Without a threatening passing game, the Broncos don't stand a chance.
Surprise #2: The Giants Secondary Steps Up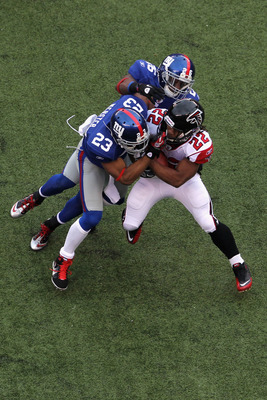 Nick Laham/Getty Images
On one end of the spectrum, you have the NFL's 29th ranked pass defense, the New York Giants, lead by a defensive coordinator who's been under fire for the majority of this season. On the other side of the line of scrimmage is the high-flying Atlanta Falcons, with two bona fide stars at receiver and a quarterback amidst a career year.
Some things you really just can't predict. The Falcons shockingly scored just two points on Sunday, and those came from an intentional grounding penalty-turned safety. The Giants came ready to play, completely eliminating WRs Julio Jones and Roddy White from the action. Matt Ryan was held out of the end-zone for the first time since Week 1 of the regular season, and the Falcons's dominant offense, which ranked seventh in points per game this year, disappeared entirely. Nobody could have predicted such a dramatic about-face for both units, especially with Giants CB Aaron Ross exiting the game in the third quarter.
What It Means For Next Week: Aaron Rodgers had a year for the record books in 2011, and at one point, he was on pace to break single-season records for passing yardage and passing touchdowns. Rodgers and the NFC's number-one seed, the Green Bay Packers, are a Super Bowl favorite solely because of their prominent aerial attack. However, the Giants did something they hadn't done for the first time all season: blanket a top-tier wide receiver. If Corey Webster can repeat his performance against Pro Bowler Greg Jennings, and if rookie corner Prince Amukamara can step up against dynamic Packer Jordy Nelson and his 15 receiving scores, Green Bay will be in serious trouble.
Surprise #1: The Broncos Stun Pittsburgh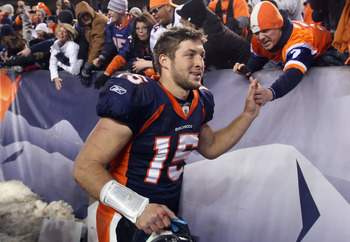 Jeff Gross/Getty Images
Of all the Wild Card matchups offered this past weekend, the clash between the 8-8 Broncos and the 12-4 Steelers seemed to be by far the most lop-sided. Pittsburgh, despite sustaining a few key injuries, was playing like the AFC's elite, while Denver was just barely able to sneak into the playoffs, losing their final three games of the season.
What then happened on Sunday has been called many things: a miracle, a story for the ages, or just plain luck. Either way, the Denver Broncos pulled off one of the biggest upsets of 2011, stunning the Steelers with a 29-23 overtime victory at Invesco Field. Denver scored a total of three points in their week 17 game against a poor Kansas City defense, only to turn around and score 29 on the best defensive unit in all of football.
What It Means For Next Week: The Broncos have proven once again that anything is possible in the NFL, and the New England Patriots should be far from comfortable with their Divisional round opponent this weekend. Perhaps the Broncos won't make a Super Bowl run this year, or any time soon even, but Sunday's thriller was the final step in rejuvenating a key NFL fanbase. Furthermore, it illustrates the fact that the playoffs are wide open this year, and that every top team is susceptible to an upset.
Keep Reading