10 Current NFL Players the Arizona Cardinals Could Target in 2012
Christian Petersen/Getty Images

At one point in 2011, the Cardinals looked like a team in need of a ground up rebuild. At 1-6, it seemed that nothing was going their way, and no-one was safe.
Fortunately, after a very shaky start, things began to fall into place, and the Cardinals began to perform.
At 1-6, you're preparing for the fallout, at 8-8, you're discussing 'tweaks' and 'minor improvements'.
Against the odds, the Cardinals look like a team who, with a few improvements, could be real contenders in 2012.
Some of those improvements will undoubtedly come through the draft, but with cap space available, the Cardinals would be wise to consider some established players already available in the NFL.
Who might those players be? Join me as we take a look at 10 players who could be suiting up in Cardinal red next season.
Begin Slideshow

»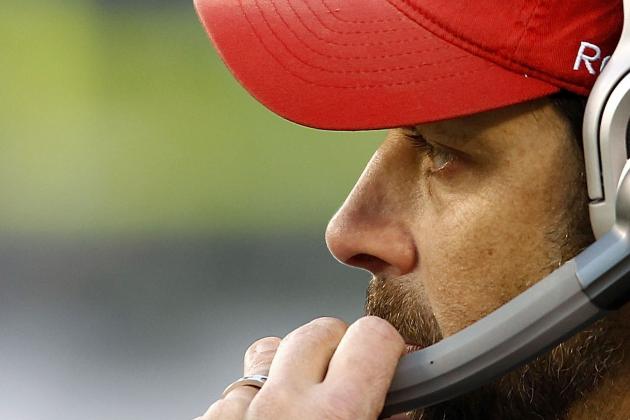 Jeff Zelevansky/Getty Images

Okay, so he's not a player, which means he is not part of the countdown, but Haley should certainly be a target for the team, and all signs point to the fact that he may well be returning soon.
Haley was a successful OC at the Cardinals during their most recent run of form, and has a good rapport with many of the players and coaching staff. Though Mike Miller has done an acceptable job as offensive play-caller this season, Haley is widely considered an offensive genius. Unfortunately, his transition to head-coach didn't quite work out as planned.
Haley, who is the near perfect yin to Whisenhunt's Yang, has a great working relationship with the Cardinals head coach, and an ability to bring out the best in quarterbacks and receivers.
Whisenhunt trusts him to make the right calls, something which has been lacking since he left, which would free Whisenhunt to spend time on more important matters on the sideline.
At one point, the deal seemed to be done, but for the technicalities, and the firing of QB coach Chris Miller seemed to point that the restructuring of the coaching staff made a clear way for Haley to return. Unfortunately, in recent days, Haley has interviewed with the New York Jets, and the Cardinals have been strangely silent on the possibilities of his returning.
However, all reports suggest that in spite of a lack of official meetings thus far, Haley still considers the Cardinals a prospect, and you have to feel that, if the Cardinals do offer Haley an OC job, he will accept quickly thereafter.
Impact at Cardinals: B+
Fit for Cardinals: A+
Odds of signing for Cardinals: 1-to-3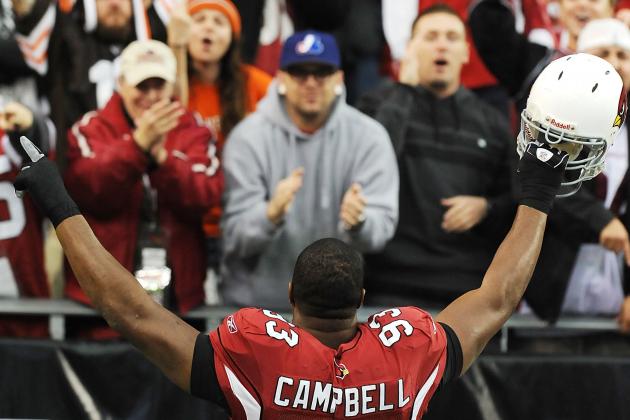 Norm Hall/Getty Images

Calais Campbell has been one of the stand-out players for the Cardinals in 2011. He has had a breakout campaign and made the Cardinals defense a better unit, almost single handedly.
Campbell was in the final year of his rookie contract in 2011, and though there was a lot of talk of an extension during the season, nothing was locked up by the end, which means Campbell is a free agent coming into 2012.
Campbell is the very definition of an impact player, and is considered by many to be the Cardinals defensive MVP. He is the perfect fit in Ray Horton's 3-4 system, and has relished the opportunity to prove himself.
The Cardinals simply must lock him up, he is priority one, and letting him walk isn't to be considered.
So, why is he only an honorable mention? Because the Cardinals don't have to consider letting him walk.
Though he has more than earned whatever long-term contract the Cardinals offer him, and they absolutely should offer him a fair deal, if he doesn't sign it, Campbell is a 100% certainty to earn the Cardinals franchise tag, which will earn him around $10 Million for the season—hardly an earth shattering figure for a player of his caliber.
One way or another, Campbell will be back in 2012, though everyone hopes it is with a long term deal in hand.
Impact at Cardinals: A+
Fit for Cardinals: A+
Odds of signing for Cardinals: 100% Certainty.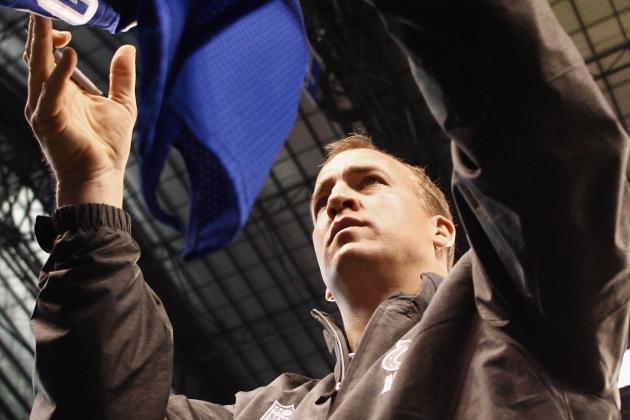 John Grieshop/Getty Images

Perhaps never before in NFL history has a player, who didn't suit up for a single game, made such an impact for, and been so deserving of the MVP for his team.
In 2011, Peyton Manning did just that. Though a neck injury sidelined him for the entire season, it has never been so apparent just how much a difference one player makes to a football team. In 2010, the Colts went 10-6, and won the AFC South.
In 2011, an almost unchanged Colts lineup, sans Manning, went 2-14, and ended the season dead last in the NFL.
Last year, when reviewing the Cardinals options at QB, I said the following about Manning:
From Manning's point of view, it's pretty simple. The Colts are not a good team, Peyton Manning is just an exceptional quarterback.

His ability covers over a multitude of frailties all over the field for the Colts, but, as he gets older, and his ability diminishes, he may relish the chance to play with some elite receivers who can keep him at the top of his game for a little longer.
I've made a lot of NFL predictions and comments, but few have been quite as on the button as that one.
At the time, I also said this;
For as long as Peyton Manning is your quarterback, it is practically impossible to develop anyone to replace him. No-one will step out from his shadow and become the next franchise quarterback, which has to be a concern for them.
Which also seems pretty apt, considering that Andrew Luck will have to do just that, if the Colts do not cut or ship Manning.
Finally, I closed with this statement.
Could the Cardinals be his home in 2011? It wouldn't be the first time they have signed a future hall-of-famer towards the end of his career. Do the names Kurt Warner, Emmitt Smith or Edgerrin James ring any bells?
All in all, the same is true today as it was in 2011, some of it even more so.
At the time, I gave Manning a 100-to-1 long shot of leaving the Colts, today, those odds seem a lot shorter.
Andrew Luck will be a Colt in 2012, but the Colts need to make a whole lot more improvements than that. Manning's contract and cap hit are significant hindrances to that rebuilding process, especially to keep around a player who probably won't play—Luck will likely start whether Manning is a Colt or not.
The Cardinals have difficulties at QB, with both Kolb and Skelton struggling to establish themselves as more than a backup.
Though Kolb has a sizeable, $63 Million contract in Arizona, much of that can be avoided by cutting him before the beginning of 2012. By cutting Kolb, the Cardinals would save the remainder of his contract, plus a $7 million option bonus, which would free up enough cap space to land someone like Manning.
The biggest hindrance, it would now seem, is whether Manning would ever suit up again, for anyone. Only Peyton Manning himself knows how his neck injury is really doing. Only he knows if he really intends to play football again. Unfortunately, the signs now seem to be pointing at somewhere between 50-50 and probably not at all.
Assuming for a moment, however, that Manning does suit up, the Cardinals could certainly make use of a player of his ability. They would, of course, need a dependable backup, a bill Skelton fits quite well, and would need to believe that he has the ability to develop into a starter in the not too distant future—Manning has, at most, two seasons left in him.
Skelton would need to take nearly as many snaps in practice as Manning, knowing that he could be called upon to play out the remainder of the season on any given week, but for a player of Manning's considerable experience and quality, that wouldn't be too much of an issue.
With Haley's return appearing increasingly likely, it would seem that Manning, like Warner before him, could be a quick route to NFC West dominance, but, like Warner is, at best, a stop gap until the Cardinals find their QB of the future.
If they don't believe that Kolb is that man, and Manning is fit to play in 2012, the Cardinals may want to seriously consider discussing terms with the Colts, or waiting to see if Manning is cut.
Manning may be a quick and dirty route to another Super Bowl—the Cardinals are a much more rounded team than the Colts, where Manning was able to achieve a great deal of success—but at the cost of an uncertain future.
Impact at Cardinals: A+
Fit for Cardinals: C+++ (A good fit, but short term solution, at best)
Odds of signing for Cardinals: 25-to-1 right now, 8-1 if he announces his intention to play in 2012 soon.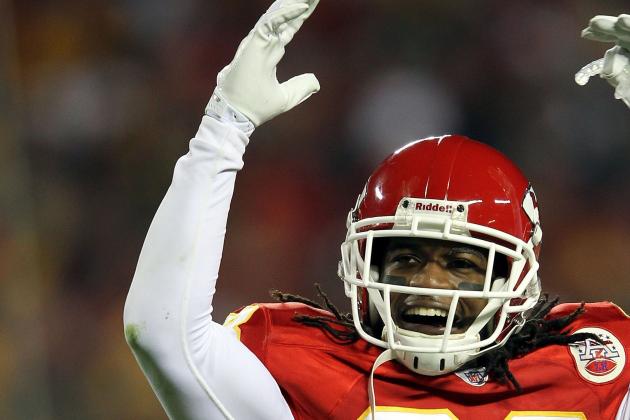 Jamie Squire/Getty Images

Dwayne Bowe is used to being near the top of the league, statistically.
In his early career, Bowe was consistently one of the NFL's leaders in dropped passes. In recent years, he has just been leading the league, period.
If you ask a lot of Bowe's fans, and perhaps even Bowe himself, they put that turn around down to a couple of people.
The first is Larry Fitzgerald, who's summer workouts have helped Bowe solve his ball security issues, and transcend the reputation for dropped passes that dogged his earlier career.
The other, Todd Haley, the Chief's no-nonsense former head coach. Haley is an offensive specialist, and immediately saw the potential in Bowe, apparently pushing him to pursue excellence, and helped him to improve.
In 2012, both Fitzgerald and Haley may well be in Arizona.
In 2012, the Chiefs look likely to become a more defensively oriented team, around head coach Romeo Crennel, and defensive re-signings will be priority one.
In 2012, Dwayne Bowe is a free agent.
In 2012, one of the Cardinals "must address" positions is at Wide Receiver.
Is anyone else starting to notice a pattern here?
Unlike a lot of players featuring on this list, Bowe does not appear desperate to leave the Chiefs. He has not ruled out re-signing with the team, and, while contract talks appeared to stall prior to the close of the season, given the number of players Scott Pioli had to lock up—contract extensions were signed with players like Brandon Flowers and Ryan Succup, and negotiations are ongoing for Bowe, as well as Brandon Carr—it's hard to read too much into it.
However, since the Chiefs can't franchise tag both Bowe and Carr, there is a real possibility that Bowe will entertain offers in 2012.
Bowe will want number one money, and would only be a number two in Arizona, with no chance of him supplanting Larry Fitzgerald.
But, like Fitz's teammate Steve Breaston and Anquan Boldin discovered during their time in Arizona, however, there is nothing quite like playing opposite arguably the best receiver in the game to really boost your own starts. Fitzgerald is one of the hardest working players in the game, and that really does rub off on others, but more than that, defenses can't blaknet both of you, which means many more favourable one-on-one match ups between Bowe and either a corner or safety, where he could really do some damage.
Given his reputation for poor hands, teams in need of a number one guy may be tempted to pass over Bowe given the strength and depth at WR available in free agency and the draft. And with Steve Breaston and Jonathan Baldwin both under contract, and tipped as potential replacements for Bowe, the Chiefs may also be unwilling to offer him the big money, long term contract he probably deserves.
With huge contracts payable to a number of Cardinals players, including Larry Fitzgerald, it is unlikely that the Cardinals will have the cap room to offer Bowe a mega deal, but, the Cards would probably have space for a reasonable offer, if they believe that they don't have too many holes to plug elsewhere.
Unfortunately for the Cards, they probably do have a few other holes to plug, which limits the amount they can offer Bowe. His accepting Arizona's offer, would therefore probably come down to choosing between a bigger salary elsewhere or choosing to join Fitzgerald and Haley. While I can see him making the latter decision, in the NFL, money talks.
Bowe and Fitzgerald would make a formidable receiving tandem, and would likely create room for Andre Roberts or Early Doucet to really shine—as happened with Steve Breaston when the Cardinals had Boldin and Fitzgerald. It would also significantly reduce the pressure on whichever QB starts, and open up the Cardinals running game even more, with teams needing to cover both explosive receivers, and dropping back extra men into coverage.
All in all, a dream pick, but perhaps a bridge too far for the Cardinals.
Impact at Cardinals: A+
Fit for Cardinals: A-
Odds of signing for Cardinals: 20-to-1, the Cardinals can't afford to get into a bidding war, and Bowe will be an expensive prize to land.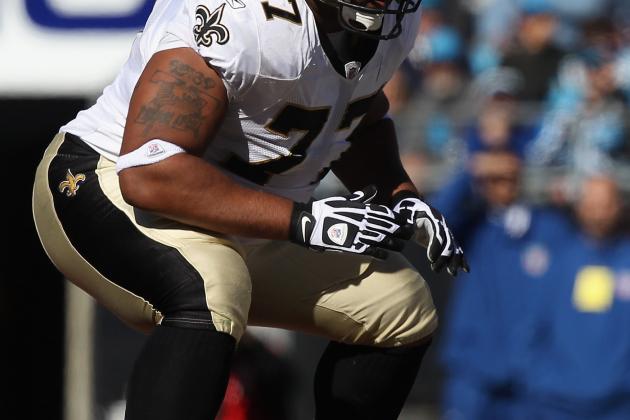 Streeter Lecka/Getty Images

Without a doubt, the Cardinals biggest area of weakness is their offensive line.
Yes, they appear to be missing a number two WR, yes the QB situation is anything but sorted, yes, they appear have some issues with depth and inexperience on the defensive side of the ball, but all of these things pale in comparison to their issues on the O-Line.
The simple fact of the matter is, while Kolb has taken flack for his lack of pocket presence, and inability to make reads on the move, and Skelton is becoming known for high and inaccurate passes, it is hard to evaluate any QB's accuracy or effectiveness, when he is completing practically every pass while trying to escape the pocket (Kolb) or while being hit (Skelton).
The Cardinals need to bolster their offensive line.
Their left tackle, Levi Brown, has struggled, their right tackles are arguably even worse, and their guards are only marginally better.
There is a problem, however. There simply aren't very many free agent offensive linemen, and even less who are good.
Carl Nicks is one of the exceptions.
Nicks is widely considered one of the best offensive guards in the NFL. He is young, just 27 years of age, but has had plenty of experience, and already has a Super Bowl ring while playing for a resurgent New Orleans Saints team.
The Saints guard pairing of LG Nicks and RG Jahri Evans, is probably the best in the game right now, and credited with helping Drew Brees become one of the top QBs playing football today.
The Saints had the option to lock up Nicks to a long term contract in 2011, when he was a restricted free agent, but failed to agree terms, instead offering just a one year tender, which Nicks accepted.
The Saints appeared nervous about working out a long term deal, due to cap concerns—knowing that they would need to resign Drew Brees to a significant long term contract—and perhaps also worried by some of the mental mistakes which affected some of his earlier performances.
In any case, the upshot is that Nicks will be one of the most pursued free agents in the off season.
Nicks would help anchor a struggling offensive line. He would be an upgrade over Daryn Colledge but the fact remains that Colledge is not the Cardinals biggest weakness on the line.
Either man could probably rotate to the opposite side without too many difficulties, but neither have ever played on the right since college, and are somewhat of an unknown there, which may give the Cardinals pause for thought.
Nicks is the sort of player the Cardinals would be crazy not to take a look at, but as College is about the strongest player on the Cardinals O-Line, they would need to be very confident in the rest of the line being sorted before making anything more than a speculative offer for Nicks, which probably won't cut it, since he will be a highly prized commodity.
Impact at Cardinals: C+ Only a moderate upgrade over Colledge, unless either player can be rotated to the right.
Fit for Cardinals: A-
Odds of signing for Cardinals: 25-to-1. Nicks is a hot commodity, and the Cardinals have bigger issues on their O-Line than Left Guard.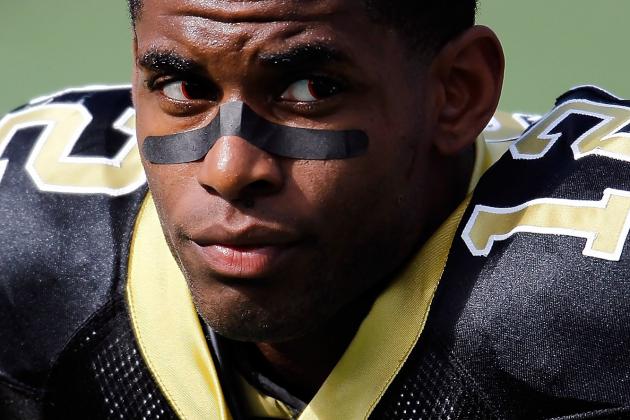 J. Meric/Getty Images

The Saints have a lot of free agents that they must try to resign in 2012.
For many of the same reasons why they did not offer Carl Nicks a long term deal in 2011—namely reserving cap space for Brees—Marques Colston, one of two Saints receivers to top 1000 yards this season, may also be allowed to walk in 2012.
While Colston is certainly the marquee Wide Receiver in New Orleans, Drew Brees has a knack of spreading the ball around really well, and making a lot of players into real receiving threats. In 2011, for example, the Saints top three receivers were Jimmy Graham (1310), a tight end, Colston, (1143) and then Darren Sproles, (710) a running back.
Nine players had 10 receptions or more, with Lance More, Robert Meacham and Devery Henderson and Pierre Thomas all topping 400 yards receiving.
If the Saints choose to resign Nicks, it will almost certainly result in allowing Colston to walk, and though there are many teams who would be interested in signing him, the Cardinals would certainly do well to ensure they were one of them.
Colston is exactly the sort of player the Cardinals love, the sort of player who will really excel in Arizona's system.
The very definition of a team player, he played second fiddle to a tight end in New Orleans in 2011, and never once complained about it. He is quiet, mild mannered and exceptionally hard working... Sounds a lot like our own Larry Fitzgerald.
The biggest problem, by far, is that Colston is almost guaranteed to be out of the Cardinals price range. Reports out of New Orleans suggest that he is not interested in giving the Saints a home-town discount, and will go to the highest bidder, which means a team with a legitimate need for a number one WR, like the Jacksonville Jaguars or the Cardinals divisional rivals, the St. Louis Rams, who look set for a near total rebuilding in 2012, or a team with exceptionally deep pockets.
If Colston isn't willing to take a pay cut to stay with Super Bowl contenders, New Orleans, there is no chance of him doing so to join the Cardinals, that means, if the Cardinals want him, they will have to pay him. And while it is not impossible to consider the Cardinals backing up their $63 Million investment in Kolb, by adding a second top receiver, it seems, well, very unlikely.
Impact at Cardinals: A+
Fit for Cardinals: A-
Odds of signing for Cardinals: 50-to-1.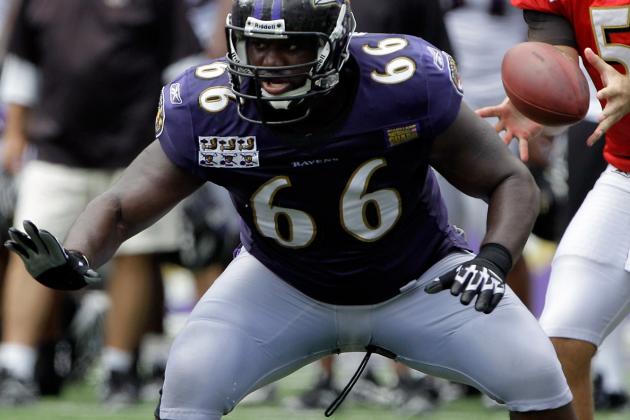 Rob Carr/Getty Images

Ben Grubbs is one of the top offensive linemen in the NFL, and is also a free agent in 2012.
The Cardinals are in need of significant improvement on their offensive line, and have the cap room necessary to land a high profile player like Grubbs.
The Baltimore Ravens are, of course, not going to want to let Grubbs leave, the five year veteran has been a major part of the Ravens success, especially when running the ball. With some key players—including star running back Ray Rice—likely to command substantial contracts in 2012, and with several areas needing to be addressed before the start of next season, however, Grubbs' cap hit may be more than the Ravens can stomach, and, should a bidding war erupt, the Cardinals could end up the victors.
Like Carl Nicks, Grubbs is a left guard, and the Cardinals would need to decide whether to slide Grubbs, or Daryn Colledge over to the right. Grubbs could, of course replace Colledge, and Grubbs is a much more significant improvement over Colledge should they choose to replace him.
There is a real downside when comparing Nicks to Grubbs, however. As a left-hander, Grubbs would perhaps struggle more than Nicks if asked to play on the right, but as a more significant upgrade over Colledge compared to Nicks, Grubbs may be worth the risk, in the hope that Colledge can adjust.
Grubbs contract demands will be significant, but the reward may make it worth it for the Cardinals.
Ideally the Cards would hope for a free agent RG or LT to bolster their line, but since top-tier taller at both either is not available, Grubbs may be the next best thing.
Impact at Cardinals: B+. RG is not a top priority for the Cardinals.
Fit for Cardinals: B-. Grubbs would be a better fit if he had the potential to slide to the right.
Odds of signing for Cardinals: 30-to-1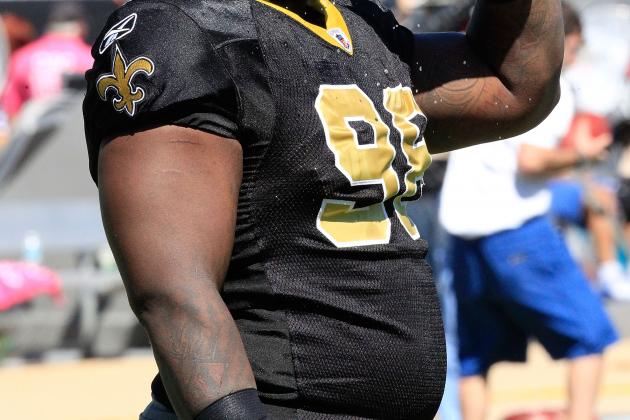 Sam Greenwood/Getty Images

The third (and final) Saint the Cardinals should consider is Aubrayo Franklin.
Aubrayo Franklin is one of the top 3-4 nose tackles in the game. After 4 years as a backup in Baltimore, Franklin joined the San Francisco 49ers was a beast, anchoring their defensive line for many years.
In 2011, Franklin played his first, and likely only, season in New Orleans, and struggled to adjust to their 4-3 base set. In 2012, the Cardinals will likely be running the same 3-4 system as in 2011—the same 3-4 system that Franklin made his name in.
A less than stellar season in a 4-3 defense will turn more than half of the teams—namely those which run a 4-3 system—who may have otherwise taken a chance on Franklin. That leaves only those teams in need of a nose tackle, which, it turns out, isn't all that many.
A lot of teams—including, it should be added, the Cardinals—already have their NT position locked up. Franklin, 31, is one of the older starting nose tackles in the NFL, and after a season playing in a very different system, a lot of teams will be hesitant about bringing in Franklin.
The Cardinals have Dan Williams, who they believe is their starting nose tackle of the future, and following the broken arm which ended his season early in 2011, were pleasantly surprised to discover that Nick Eason is a more than serviceable backup to the youngster.
Bringing in Franklin, however, really makes sense for the Cardinals. It's not that they need a nose tackle, but this young defense, still transitioning to Horton's particular take on the 3-4 system would greatly benefit from the experience a player like Franklin would bring, plus, as a 49er for much of his career, Franklin would also bring valuable insight to help the Cardinals best their divisional rivals, and challenge for the NFC West title.
Just one poor season in a 4-3 system has turned Franklin from one of the most talked about free agents in 2011, to a second tier pick up in 2012.
This is great news for the Cardinals, who will be able to benefit from Franklin's experience, without having to shell out an extortionate amount to get him.
Impact at Cardinals: B- a moderate upgrade while Dan Williams continues to develop.
Fit for Cardinals: A+
Odds of signing for Cardinals: 5-to-1.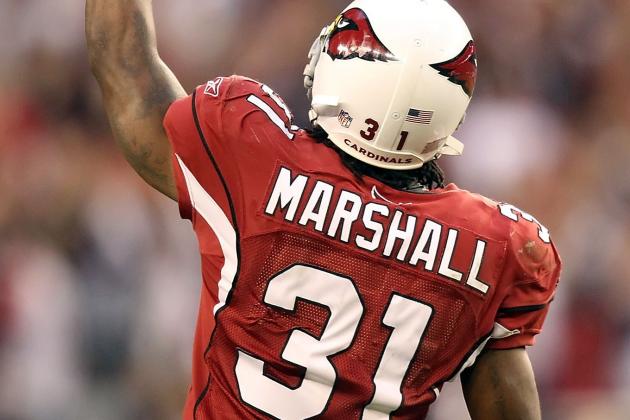 Christian Petersen/Getty Images

Undoubtedly, 2011 was a breakout season for Richard Marshall. The former Carolina Panther was handed only a one year deal by the Cardinals when he joined as a free agent prior to the start of the season, clearly a decision that the team are now regretting.
Defensive coordinator Ray Horton named Marshall one of his defensive MVPs for the season, and it's not difficult to see why. The Cardinals secondary struggled to find it's feet. The loss of Greg Toler for the season caused real difficulties for a Cardinals team which prefers to ease it's younger players into the game. Patrick Peterson was named starter earlier than expected, and opposite him, the inexperienced A.J. Jefferson and career backup Michael Adams both struggled in coverage.
Marshall did not start early in the season, reportedly due to other players feeling more comfortable with the playbook, but still managed to establish himself from the bench. By midseason however, it became clear that Marshall was arguably one of the teams better players on defense, and his starting role at CB, his natural position, also taking the role of safety, in place of the injured Kerry Rhodes, was assured.
Marshall looked like the veteran he is, and brought a level of experience to the Cardinals young defense. However, at just 26 (at the time) Marshall still had a high motor, and played with a lot of speed and versatility.
By far, his most appealing asset is his flexibility, moving near seamlessly from corner to safety and back again, and having a player like that is clearly a big advantage for the Cardinals.
The Cardinals are high on resigning Marshall, and, after Campbell, Marshall should be their next priority. However, unlike Campbell, who can easily be franchise tagged if a contract cannot be worked out, Marshall will not be tagged.
The 2012 "franchise tag" salary formula benefits owners when compared to previous years and will result in noticeably lower payments made to franchised players. However the franchise tag for a corner in 2012 will still be around the $10-11 million range. In 2011, Marshall was paid $3.5 million, and while he has certainly earned a pay rise next season, it's hard to consider a player, who would still not even be guaranteed a starting job with the return of Toler, worth anywhere near that amount.
The Cardinals must seek to bring back Marshall, but must also do so at a cost which is reasonable, as they need to reserve cap room for other key signings, a difficult balancing act.
Impact at Cardinals: B. Will have to fight for his job, but brings really good flexibility in Arizona.
Fit for Cardinals: A+
Odds of signing for Cardinals: 3-to-1.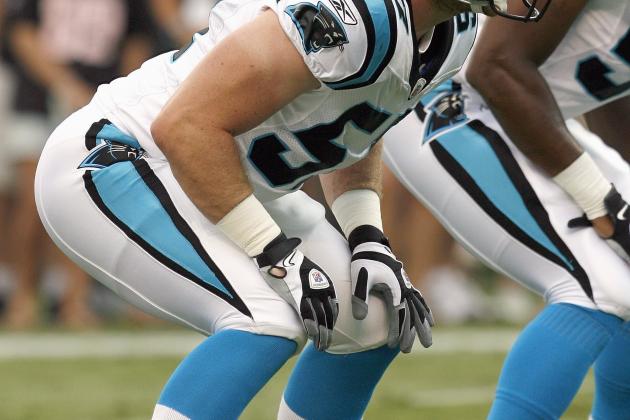 Kevin C. Cox/Getty Images

The Carolina Panthers are stacked at linebacker.
Early in the season, it appeared that Dan Connor would not see much playing time in 2011, his contract year, but injuries forced the Panthers hand, and Connor took advantage of the opportunity.
To say he had a breakout year would be overstating the facts—he did not even do enough to decisively win a starting job in 2012 in Carolina—but did enough to force teams to pay attention.
The Cardinals appear relatively secure at Linebacker, with the emergence of players like Daryl Washington, and Sam Acho, and the continued NFL level play of veterans like Clark Haggans and Paris Lenon.
However, age, and depth are a concern for the team. Stewart Bradley was brought in last season on a significant contract, but failed to impress. There has been talk of cutting their losses with the former Eagles player. Both Haggans and Lenon will be 35 in 2012, and their age is also a concern for the team.
Bringing in a player like Connor, who will be relatively affordable, and is just entering the prime of his career, makes a lot of sense.
Connor is, of course, not a perfect choice. He is a 4-3 MLB and would take time to transition to the Cardinals 3-4 system. However his age, and relatively good size mean that he should be able to complete that transition, and at least share snaps with Lenon next season.
His pass rush skills would need some real work, but the Cardinals tend to rely on other positions, including safety, Adrian Wilson and their CB's to provide extra pressure, so Connor could be allowed to do what he does best without any real struggles. This is especially true if Sam Acho and Daryl Washington continue to improve as pass rushers.
By far the biggest draw to Connor is his affordability—the Cardinals cannot afford another costly mistake like the one made with Bradley, and if the Cardinals chose to give Bradley another try in 2012, will need to find a dependable, affordable backup for him. Connor really fits that mould.
The biggest concerns? Aside from transitioning from 4-3 to 3-4, Connor wants a shot at a starting job. Since there is no guarantee that he will get that at the Cardinals, it's hard to imagine them being his number one option.
Impact at Cardinals: B
Fit for Cardinals: C+. Could rise if he learns 3-4 system quickly.
Odds of signing for Cardinals: 5-to-1.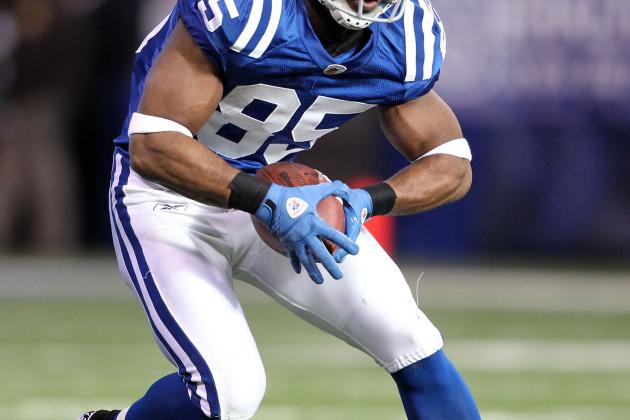 Andy Lyons/Getty Images

In 2011, very little went right for the Indianapolis Colts. They lost the services of Peyton Manning for the season, and in doing so they went from AFC contenders to NFL bottom feeders overnight.
Though 2012 will see them secure the services of their next franchise QB, in the shape of Andrew Luck, anyone who thinks that doing so will stem the bleeding is kidding themselves.
Perhaps the biggest problem is that not one, but three of the Colts most dependable receivers, Pierre Garcon, Reggie Wayne and Anthony Gonzalez, are all free agents in 2012, and all three look likely to be out the door before Luck arrives on the scene.
It's not hard to blame them after the joke that was their 2011 campaign.
Of the three, Garcon has the most upside for the Cardinals, and will be the heavily pursued by other teams. In spite of the overall failure of the Colts team, Garcon was one of the few bright spots. Garcon racked up nearly 950 yards and 6 TDs. Though Wayne posted marginally more yards, at 25 years old, Garcon has a long career yet to play in the NFL, and just entering what should be his best years.
Garcon is right on the verge of establishing himself as a top-tier receiver, but has yet to truly break out and separate himself from the rest of what is already a crowded 2012 free agent group at WR.
With players like Vincent Jackson, Wes Welker, Marques Colston and Dwayne Bowe in the field, many watchers don't even list Garcon in the top 10 free agent wide receives for this season. His biggest struggles by far have been with key dropped passes, and his 2011 season, playing on a hapless Colts team will not have done much to change that perception.
This is good news for the Cardinals, who could secure his services for significantly less than it would cost to bring in any of these players. Garcon, having spent his career behind Wayne in the depth chart will likely not complain too much about playing second fiddle to Larry Fitzgerald, and, especially if Todd Haley does return, his dropped passes could be greatly reduced in Arizona.
Garcon is exactly the sort of player the Cardinals need. Enough of a threat that teams must pay attention him, and quick and elusive enough to break tackles so that teams cannot always single cover him man coverage. Put simply, he is the sort of player that will create enough space for Larry Fitzgerald to really dominate any secondary.
Garcon may be put off by QB uncertainty in Arizona, but having caught passes from Curtis Painter, Dan Orlovsky and Kerry Collins in 2011, the Cardinals situation may seem a lot less problematic.
Impact at Cardinals: B-
Fit for Cardinals: A-
Odds of signing for Cardinals: 5-to-1.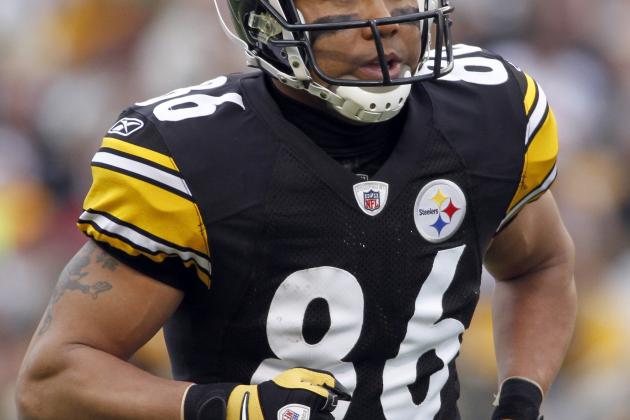 Justin K. Aller/Getty Images

On a team who has had more than it's fair share of great players, Hines Ward is one of the greatest.
Seemingly, all that stands between Ward and his induction in the Hall of Fame at Canton are the mandatory five years of retirement.
But if anyone expects that countdown to start in 2012, then they simply do not know Hines Ward.
Ward has made it more than clear that he intends to play next season, and while his preference would be to do so in black and gold, all signs point to the fact that he would be happy to play elsewhere rather than retire.
His 2011 numbers, statistically his worst since his rookie year, mean that it is becoming increasingly unlikely that the Steelers will pay his $4 million salary in 2012. While Ward has volunteered to rework his contract in order to remain a Steeler in 2012, Ward sits at fourth, or fifth on their depth chart, and due to the way he has mentored those young receivers now in front of him over the years, will struggle to match even his numbers from last season in Pittsburgh.
Should the Steelers choose not to retain Ward's services, as it is looking increasingly likely that they will not, the Cardinals seems like a logical landing spot for Ward.
Whisenhunt is a former Steelers coach, and a number of other coaches and staff come from a Pittsburgh background or mentality.
The Cardinals are in real need of another receiver, and Ward, even at 35, would fit the bill. The Cardinals have a number of guys with speed, but Ward would provide the solid hands, great instincts and mentoring to operate as a safety valve for the Cardinals. Ward would allow young players like Early Doucet and Andre Roberts to develop into solid receivers while defenses focus on Ward.
Ward would probably sit at third on the depth chart, playing out of the slot, but teams would be forced to pay attention to him, and this would free up Fitzgerald and either Roberts or Doucet to make the big plays which were at times lacking in 2011.
Ward would be a short term solution for the Cardinals, having perhaps at most two more seasons left in him, but hopefully that is all they would need. The Cardinals still hope that Doucet and Roberts can develop into dependable receivers, and will also likely use their third or fourth round picks to bring in another receiver to challenge for playing time.
The return of Haley, and on-field mentoring of Ward may be enough to help these players step up and become what they have shown the potential to become.
Impact at Cardinals: C+ on game day, A+ on the training field.
Fit for Cardinals: A-
Odds of signing for Cardinals: 2-to-1 if the Steelers cut him, zero if not.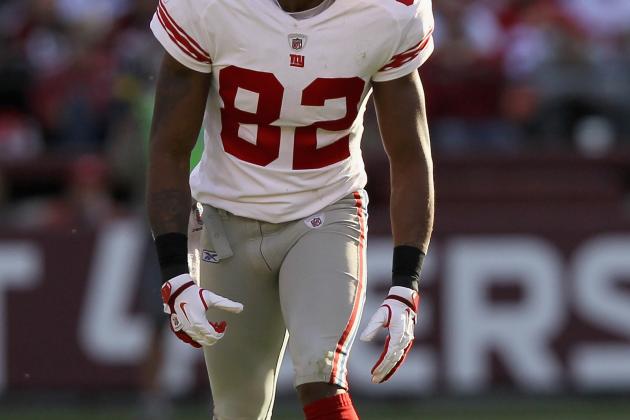 Ezra Shaw/Getty Images

Perhaps you're beginning to sense a theme here. The Cardinals really need a number two receiver.
Like Garcon, Manningham is a young receiver on the verge of breaking out.
Like Garcon, Manningham has failed to break the magical 1000 yard mark in recent seasons, but has got exceedingly close.
Unlike Garcon, however, Manningham appears to have taken a step back still further in a strong Giants receiving core, and his return to New York is exceedingly doubtful.
Last year, Manningham struggled to establish himself on the Giants roster. Injury, and the emergencet of Victor Cruz and Hakeem Nicks has relegated Manningham to third on the depth chart for much of the season.
This poor performance in a contract year has really hurt his value for 2012, and while a strong playoff performance could improve things dramatically for Manningham, his return to New York, and ability to command a high value in the open market have already been dented.
Manningham has done enough in his four years in New York to prove that he is a more than serviceable wide receiver. He will certainly command a price tag higher than the $1.5 million he was paid in 2011, but when compared head-to-head with the other free agent WRs available in 2011, he is very much on the second tier, and will be priced accordingly.
That is not an issue for the Cardinals, who are not in the market for a number one receiver, having committed to making Larry Fitzgerald that guy through the end of the 2018 season. What they need is someone who can take some of the heat off Fitzgerald, and catch those passes which keep drives alive.
Manningham is that guy. He stretches the field. He creates space. If you ignore him, he'll burn you, but even if you blanket him, he can still make some highlight reel grabs.
He's not a one man spectacle like Fitzgerald is, and is probably not yet good enough to be the marquee receiver on an NFL team, like Bowe, Welker and Jackson could be, but paired with Fitz, and with either Kolb or Skelton able to step up, the Cardinals would have a formidable passing attack, good enough to challenge for an NFC West title spot, and run at the Super Bowl once more.
Impact at Cardinals: A-
Fit for Cardinals: A
Odds of signing for Cardinals: 4-to-1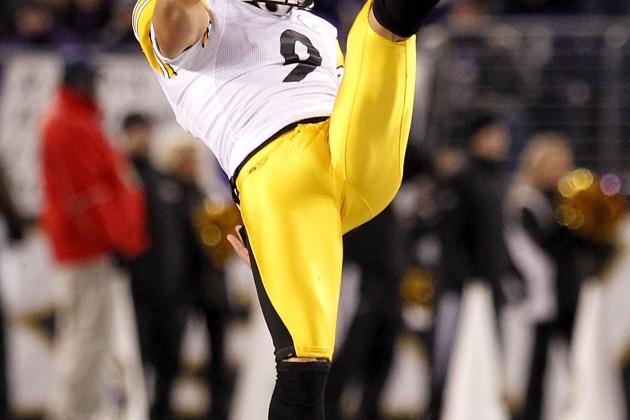 Geoff Burke/Getty Images

Each of these 10 men could make an immediate impact for the Cardinals, and address a real need.
There are undoubtedly other positions which need improvement, and still more which, if the right player came along at the right price, would be worth some consideration.
Offensive Line
The Cardinals offensive line is still their biggest weakness, and you will notice that I have only listed two potential options for the Cardinals to pick up. Both are left guards, which unfortunately is about the strongest position on the Cardinals O-Line currently, and both are given pretty long odds of joining. The Cardinals will need to improve their offensive line, but will have to do so through the draft.
There are simply not enough free agents available to expect the Cardinals to be able to find significant improvement here, and a dearth of readily available talent means that trading for almost any lineman will be prohibitively costly.
Should the Cardinals be able to land a natural left tackle in the draft, and renegotiate the contract of Levi Brown such that they could slide him to the right, the Cardinals O-Line would be immediately improved. While the addition of someone like Grubbs or Nicks would be nice, I believe the team can make do with what they have, if they can land a tackle, and reduce Brown's contract.
Secondary
The Cardinals secondary has been questioned by some. People have, perhaps rightly, argue that there is not enough depth there, and that their balance of youth and experience is all wrong–all of their youth is at corner, and all the experience at safety. People like Lardarius Webb have been suggested as possible signings to help redress this.
Personally, I don't think it is anywhere near that bad, and a marquee player like Webb is unlikely to be necessary. While the Cardinals will certainly seek to add some depth at corner in free agency, and youth at safety in the draft, to suggest that either of these positions are particular weaknesses is an overreaction. The Cardinals secondary did struggle, but they were without several key players for extended periods of time, and had been given only a very short time to learn Ray Horton's complex defense.
I advocate keeping the starters unchanged, and allowing them to keep up their development through the 2012 season, and adding only backups through free agency.
Kickers and Punters
Jay Feely is a free agent in 2012, and a shaky start to the season has put a question mark over his potential return. Feely gets on very well with the Cardinals staff, and his improvement towards the end of the season was enough to secure his job for at least another season.
Dave Zastudil, brought in because the Cardinals were unhappy with the production of Ben Graham did very little to improve on Graham's figures this season. Put simply, if Graham wasn't good enough, it's unlikely that Zastudil will get another shot either. One potential option could be Steelers punter Daniel Sepulveda, who is a free agent this season, and seems to have lost his starting job in Pittsburgh to Jeremy Kapinos, thanks to persistent injuries.
Sepulveda could be brought in to compete with Zastudil for very little, and has the leg to help improve the Cardinals numbers, if John Lott can work out his injury issues.