New Orleans Saints vs. San Francisco 49ers: An Early Preview
January 8, 2012
Chris Graythen/Getty Images
Talk about your unstoppable force meeting your immovable object.
That's what we're going to get this coming Saturday when Drew Brees and the high-powered New Orleans Saints invade Candlestick Park to face the second-seeded San Francisco 49ers and their stellar defense in a NFC Divisional Round battle.
I can't wait.
The simple question is: How do you stop Brees? No one has been able to do it all season.
Following a regular-season campaign when the 11-year veteran quarterback shattered Dan Marino's NFL record for passing yards in a season (5,476), Brees continued his red-hot play by throwing for 466 yards and three touchdowns in New Orleans' 45-28 rout of the upstart Detroit Lions in the NFC Wild Card Round. The Saints set a postseason mark for total yards in a game with 626.
During the regular season, the Saints set an NFL record for yards from scrimmage in a season with 7,474. Pierre Thomas, Darren Sproles and Chris Ivory lead an underrated rushing attack that keeps defenses honest. That trio helped New Orleans rack up 167 yards on the ground against Detroit.
Pro Bowl tight end Jimmy Graham (55 yards receiving, one TD vs. Detroit) is just one of the many weapons at Brees' disposal. Wide receivers Marques Colston (120 yards), Robert Meachem (111 yards, one TD) and Devery Henderson (64 yards, one TD) all helped carve up the Lions' secondary last Saturday.
So, how can this high-octane offense, arguably one of the best of all time (including this season's Green Bay contingent), be stopped?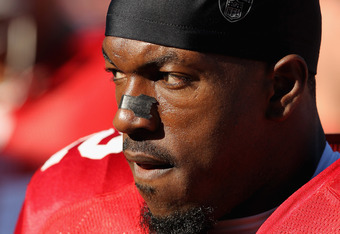 Ezra Shaw/Getty Images
That's where San Francisco comes in.
Led by first-team All-Pro linebacker Patrick Willis, the 49ers (13-3) allowed a scant 14.3 points per game this season, second only to the Pittsburgh Steelers (14.2). San Francisco paced the NFL in rushing defense by far, limiting opponents to just 77.3 yards on the ground.
Despite the fact the 49ers ranked in the middle of the pack in pass defense, they did finish tied for second in the league in interceptions with 23 and tied for seventh in sacks with 42. All-Pro first-team linebacker Aldon Smith led the way with 14 and, along with defensive end Justin Smith (7.5 sacks), will need to get sustained pressure on Brees or he'll pick any defense apart.
What's the best way to stop Brees? Keep him off the field. That's where running back Frank Gore comes in.
The bruising halfback finished sixth in the NFL with 1,211 yards on the ground and added eight touchdowns. The 49ers ranked seventh overall in rushing (127.8 yards per game) and need to sustain an effective ground game to control the clock and limit the number of possessions the Saints have.
Easier said than done, right? We'll see. A solid run game will also pave the way for quarterback Alex Smith to use play-action passing to wide receiver Michael Crabtree (874 yards, four TDs) and tight end Vernon Davis (792 yards, six TDs), among others.
The much-maligned Smith, the first overall pick in the 2005 draft, had his best season of his career, tossing 17 touchdowns with just five interceptions. His quarterback rating was a very respectable 90.7.
However, the matchup everyone will be watching with keen interest will be the Saints' potent offense against the Niners' sturdy defense. Something has to give.
It should be fascinating to watch.