Can Tim Tebow Beat a Depleted Pittsburgh Steelers Team in Denver on Sunday?
January 7, 2012
Garrett Ellwood/Getty Images
This weekend Tim Tebow will face his biggest test against the Pittsburgh Steelers.
The Denver Broncos are coming off three straight losses and have limped into the playoffs. They caught a break last week when the Oakland Raiders fell to the San Diego Chargers, giving the Broncos the division by default. All three teams finished with an 8-8 record.
The Pittsburgh Steelers might be the best fifth seed in the playoffs in a long time. They enter with a 12-4 record and are going to be tested when they fly to Denver to play the first round on the road.
The Broncos on paper look to have no chance in this game, but the Steelers are banged up and are not at full strength. 
Pittsburgh enters the game with a hobbling Ben Roethlisberger. He has been nursing a severely sprained ankle and has not been himself since the injury. He has thrown three interception and no touchdowns in the two games since hurting his ankle. It is increasingly troubling considering the Steelers have lost starting running back Rashard Mendenhall for the year.
This week it was revealed that center Markice Pouncey would be sidelined with a sprained ankle as well. With their offensive line at full strength, the Steelers have averaged six more points per game.
With the game taking place at high altitude in Denver, free safety Ryan Clark is going to be forced to sit out due to his sickle cell trait. Playing in Denver could be dangerous to his health, after he had his gallbladder and spleen removed in 2007 after playing at Mile High. 
With all of the injuries to key players, do the Broncos have a chance in this game?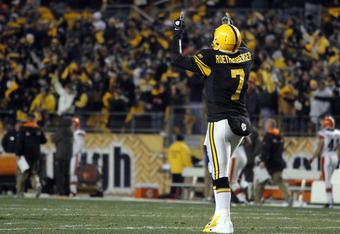 Justin K. Aller/Getty Images
The Steelers enter the game with the No. 1 passing defense in the league, giving up only 172 yard a game through the air. The Broncos are second last in the league in passing yards per game, only throwing for 152 yards per game. Tim Tebow will only throw if the Broncos are down big because if he makes a few mistakes, it will get away from him quick. 
Tebow has been tested the last three games and he will have to show some mental toughness in this game if he wants to go to the next round of the playoffs. He needs to forget about the last few games and focus entirely on the Steelers.
The Broncos strength is on the ground and they will have to stay consistent with the running game, even when they are not getting anything out of it. They are first in the league with 164.5 yards per game on the ground. Pittsburgh is eighth in rushing yards allowed, giving up almost 100 yards per game.
If Denver can get close to what they average, then they can keep it close. They can control the clock and manage the game by doing so and make the Steelers have to play defense longer. 
That might be their only chance to win.
The Steelers offense is a wild card at this point with Big Ben still fighting through injury and Issac Redman taking over in the backfield. Redman has talent and should handle himself fine in this game. But if Roethlisberger is not at his best and the Denver defense comes out clicking, it might be a tougher day for Pittsburgh that they would like.
The Steelers have allowed bad teams to stay close this year. They beat the Indianapolis Colts by three, Jacksonville Jaguars by four, Kansas City Chiefs by four, and the Cleveland Browns stuck around until late in their first matchup, and then only lost by four in Week 17.
Although Pittsburgh might not look pretty doing it, they will take a win no matter how they get it. But it is safe to say the Broncos are better than any of these teams. 
This game will come down to Big Ben and how efficient he can be. If he looks good on the ankle early, then Denver will not stand a chance. If he comes out limp then it might allow the Broncos to gain some early confidence.
It is imperative that Roethlisberger merely manages the game and does not make mistakes against Denver. His defense will do their best to stop the Broncos and he will simply have to be efficient and not make many mistakes.
When playing the Broncos, Pittsburgh has to keep in mind that any time can be Tebow Time.
See the rest of my Wild Card Weekend previews,